Last Updated on
Design a sloth-theme nursery for your little baby sloth. These cute and cuddly creatures make the most adorable decor! It's a perfect theme for those hanging out, lounging around newborn days!
Is there anything more sloth-like than a newborn baby? Let's consider a few facts: they both sleep anywhere from 10 to 20 hours a day, they both do an excellent job at lying motionless for large parts of the day, and they both are incredibly cute without doing anything!
These adorable and lethargic creatures (talking about sloths now, not newborns) would make a perfect theme for your nursery. Here are some totally adorable sloth decor ideas that you can incorporate into your own little sloth's nursery!
DIY Sloth Nursery Decor
Feeling ambitious? The sloth must not be your spirit animal after all! Decorate your sloth themed nursery with these DIY projects.
Tie back your curtains during the day to let some light in with a sleepy crochet sloth. If you know how to crochet, you can make your own with the pattern from Thorseby Cottage.
Chances are you've seen a sock monkey before. Instructables is switching it up with a sock sloth, a twist on a classic favorite.
Make your own wall art to show your little sweetie how much you love them with this I love you a Sloth free SVG file from Brooklyn Berry Designs.
Get a little crafty with this paper sloth banner from Clever Patch. This includes a free template so you can create and hang this at home in your nursery. It's seriously so cute and easy!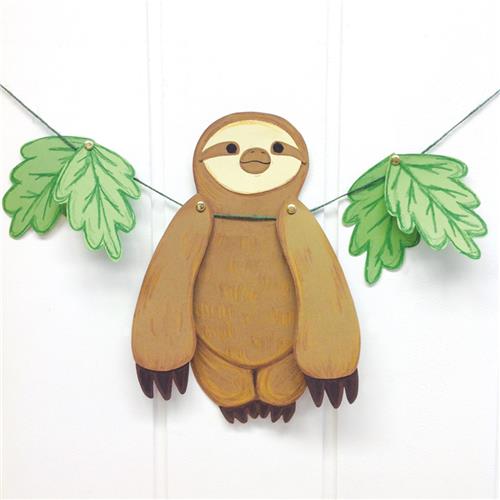 Get ready for cuteness overload with some colorful DIY sloth lovies from Dear Stella. These can hang out with you and your baby all day long!
This sweet crochet sloth from Spin a Yarn Crochet reminds us mamas to slow down a bit. Sit back and relax as you create your own ragdoll sloth.
Relieve pregnancy stress by coloring your own wall art. With the sloth coloring book you can color these and hang them for inexpensive and pretty decor.
This silly sloths quilt is downright adorable! I love the silly sloth faces! Get the pattern from Shiny, Happy World.
Cutesy Crafts has a free sloth pattern that you can use to make your own embroidery hoops. It's the perfect beginner embroidery project for the sloth in you.
Sloth Wall Art for Nursery
Hanging art on your little one's nursery is a great way to decorate and add character to the room. Here are some awesome sloth wall art ideas for your nursery.
Clean and Scentsible has a free sloth printable for Valentines Day but I think it has the perfect sentiment for new moms and their babies. Be right back as I go bawl my eyes out now after seeing this quote.
Create the easiest ever wall gallery with these four sloth prints. These would be so pretty hanging with your babe.
Take your time learning how to become a new mom! It's a crazy new role. Luckily, the sloth mural adds cheer to the nursery and reminds you to slow down.
I really do feel like the best is yet to come in motherhood. Remind yourself how sweet each stage is with this wooden sign.
Make a big statement with a sloth DIY wall art tapestry. You don't need much else since this covers a large portion of a wall. Plus, he's so handsome!
These sloths have no agenda! And neither does your newborn! Use a sloth coat rack to hang baby's essentials. Comes in four different styles to match any sloth theme!
I didn't know a sloth could be so pretty, but this watercolor sloth tapestry is just gorgeous! This is a small price for a big statement!
Other Sloth Nursery Ideas
Don't forget about other essentials like rugs, clocks, and nightlights. You can find it all with a furry sloth on it!
Sloths may not be in a hurry to get up and go, but you might need to know the time every now and then. This cute follow your dreams clock has you covered!
Add some greenery to your lazy little sloth nursery with a succulent plant holder. No need to water it!
Lounge around on this pretty watercolor sloth rug. Perfect for tummy time and those newborn baby cuddles! And it's machine washable!
I always want to teach Evelyn to follow her dreams, no matter her fears! Keep a soft light for night feeds that is just too cute! It will encourage you and your little one to follow your dreams.
Your silly little sloth will love this little book. It's an activity book that has about as many activities as sloths and babies can handle.
I didn't think a little baby could get any more snuggly but they will be wrapped in this receiving blanket.
Take your little sloth with you with this adorable floral diaper bag. Lots of pockets to hold all your baby's essentials.
Have fun decorating your sloth-themed nursery. And don't forget to take it easy, just like the sloth would!