Want a space that will work for a baby boy or baby girl? Check out these tips for creating a playful space for your baby that is gender neutral.
For Evelyn's nursery, we knew we were having a girl and I wanted a really soft and feminine nursery. But when we have another baby I want to try and keep the gender a secret and be surprised at birth.
I'm horrible at surprises so we'll see how it goes!
That means I'll have to set up a nursery that is gender neutral—one that will be fit for a baby girl or baby boy.
Here are some tips on how to set up a nursery in a gender neutral design, while still creating a nursery that you'll love!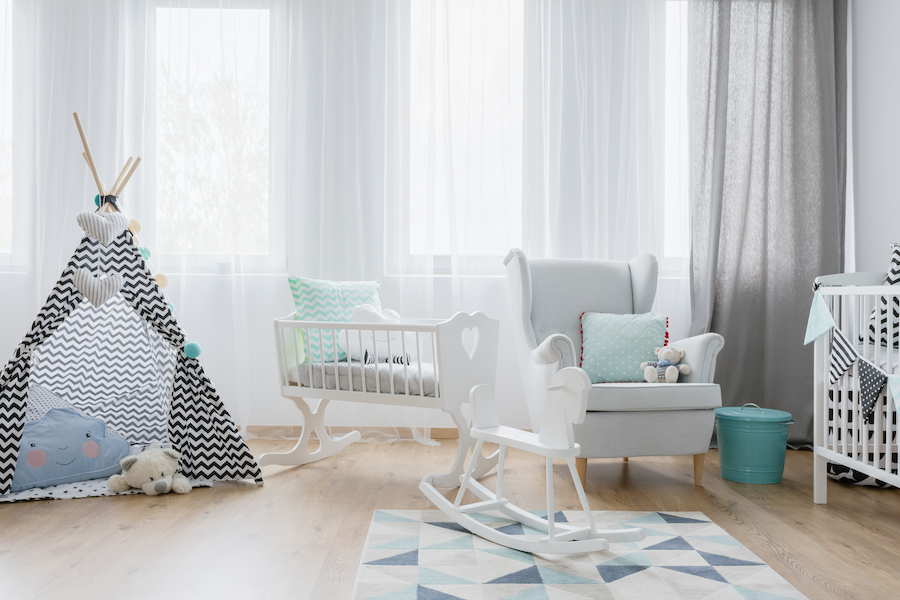 #1 – Choose a color palette
There are so many more options than just going with a pink or blue color palette for your baby's nursery! Some perfect color options for a gender neutral nursery include using these colors as your decor inspiration:
Grays
Black and white
Beiges
Teals
Yellow
Navy
Rainbow color
Reds
Greens
If you're having trouble choosing colors, use Pinterest or google Image search for inspiration! You can also use a color wheel to pair complementary colors.
#2 – Pick a Gender Neutral Theme
Instead of choosing colors, pick a gender neutral theme to help guide you in setting up your baby's nursery. Here are some of our favorite gender neutral nursery themes:
Modern farmhouse
Bright and colorful
Succulents
Woodland animals
Space
Abstract shapes
Plants
Boho
Rainbow
Carnival
Wood
Jungle
Beach
Travel
Typography
Hot air balloons
Whether you go with a color palette as your inspiration for decor or want to select a nursery theme, remember that gender neutral doesn't have to mean basic. You can have a lot of fun even in a gender neutral nursery!
#3 – Choose Neutral furniture
Whether you decide on a calming color palette, or choose a bright and bold nursery theme, make sure to choose neutral colors for your main pieces of furniture such as your baby's crib, dresser, rocker, and changing table.
Unsure about using a bassinet vs crib for your baby? Read this post to learn the differences.
Furniture that is white, wood, beige, gray, or black will make a great base for your nursery. If you want to add pops of color, you'll have plenty of opportunity to do so with crib sheets, wall art, and other decor pieces. Wondering how many crib sheets you need? See that post!
#4 – Dress the Walls
Decide whether you will paint baby's room or use wallpaper to add a big statement.
Then add shelves, wall art, and other decor to the walls to give your nursery big style. Some things you can do include creating a wall gallery with favorite artwork, adding shelves to hold a mix of artwork and baby supplies, or hanging big letters once you know baby's name.
Get creative with your wall decor! Think hanging macrame for a boho gender theme and hot air balloon decals for a bit of whimsy!
#5 – Add Decor and Design Elements
Now comes the fun part! This is where you can incorporate your theme or colors into your design and add the final touches. Things like plants, rugs, and accessories can really bring a room to life.
Think through the rest of the products you need for the nursery and buy items that look cohesive together:
Start setting up your nursery and putting all the pieces together!
Did you pick a gender neutral theme for your nursery? If so, I'd love to see it!
Latest posts by Amy Motroni
(see all)