Have limited funds for your baby's nursery? Learn how you can set up a beautiful nursery even on a small budget! Here are decorating and shopping tricks so you can create a beautiful nursery on a budget.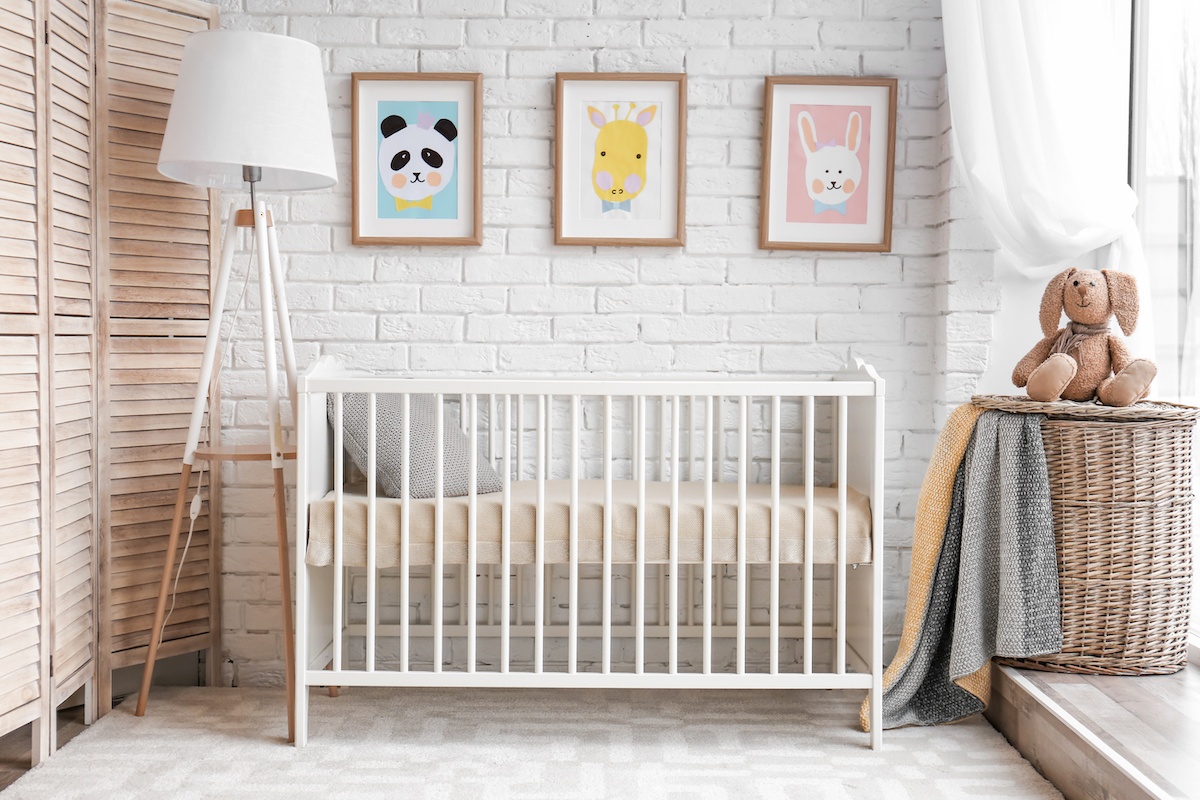 Every time I get the Crate and Kids catalog in the mail I thumb through it and decide I want all the things. All of them. Those pages are filled with beautiful rugs, unique light fixtures, and modern decor accessories. I want it all and yet I can afford nothing in it. Nothing.
I tend to be drawn to more expensive things but I can never justify buying them. I've always been budget conscious so when I started working on Evelyn's nursery organization, I knew I didn't want to spend a ton of money. I wanted to create a calm and beautiful space that didn't break the bank.
Here are things I learned to create a nursery on a budget. Using these tips you can get that Crate and Kids look for much less!
Buy Used Furniture
Baby furniture can add up so quickly, it's ridiculous! The three main pieces of furniture you need in your nursery are a crib, a dresser, and a glider. I recommend buying a crib new (see below) but you can look around and see if you can find a used dresser and/or changing table if you want that as well. I think the Ikea Hemnes dresser is one of the best deals out there. For $250, you get a modern dresser that can hold and organize a ton of baby clothes. Every now and then I see that same dresser on the Facebook Marketplace or Craigslist so look around for deals!
Upcycle
Do you have an old dresser you can use as a changing table/dresser combo? Adding a little bit of paint and some new knobs can transform an old piece of furniture into something totally glamorous for baby. Look at the items you already have in your home and see what you can repurpose. Look at the bones of pieces and try to envision what it could be. I have taken a few old wooden dressers and turned them into pretty pieces with some sanding, spray paint and new hardware!
Use paint
Paint is so cheap and can really change the look of a room. Turn beige or white walls into a pretty neutral color, paint an accent wall to add pops of color and decor, or paint a fun pattern to make a really big statement. You can even turn everyone's eyes upward with a painted ceiling.
Buy an Affordable New Crib
I do recommend buying a new crib for safety and sanitary purposes. But there are plenty of affordable and safe baby cribs that are just as cute as the designer fancy brand options! Crib prices can range from $100 to more than $1,000, but you can get a great crib for around $200. I really like the Ikea Sundvik crib, Graco Benton Convertible crib, and Graco Lauren Signature cribs because they score high on Consumer Reports testing and are some of the more affordable options.
Skip Fancy Bedding
There are some gorgeous crib bedding sets out there, complete with throw pillows, blankets, matching quilts, and crib skirts. It's so enticing you want to just scan the cute patterns into your registry. But you don't need any of it! All you need in the crib for those first 12 months is a mattress, mattress protector, and a few sets of sheets. (See how many crib sheets you need here.)
Find free wall art
There are tons of free nursery printables that you can download and print right at home for the cost of ink. Pick up some inexpensive frames at the Dollar Tree or Michaels and you can create a budget friendly wall gallery for a few bucks.
Add greenery
Greenery makes everything seem fancier. There's just something about fresh plants that breathe life into a space and make it feel inviting and intentional. Get plants that are easy to keep alive (you'll be a bit preoccupied) or buy faux ones that look real and place them around the room to add color, life, and pretty decor.
Repurpose household decor
Look around your home with fresh eyes. Are there any pieces of decor you could move to the nursery? Perhaps a pretty vase you aren't using or a clock that has had dead batteries for years? Get creative and see if there are any forgotten items in your home that might have a better place with your little one.
Ikea Nursery Hacks
Turn ordinary pieces of IKEA furniture into decorative pieces in your nursery with these gorgeous IKEA nursery hacks. IKEA has a ton of affordable pieces of furniture that you can "hack" and turn into something unique and beautiful for your baby's nursery.
Use Coupons
Michaels, Hobby Lobby, Joann, Buy Buy Baby—these retailers always have coupons. Don't ever buy something from one of these places before using a coupon or at least getting a sale price. Download their apps and you'll always have a coupon at your fingertips.
Use Pinterest as inspiration for your perfect nursery and then create it on a budget using these tricks. You really can set up a beautiful less while still saving money!
Latest posts by Amy Motroni
(see all)