Cure your indoor blues with these easy indoor activities for babies. Includes 15 fun activities that you can do at home with your little one!
Stuck at home all day with your baby? I know many people love the baby phase, but I found it to be pretty boring. We stayed home a lot because I wanted to keep Evelyn on a good sleep schedule and because I wasn't fully confident in taking my baby out a lot those first several months.
The days we didn't get out of the house were looooong. I needed some fun indoor activities to fill my time! So whether the weather is bad outside, or you're just keeping your baby inside for a host of other reasons, here are 15 activities you can do indoors with your baby.
These indoor activities are fun for you and baby and will really help when time feels like it's ticking backward! Best of all, you probably have most of the supplies on hand to do these activities today!
Many babies start to kick their legs around 4 months. You can encourage their kicking movements by placing some tissue paper or bubble wrap up against their feet for them to kick. See how The Mom Friend did this with a few different supplies to make an easy indoor activity for her (adorable) baby!
This fine motor activity from Entertain Your Toddler is a fun indoor activity for babies and toddlers. See how she adapted it so her 9-month old could play too!
Start A Band
The original musical toy for kids of all ages! Give your little one some pots and pans and a few wooden or plastic utensils and let them make some noise. They'll love seeing the cause and effect while you make dinner nearby.
Sensory bins are great for teaching children independent play, but can be a little trickier to execute for babies who still put everything in their mouth! This first sensory bin activity from Busy Toddler is so sweet for babies. Put baby in a large pool (or dry bath) with lots of stuffed animals. They can feel the different textures of bunny's hair, nose, and eyes while you have a free minute!
Tupperware Drawer
Is your baby constantly going into your drawers and cabinets, trying to pull everything out? This baby hack is genius for keeping your kitchen semi clean. Have one dedicated drawer or cabinet that is full of plastic Tupperware lids and containers, as well as a few plastic utensils. When baby goes toward other drawers or cabinets, redirect them to this one. They'll love playing with all the odds and ends in their own little drawer!
Painting with littles is so fun, but so messy, right? Enter this fun idea from Taylor Made Mama. A tummy time paint project that is mess free!
Sometimes the best toys are the ones that are the most simple! Babies and toddlers love playing in cardboard boxes! Stick them in it with a few toys and let them play, or take them for a little ride down the hall. Mama Smiles has some great ideas for using cardboard boxes in other ways too!
Waterless Bath
Need to contain your baby for a bit while you take a quick shower or get ready? Place them in a big bathtub with a few toys (and no water) for a fun activity that will keep them contained. They'll love being near you while playing with some of their favorite toys.
Painting with little hands is always fun, but a bit nerve wrecking when they stick their fingers in their mouth all the time! Play Teach Repeat shares a recipe for paint that is safe if consumed by infants. Click through to see her super simple recipe that is safe even for the smallest hands!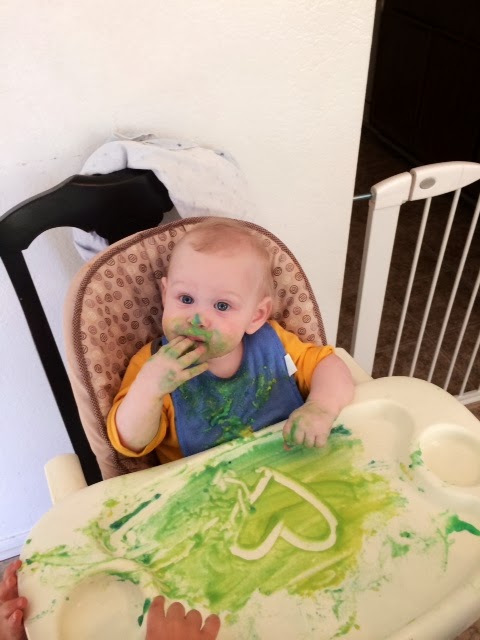 Let your baby feel the different textures on these sensory blocks from Red Ted Art. With a few simple supplies, you can customize these however you want.
Babies love to see high contrast items like black and white next to each other. Everyday Chaos and Calm has an easy sensory activity that you can make in a pinch! Baby will love seeing the different colors in this sensory bag.
You can also make your own sensory signs with this tutorial from Kiddy Charts.
Babies love seeing themselves in the mirror! Simple Home Blessings has some great activities that you can do with your baby while in front of a mirror. This will be so fun to see how baby reacts to herself!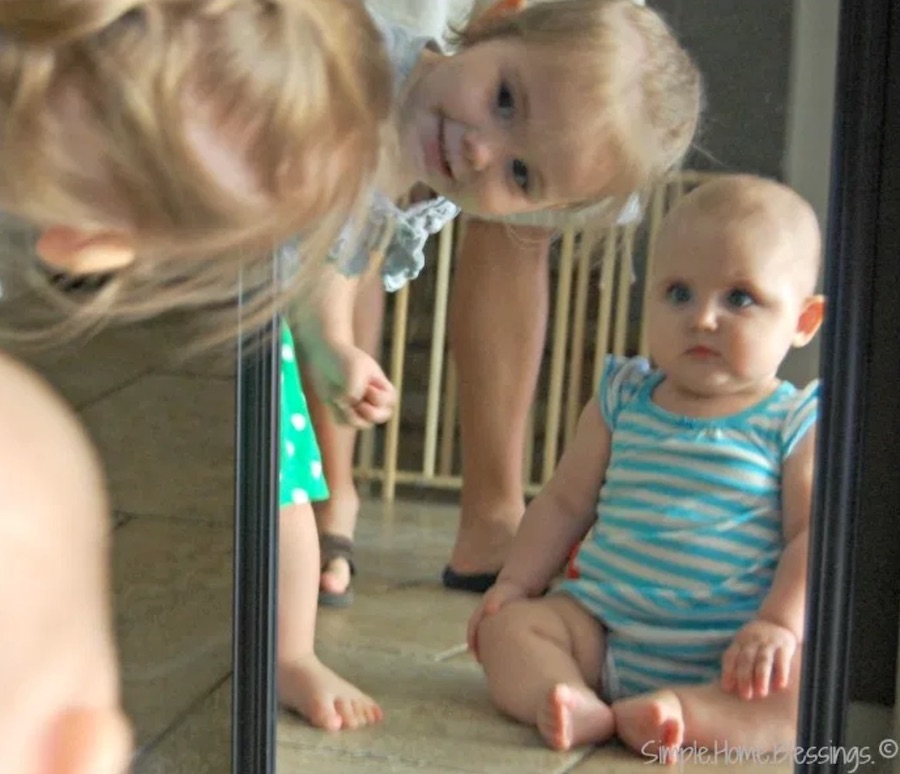 Little boards are perfect for babies to feel different textures. Encourage tummy time by adding different materials to a cardboard mat like this simple busy board from Sweet Mommyhood.
What a perfect way to use up those plastic Easter eggs! Powerful Mothering made six different sounds for these colored eggs using a variety of materials for her 7-month old. This idea is so easy and so fun!
It doesn't take a lot of materials and prep to do a fun sensory activity with baby! Hands On As We Grow has a fun sensory activity using baby food! Get the camera ready for some adorable pictures and a big bath afterward!
Enjoy doing these indoor activities with your baby to help you make it through the day!
Latest posts by Amy Motroni
(see all)