Is it almost time to transition your baby out of the swaddle? Here are the best transition swaddles to help make the transition easy!
I think one of the best words to sum up the first year of a baby's life (aside from the obvious ones like "love" and "adorable" of course!) is transition.
Adding a new baby to the family unit a big transition for everyone involved.
Not only that, the first year of a baby's life is full of all sorts of transitions from one stage to another as they grow.
But before you hit some of the big transitions—like transitioning from a bassinet to a crib, or making all of the nap transitions—you might hit a smaller transition that not everyone thinks about.
I'm talking about the transition out of the swaddle.
If you've been swaddling your newborn, you're eventually going to need to transition them out of their cozy baby burrito and into sleep attire that's safe and appropriate for their growth.
Let's talk about transition swaddles and how they can help you make the transition into a sleep sack.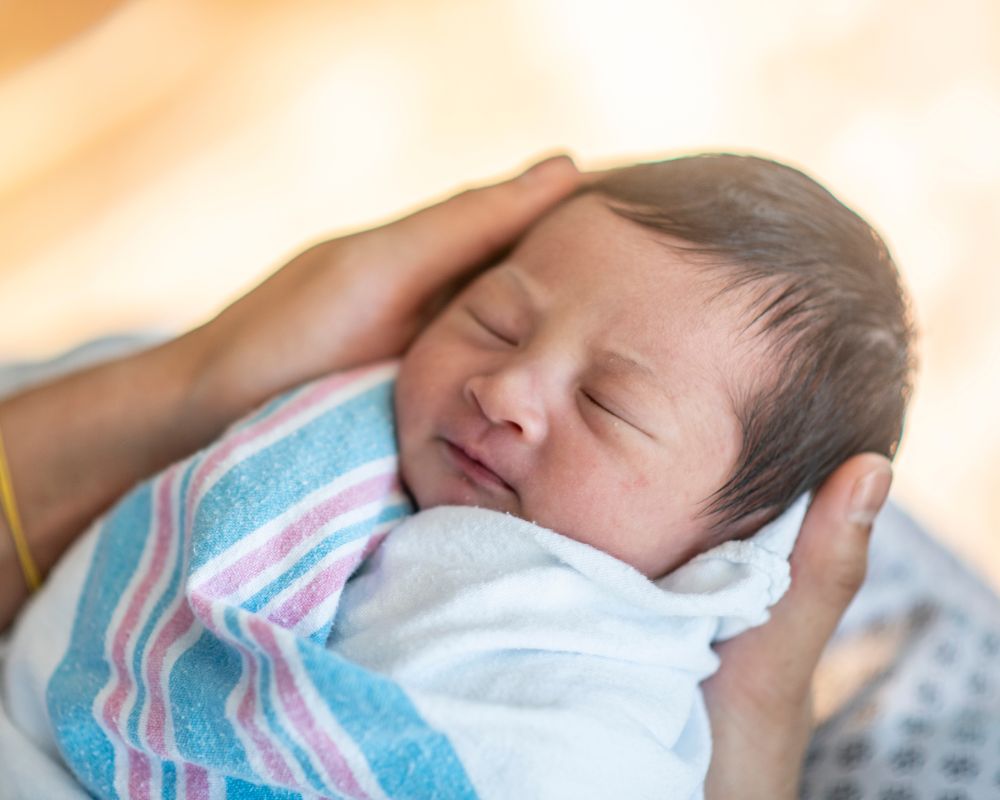 The Benefits of Swaddling
There are certainly benefits to swaddling, and I encourage families to swaddle if your newborn will tolerate it.
Swaddling can be beneficial in helping babies get to sleep and stay asleep in those early months.
The swaddle keeps your baby's limbs close to their body so that they won't accidentally wake themselves up with a startle reflex or by accidentally scratching themselves.
Swaddling feels familiar and comfortable to your newborn because it mimics the close quarters of the womb. It's also a safe way to keep your baby warm at night and avoid any dangerous loose bedding that is against safe sleep recommendations.
The thing about swaddling is that you must do it safely. It becomes dangerous to keep swaddling once your baby shows signs of rolling.
Some families start off using a traditional swaddle blanket, but others choose to begin with a transition swaddle from the beginning. This can allow for any easier transition when it's time to stop swaddling.
Are Transition Swaddles Safe?
Transition swaddles are safe. They just need to fit correctly and not provide excess pressure or weight on your baby's growing joints or limbs.
In fact, transition swaddles are a super helpful tool if your baby is accustomed to swaddling. Once they start to roll, you'll need a way to mimic the swaddle feel while still keeping your baby safe.
Transition swaddles help you enjoy the benefits of a traditional swaddle, like providing warmth and a feeling of security. But they also allow your baby to have one or both arms free.
Having a free arm or two is very important in the event that your baby rolls over in their sleep.
Rolling over while sleeping is a natural progression of your baby's physical development. I know it can disrupt sleep for a bit, but it's something you need to embrace and work through.
I don't recommend using weighted transition swaddles or sleep suits to stop your baby from rolling. Try a transition swaddle instead if your baby is struggling.
What Age Do Babies Transition Out of Swaddle?
Babies usually learn to roll sometime between 8 and 16 weeks, but don't stress over this milestone if they're late. There's a wide age range where they can learn to roll.
Pay close attention during tummy time, though. As soon as it looks like your baby might roll, it's time to stop swaddling them.
A swaddled baby who rolls over in their sleep can be a risk factor for SIDS. It is definitely something to keep an eye on.
The American Academy of Pediatrics (AAP) doesn't provide a specific age to stop swaddling, but it usually occurs between 2 and 3 months old.
Once you're ready to make the transition out of the swaddle, I recommend using sleep sacks or transition swaddles.
When Should I Switch to A Transitional Swaddle?
Your baby may be fine going straight from a swaddle to a sleep sack without needing a transitional swaddle in between.
The beauty of most of the transitional swaddles on this list is that they are swaddles that easily help you make the transition.
There are no extra products to purchase to help you make the transition.
As soon as your baby starts to show signs of rolling, it's time to make the transition.
Check out some of the best sleep sacks, or check out the best transition swaddles I've found below.
Kyte Baby makes some of the softest baby swaddles and sleep bags and are one of the best swaddles out there for multiple reasons, including the breathable material and two-way zipper.
Their sleep bag swaddler comes with a removable velcro swaddle wrap. Once your baby starts to show signs of rolling over, you can keep them in their familiar sack and remove the swaddle wrap completely.
Not only are Kyte Baby's fabrics extremely soft and stretchy, but we love that this swaddle transitions with your baby from one stage to the next so you don't have to purchase an additional transitional swaddle.
The Ollie Swaddle is a great transition swaddle for a rolling baby. Its unique design allows you to put baby to bed with one or both arms free, while keeping the rest of the body wrapped up warmly.
One great thing about the Ollie Swaddle is the material. It wicks moisture and is designed to reduce overhearing. When you're worried about dressing your baby for sleep in the summer without overheating, the fabric choice is so important!
The sack-like design also has an opening at the bottom, with an elastic you can move up or down to adjust how much room they have. That length flexibility is great because it can grow with your baby as their legs get longer.
It also makes those midnight diaper changes so easy without having to completely unwrap baby.
The Zipadee-Zip transition swaddle is another great choice.
I love this option because it keeps your baby completely covered for warmth, but also gives their arms some freedom to move and prop themselves up if they roll.
The Zipadee-Zip is one of the best transition swaddles for startle reflex because it still keeps baby's arms and hands somewhat contained. It's also a great choice if you're worried about baby's hands getting too cold while they're sleeping.
The starfish-like design of this swaddle will give your baby a cozier feeling than a traditional sleep sack, and it's safe in case they roll over at night. That makes it a great transitional option.
The Love to Dream Swaddle Up is another unique transition swaddle option. Unlike traditional swaddles that wrap your baby's arms down by their sides, the Swaddle Up positions their arms up by their shoulders with bent elbows.
The Swaddle Up is a more snug fit than the Zipadee-Zip or Ollie Swaddle, but that might be a good thing if you're looking for something to transition a baby who has always liked a snug swaddle.
The Swaddle Up has removable shoulder panels that make it great for a swaddle transition. When you see signs of rolling, you can open up the swaddle to allow baby's arms to be free.
You can even choose to free one arm at a time for a less abrupt transition if needed.
The convertible Woombie swaddle also has removable shoulder panels to allow for a free-arms fit when your baby is ready to make the swaddle transition.
The Woombie is made from a cotton/spandex blend that has a nice stretch to it, so it feels secure while also allowing movement. The fabric is also lightweight and breathable, so overheating won't be a concern.
What I love about the Woombie is that it was designed by a nursing team and a certified Infant Sleep Care Specialist, so there's a lot of intentionality behind the design. It has plenty of room in the hips to allow for the same kind of leg movement your baby was used to in the womb.
Like the Swaddle Up and the Zipadee Zip, the Woombie has an easy zipper design. That means you don't have to worry about your little baby Houdini slipping out of it in the middle of the night.
No matter which of these transition swaddles you go for, I think you'll find it an important step in helping your baby transition away from the swaddle sleep association. They'll be one step closer to independent sleep in no time!
Latest posts by Amy Motroni
(see all)