Last Updated on
What does it mean to give your baby a dream feed and how do you do it? Learn all about the dream feed, why some moms swear by it, and how you can drop it when your baby no longer needs it.
It seems like parents will try almost anything to get their baby to sleep through the night. Sometimes these tricks are magical in helping your baby sleep better and other times they are a total waste of time or money.
One of the sleeping tricks I read about when I was pregnant was a dream feed. We implemented it when Evelyn was about 6 weeks old and continued to do it every night until she was 12 weeks. Find out more about dream feeds and if doing one might help your baby sleep through the night! (Fingers crossed for you!)
WHAT IS A DREAM FEED?
So what is it exactly? A dream feed is a way to top off your baby before you go to sleep. The hope is that this top off will help them extend their night sleep. Your baby takes the feed while they are asleep or "dreaming" and then goes back down with a full belly.
Mom or dad hits the hay for the night and hopes that baby doesn't wake up for several hours (or until the morning)!
If your baby is sleeping a four, five or six-hour stretch of sleep at night then a dream feed might help them sleep that stretch during the time that you are also asleep. For example, if their last feed is at 7 p.m., and they typically sleep until midnight, adding in a dream feed at 10 p.m. could potentially mean that they sleep a five-hour stretch from 10 p.m. to 3 a.m., meaning more sleep for you too!
We used to do this feed with a bottle every night. We would gently scoop our daughter out of her crib, place the nipple near her mouth and she would suck away. Depending on the night, she would take anywhere from 1 to 4 ounces. You can dream feed whether you are breast or bottle feeding.
When Can you Start to Dream Feed?
You can start to dream feed once your baby starts going longer stretches between feedings and you aren't having to wake them every two to three hours to eat. We started with Evelyn when she was around six weeks old, and after she no longer had her days and nights mixed up.
Ideally, you would feed your baby their last awake feed between 7 and 8 p.m., put them to bed, and then feed them before you to go bed, around 10 or 11 p.m.
How to Dream Feed
Giving a dream feed is one of the easiest and also scariest ways to feed a baby! I was so paranoid Evelyn was going to wake up so I always had Nick do this feed and I did the middle of the night feeds. He actually loved this quiet cuddling time with her and she almost never woke up. Many times babies will stay asleep and take the feed.
To do a dream feed with your baby:
Keep the lights off and quietly go into their nursery. Hopefully you have a sound machine going to muffle any noise you make.
Keep baby's swaddle on and gently scoop them out of their crib or bassinet.
Gently press your bottle or nipple against the baby's lower lips. They will generally start sucking almost immediately.
Let baby feed until they stop sucking. Try to keep stimulation to a minimum or none at all.
Gently burp your baby. I know you're terrified of waking them up, but you really don't want them to have gas or spit up later.
Give them one last sweet snuggle and place them back in their crib. Quietly tiptoe out of their room and go to bed for the night.
Some FAQs About Dream Feeding
1. Do You Unswaddle for The Dream Feed?
We never had to unswaddle Evelyn. She would always start sucking right away and didn't stir otherwise. Some babies may need to be unswaddled or roused just a bit to start taking the feed. You can try different things and see what works best. If you have to unswaddle them to take the feed and it's a nightmare getting them back down, then it might not be right for you and your baby.
2. Do you Change Baby's Diaper?
Unless there is a bowel movement, I never did. A diaper change and cold diaper wipes will most likely wake them up.
3. How Much Should I Dream Feed?
I always did a normal feed. So if you're bottle feeding your baby, prepare a bottle like you would for any other feed. If you're breastfeeding, breastfeed the same time you normally would.
When to Drop the Dream Feed
When to stop dream feeding is where a lot sleep experts differ. Some people say to continue it up until 9 months old. Others say drop it before your baby turns four months. We dropped ours around 10 weeks because each time we did it Evelyn took fewer ounces. Sometimes she would barely take an ounce from the feed, so it became pointless.
The reason some people recommend dropping it by four months is because that is when your baby's sleeping patterns change. Babies tend to go into the deepest part of their sleep in the beginning of the night (so maybe 7 p.m. to midnight) so a dream feed might disrupt this deep sleep that they're in. Around four months old is also when babies start to become more aware of their surroundings. They might start to wake up when you feed them.
If your baby wakes up consistently when you feed them, or not eating much, then it might be time to drop it. You can always drop it for a few days and see if it makes a difference in their sleep and pick it up again if you need to.
When you're ready to drop it, it's a really, really easy feed to drop. Just don't do it that night. Take the extra time and try to go to bed a little bit earlier. We just dropped ours cold turkey one night (since she hadn't been eating much at that time anyway). I was so nervous but she ended up waking at the same time the next morning!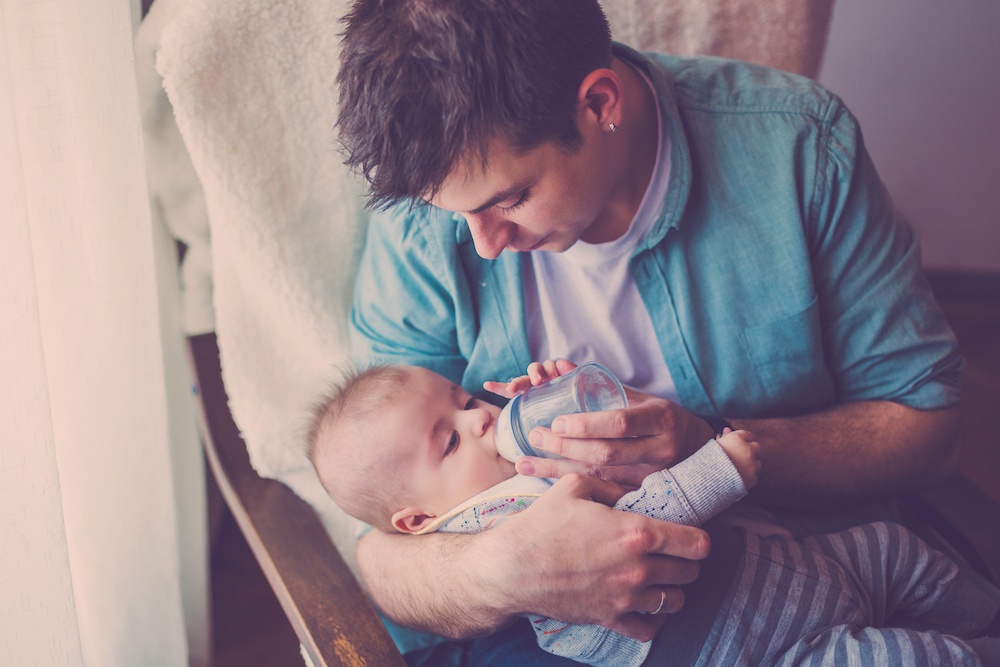 Dream Feeds Don't Always Work
Not all babies benefit from getting this last sleepy feeding. My sister-in-law had a hunch that her twins should be sleeping longer stretches at night. She cut the feed one night and her babies ended up waking up the same time in the early morning that they had been with the feed.
Some babies will wake up the same time in the middle of the night with or without the feed. They could be waking up, not because they are hungry, but because they don't have enough wake time during the day, so the dream feed wouldn't make a difference.
Others say that dreamfeeds can interrupt a baby's natural sleep cycle.
The only way to know if it could help your baby with night wakings is to try it. Do a dream feed for about a week and see if it makes any difference in your baby's sleeping patterns. If it does, keep doing it! If it doesn't, you can drop it just as easily as you started.
Did you dream feed your baby? Did it help them (and you) sleep a long stretch at night?