Is your toddler climbing out of the crib and you're not ready to transition to a toddler bed? See our tricks and hacks for getting your toddler to stay in their crib, so everyone sleeps safely!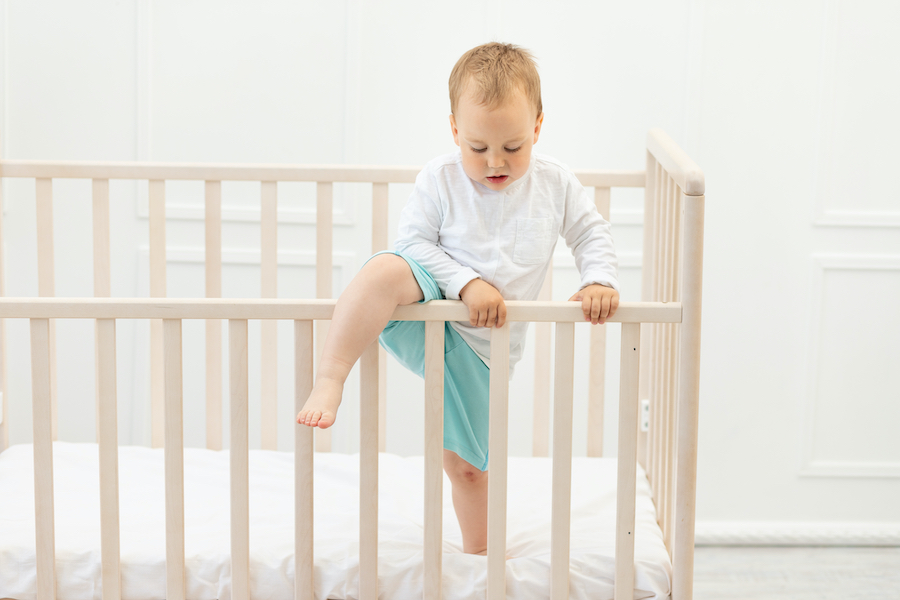 Almost every parent dreads the day (or night) that their toddler starts to climb out of their crib.
Some toddlers attempt to escape during bedtime or right after being put down for bed, while others do it in the middle of the night, startling their sleepy parents in the wee hours of the morning.
For many parents their child starts trying to escape the crib as young as 12, 15, or 18 months—way before tired parents thought they would have to deal with it. This is often part of the 18 month sleep regression or two year old sleep regression and does not mean your toddler is ready to move to a big kid bed.
See the signs your toddler is not ready to move to a bed here.
And toddlers aren't the most graceful among us. Usually we find that in their attempt to climb out, our toddlers actually fell out of the bed.
It can be really frustrating for us when toddlers start to climb out of their crib and won't sleep at night, but also really dangerous for our sweet babies.
For our family, our 27-month-old daughter came into our room one morning at 2 am and scared the daylights out of me.
I didn't even think she was close to climbing out of her crib and had no game plan in place. I walked her back to bed and put her in her crib again but sure enough, she was back in our room a few minutes later.
Once a toddler learns they can do something, you'd be hard-passed to try and stop them.
If your toddler is climbing out of his crib, there's a good chance no one is sleeping well. Once toddlers realize they are capable of climbing out, it's almost impossible to stop them, unless you can outsmart them in another way!
Here are our best solutions to keep your toddler from climbing out of their crib. If you think you've tried everything, go straight to #5! I tested these pajamas and they are amazing!
Grab my Toddler Sleep Training Guide to help you with your toddler's sleep! Get your toddler out of your bed and into their own using the most effective sleep training techniques for toddlers and big kids. This guide also includes tons of tips and tricks for tackling toddler's sleep! Get it here.
At What Age Do Toddlers Climb Out of their Crib?
It totally depends on the child's temperament, how much of a risk taker they are, and how much of a climber they are!
Some babies climb out of their crib way earlier than you'd expect! Make sure you're following their physical milestones and know when to lower the crib mattress to keep them safe.
The youngest I have ever heard of a baby climbing out was 11 months. Other babies pass the toddler stage and never try to climb out. Many lucky parents report leaving their toddlers in their cribs until they are 3 or 4 years old! Seriously, so lucky!
And while your 14-month-old may be climbing out of the crib, it certainly doesn't mean he is ready to transition to a toddler bed.
Most sleep consultants (including myself!) recommend waiting until your child is 3 years old to transition out of the crib.
At age 3 toddlers can comprehend so much more than an 18-month-old and are much less likely to get injured in a big kid bed.
If your baby is climbing out of the crib, follow these tips to get them back in the saddle, er, crib and keep them there all night long.
How Do I Stop My Baby/Toddler From Climbing Out of His Crib?
Wondering how to keep baby from climbing out of crib?
Whether your baby is 15 months, or you're trying to stop your two year old from climbing out of his crib, here are 5 solutions to keep your child in their crib at night and during naptime so everyone can sleep better.
Make sure you also have your toddler on an appropriate 2-year old sleep schedule or 3-year old schedule, so they are tired for bed and don't have too much energy to expend in the crib.
5 Simple Solutions to Keep Your Toddler in The Crib
Please note these are safe sleep practices. Crib tents are not safe, so avoid resorting to those as a way of how to keep your toddler in crib.
1. Turn the Crib Around
Many crib models are lower in the front and higher in the back. If your escape artist hasn't yet realized that he can climb out of the crib sides, this one may do the trick!
Turn your crib around so the high back side is now in front and the low, shorter side is up against the wall.
It's not the prettiest display in your nursery, but it's an easy solution that often works!
2. Lower the Mattress to the Ground
I'm assuming that you've already lowered the mattress as much as you can in the crib. If it won't go any lower, you can take the springs out of the bottom part of the crib and lower the mattress all the way to the ground. This just makes for a really low bed.
For some cribs this works really well, and for others you have to get a little creative. When we did this with our crib it left a gap in between the bottom of the crib and the mattress.
My daughter could have easily gotten stuck in between that gap (which to me was worse than any climbing-out-of-the-crib-injuries we would have). We used a thick play mat under the bottom of the mattress to give it a little height and close that gap.
You can also build a platform like these triplet parents did to help bridge the gap between the floor and the bottom of the crib.
3. Use a Sleep Sack
With a traditional sleep sack, your baby's feet are tucked in and there's a limited amount of space for how wide they'll be able to open their legs. They may not be able to get enough leverage to hoist a leg over the crib in their sack!
I loved to use a sleep sack after my baby transitioned out of the swaddle and before she could sleep with a blanket. It can help keep babies warm at night since they move around so much and it might help prevent them from climbing out of the crib. Plus there are some amazing sleep sacks for babies out there!
Some escape artists can get their sleep sack off. For those clever kids, grab a sleep sack your toddler can't get out of. One like the Halo sleep sack has the zipper at the bottom, making it harder for your toddler to access.
Some parents also put their child's sleep sack on backwards so they really won't be able to unzip it! See my favorite sleep sacks for toddlers here!
4. Move your Furniture
Make sure your baby's room doesn't have any furniture near the crib. Dressers or side tables close to the crib can be used as leverage to climb off of. Position the back and side of the crib against a wall so that only one side of the crib is open.
There are two different pajamas I found that are pure genius! I can't believe these aren't more mass marketed, because I know almost every toddler mom whose baby is climbing out of the crib would scoop these up ASAP!
I think these would also help if you were trying to keep your toddler from climbing out of the pack n play.
The Naughty Monkey is a shop on Etsy that sells pajamas that have been altered to have a wide piece of fabric in between the two legs so that your toddler can't widen their legs enough to get over their crib.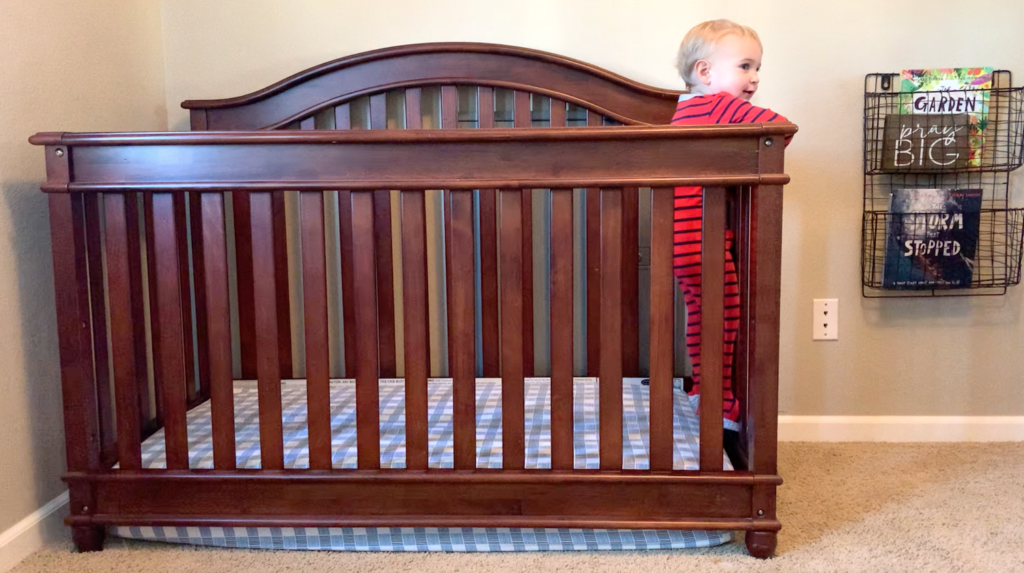 Toddlers can still walk in the pajamas, but these look even more restrictive than a traditional sleep sack. Her sizes go all the way up to 4T and have great reviews!
She sent me a pair to test out and they worked like a charm!
Baby Jack is almost 2 years old and had been climbing out of the crib so his mom turned it around. He could easily walk around in these pajamas, but was not able to crawl out of the crib in these! Look how cute!
Another company with a similar concept is Little Grounders. These are specially designed pajamas to help keep your little one in their crib.
Little Grounders took a traditional pair of footie pajamas and added a thick piece of fabric, sewing the legs together to lessen the space that kids would be able to move.
They also have zipper-free pajamas in case your little Houdini has mastered getting out of their pjs completely! These are GENIUS!
If you try all of these tricks and your little one is still able to climb out of their crib, it might be time to transition to a toddler bed. Make sure to follow our tips for making that a smooth transition so your toddler (and you) continue to sleep all night.
What did you use to keep your little climber in their crib? I'd love to hear tricks or products that worked for other parents as well!
Latest posts by Amy Motroni
(see all)