When it comes to the Hatch Rest vs Rest Plus, which okay to wake clock / white noise machine should you choose? Here's the differences between the Hatch Rest vs Rest Plus.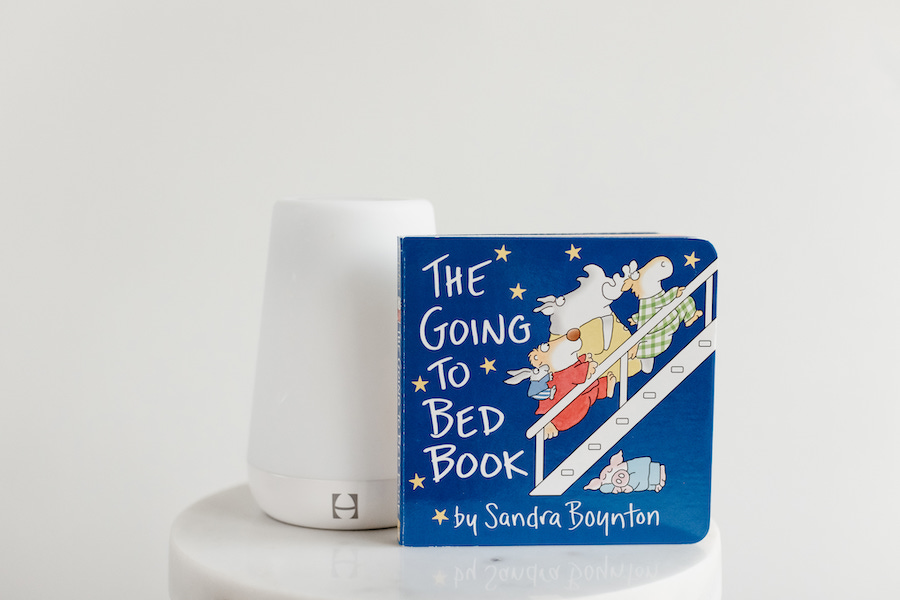 The Hatch is one of my all-time favorite sleep products.
I recommend it for all parents when they make the transition to a toddler bed and are tackling toddler sleep training.
It can be especially helpful to give toddlers and young kids a visual cue of when it's sleep time and when it's wake time and the Hatch makes it so simple!
While there are plenty of okay to wake clocks on the market, I find the Hatch so versatile and incredibly easy to use.
Although the price of The Hatch is higher than most toddler alarm clocks, I think the added functions and user friendliness make it worth the price.
We're going on strong of using our Hatch nightly for three straight years with no plans of stopping anytime soon.
There is more than one version of the Hatch though, and it can be confusing to understand the differences between the Hatch Rest vs Rest Plus.
Keep reading to see the differences between the two and find out which one is right for your family.
Want a way to incentivize your toddler or preschooler to stay in their bed all night long? Grab our Reward Chart and use it to help your toddler stay motivated. Get the free download here.
The Hatch Rest (2nd Generation)
The Hatch Rest is an okay to wake clock, nightlight, and white noise sound machine all in one. It is now in its second generation design. They've taken what was already a great product and given it some awesome upgrades.
With a price tag around $70, the Hatch Rest isn't the cheapest okay to wake clock or white noise machine on the market. However, it's a high-quality item that serves multiple functions.
This continuous white noise machine is great because it pulls double-duty as a dimmable night light. It provides a red-light glow that helps toddlers when they don't want to sleep in the complete dark.
New moms can also use the Hatch to calmly illuminate nighttime feedings without being too stimulating to your baby in the middle of the night.
Speaking of nighttime, sleep-deprived parents will appreciate the easy-to-find and programmable "favorites" buttons on the Rest. It's super easy to use, even when the room is dark or your brain is feeling a little foggy.
The light function is programmable with okay-to-wake and bedtime settings, which provide a visual cue to your child when it's time to go to bed or wake up in the morning.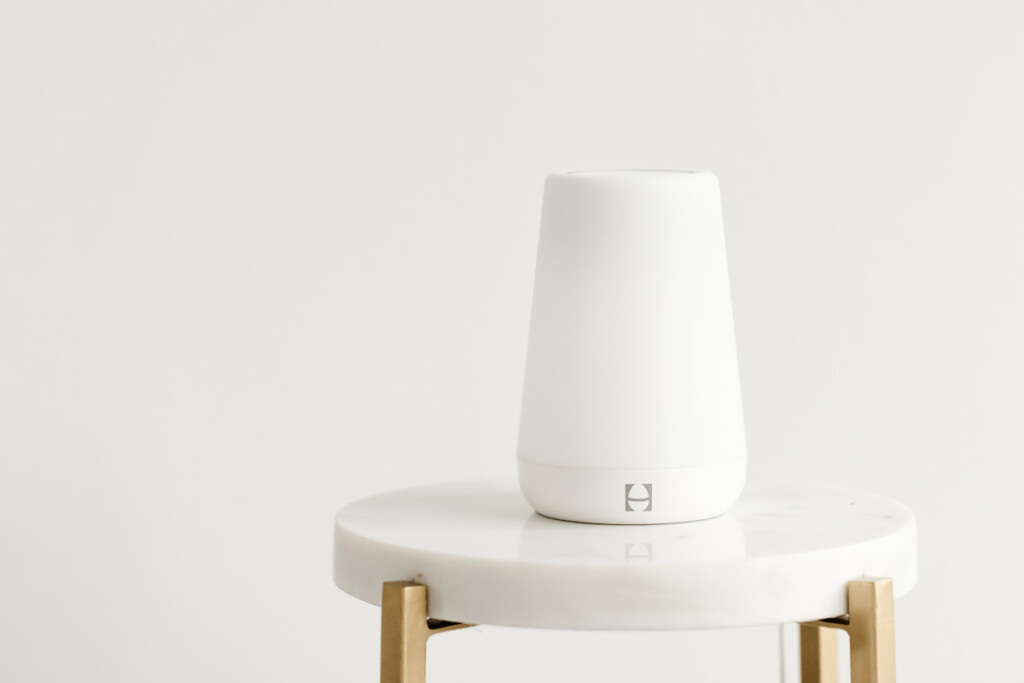 When it comes to the white noise settings, there are 11+ sounds, including wind, rain, and white noise options.
The Hatch Rest also comes with a "Sleep Library" function which allows you to use the Hatch as a speaker to play bedtime stories, music, and more via the Hatch Sleep Membership. Each purchase of a Hatch includes a free trial of the Hatch Sleep Membership.
Tech-savvy parents will also love that the Hatch Rest has wifi connectivity, and can be controlled with the Hatch Sleep app. This allows you to change light and sound settings from anywhere.
We don't have to worry about remembering to change a clock in my daughter's room during Daylight Savings Time and every once in a while when the day is just a little too long, I'll turn that light on a little early.
This feature is also especially helpful when toddlers are waking up too early and you really want to reinforce when it's sleep time.
The Hatch Rest is something you can start using with young babies and continue to use through toddlerhood and even into the "big kid" era.
Use it as a white noise sound machine and soft light for middle of the night feedings with your baby and introduce the okay to wake feature once your child has transitioned out of the crib.
Quick Overview of Features of the Hatch Rest:
Sound Machine
Night Light
Time-to-Rise / Okay to Wake Feature
Sleep Library
WiFi Controlled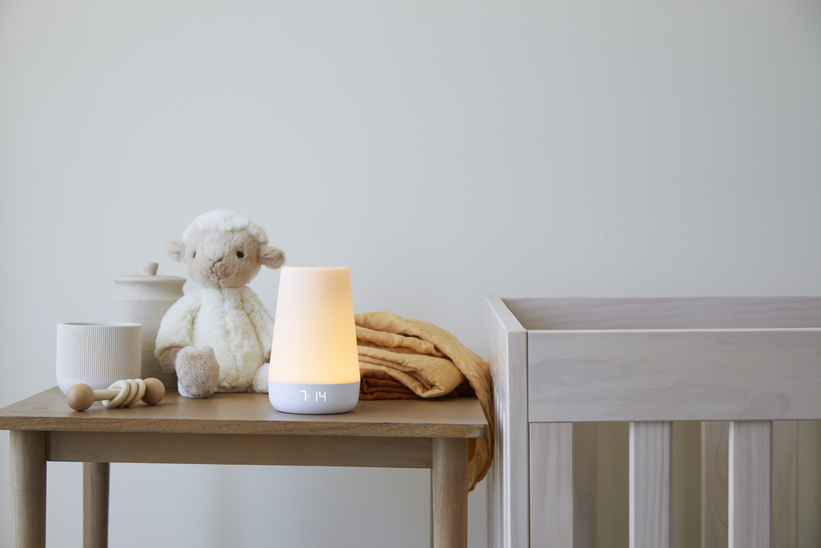 Hatch recently released an upgraded version of their kid-friendly machine, called the Rest Plus. Since it also comes with a $20 price tag increase, many families wonder what the differences are between the Hatch Rest vs Rest Plus.
The Hatch Rest Plus has the same features as the Hatch Rest, plus a backup battery that can last up to 8 hours. This is a major selling point for some families because it allows you to use the Hatch when the power is out, while camping with toddlers, or while traveling where power outlets aren't available.
It would even be nice to bring it out of your child's room and into a playroom when doing quiet time for kids.
In addition to the battery, the Rest+ model includes a dimmable digital clock. The dimmable clock display is on the front of the Rest+, where the Hatch "H" logo appears on the regular Hatch Rest.
The digital clock is great if your older child is starting to understand time, you like to keep an eye on the time from your little one's room (wondering how long until bedtime), or time your feedings in the middle of the night.
The Rest Plus is also Amazon Alexa-compatible. If you are already using Alexa-enabled devices at home, the Rest+ is a great addition to your smart home lineup.
One of my favorite additions to the Rest+ is probably that it has a noise-monitoring function and the ability to talk to your child through the device. Keep in mind that this audio monitor feature isn't available on the 2nd generation Rest Plus.
If you want to operate the Hatch with your phone, you'll need both a bluetooth and wifi connection. If you are traveling and don't have that connectivity, you can still use the buttons on the Hatch.
The Rest+ is a great option if you're looking for a portable sound machine, nightlight, and okay-to-wake clock in one.
Quick Overview of the Rest Plus:
Sound Machine
Night Light
Time-to-Rise / Okay to Wake feature
Sleep Library
WiFi Controlled
Backup Battery
Digital Clock
Alexa compatible
Audio Monitor (1st Gen Only)
When considering the Hatch Rest vs Rest Plus, which model you choose will depend on whether you'd like the ability to use the backup battery while traveling, control the Hatch with Alexa, and/or have a clock on the face of the Hatch.
If you already have a Hatch Rest, you've probably found a way to manage without the additional Rest+ bells and whistles. And that is perfectly fine. We don't always need the newest and shiniest things for our little ones.
We have the Hatch Rest and don't plan on upgrading to the Rest Plus.
But if you are just starting to create your baby registry or are in the market for an okay to wake clock, consider the Rest+. You might decide that it's worth the extra $20 to have the additional functions.
The nice thing about putting the Rest+ on your baby registry is that it combines multiple things that you might otherwise register for individually. If you register for the Rest+, you don't have to register for a white noise machine, dim feeding light, and okay-to-wake clock as three separate items.
It all comes down to if you want portability and the ability to take your Hatch with you, either around the house, or on vacation easily and if you want to be connect your Hatch to Alexa.
Grab my Toddler Sleep Training Guide to help you with your toddler's sleep. Get your toddler out of your bed and into their own using the most effective sleep training techniques for toddlers and big kids. This guide also includes tips and tricks for tackling toddler's sleep. Get it here.
Latest posts by Amy Motroni
(see all)