Here's a complete pregnancy checklist, breaking down the tasks you should do in each trimester! Bookmark this handy pregnancy checklist so you are fully prepared for baby's big debut and download the free printable PDF at the bottom!
Congratulations on your pregnancy! It's such an exciting time with plenty of emotions! The next nine months may crawl by slowly or quickly pass in a blur. This handy pregnancy checklist has all the important tasks you need to conquer before your baby enters the world.
I've included everything I could think of—from adorable ways you can announce your pregnancy, to ways you can get your entire house ready for baby. I've got you covered with plenty of tasks!
Bookmark this page or pin it for later so you can come back and finish all of the tasks from your pregnancy checklist before your due date. Trust me, it will be here before you know it!
Pregnancy Checklist for the First Trimester
The first trimester is one of the most exciting and difficult times of your pregnancy. Many women feel exhausted and nauseated during the first trimester. I was so tired and sick for the first 16 weeks of my pregnancy so the first trimester was not the time for me to get stuff done! Here are the things to do when you first find out you're pregnant.
PREGNANCY CHECKLIST FOR THE Second TRIMESTER
The second trimester was my favorite! The morning sickness and fatigue have dissipated and your little belly pooch is finally starting to look like a baby bump, and not like you just ate too many brownies.
I felt the best in my second trimester so I tried to get a head start on a lot of my pregnancy checklist tasks. Some of these might not seem pressing, but you'll be glad you got them done when you're feeling good!
PREGNANCY CHECKLIST FOR THE Third TRIMESTER
You're in the home stretch! The closer you get to your due date, the harder it will be to get tasks done. Try checking them off your pregnancy checklist sooner rather than later so you can use the last few weeks of your pregnancy to rest and wait for your baby to come!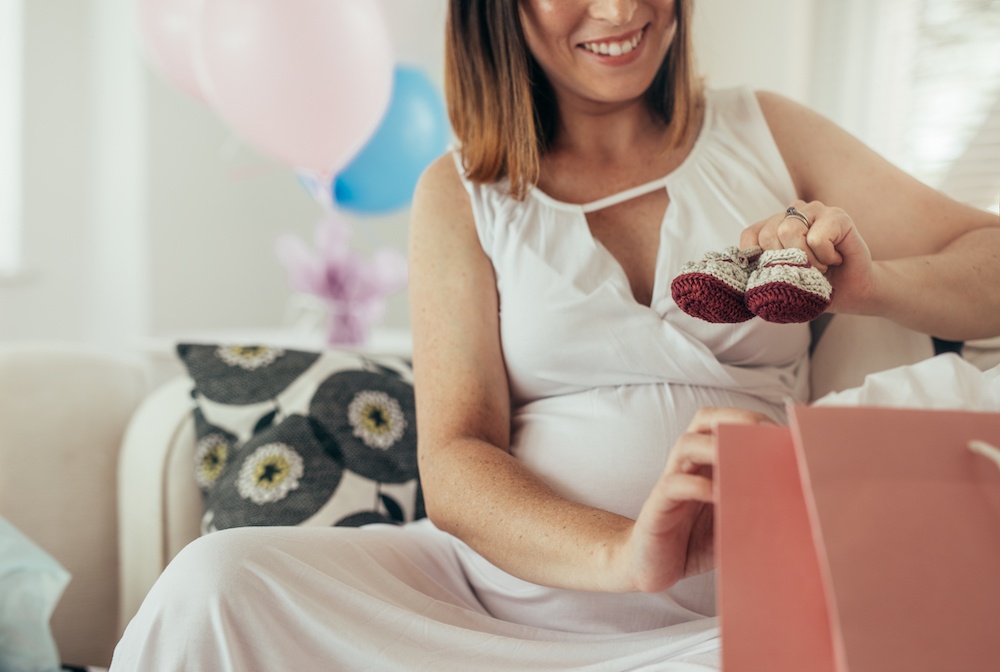 Have your baby shower! Expecting moms usually like to do this two months before the baby's due date. This way you have that adorable baby bump but aren't completely uncomfortable yet. (Hopefully!) Here are 20 awesome baby shower games!
Pack your hospital bag. Include items like postpartum clothing, toiletries, a pillow and robe, and baby's going home outfit. Make sure dad has his bag packed too! See all the items I recommend packing in your hospital bag here.
Grab some friends and make some freezer meals. Taking a few extra hours to get some meals ready will save you loads of stress later when your baby first arrives. You can even make lactation smoothies in advance to help your milk supply!
Send out thank you cards for your baby shower and purchase any remaining items off your registry that you didn't get.
Stock up on postpartum necessities to help with your recovery. I have a complete postpartum essentials post that includes things you need for your physical and emotional health!
Interview pediatricians and decide on one. Ours visited Evelyn in the hospital after she was born and it was so nice that he was already a familiar face that I trusted.
Book a newborn photo session. I am so glad I did this in advance. Taking photos was the last thing I wanted to do postpartum, but luckily I had already booked and paid for the session. They are still some of my favorite photos to date!
Install the car seat. It could be go time any day now!
Squeeze in as many date nights, girl's nights out, and alone time where you can! Read, relax, and enjoy it. Soak up this time before baby comes.
Make sure you grab friends and your partner to help out with your pregnancy checklist tasks! People are usually happy to help an expecting mom, and there's no reason why you should go at it all on your own. Take time to relax and rest throughout your pregnancy as you prepare for your baby's debut!
Download our free pregnancy checklist PDF
Wondering what you need to do, when the baby comes? Here are 10 tasks to do after bringing baby home!
Latest posts by Amy Motroni
(see all)