Get ready to rock your bump this Halloween with these fun pregnancy costumes. These maternity Halloween costume ideas show off your bump and make you so cute it's scary!
This post and the photos within it may contain Amazon or other affiliate links. If you purchase something through the link, I may receive a small commission at no extra charge to you.
Get ready to rock your bump this Halloween with these spooky-cute maternity Halloween costume ideas for pregnant women! There's clever, crafty costumes for the DIY-er as well as easy pregnancy shirts you can buy and wear.
Rock your bump solo or add your partner to the mix with these pregnancy Halloween costume ideas and maternity partner costume ideas! There's even plenty of ideas to get older siblings in on the fun.
These are perfect for passing out candy, going to a Halloween party, or if you're having a Halloween baby shower.
Click through to the original sources to see how these expecting mamas came up with these clever maternity costumes to show off their growing baby bump!
Maternity Halloween Costumes for the Mom to Be
Aww Sam's elegant pearl costume is so cute and unique! She walks you step-by-step on how to create your very own pregnancy pearl costume that is sure to win a costume contest!
Jamie is the queen of fun and simple costumes and this DIY costume deviled egg is no exception! Show off that bump with this easy, peasy costume that is so clever!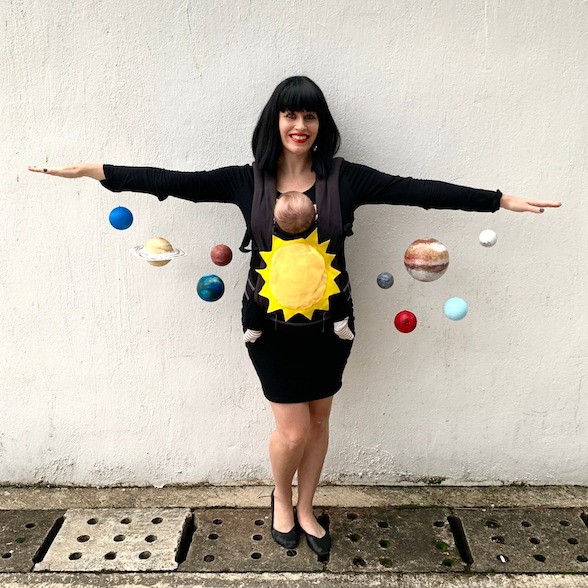 For a costume that is out of this world, look no further than the solar system from Ms. Kit Lang. I love how you can make it a full family costume with your spouse and kids as astronauts! Grab a black dress and start crafting!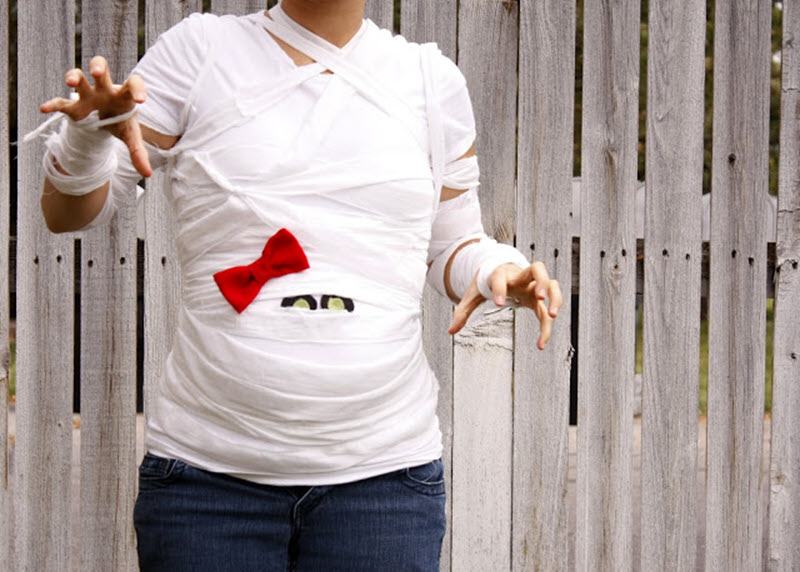 Rock the mummy to be look with this simple mummy costume from Delia Creates. Such a cute way to make your baby and your bump part of Halloween! Add some scary face makeup if you're looking to make a scary pregnant Halloween costume.
Looking for an iconic costume idea? Check out how the ladies at Elite Daily created the cutest Kool-Aid (Wo)Man costume with a dress and a pair of black leggings. This costume is so fun and original!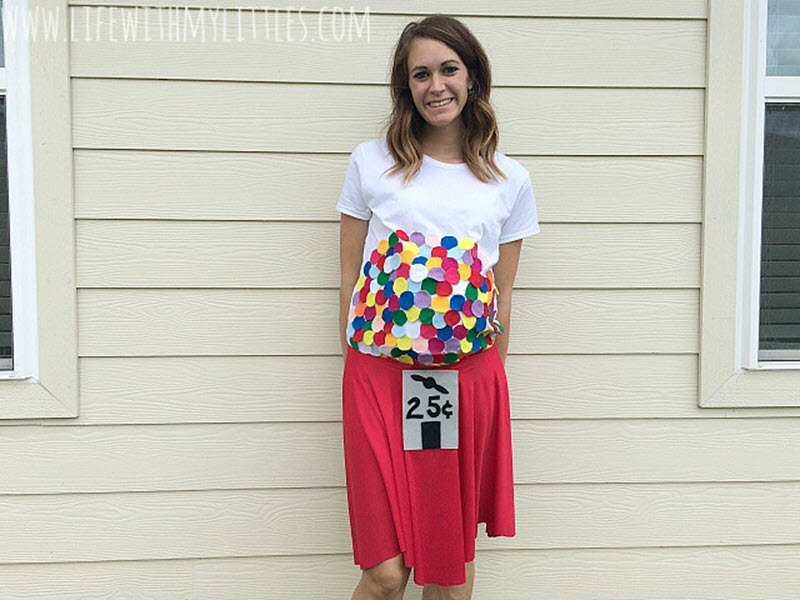 See how Life with My Littles made this maternity bubblegum machine Halloween costume. It's a no-sew costume that uses a white tee and red skirt and is such a cute way to show off your sweet baby!
You'll be the cutest pumpkin in the patch with this easy maternity dress Halloween costume! Make sure to grab the matching headband to complete the look to show off your little pumpkin with this festive costume.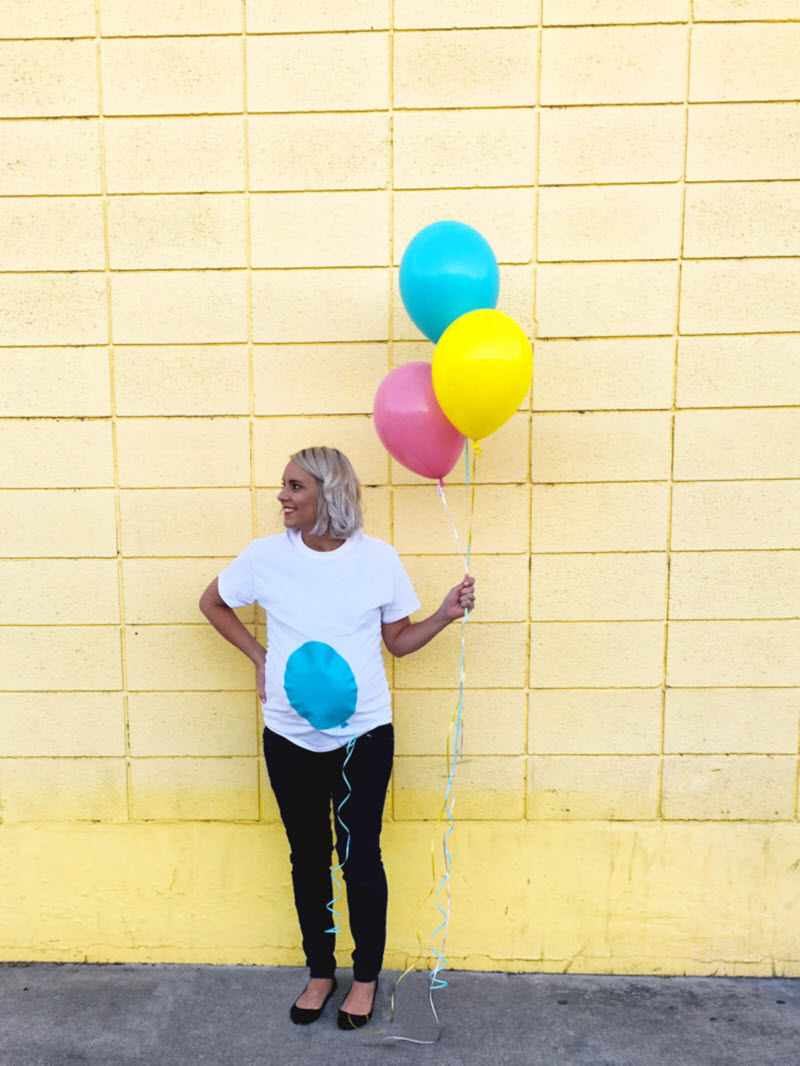 A joyful Riot has several ideas you can copy for your maternity Halloween costume using a white tee shirt and some felt. See how she made this balloon costume along with seven other ideas!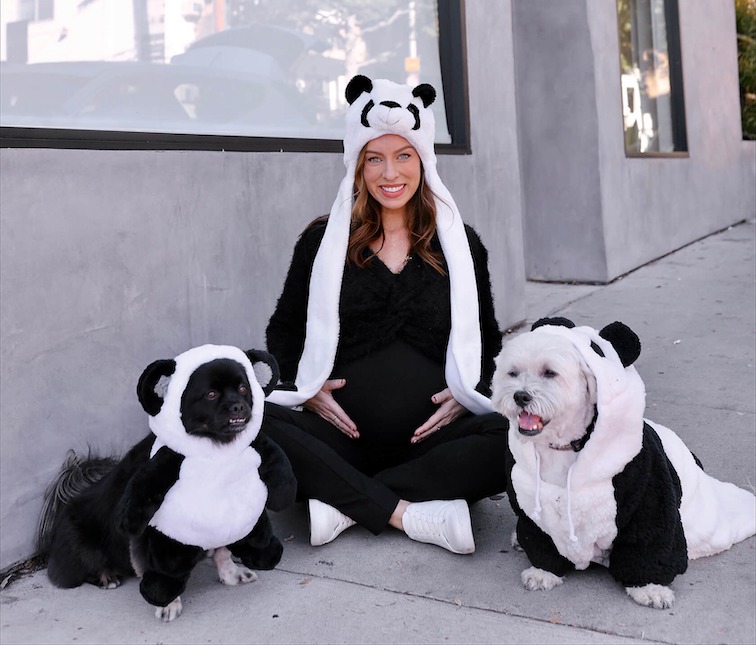 Bring out your inner mama bear this Halloween thanks to Sydne Style. From panda bear, teddy bear, to koala bear, Sydne shows us how to easily create our favorite bear costume. I love how she also gives ideas for matching bear costumes for other family members—including your dog!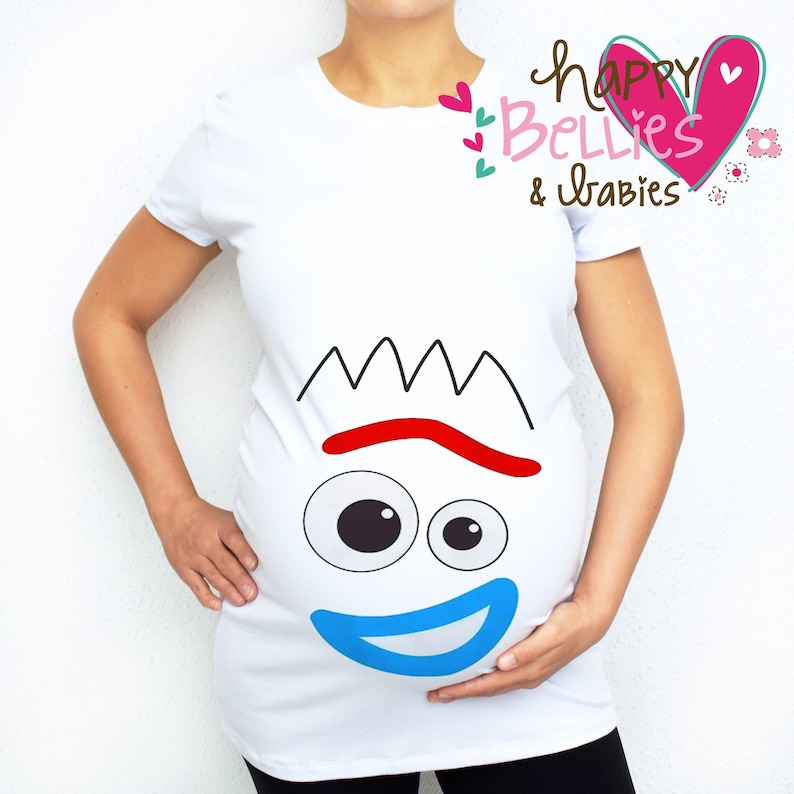 Check out this cute and easy Forky t-shirt costume from Happy Bellies and Babies. It's the perfect casual costume for Disney-loving mamas! Don't forget the googly eyes.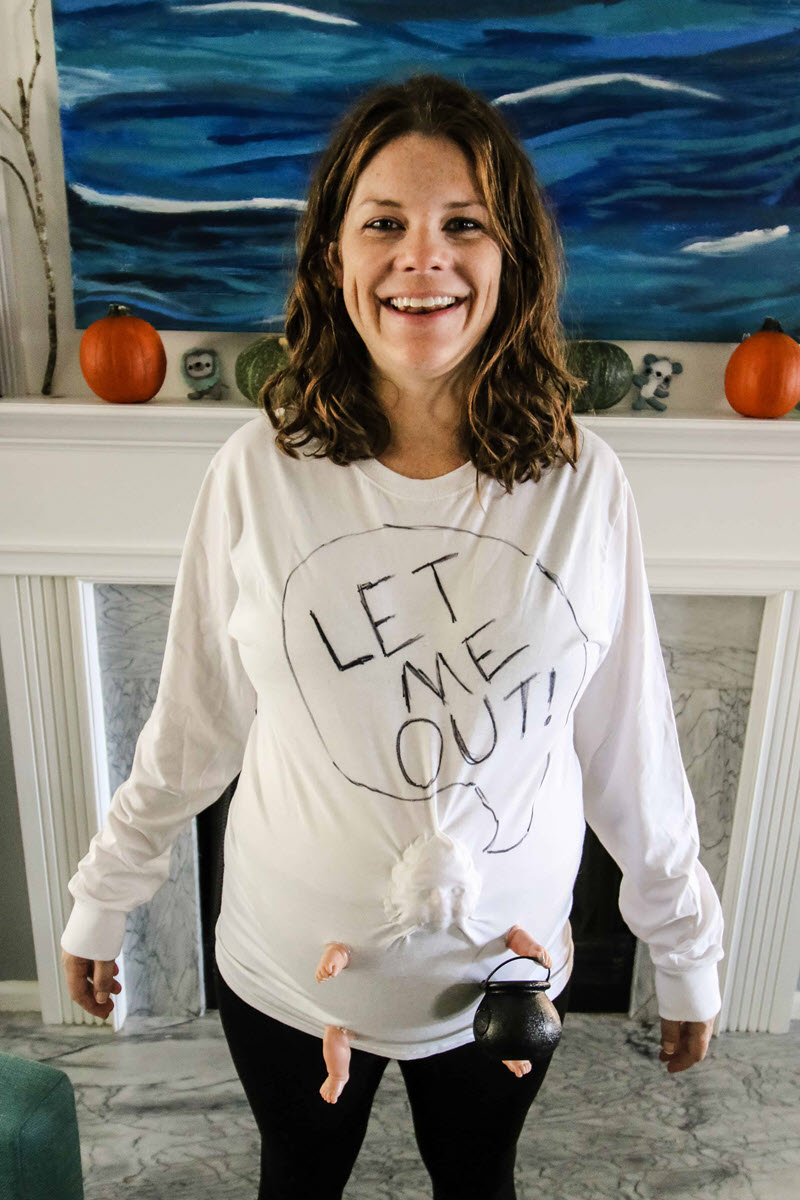 How clever is this escaping baby costume idea from Charleston Crafted? If you're far enough along in your pregnancy, you probably feel like baby is ready to escape already, anyway! See her blog to see how she came up with this great idea.
This is one of the best pregnant halloween costumes I've seen! Bring the '90s nostalgia this Halloween with this Bop It game costume from Club Crafted. Holly shares exactly what supplies you'll need to create this playful costume. You'll be signing "Bop it, Twist It, Pull it…" all night!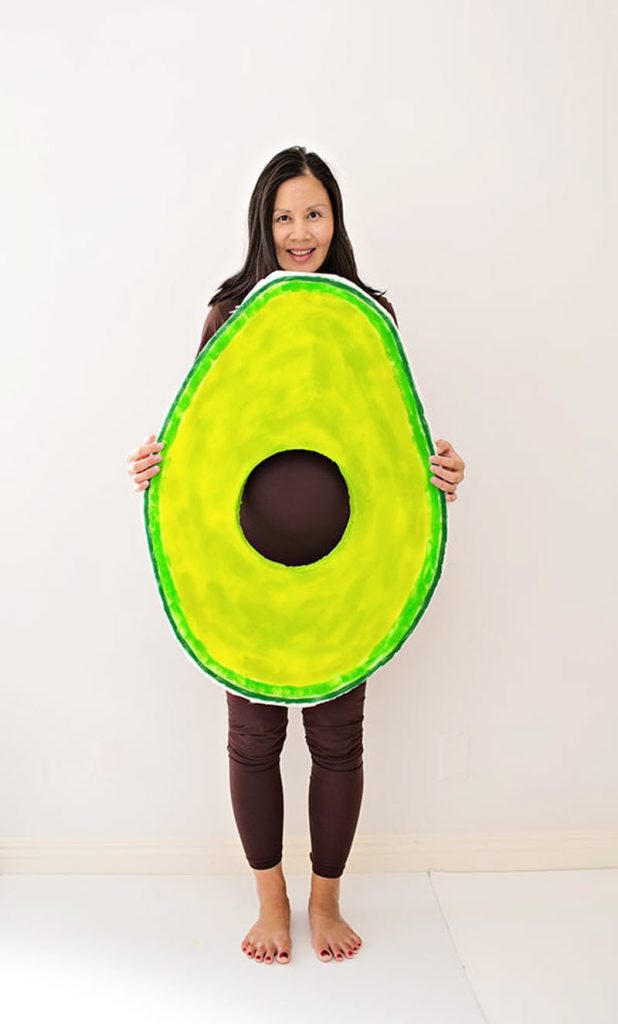 Hello Wonderful made this adorable maternity Halloween avocado pit costume to show off her growing belly! She has the full tutorial on how to make this on her page. See how she even added her other kids to round out this idea!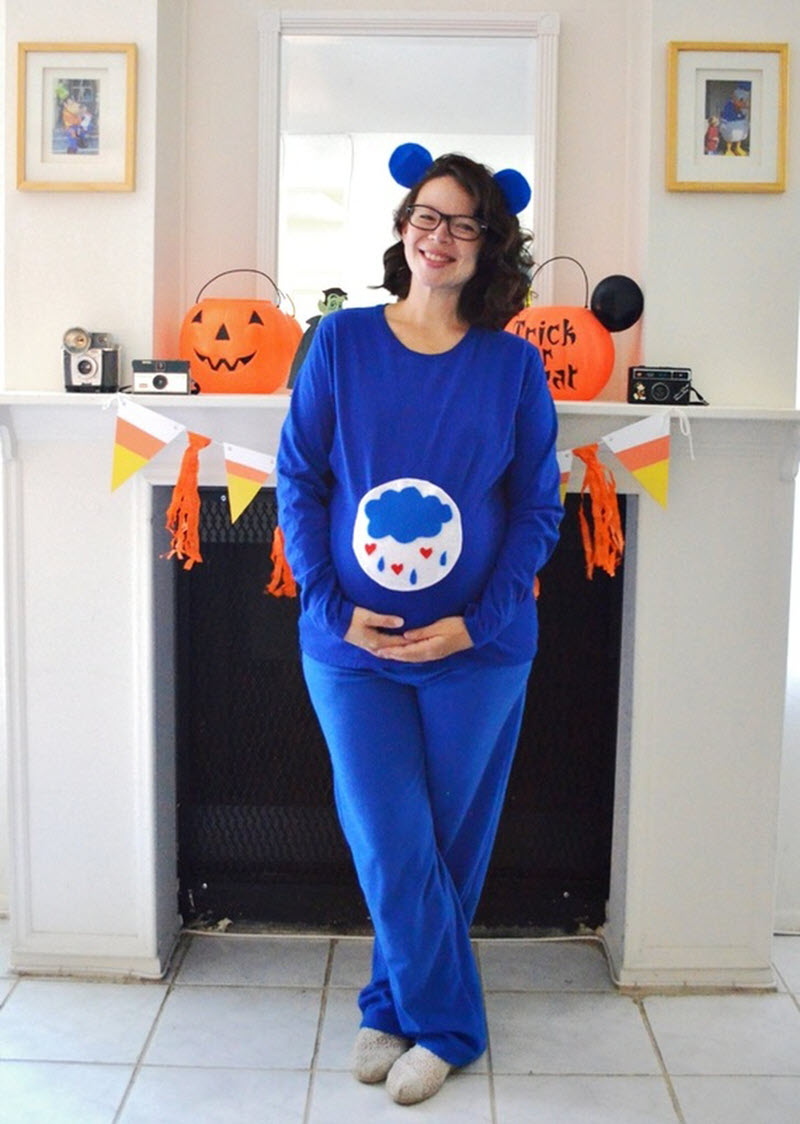 Amy looks so comfortable in her DIY Grumpy Care Bear Halloween costume. This is a perfect costume for those chilly Halloween nights. The best part is she looks so cozy!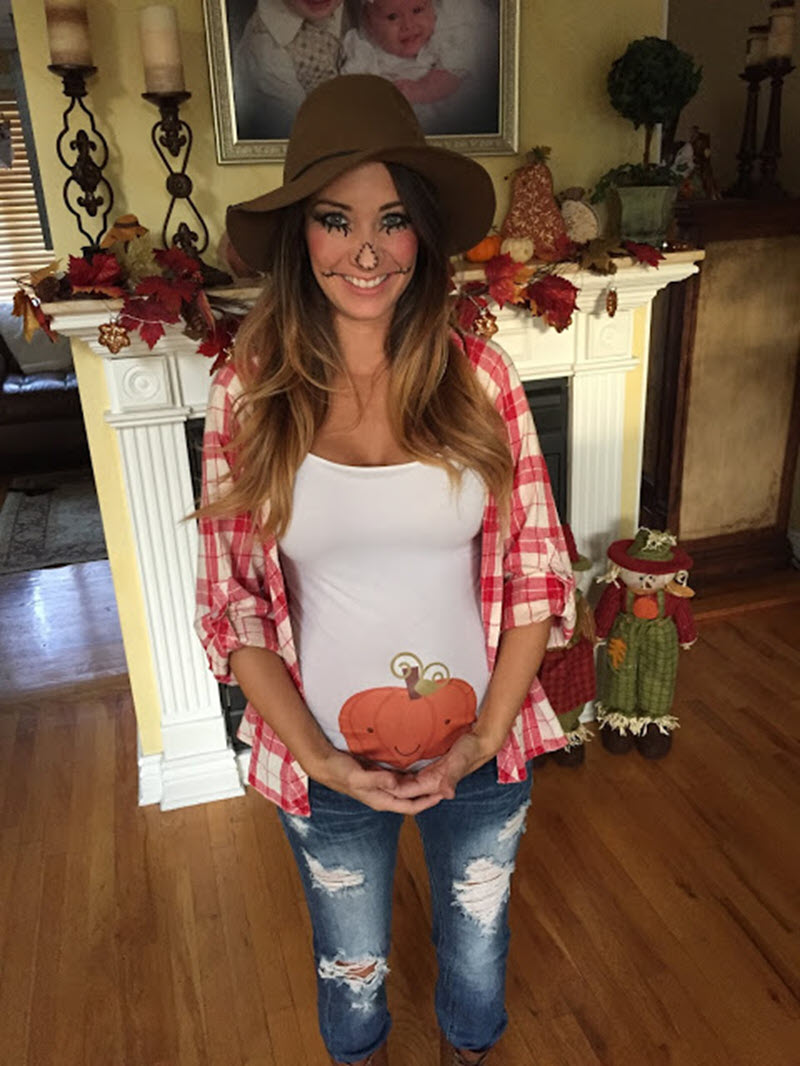 Dress up a basic white shirt and flannel to show off the cutest pumpkin in the patch! This scarecrow pregnancy costume is also a great way to do a Halloween pregnancy announcement! Surprise friends and family with this first trimester Halloween costume.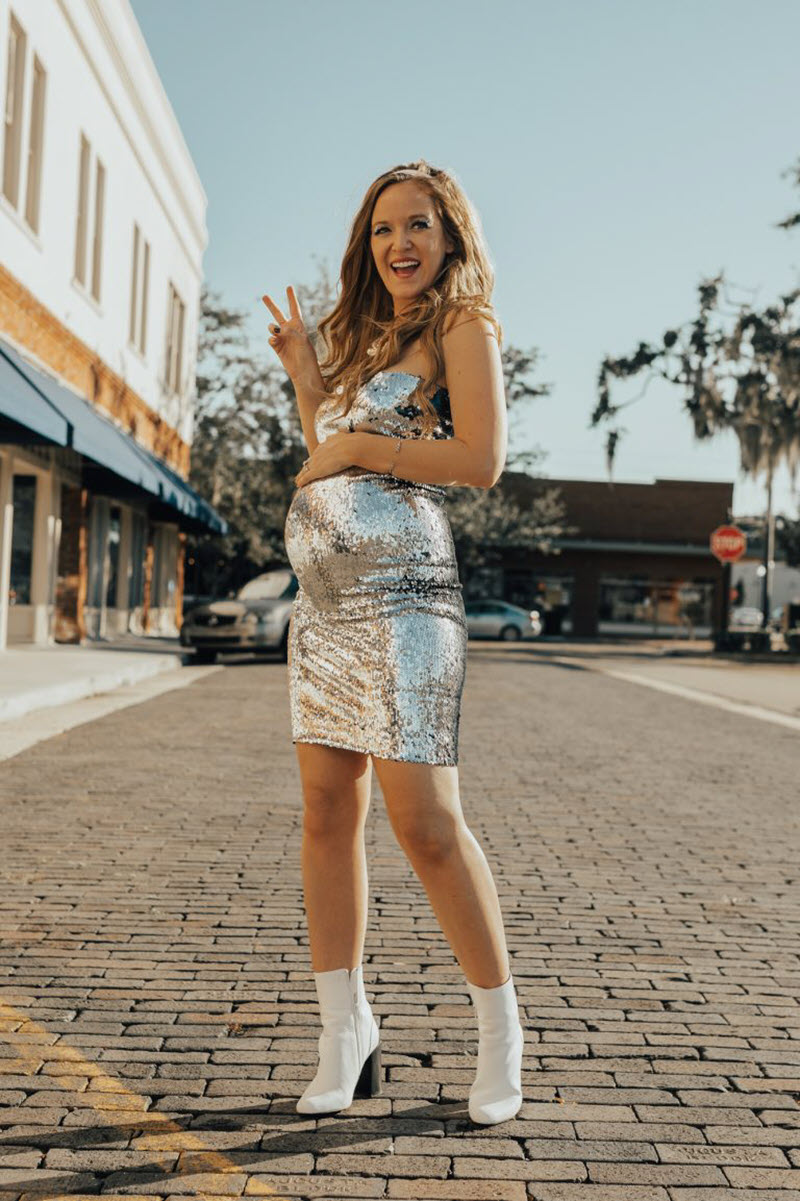 Show off your bump in style with a sparkly disco ball with this fun costume. Or should we say groovy? Upbeat Soles turned this sequin dress into the most glamorous bump-rockin' Halloween costume and we are here for it!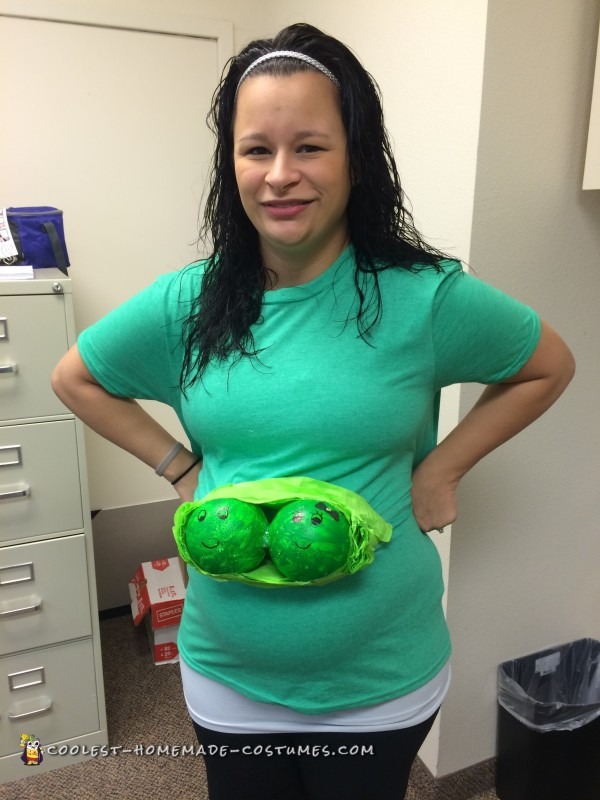 This is the perfect Halloween costumes for mamas expecting twins! Checkout the blog to learn how easy it is to DIY two peas in a pod costume.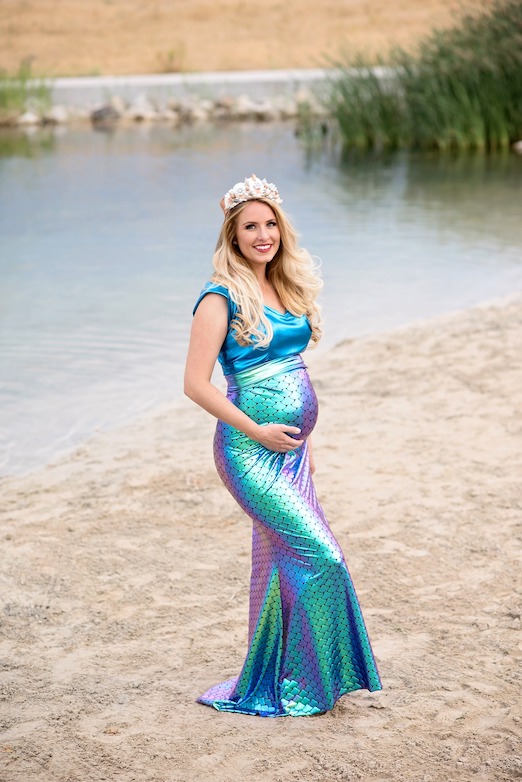 Channel your inner sea princess with this mermaid costume from Kara Metta. If you're looking for a fun, chic costume this is it! This mama-to-be looks swimmingly gorgeous!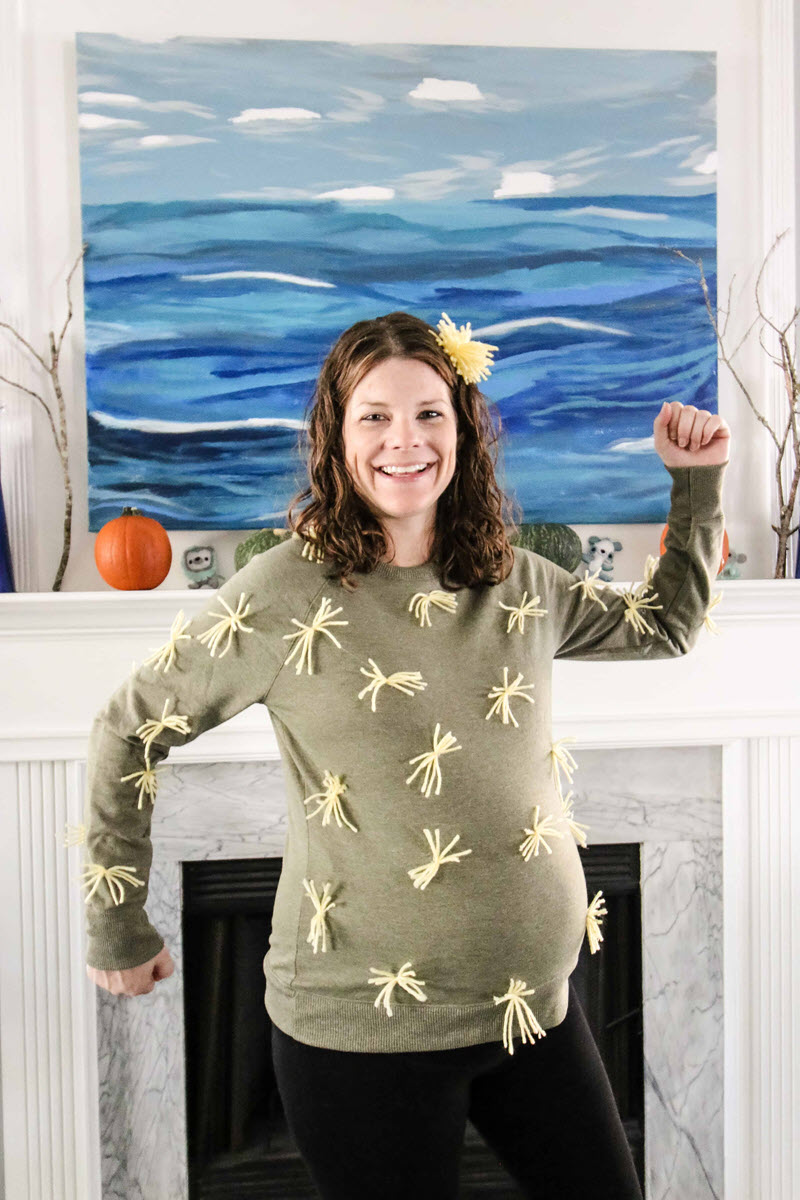 Another easy idea from Charleston Crafted! See how she made this DIY cactus maternity costume to poke off belly grabbers!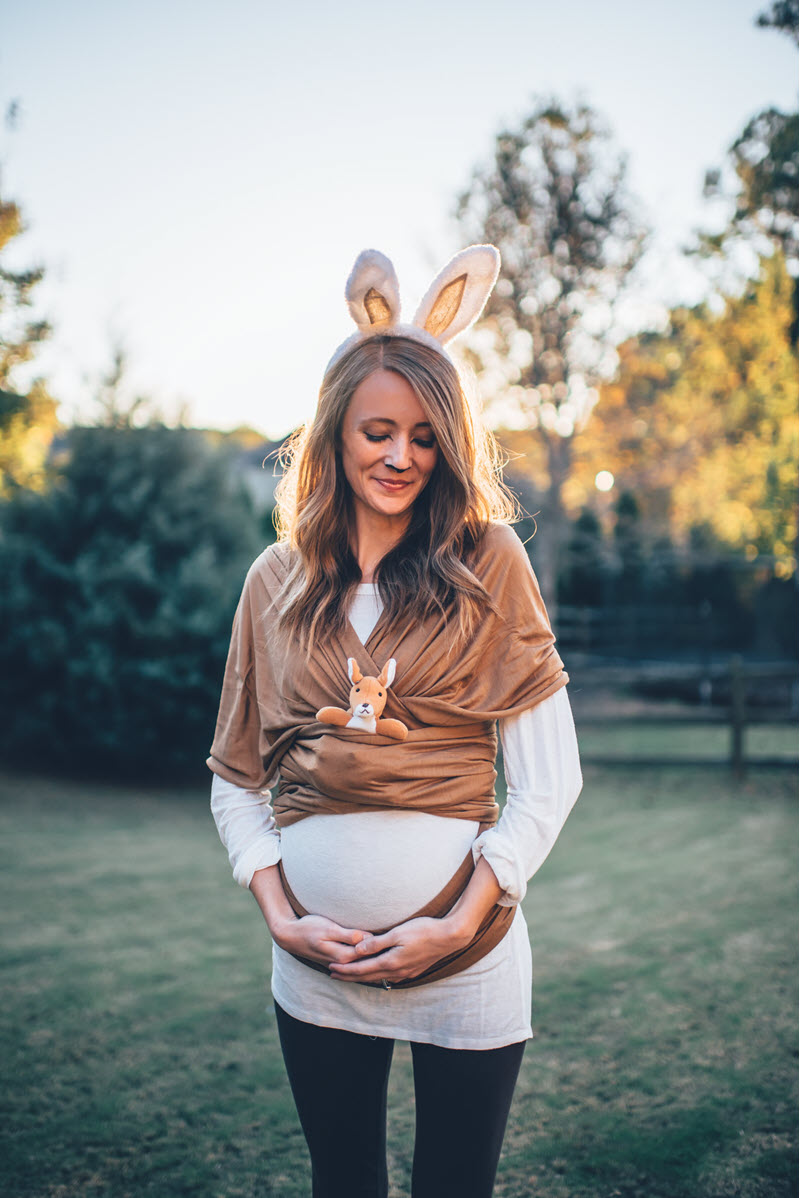 Get ready for all that kangaroo care with The Southern Trunk's marsupial costume. See how she added dad and big brother to the bunch as well!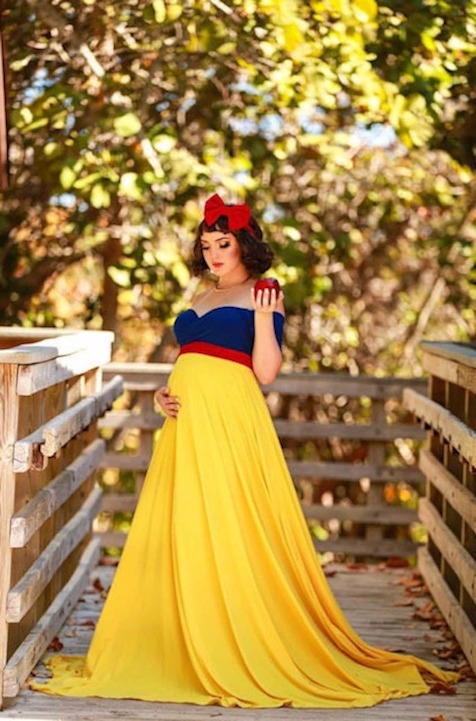 This Snow White costume from Love Birds Co. will turn you into the ultimate Disney princess! This made-to-order gown is as luxurious Halloween as it gets. Major bonus points if your partner dresses up as prince charming. Perfect for the ultimate Disney fan.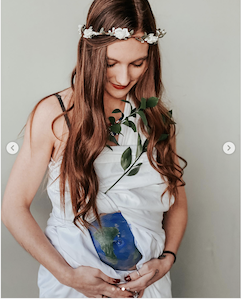 Channel your motherly instincts with this Mother Earth maternity costume. Keep it simple by using a white bedsheet (or two!) as the base of your outfit with body paint on your belly for the earth.
Will your Halloween costume be a hit? All signs point to yes, with this Magic Eight Ball costume. Your baby belly is the perfect shape to make this costume. Hannah at The Homesteady even shows how to add the purple triangle responses for a super interactive costume!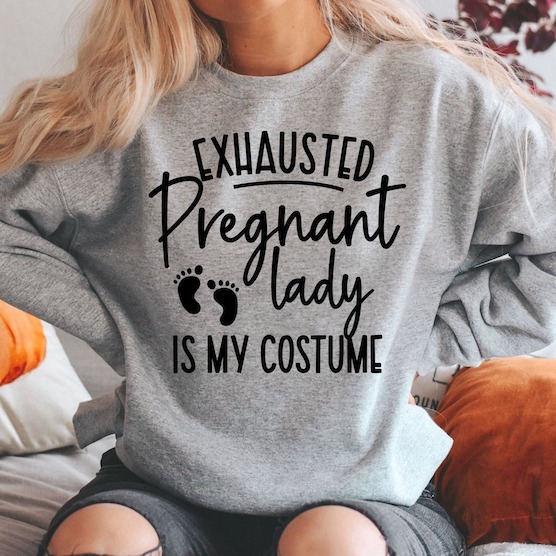 Love Lulu Belle has the easiest, comfiest, and most honest Halloween costume with this exhausted pregnant lady sweatshirt. I love how you can customize it by color and shirt style. If you can't even this Halloween, then this is for you.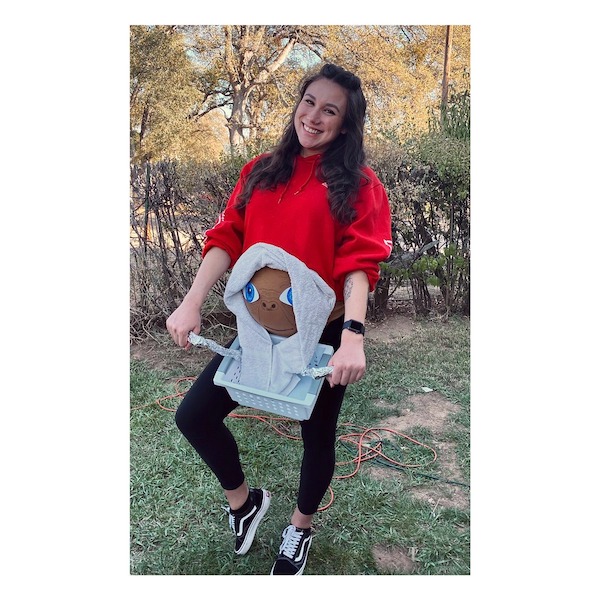 Show off that baby belly with another super nostalgic costume for you and your bump with this ET costume. It looks so comfortable too!
Talk about a sweet costume! I love how fun and whimsical this ice cream cone costume is from Brit + Co.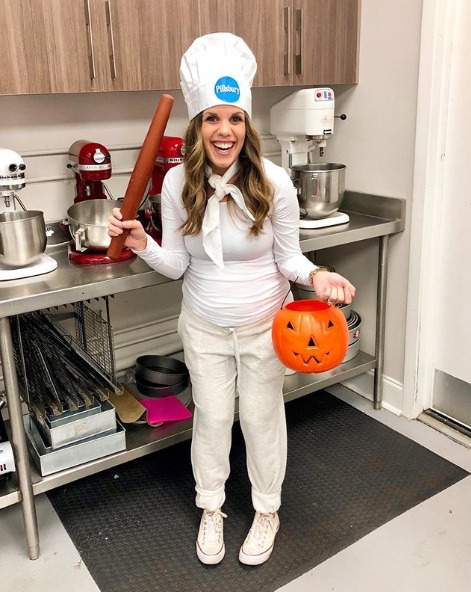 Show off your bun in the oven with a Pillsbury Dough Boy costume. See how this expectant mother turned this simple white t-shirt into such a fun costume idea. Don't forget your rolling pin and maybe even a trick-or-treat bag full of some doughy deliciousness!
If you're looking for a humorous and somewhat shocking costume, look no further than this DIY pregnant nun from Charleston Crafted.
Pregnant Halloween Costumes for Couples
Get dad in on the fun with these maternity Halloween costumes for couples! Show off your bump and your partnership with these fun ideas! if you have other kids, you can add them to the mix with these family costumes.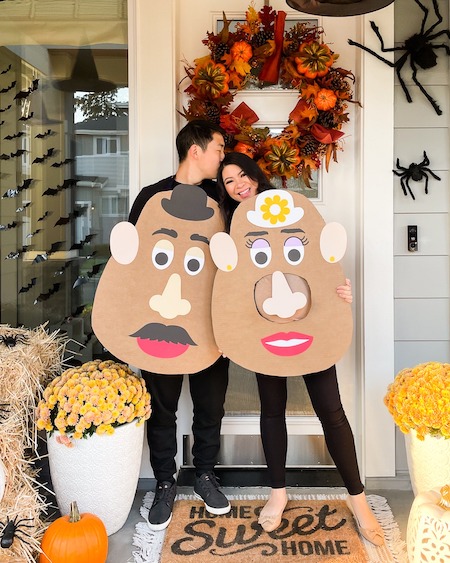 I absolutely love how Tina from Just A Tina Bit went all out with her family's Toy Story costumes! Her Mrs. Potato Head costume is perfect for her baby bump and is so easy to create.
Show off your little bun in the oven (literally) with this cute duo costume that you can do with your partner—the bun maker!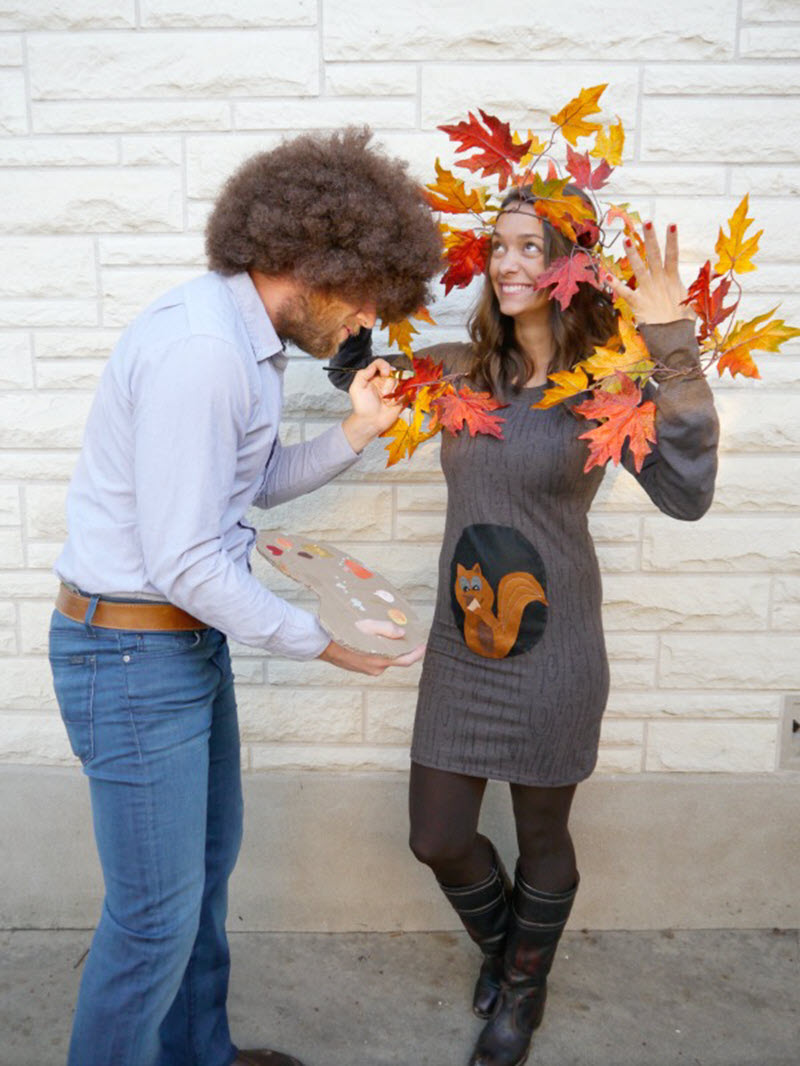 Happy tress everywhere! Here's another clever DIY maternity costume from Creating Really Awesome Fun Things! She's dressed as a painting with the very famous Bob Ross by her side!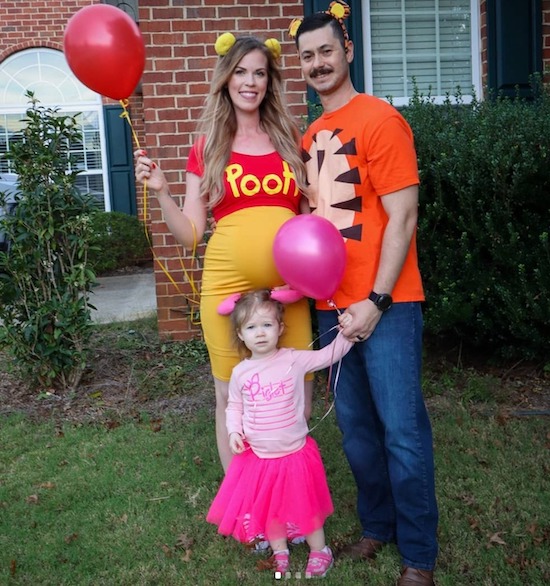 Oh bother! Looking for a mommy and baby Halloween costume while rocking your bump? Auroramoon Creations has the cutest family costume with her Winnie the Pooh Outfit that includes pals Piglet and Tigger too!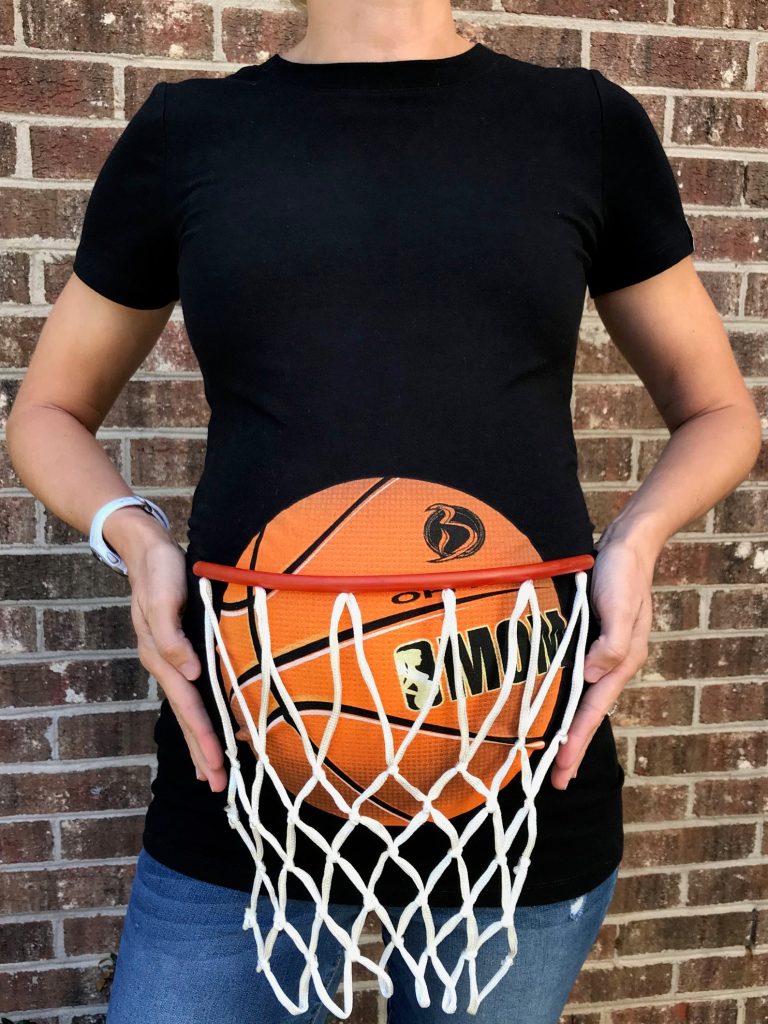 Showcase your pregnant belly with a basketball hoop costume. Add a referee to this basketball bump costume and you're all set! You can also have dad dress up as a basketball player for a cute partner costume!
May the force be with you as you dress up as pregnant Padme. Amanda, from Amanda Did It, gives you step by step instructions (with pictures!). It is very detailed and will take some planning ahead, but if you love Star Wars, you can't go wrong with this great costume.
How cute is this snowman costume? Jamie of C.R.A.F.T. shows you how to take everyday items you have around the house and turn them into the cutest costume.
Go shopping in your closets to pull together a cozy lumberjack costume. Lovely Indeed focuses on creating awesome Halloween costumes from what you already have. This is a perfect costume for some cold weather trick-or-treating!
Show off your bump this Halloween with this fishbowl costume idea from Love Sparkle Pretty. Using face paint to transform your bump, this is a super easy costume. Have dad dress up as a fisherman and you have the perfect couples costume.
Show off your preggo belly with this punny partner costume! It comes with costume aprons for mom and dad to be.
You'll be the bees-knees with these beekeeper and hive costumes from Do It Yourself Divas. Older siblings are buzzing bees with a DIY baby Halloween costume while the newest addition is tucked away cozy in its hive! What a cute idea!
Dressing up as the coveted golden snitch from Harry Potter will certainly give you plenty of points at your Halloween party this year. Play up the movie theme and make it a great couples costume by having your very own Harry Potter at your side!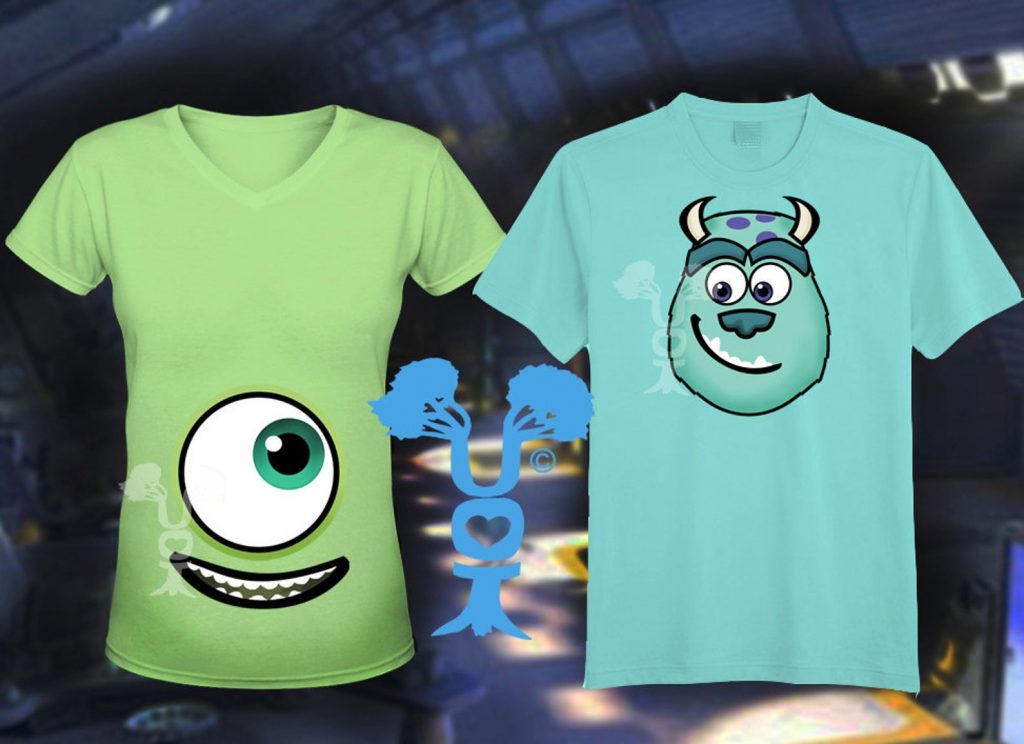 If you're crafty, you can make your own Monsters Inc. pregnancy couples costume with these Monster transfer images from Under Oak Trees. This simple idea makes the cutest Mike Wazowski.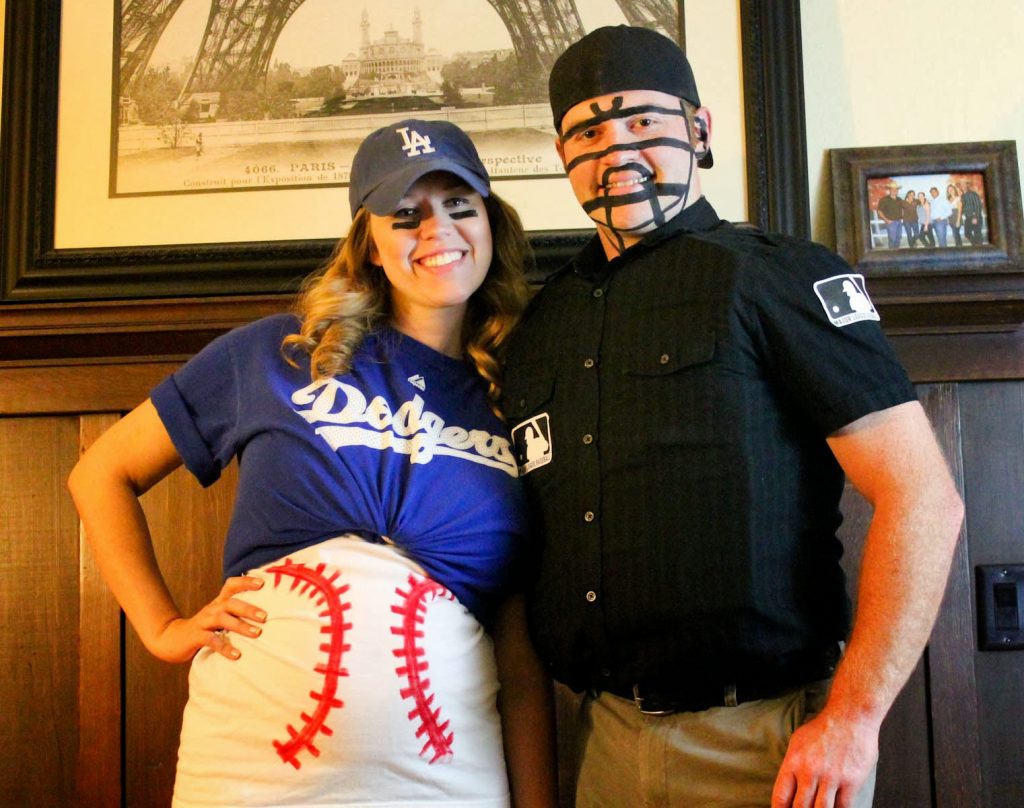 Take your bump out to the ball game with a baseball maternity costume. See how From Dhalias to Doxies made this Halloween costume and even added dad-to-be as the umpire.
Check out this super cute pot of gold costume from Coolest Homemade Costumes. Make it a family costume with your kids as little leprechauns.
Janie, at She Just Glows, caught my attention with her adorable no-sewing fish family costume. Check out the blog to see how she takes felt, fabric, and some safety pins and turns it into a complete costume for the entire family!
You may be all baby, but dad is all beer and french fries! I love this easy pregnant skeleton costume idea for couples that you can pull of last minute!
Have fun at your Halloween festivities with these pregnant halloween costume ideas. Which one is your favorite?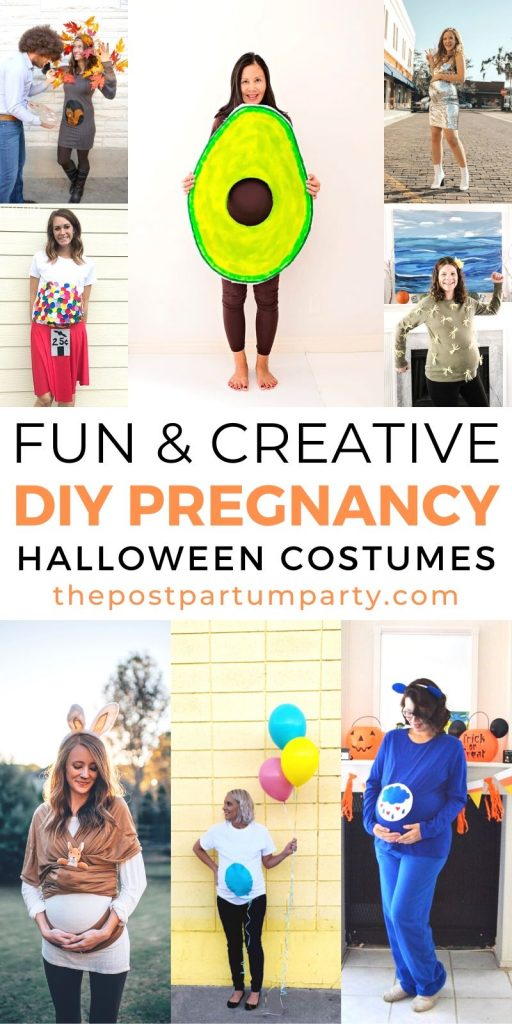 Latest posts by Amy Motroni
(see all)