Getting ready to announce your bun in the oven to family and friends this Thanksgiving? Check out these adorable Thanksgiving pregnancy announcement ideas to share the news that you'll be eating for two this Thanksgiving!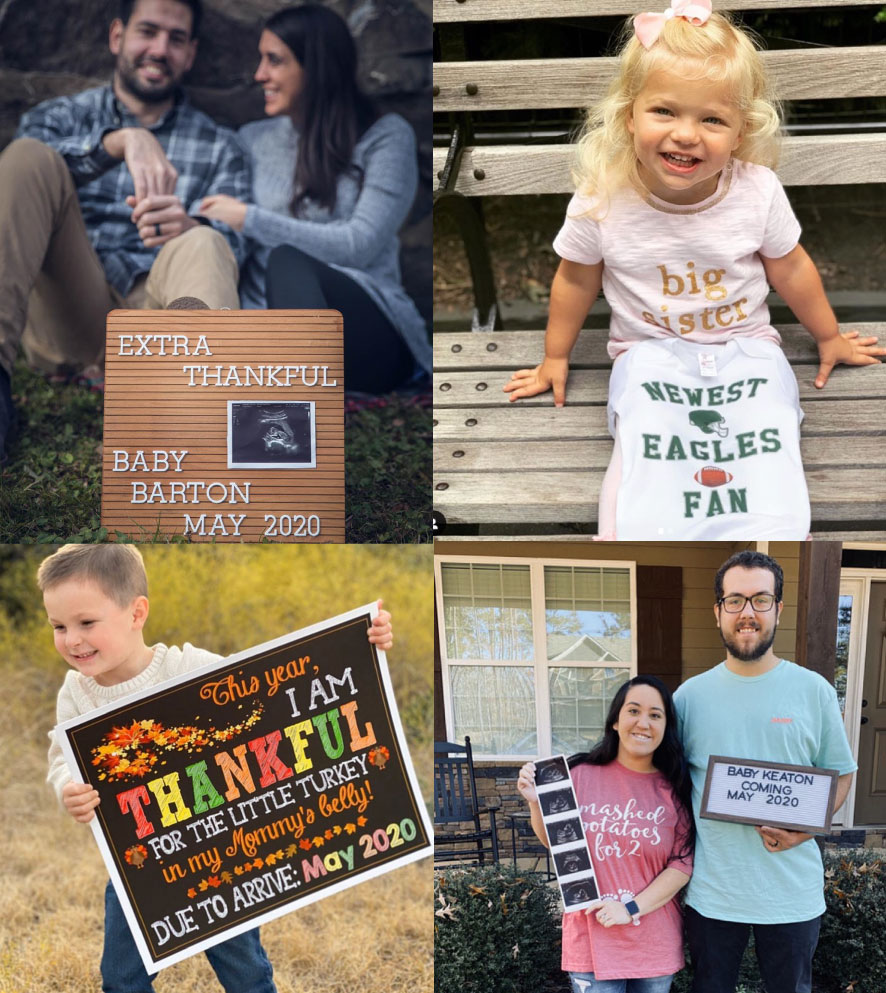 These couples sure do have a lot to be thankful for this holiday season! If you're expecting an April or May baby then Thanksgiving is a great time to announce your pregnancy to family, friends, and even on social media channels like Facebook and Instagram!
Click through to see these creative Thanksgiving pregnancy announcements and how these couples announced they aren't just having a food baby this year!
Be sure to check out our 200+ Creative Pregnancy Announcement Ideas as well as memorable pregnancy announcement ideas to parents to let them know they're having a grandchild!
Creative Thanksgiving Pregnancy Announcements
This sweet message and ultrasound picture on this letter board from @torilaurenphotography is a great way to share that you're extra thankful this year!
I love pumpkin pregnancy announcements if you're expecting in the spring and announcing it with a fall pregnancy announcement! @joanna.m.b.entz and her family grabbed a pumpkin for everyone and wrote the birth year on them to announce a new baby.
Thanksgiving means a lot of baking and this little cutie is making one special recipe this Thanksgiving! I love this Thanksgiving pregnancy announcement from Victoria Ching Photography that lets everyone know a new best friend is on the way!
Grab this cute Thanksgiving baby onesie and a few festive props to recreate this pregnancy announcement from @mlespana. No doubt you'll be Wobbling around in no time!
This little mama is enjoying mashed potatoes for two with this maternity shirt from Pregnancy Tees. Such a fun Thanksgiving pregnancy announcement from this couple!
Get a custom chalkboard sign from Lainybugs Designs to make a big brother pregnancy announcement that a little turkey is on the way! Big brother looks stoked to get a new buddy!
Nicole won't just be cooking turkey this Thanksgiving! Her adorable letter board announcement is a perfect way to let everyone know you're cooking up a baby this holiday season!
These siblings have one more blessing to count this Thanksgiving! Penny Pinching Peach got big siblings in on the fun for this fall themed pregnancy announcement!
Get the whole family in on the action with these family turkey tees from Oliver and Olivia Kids. What a fun way to announce a family of three is becoming a family of four!
Pumpkins can be used for a Halloween pregnancy announcement or Thanksgiving! This mama to be is rocking her growing a little pumpkin shirt to show off her baby bump and announce the news!
Emily and her family can't wait to meet their little turkey. Their little plush turkey and letter board are a cute addition to their November baby announcement.
Does anything pair better together than football and Thanksgiving? Announce a new baby with a football pregnancy announcement. Perfect for Turkey Day celebration!
This couple is adding another pumpkin to their patch! This fall pregnancy announcement includes a fun trip for mom and dad to be! Add an extra pumpkin if you're announcing a twin pregnancy!
If you're looking for a fun way to tell your family that you're pregnant, then these Thanksgiving pregnancy wine labels from Vintage Lee Crafted are a great gift! You can toast at Thanksgiving dinner and share your big news!
Let big brother announce the news with a special big brother Thanksgiving shirt from Maley Designs. Two little turkeys is a whole lotta fun!
Latest posts by Amy Motroni
(see all)