Announcing your pregnancy around Christmas time makes the holiday even more magical! Get ideas here for your Christmas pregnancy announcement so you can share the news with everyone!
I love everything about the Christmas season! And for those parents who learn they are expecting a new baby around Christmas time, it makes the holiday season even more magical. I always love it when people announce their engagement or baby news on Christmas day! It's such a magical time of year and a great way to commemorate the holiday.
If you're looking for ways to announce your pregnancy to your family in person around Christmas, here are 21 fun ideas!
Here are some of the best Christmas pregnancy announcements I found. Some of these photos announcing a pregnancy are dreamy winter wonderlands, while others are clever and cute! Sharing your big news over the holidays is the best gift you could give!
Click through to the original sources to see each of these ideas and how they brought them to life.
Dreaming of a white Christmas and a snuggly baby this year? Use this winter wonderland idea from @southerngrownvintage to announce your bump! Don't forget to give a special Christmas gift as a creative way to tell your family you're pregnant!
Kristi Murphy designed a sweet message and surprise on their Christmas cards to announce their new bundle of joy.
Looks like everyone's favorite Elf brought some surprise news with him this year! This Christmas announcement from @kakies_life is too cute!
These are some of the best ugly Christmas sweaters I have ever seen! With flashing lights and a 3D snowman bump, this announcement really shines!
This couple put together a hot cocoa and milk photoshoot to announce their growing family! Photo taken by Krysten Ashley Photography and concept idea by @charitywhite.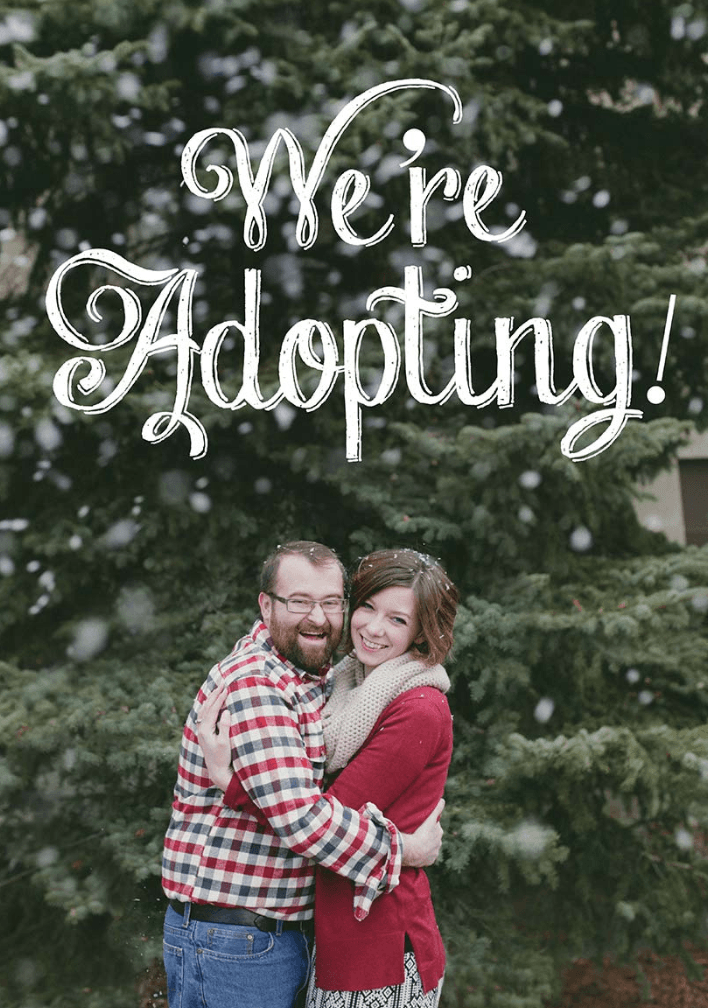 I love the idea of doing an adoption announcement and this one from Eden and Co. is perfect! Woodsy accents and pine trees make this cozy announcement so sweet!
This couple turned their ultrasound photo into a DIY Christmas ornament and used it to announce the big news! We love this idea and photo from @beurskenphotos!
What a sweet surprise to wake up to see this photo on Christmas morning! This couple's pajama plaid Christmas photoshoot is adorable!
Instagram user @growingupganntt staged a photoshoot with a very late Elf to announce her Christmas pregnancy! Gasp! He's not the only one who's late!
At Home with Natalie included the whole family to announce their Christmas-themed bun in the oven. It's so fun getting the siblings involved!
Gold Coast Mum let Santa steal the show and announce the news of baby number two to big sissy-to-be! She must be reading the sign!
Grab your cocoa when selecting your perfect tree and then use it to announce you're becoming a family of tree, like this festive couple did, photo by Alyssa Shrock Photography.
Here's another Elf on the Shelf Idea. Those little helpers are always up to something. See the big prank they pulled on these parents to help them announce the news!
The Mamacita Life shared her Christmas pregnancy announcement with this beautiful photoshoot, incorporating mistletoe and holly berries. Absolutely gorgeous!
Wear your Christmas cookies shirt to a cookie exchange or other holiday gathering to announce your little bun in the oven to family and friends!
You can easily put together your own photoshoot with a baby onesie and Christmas lights. Take a page from Instagram user tayywow to see how she made this cute announcement.
Get a customized onesie to share your baby news. Your gift may be late, but it's the best gift ever!
Give the new grandparents a special special gift with this ornament. This is the only thing they'll want under the tree!
IF YOU LIKE THIS IDEA, PIN IT FOR LATER!