Announcing your pregnancy to the daddy to be? Whether it's your first baby or your second, third, or fourth, here are some adorable ways to let your husband know you're pregnant! Surprise him with the best news ever with these fun and creative ideas!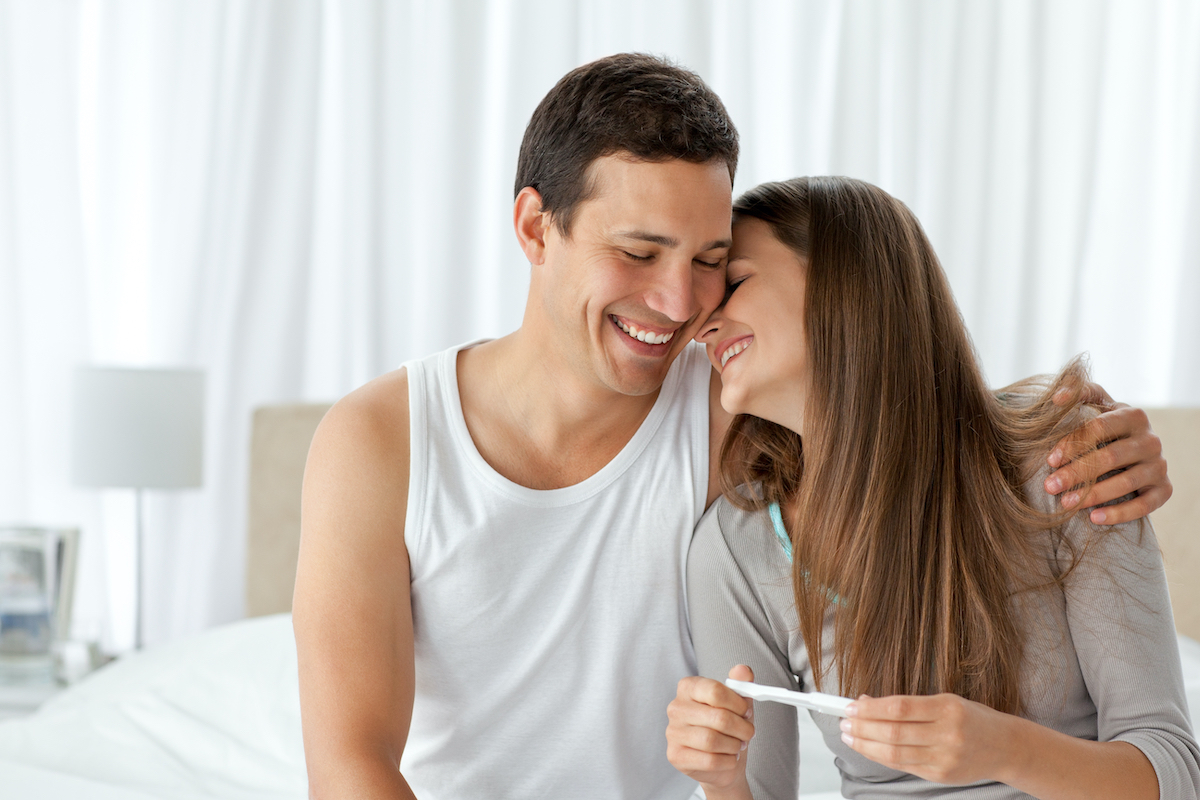 I was so surprised when we got pregnant with our daughter. The doctors didn't think we could have a baby on our own (without infertility methods) so we had lost a bit of hope.
When I took a pregnancy test and it was positive, I delivered the news to my husband with total shock and disbelief.
Me: Umm Nick. I don't think these things give false positives (showing him the positive pregnancy test).
Nick: What?? Where did you get that test?
Me: The Dollar Tree
Nick: No, we're going to buy a more expensive test.
Off to the store we went to buy the most expensive pregnancy test he could find. Apparently to him expensive also meant accurate.
The second test came back positive and we were so shocked and excited!
All that to say that if we are able to have a second baby, I want to surprise him with the news in a much more fun and planned-out way.
Make sure to get your camera ready so you can capture your guy's reaction to the news that he's going to be a dad when you surprise him with fun ideas!
Here are 35 cute ways to tell your husband you're pregnant. A little creativity and the element of surprise will make this pregnancy reveal one for the books!
And once you're ready to tell the news to the rest of the world, check out our 200+ creative pregnancy announcement ideas!
40 Creative Ways to Tell Your Husband You're Pregnant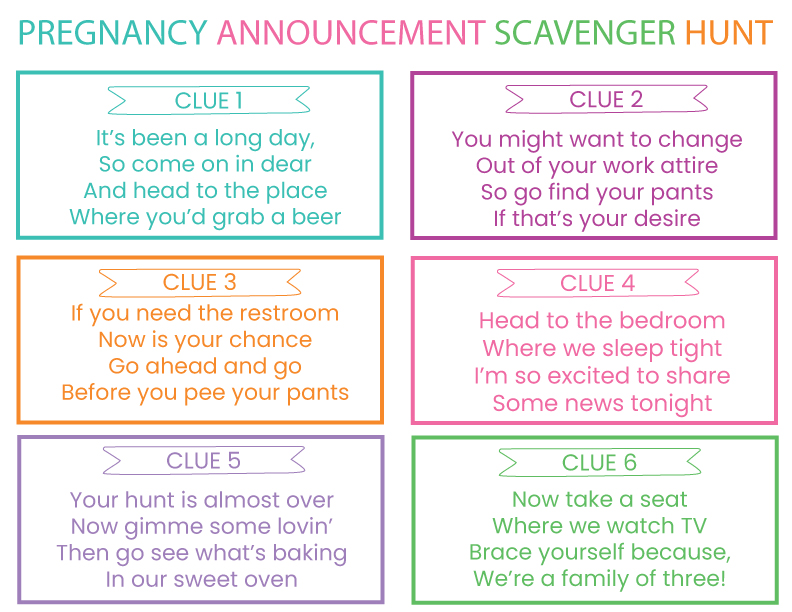 Send your partner on a scavenger hunt. My printable scavenger hunt has all the clues to hide around the house and send your hubby hunting to find out the big news!
If daddy can't wait to have a little fishing buddy, then get him this personalized fishing hook for the catch of his life! This is a sweet keepsake he can cherish for years.
Pour him a cold glass in a brand new daddy beer stein that he can keep forever! This is an announcement that certainly calls for a toast!
Feeling lucky? Grab these faux lotto scratchers and let your husband figure out the prize! You've hit the jackpot baby! (Literally!)
Here's a pregnancy announcement gift that's sure to come in handy! This engraved pocket knife is something all dads can use!
If you're looking for ways to tell your husband you're pregnant with baby number 2, these big sis and big bro shirts are adorable! Dress your baby up in this and send them to daddy for the surprise!
Have a cute greeting card ready for your partner when he comes home. You can tell him you wanted to get him something just because.
This can also work if the two of you are long distance temporarily and you want to send him a special delivery in the mail!
Want to get your fur baby in on the fun? A dog bandana is the perfect way to execute a dog pregnancy announcement! Dad's best friend can surprise him with the news!
Pour the daddy to be a special glass of wine using this free printable pregnancy announcement wine label. Make sure to grab the other free labels as well to announce your pregnancy news to the rest of your family too!
Write something clever on your letterboard and leave it out for him to see! Grab your phone and record his reaction if you want to remember it forever!
This would be the slowest cup of coffee to watch someone drink but would have such a sweet surprise once they made it to the bottom! Pour him his morning coffee and wait to see his reaction to the news! There's also a going to be a grandpa mug in our pregnancy announcement ideas to parents post!
if you just can't wait for daddy to finish his cup of coffee you can use a color-changing mug and serve him a hot cup! Watch as the cup changes color as well as his reaction!
Grab your husband a six pack of beer and add these daddy labels to them to surprise him with the news! What a fun way to gift him with his favorite beer and a special announcement. Cheers!
If dad's a sports fan, then get him his favorite sports jersey for the newest player. Bonus is that you get to dress baby in this once they're born!
Keep things simple with a special note to daddy on your kitchen island or counter. You'll just have to keep making eyes at it until he sees it!
16. Surprise Photoshoot
This expecting mama went all out and made surprise pregnancy announcement to her husband during a photoshoot! The pictures turned out great as the photographer caught dad's entire reaction on film!
My husband would love this! This keepsake ammo is a fun and unique way to let your husband know he hit the target. It's a gift he'll kee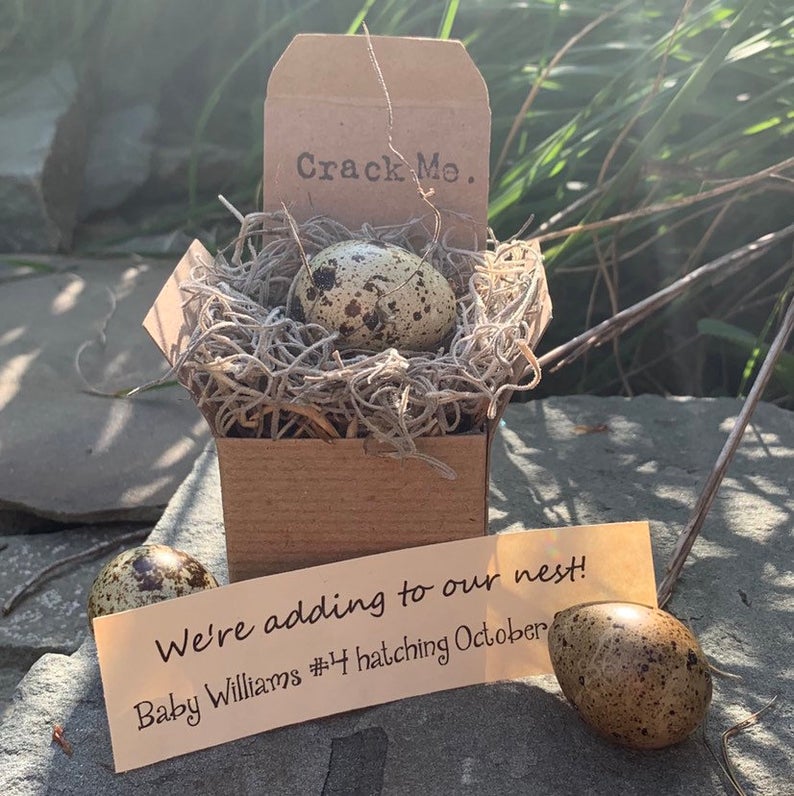 This surprise egg is a really unique way to announce your pregnancy! Your husband can crack it to find out the big news!
19. Surprise Message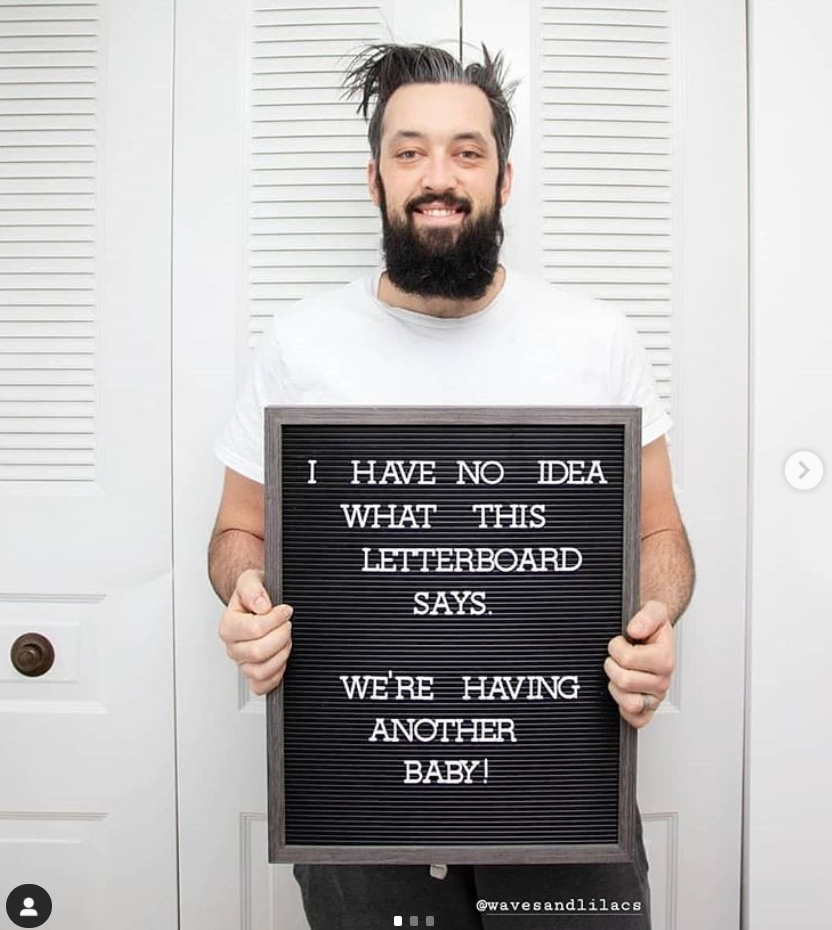 How Waves and Lilacs blogger got her husband to hold this letter board without looking at it is beyond me! T
his secret message on a letter board made for a wonderful surprise pregnancy announcement and some great photos to capture it all!
This sweet custom daddy book is a love letter to your husband with a surprise twist! Gift him the story of us for a special keepsake he can read again and again!
The wildly popular dada book is a great way to let your husband know you're pregnant. Simple and sweet! Wrap this book up with a card to give daddy the news!
22. Receipt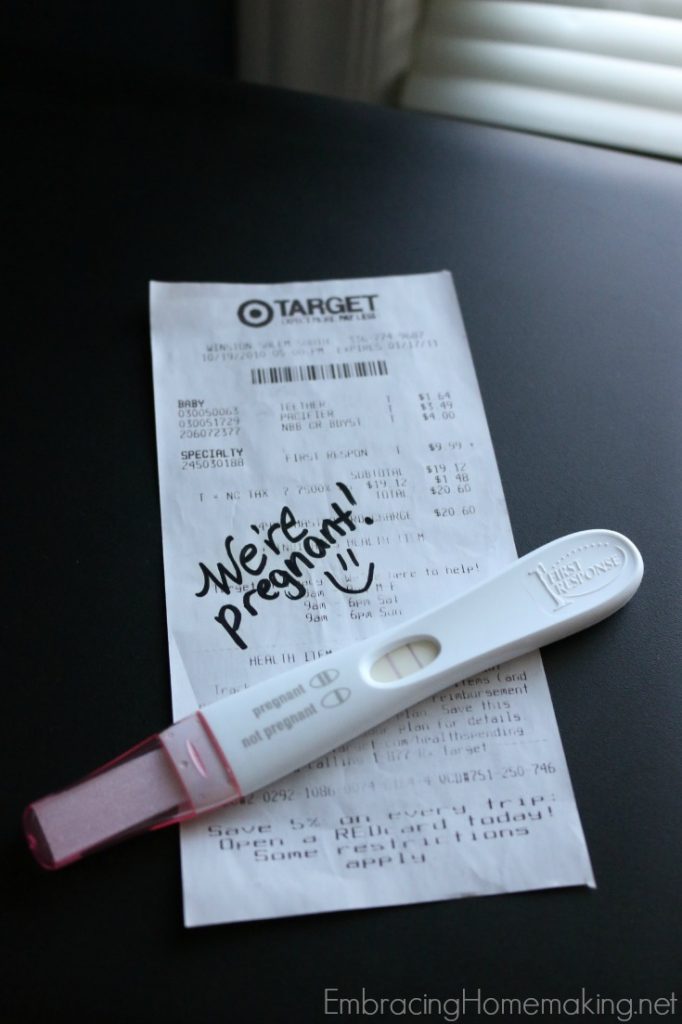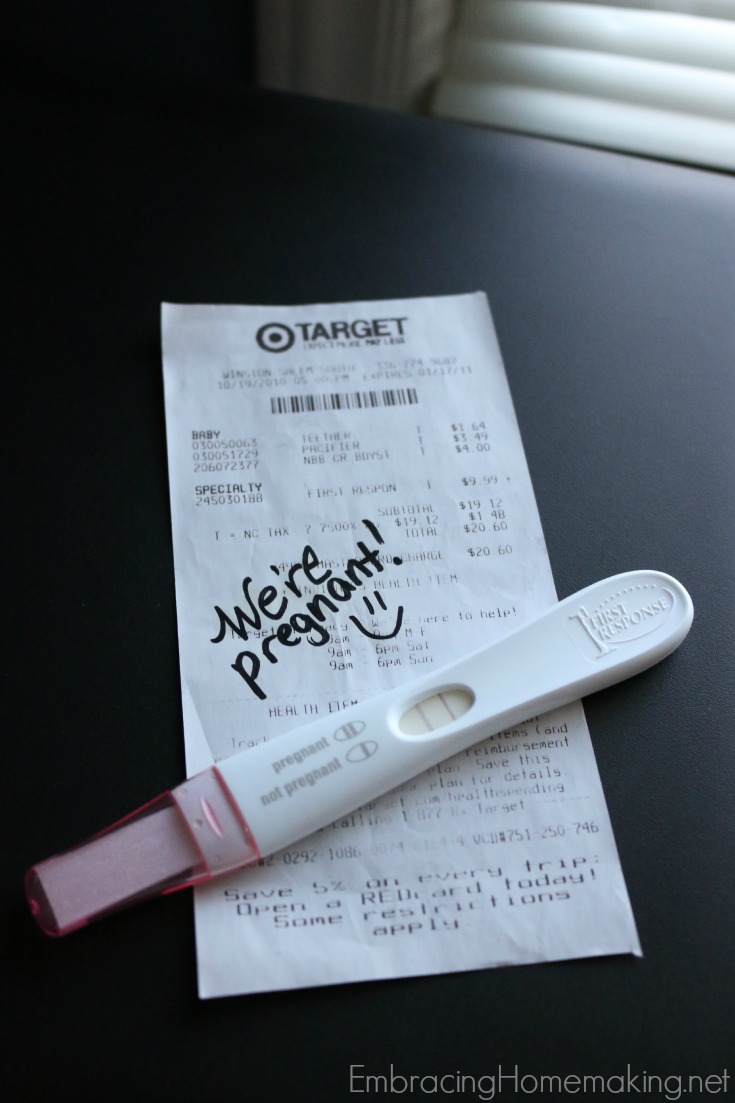 This new mom left the pregnancy test and receipt out for her husband to find and learn the news! You can leave your pregnancy test somewhere so your partner can find it. This one is straight and to the point!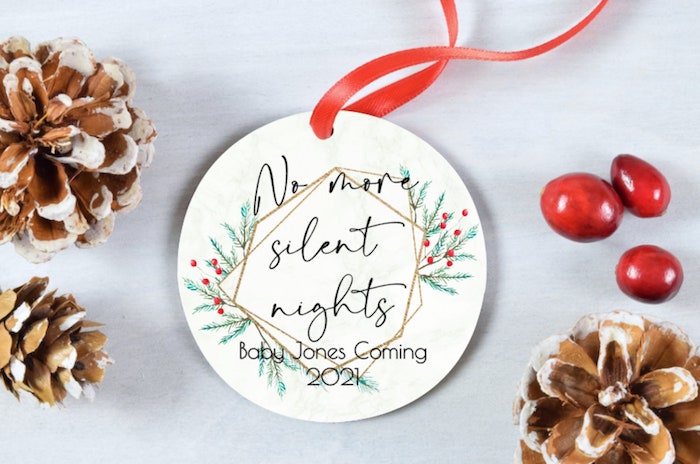 If you're making a Christmas pregnancy announcement, then wrap up a special Christmas ornament to leave under the tree. You'll love putting this on the tree year after year.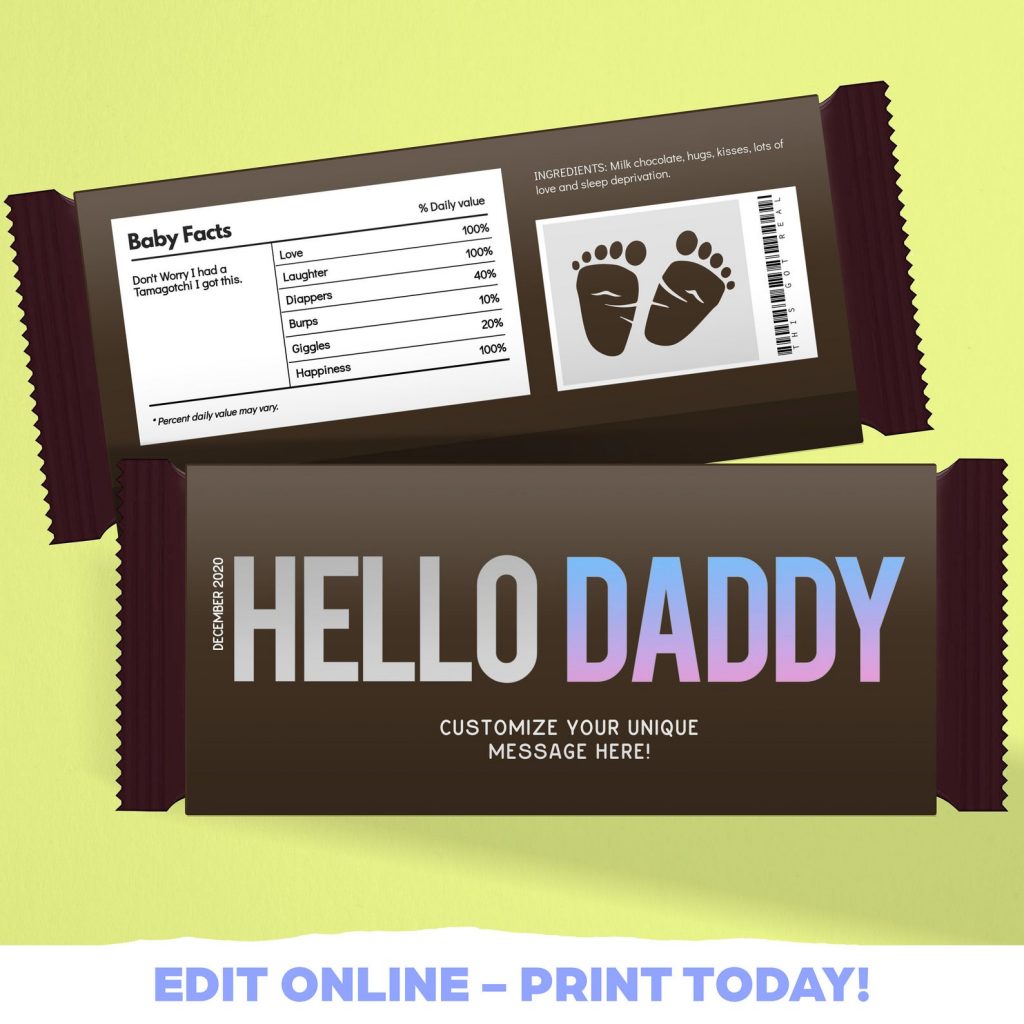 Does your husband have a sweet tooth? Get him a special candy bar to satisfy his appetite! This is one sweet treat he'll never forget!
Hi Daddy! You don't need to start buying baby stuff just yet, but a little onesie can be a fun way to let daddy know the big news! Give your husband this hi daddy onesie so he can get ready to welcome the new little bundle to the world! What a sweet message this has on it!
Harry Potter fans will love using this Marauder's Map to share the news! Don't forget to check out all my Harry Potter pregnancy announcements for even more magical ways to share that you're expecting a muggle!
If you're looking for a funny pregnancy announcement, then look no further than this funny card for your husband! It is one of the best perks of pregnancy!
29. Dad Jokes Tee
Does your husband think he's so punny? (Mine does). Grab him this dad jokes shirt and let him revel in all the bad jokes he'll soon get to tell!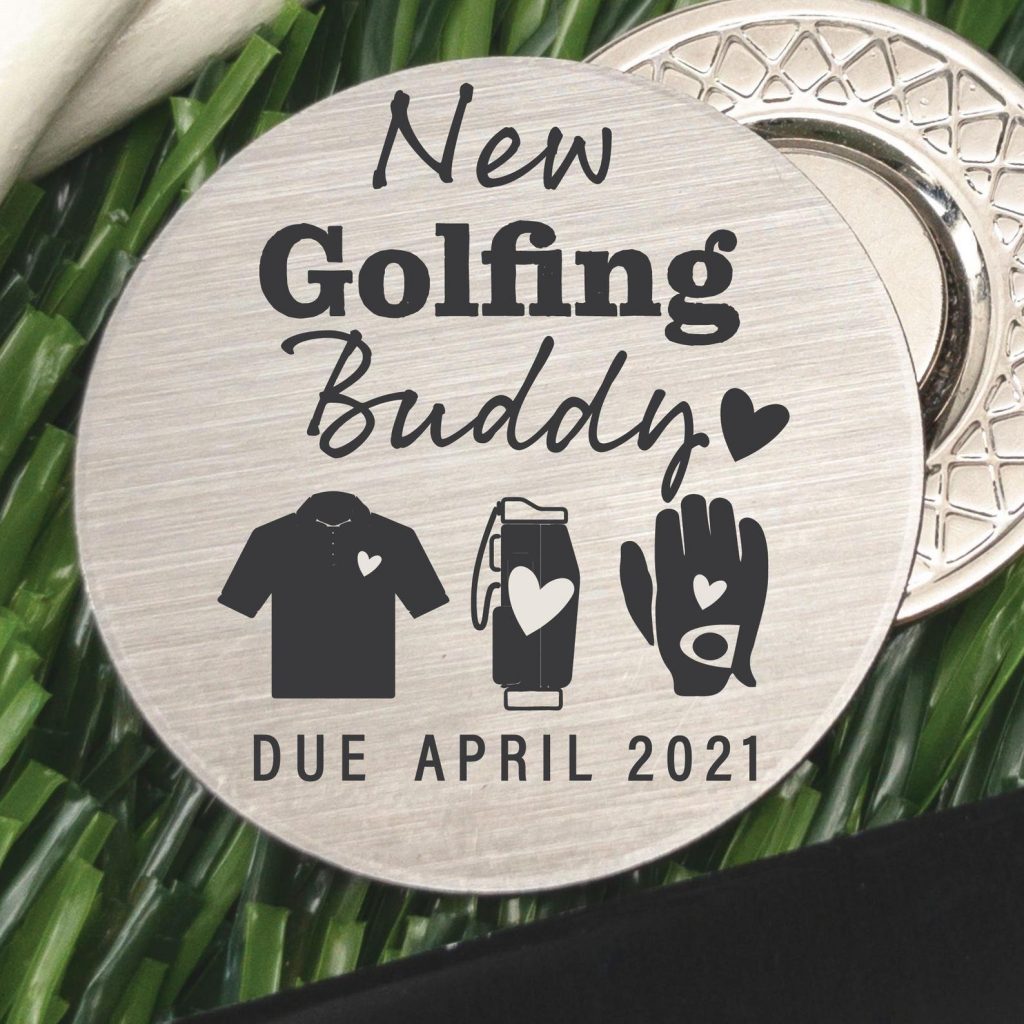 If your husband loves to hit the green, grab him this golf ball marker to share the news. Talk about a hole-in-one!
And don't forget a pair of golf balls. These are such a special keepsake that he can keep to remember this special surprise announcement!
Okay so this one might be a gift for mom, but dad's the one who put a bun in the oven! This bun in the oven candle will give your whole house a yummy smell and is a great way to announce your pregnancy to your husband.
Wrap it up or casually have it burning when he comes home.
Will daddy be signing baby to sleep each night? This custom guitar pick from Stamped with Passion is perfect for the musician husband-turned-dad! It's the sweetest song he'll ever sing!
If your guy enjoys a good puzzle, then sit at the coffee table and piece this special puzzle together. He'll learn the big news as he fills in the center sqaures!
Serve dad up a bowl of ice cream or soup and see how long it takes him to read the spoon! Have your camera ready to capture him—mouthful of surprise!
36. Surprise Photoshoot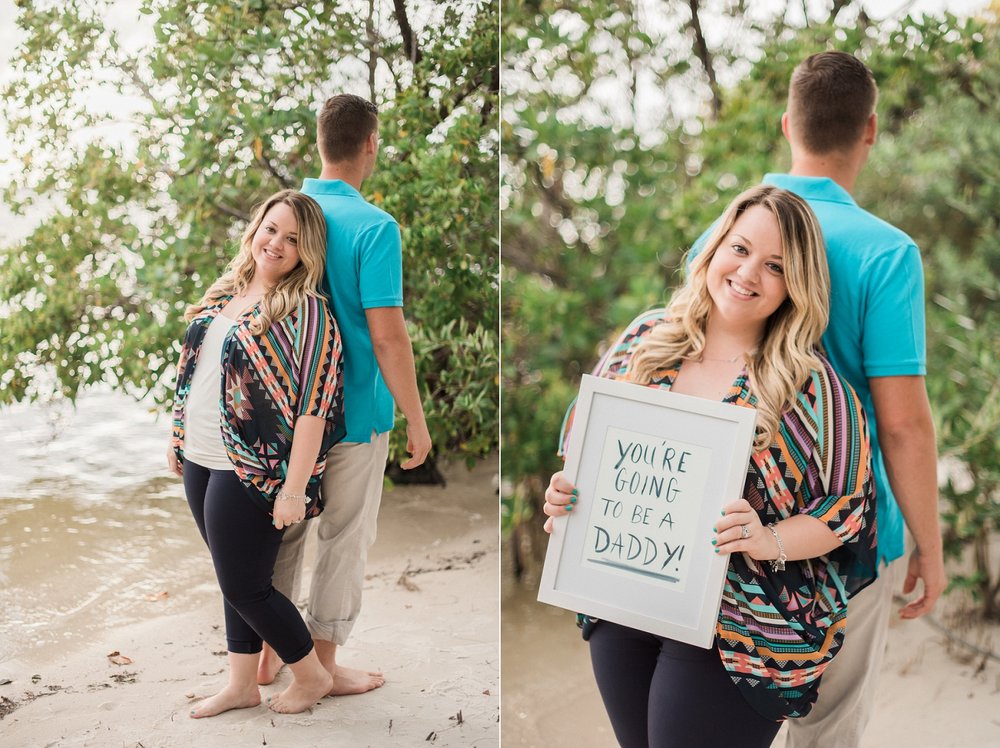 This mama used her beach pregnancy announcement as a fun way to surprise the daddy to be! I love that she captured all his reactions and has the photos forever!
Surprise your partner by saying you're going to a concert or show and then present them with these custom tickets from Stubforge. This is one of the more original ways to tell your husband you're pregnant!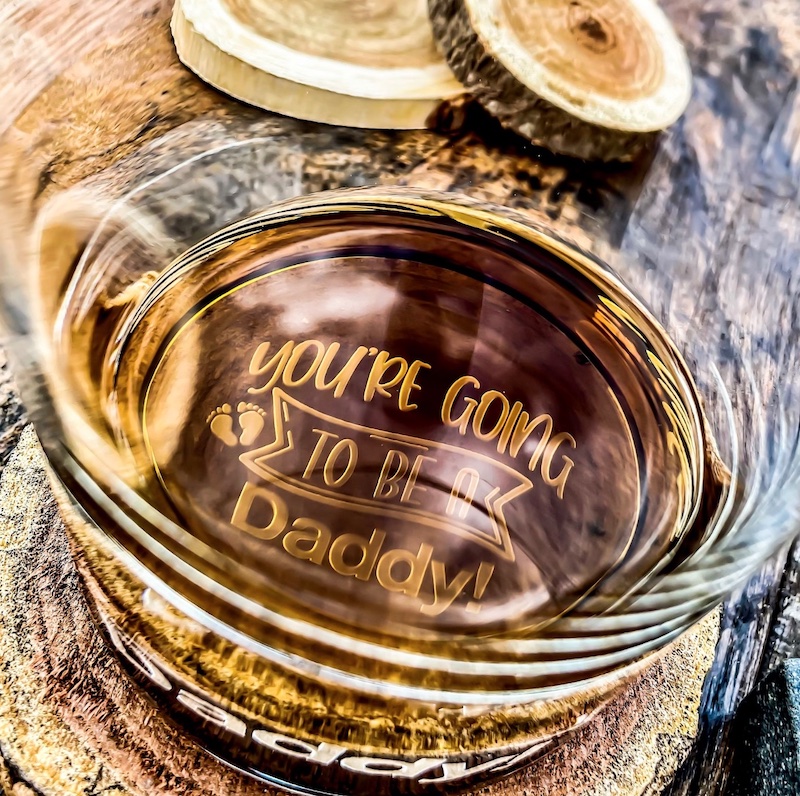 If your husband is a whiskey drinker, serve him up a surprise with this secret message whiskey glass. Once he finishes his drink, the pregnancy announcement will be revealed.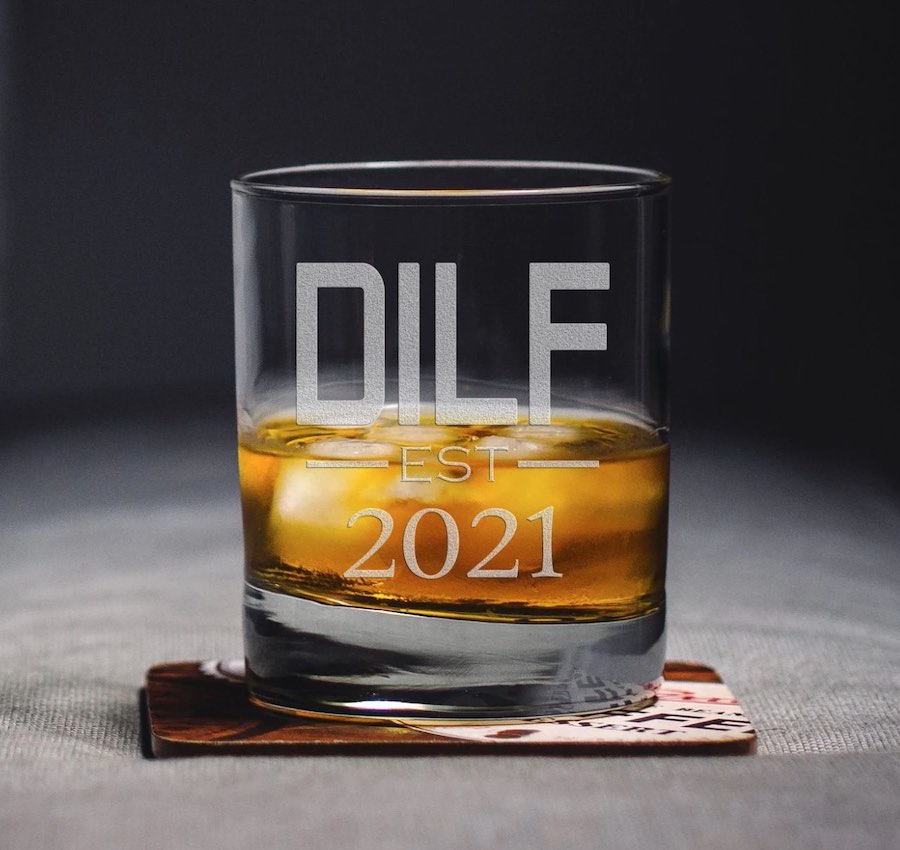 If you're more of a straight shooter, fill this glass up with your husband's drink of choice and serve it to him. He'll certainly be surprised!
Is your partner a Star Wars fan? Print this digital announcement from Beverly Holtzem Art to show how strong the force is.
It's so exciting letting your husband know he is going to be a dad! Have fun surprising him with these creative ideas and welcome to the journey of parenthood!
Pin This for Later: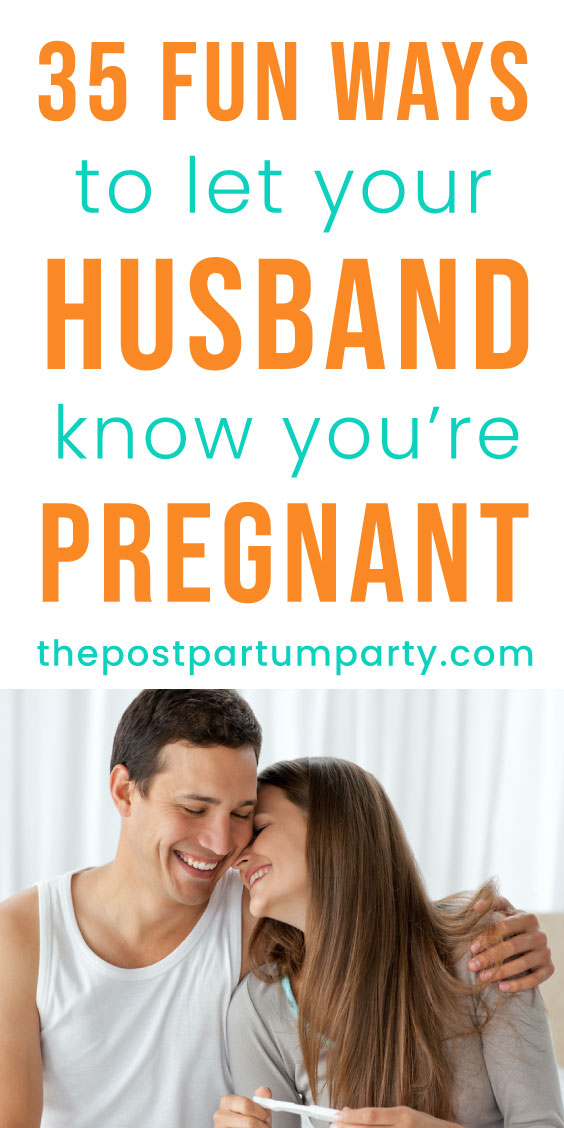 Latest posts by Amy Motroni
(see all)