Get all the inspiration you need to make your pregnancy announcement with these creative ideas! We've rounded up more than 200 pregnancy announcement pictures for every occasion you can think of!
I love, love, love pregnancy announcements. Even though my husband and I struggled with infertility for a while, I still get so excited when I see another couple announcing their pregnancy, both in person and on social media.
It's so fun to see the creative photoshoots expecting couples and photographers come up with and to know that their lives are never going to be the same—in the most amazing way possible!
So I've become a bit of a pregnancy announcement collector if you will.
Here are our favorite ways we've seen others announce their pregnancy. There's something for everyone, from Hogwarts fans drawing inspiration from Harry Potter for their big announcement, to couples incorporating their fur babies into the announcement of their human baby.
You'll definitely find a pregnancy announcement you love and can re-create on your own!
When Should you Start Announcing your Pregnancy?
First things first and that is when should you announce your pregnancy? This is a personal decision and completely up to the parents to be!
Many couples like to tell family and close friends early on and then save the social media pregnancy announcement until mom to be is in her second trimester.
Other couples like to reveal the pregnancy and gender all at once after that 20-week ultrasound. Depending on how close you are with your family, you may want to make a pregnancy announcement to your parents sooner rather than later.
It's totally up to you and when you feel comfortable sharing the news with everyone. Don't feel pressured to announce it too soon. You'll learn that a big part of being a parent is doing things your way and going at your own pace!
How Do I Announce My Pregnancy?
This is the fun part! Sure, you can just tell people that you're pregnant, or you can have way more fun with it! There are pregnancy announcement ideas for your family as well as photos you can recreate for an Instagram or Facebook pregnancy announcement.
Click through the different pregnancy announcement ideas to find one you like!
Whether you want to announce your pregnancy around Christmas, or with big sister involved, we've got tons of creative pregnancy announcement pictures here!
Pregnancy Announcement Ideas with Your Dog
If your fur baby is your first baby, then you have to include him/her in your pregnancy announcement. See all the creative ideas these pet owners came up with for different dog pregnancy announcement ideas!
Pregnancy Announcement Ideas for Husband
Surprise your hubby with a fun pregnancy announcement! You can send him on a scavenger hunt or get him a special gift to let him know he is going to be a dad! Check out all the fun ways to tell your husband you're pregnant here!
Beach Pregnancy Announcements
Spend a day at the beach and capture your beach pregnancy announcement! It's so much fun to enjoy the surf and sand, while you show off your beach bump!
Harry Potter Pregnancy Announcements
These Hogwarts fans drew inspiration from the beloved book series to announce that they're expecting! See the magical Harry Potter pregnancy announcements if you're a Potterhead yourself. The new witch or wizard should arrive in about 9 3/4 months!
Twin Pregnancy Announcement Ideas
Double the love and double the fun with twin babies! See how these expecting parents announced that they were expecting twins—after getting over the initial shock of course!
These twin pregnancy announcements have so many fun baby onesies to include in your announcement!
Ways to Announce Pregnancy to Family in Person
It's so much fun letting your parents know they're going to be grandparents! And don't forget about those loving aunts and uncles to be!
Check out all these fun ideas to announce your pregnancy to your family. There are so many unique ways to surprise them with the special news, including these pregnancy announcement wine labels! Cheers!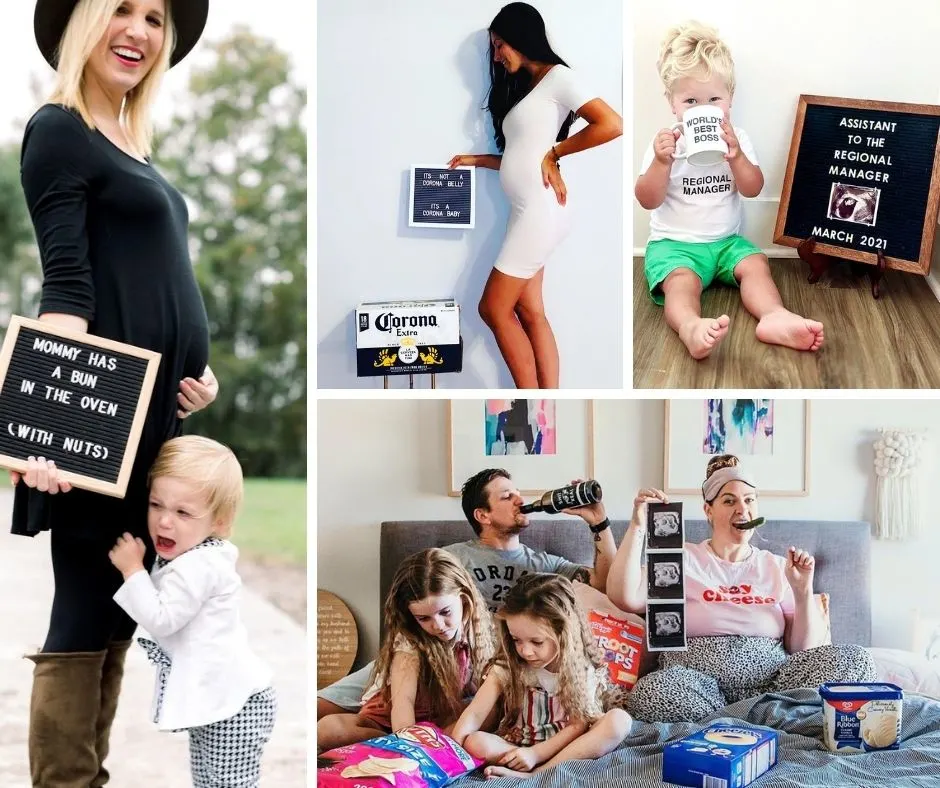 Want to make everyone laugh and share the good news at the same time? See how these clever families added in some humor to their announcement with these funny pregnancy announcement ideas!
Disneyland Pregnancy Announcement Ideas
The happiest place on earth just got a whole lot more magical with these expecting couples! See how they incorporated our favorite Disney characters and theme parks into their photos for a Disney-inspired pregnancy announcement!
Valentine's Day Pregnancy Announcements
Love is in the air! If roses are red and violets are blue and there's a baby inside you this Valentine's Day, then make sure to check out these Valentine's Day pregnancy announcements. Looks like Cupid really made his mark!
Easter Pregnancy Announcements
The Easter bunny brought a special treat to these expecting parents. Hop on over to see these Easter and Spring pregnancy announcement ideas. These ideas are egg-stra cute! (Sorry, can't help myself!).
Pregnancy Announcement Ideas with Siblings
If this is your second or third pregnancy, then get the big siblings in on the fun!
Here are some fun ideas for a big brother pregnancy announcement. I am hoping we can have a second baby and you better believe I will be letting Evelyn make the big sister announcement when that day comes!
Announce your pregnancy in the fall with these festive ideas! Use fall foliage or take a trip to the pumpkin patch to capture your fall pregnancy announcement.
Halloween Pregnancy Announcement Ideas
Looking for a spooky-cute way to let everyone know you're expecting around Halloween? From maternity-reveal costumes to Halloween-themed photoshoots, these Halloween pregnancy announcements are so cute, they're scary!
Pumpkin Pregnancy Announcement
If you're looking to announce your pregnancy in the Fall, then a trip to the pumpkin patch is just what you need! We announced our pregnancy in November with our daughter and this pumpkin pregnancy announcement will forever be my favorite pregnancy announcement!
Thanksgiving Pregnancy Announcements
Expecting more than a food baby this year? See how these couples showed their gratitude this Thanksgiving with their Thanksgiving pregnancy announcements! The turkey isn't the only thing in the oven!
Christmas Pregnancy Announcements
No more silent nights when you're expecting a baby! Let your friends and family know you're expecting this holiday season with these Christmas pregnancy announcements. It's the most wonderful gift of all!
I would love to see some of your favorite pregnancy announcements! I'll definitely add to this list as I have more ideas!
Latest posts by Amy Motroni
(see all)