Let everyone know your first baby is going to be a big brother with these adorable pregnancy announcements! 20 cute ideas you can replicate to make the sweetest big brother pregnancy announcement!
Congrats on expecting baby number 2! There's nothing better than giving your baby a built-in best friend by giving them a new sibling!
You'll have plenty of prep to do with another baby on the way like creating a second baby registry and soaking up the days with one baby to care for.
If you're adding another baby to the mix, check out these adorable big brother pregnancy announcements. These little guys can't wait to be the best big brother to their new sibling!
This big brother looks so proud to make his big brother announcement! At just 9 months old, he'll never remember a time without his sidekick sibling by his side! See the big brother announcement from @mrs___popov.
This little chef is baking up the perfect recipe with this photo from @crystalblu. Lots of kisses, hugs, wiggles, and giggles needed for this one and it makes an adorable sibling pregnancy announcement.
This little guy is so cute that his parents decided to make another one! Grab this big brother shirt from Purple Elephant STL to make this announcement with your sweetie!
This Christmas pregnancy announcement from @handsonheartsphotography is such a sweet way to announce your special news around the holidays! I am loving those green pillows on that couch as well!
He got the job! This adorable chalkboard sign from The Honey Bee Cloak is a perfect way to make a big brother announcement. Big promotion for this cutie coming up soon!
Woody can't wait to meet his new best friend! This Toy Story big brother announcement board from @kodahlegend is so cute! Perfect if you're into Disney pregnancy announcements but can't make the trip to the Magic Kingdom!
Every pilot needs a good co-pilot and this cutie is getting his soon! Grab this co-pilot shirt from Mami Origami and announce your new co-pilot in style!
Someone's getting promoted to big brother this Christmas! This beautiful photo from @ale.modern.mama would make a great Christmas card and a wonderful way to announce your pregnancy to your family as well.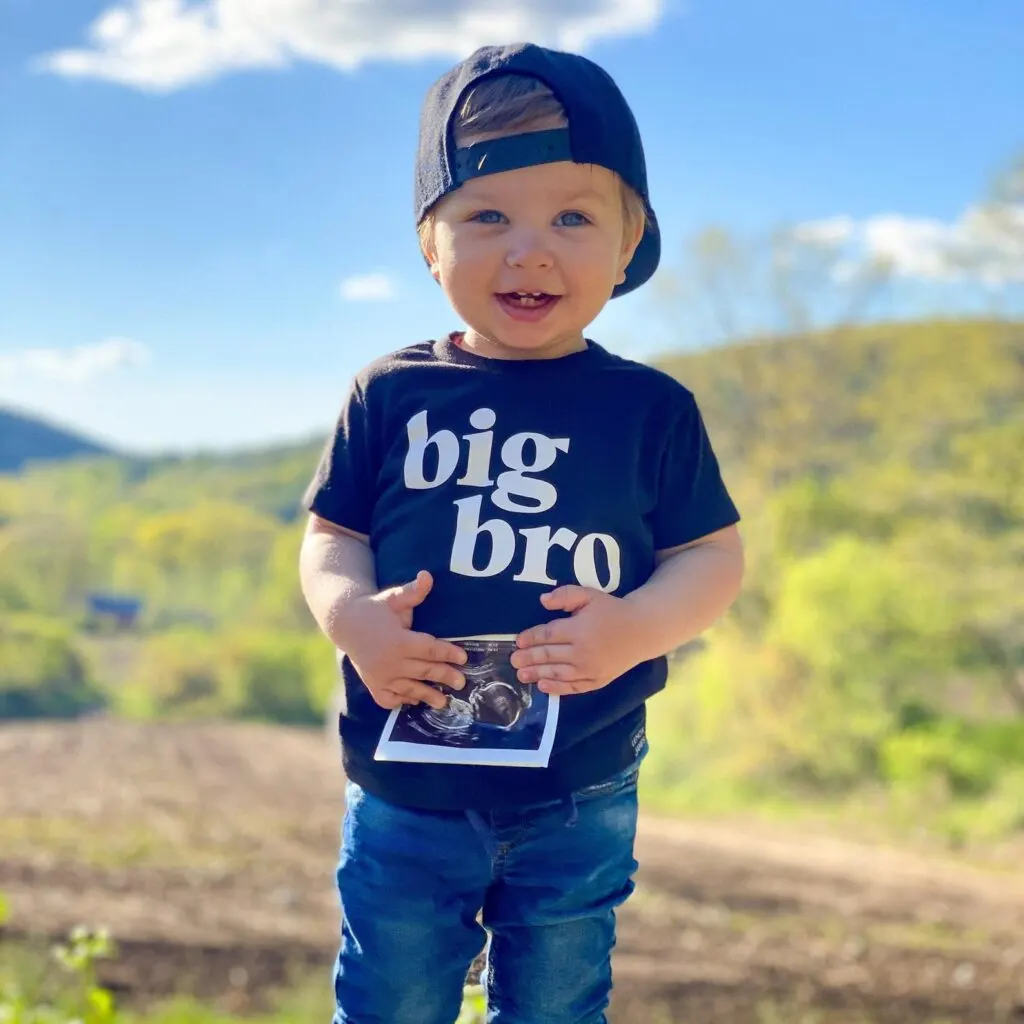 Sometimes the most simple announcements are the cutest! Snap your sweetie holding up your ultrasound photo and this big bro shirt from Lenox James and you've got an adorable keepsake!
This letterboard pregnancy announcement is so sweet! This generous brother can't wait to share his toys with the newest baby in the family!
Want to make friends and family laugh out loud? This funny pregnancy announcement from @jessicamancinik is perfect for fans of the TV show, The Office. Get the World's best boss mug here and Assistant to the Regional Manager shirt here!
This family announcement from @veronicalynn19 is simple and sweet. A kiss for the parents-to-be and big brother rocking his new shirt!
Star Wars fans will love this sibling pregnancy announcement shirt idea from Memas Homemades. Perfect way to introduce a new little Jedi to the crew!
This quarantine announcement from @tara.vl.ong is such a fun big brother pregnancy announcement! Looks like a new gift will be under the tree this Christmas due to his parents inability to social distance!
Adding one more to your construction crew? Grab this sign from Printable Candee to start building your dream family, one baby at a time!
This It is a boy sign from @kathandbelle is a great black and white pregnancy announcement and gender reveal all-in-one.
I love this giant balloon announcement from @k_derza to announce her pregnancy to family and friends! Their little guy looks so happy to be a big brother!
Football season is the perfect time for a fall pregnancy announcement! There's a new player on the team with this sports sports sign from @iamlikaaphotography. The game's about to become a lot more fun!
Grab a big brother t-shirt to make an easy and cute announcement, like this one from A Toddler and A Topknot. This little guy looks so excited to be getting a baby sibling!
Games are always more fun to play when there's a second player! Grab this Player two entering shirt from Heavenly Handmades GB to recreate this adorable photo!
There are so many great ideas to choose from! How will you you announce your baby is becoming a big brother?!
Latest posts by Amy Motroni
(see all)