Looking for gender reveal food ideas? Whether you're hosting a gender reveal party and need ideas of food to serve or want a cute way to incorporate food into a gender reveal photoshoot, we have plenty of gender reveal food ideas here! Yum!
He or she, what will it it be? it's time to reveal the gender of your baby! Whether you choose to have a gender reveal party to celebrate publicly, or you do a private photoshoot with colored powder to find out the news, you can use these gender reveal food ideas as part of your big reveal!
Related Posts:
Party Route—Gender Reveal Food Ideas
Gender reveal parties are so much fun and what better way to share if your little baby will be a girl or boy with friends and family by your side? Check out these awesome gender reveal party food ideas to serve and surprise everyone at your gender reveal!
Cake pops are a sweet way to share your baby's gender and are easier to make than you might think. See how Two Twenty One whipped these blue and pink pops up for her reveal party.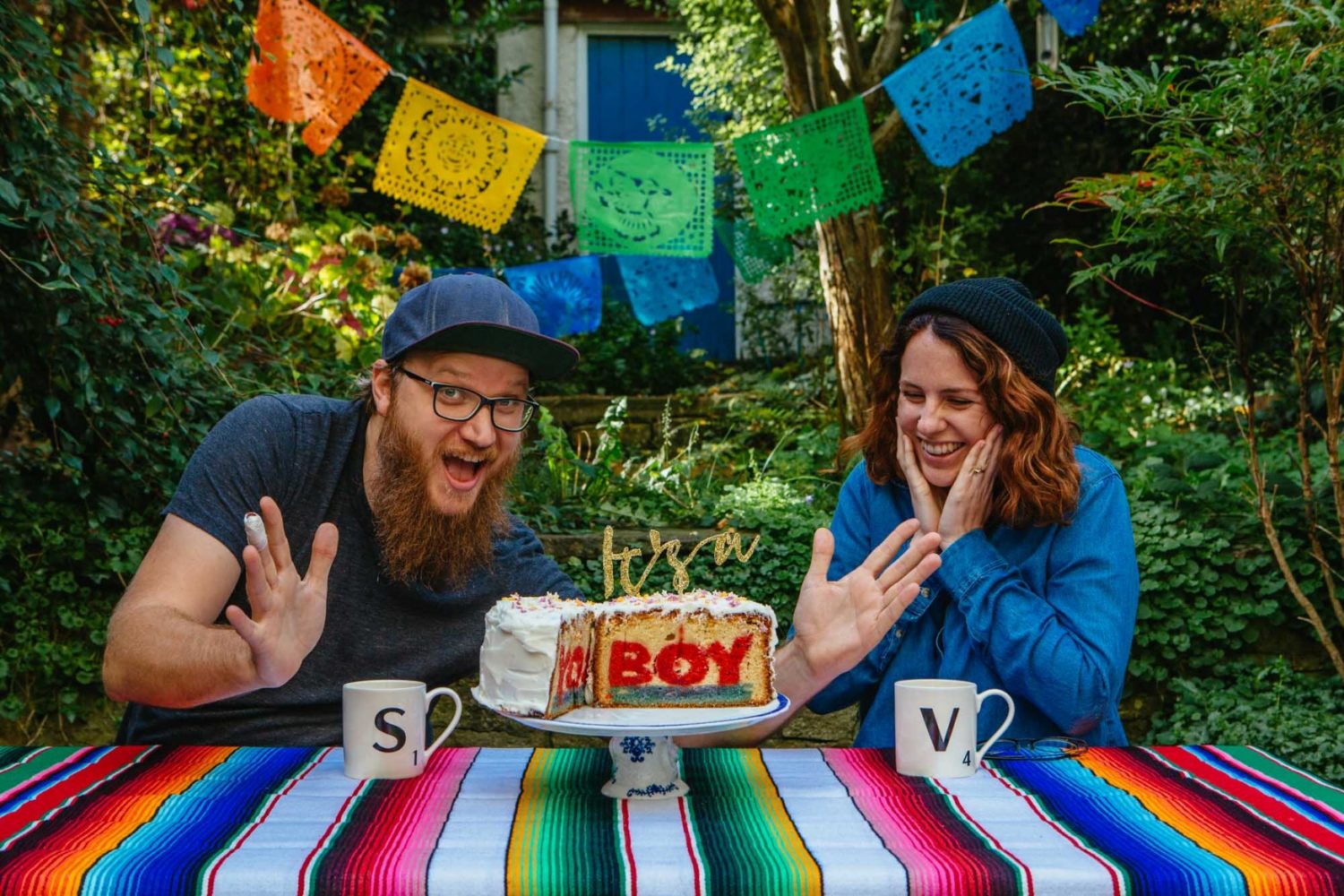 You've probably seen the gorgeous cakes filled with blue or pink candies inside. This non-traditional gender reveal cake from Bridges and Balloons shares their baby's gender with words inside. Add a cake topper to make this extra cute!
Guests will swoon over these cotton candy cupcakes from Cooking Classy! A cupcake, topped with pink and blue cotton candy and a secret inside? This cupcake has everything!
Chocolate dipped pretzel rods are another easy DIY treat you can make with a little food coloring. Do pink frosting, blue, and swirled options for those who just can't decide! Embracing Homemaking made the cutest pretzel rods and shares her how-to with us.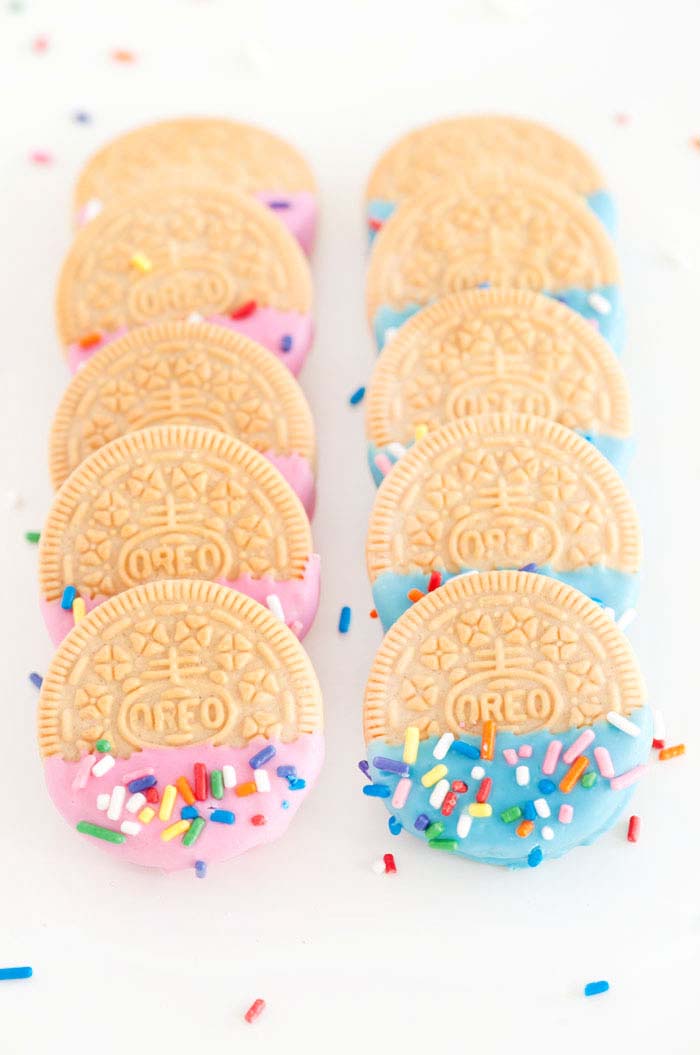 These confetti Oreos from Sprinkles for Breakfast look AH-MAZING! Pink and blue frosting, topped with sprinkles turn these everyday cookies into something special for your party.
Put a spin on traditional chocolate covered strawberries with pink and blue covered strawberries. These are so unique and look so good! Balancing Motherhood's strawberries are beautiful and look so yummy!
Grab these colored marshmallow pops from Sweet and Tender Dreams in pink and blue for a fun treat or party favor!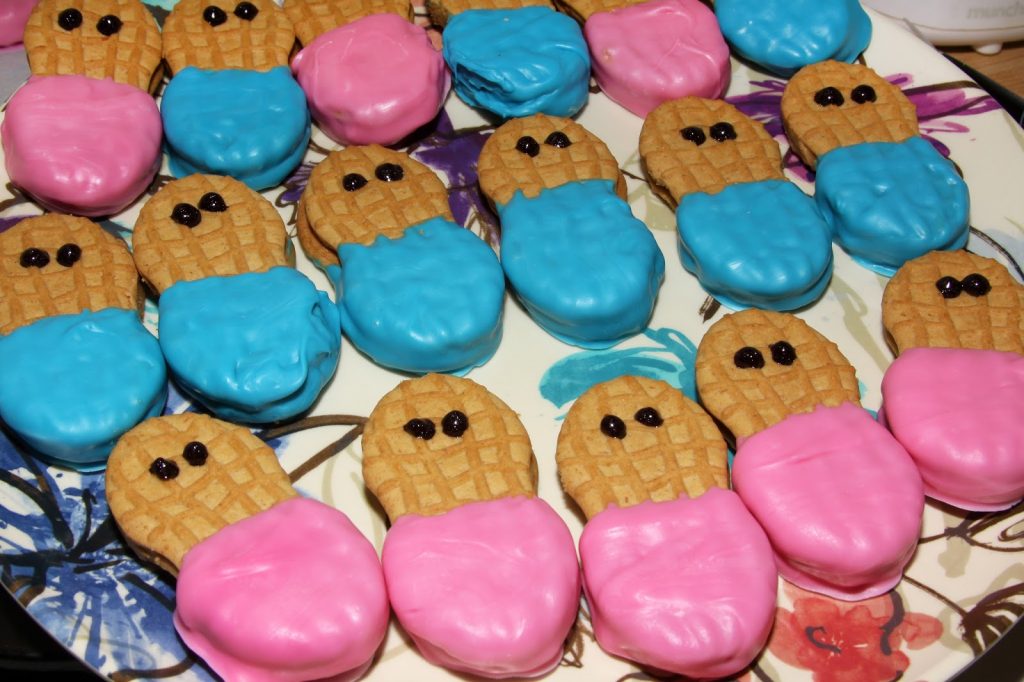 These adorable baby Nutter Butters from For the Love of Food add a little character and a lot of cuteness to this everyday snack. Whip up a batch for your party!
Add some color to ice cream cones and bowls and keep the intrigue going for your gender reveal party. Kara's Party Ideas showcases these yummy treats!
Who doesn't love a good donut? These buttercream filled donuts have a special surprise inside—the baby's gender! See how The Organized Mom Life made these happen.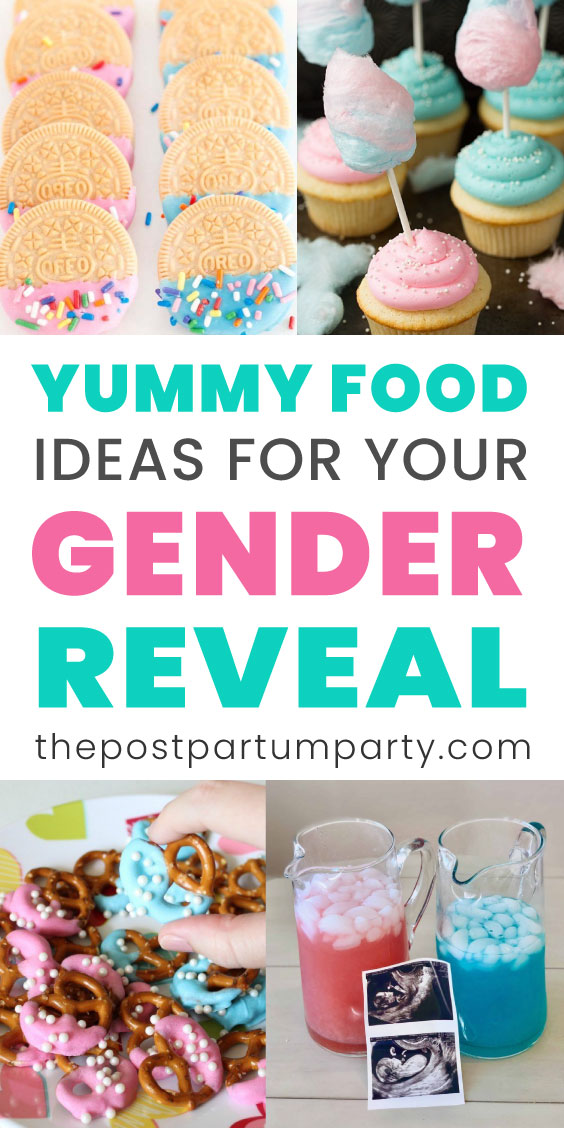 Make pink and blue snow cones for a gender reveal food idea guests won't forget! Use pink and blue syrups to color your party.
Pass the sprinkles because here's another take on pretzels using bite-size pretzels and a little frosting from We are Dipping Chocolate! I love sweet and savory so this is the perfect combination of pink and blue food!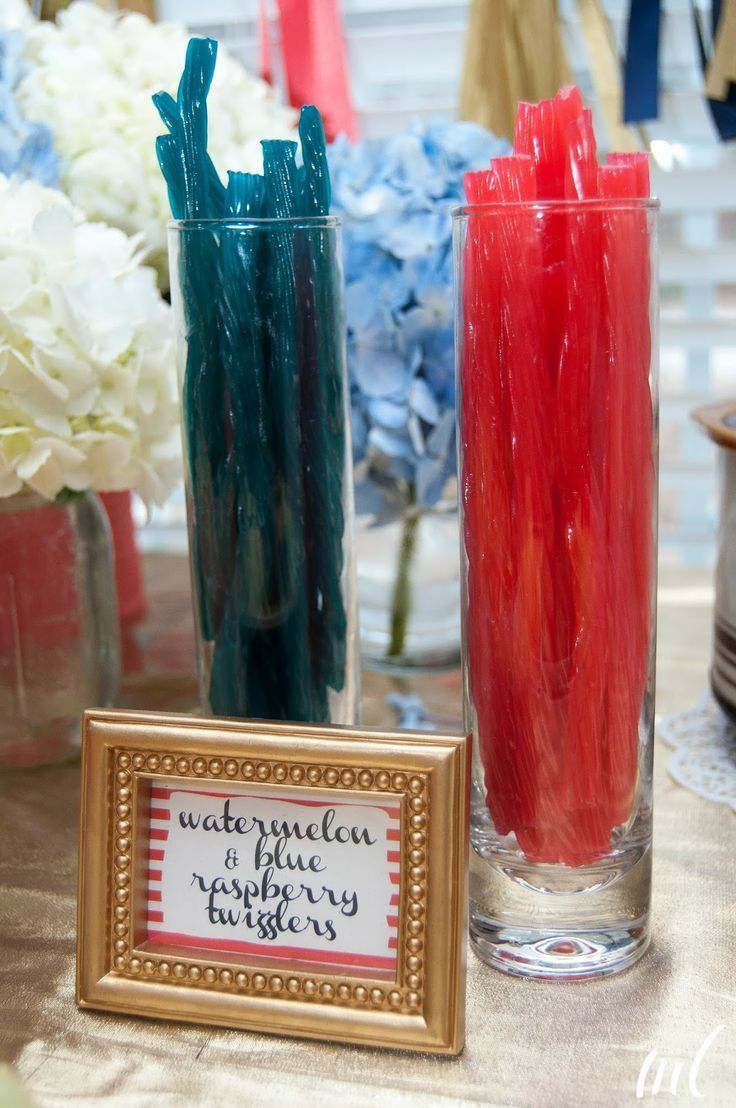 Everyone is waiting to know what your baby will be! Give them something to chew on with pink and blue licorice straws.
Mom Intern made these fortune cookies to do a family gender reveal. Everyone opened them at the same time to see what they were having! This project is a little more time consuming but 100% creative.
Another take on using Oreos as a gender reveal food idea! This one from Rhea Baby Shower uses chocolate covered Oreos and has colored sprinkles inside!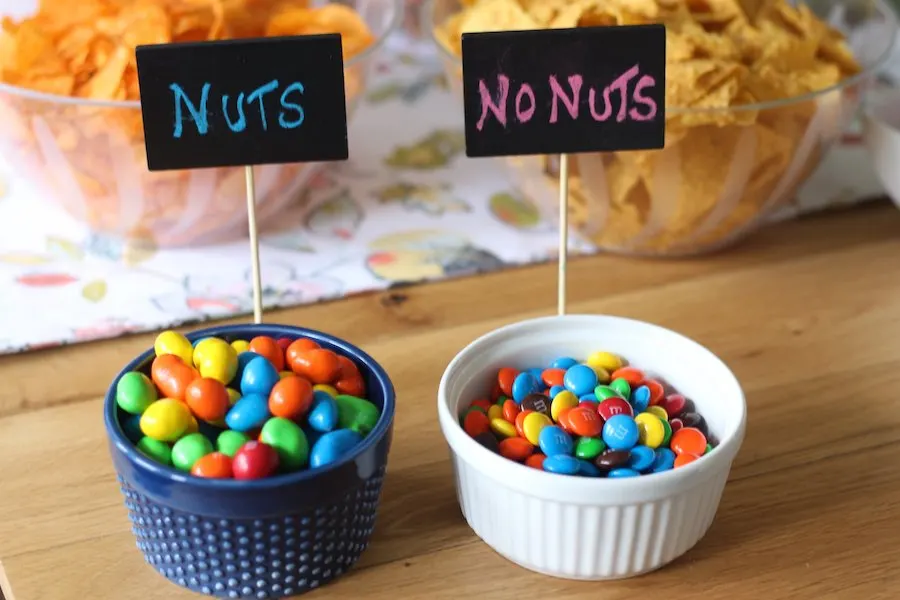 Take a break from all the pink and blue and add some color to the party with M and M candies. Serve nuts or no nuts to keep with your gender reveal party food theme!
Display pink and blue rock candy in vases for some pretty decor and a yummy treat. Or turn it into a game for what guests think baby's gender will be.
Take a break from all the sweetness with these gender reveal deviled egg recipe from Just A Pinch. These turn out so pretty and are a unique snack for you party.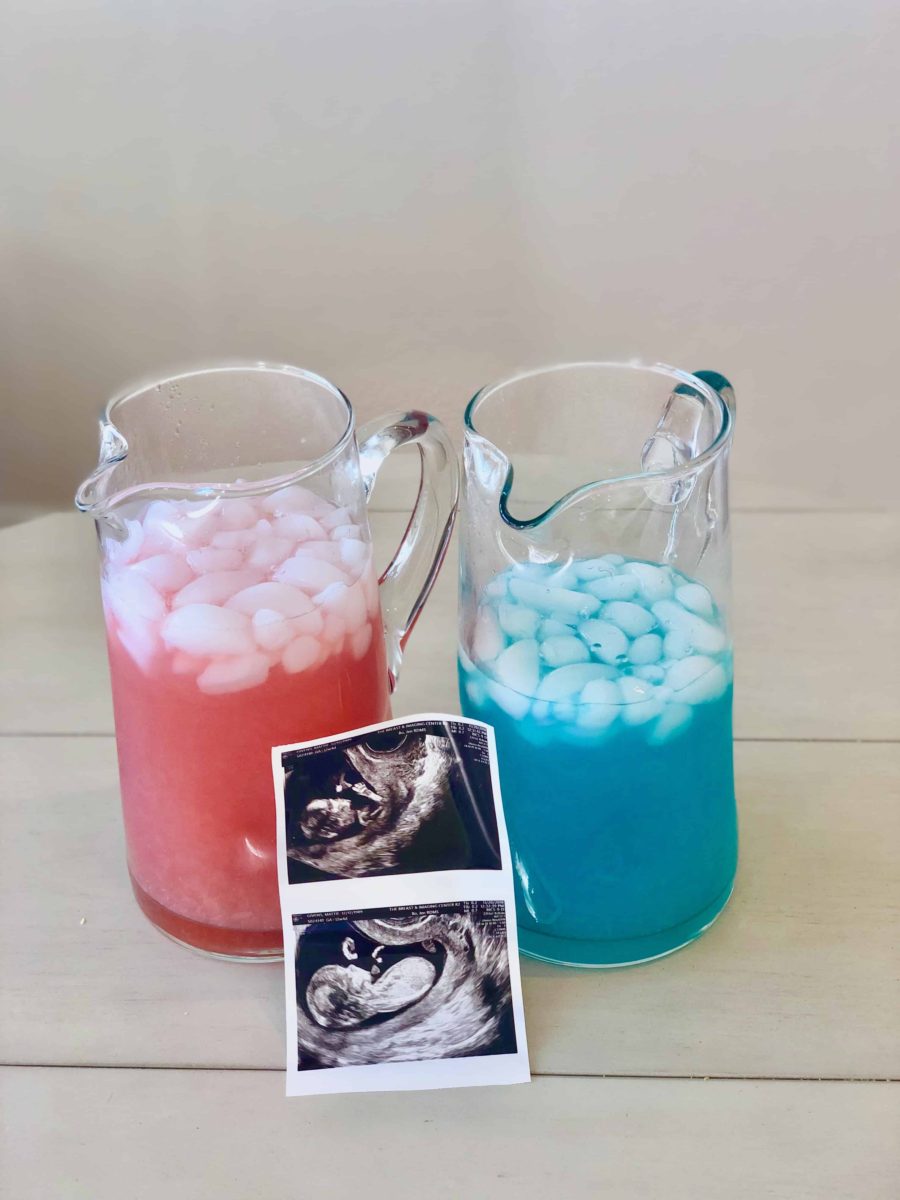 Serving blue and pink drinks in large pitchers will complement all your gender reveal food ideas and quench guests' thirst as they wait to find out what you're having. Get the raspberry lemonade recipe from Growing the Givens.
You can also keep it super simple by serving pink and blue colored juice boxes. Perfect for an easy solution or for the kids at your party!
If you're serving canned drinks or beer, keep them cool in these we're here for the sex gender coozies! You can get a lot of fun photos with these!
Gender Reveal Food Ideas that are Photo Worthy!
Want a more private and intimate setting to find out your baby's gender but still want photos that are Instagram worthy? Use these gender reveal food ideas to snap a pic of your baby's gender and then share them with everyone in style!
Use Ice cream for a gender reveal photo op or make a whole party out of it! This adorable ice cream social from The Cotton Collective is so cute!
Get older siblings involved with this easy pie in the face gender reveal idea from Remodelaholic. The video of their whole family is ADORABLE!
Bite into cupcakes with colored frosting to find out what you're having! A delicious way to get some fun pictures.
Announcing a halloween pregnancy? Decorate a pumpkin and fill it with ribbon. Grab your camera and get ready to snap away as your older child checks to see what color ribbon is inside.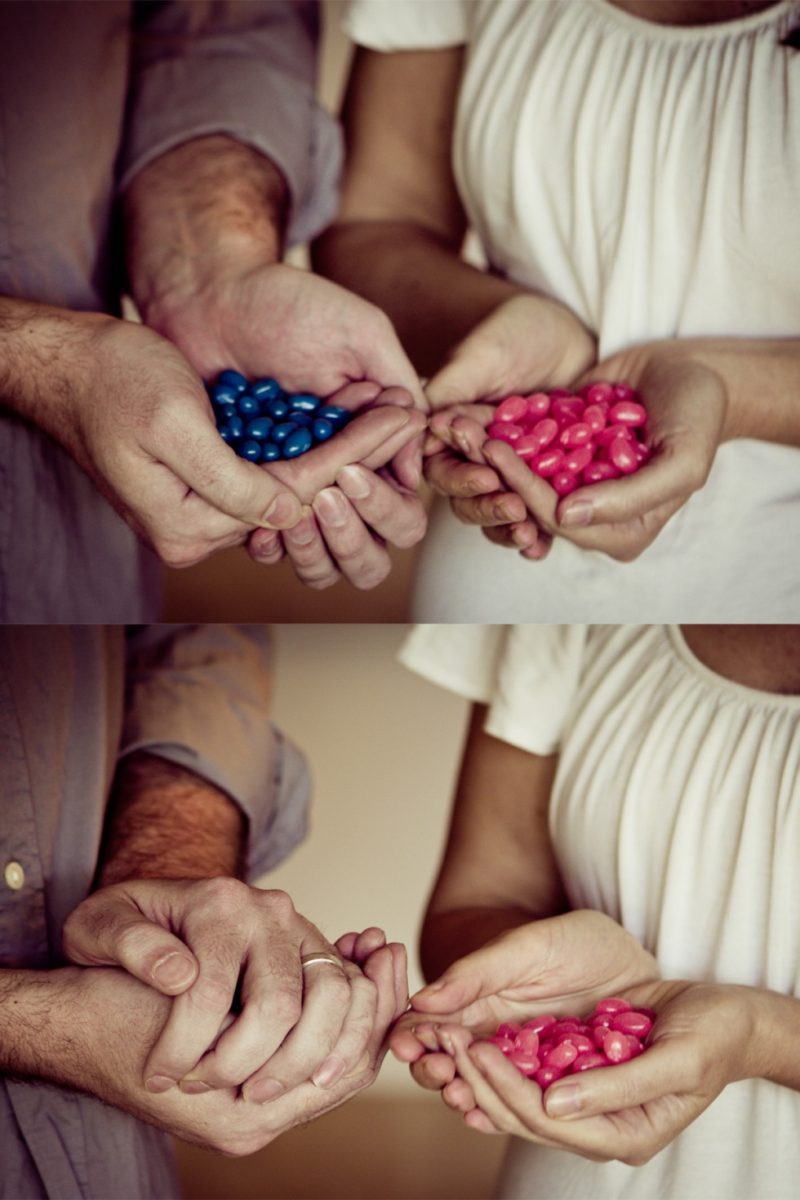 A super simple way to reveal the gender is to hold pink and blue colored candy in your hands. Then cover up the color that baby won't be to reveal the gender!
Want to get your pets involved? Dog lovers will swoon over this dog smash cake from Love Inc. The dogs will really appreciate it as well!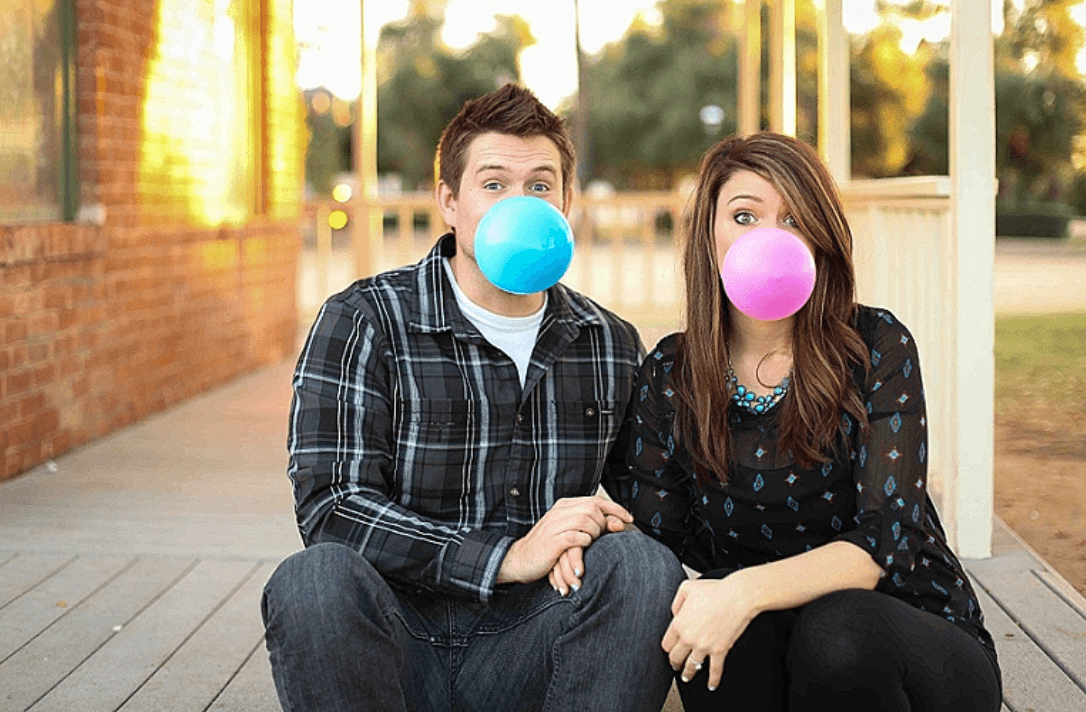 Grab your sweetie, some blue and pink bubblegum and get ready to blow the biggest bubbles to reveal baby's gender. I love this idea from Let Me See You Sparkle Photography.
Are your toddlers as obsessed with lollipops as mine is? Get them in the fun for baby sister or brother by letting them announce the gender with a lollipop announcement like this one from Whistle and Ivy.
You can buy Hershey's candy bars and color in the "HE" or "SHE" part with blue or pink marker to share your baby's gender with a chocolate bar. Hold these up in your photo to share what baby will be!
Feeling extra brave? Hallstrom Home shares her egg roulette gender reveal. This would be such a fun gender reveal game for the parents-to-be to play at their gender reveal party! Watch the full video to see how it turns out!
Let your young child go wild smashing pumpkins to find out if they'll be having a baby sister or brother. This would be so fun to do as a kid or adult!
We love these gender reveal food ideas so much! Did you do a fun gender reveal to let everyone know what you were having?
IF YOU LIKE THIS IDEA, DON'T FORGET TO PIN IT!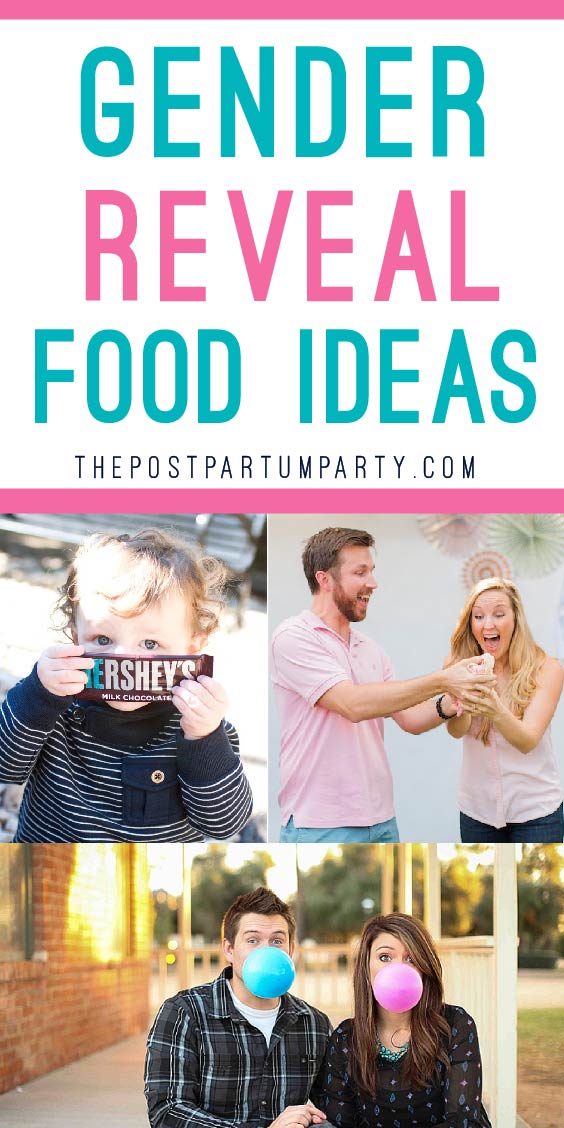 Latest posts by Amy Motroni
(see all)