Are you a Disney fanatic? Announce the newest set of ears joining your family with these magical Disney pregnancy announcements, inspired by everyone's favorite mouse and the happiest place on earth!
This post and the photos within it may contain Amazon or other affiliate links. If you purchase something through the link, I may receive a small commission at no extra charge to you.
There's just something about Disney that captures us and leaves us enchanted! If you're a Disney fanatic, then announcing your bump with a Disney-themed pregnancy announcement is the perfect way to welcome your little mouse into the world!
Check out these magical Disney inspired pregnancy announcements and see which ideas you can capture and re-create as your own!
Bonus points if your Disney pregnancy announcement means taking a trip the the happiest place on earth!
Magical Disney Pregnancy Announcements
This big brother pregnancy announcement and gender reveal photo with little sister's hat while exploring the Happiest Place on Earth is a simple and cute Disney pregnancy announcement from The Bewitchin' Kitchen.
Having a baby will always be life's greatest adventure! Aubree Originals shared her pregnancy announcement with her UP-themed shirt and baby's first visit pin! These are special keepsakes you can hang onto forever!
Starbucks and Disney just go together like peanut butter and jelly and these Mouseketeer cups are proud to announce a new addition to the family. Get the full tutorial on how to re-create this from Instructables.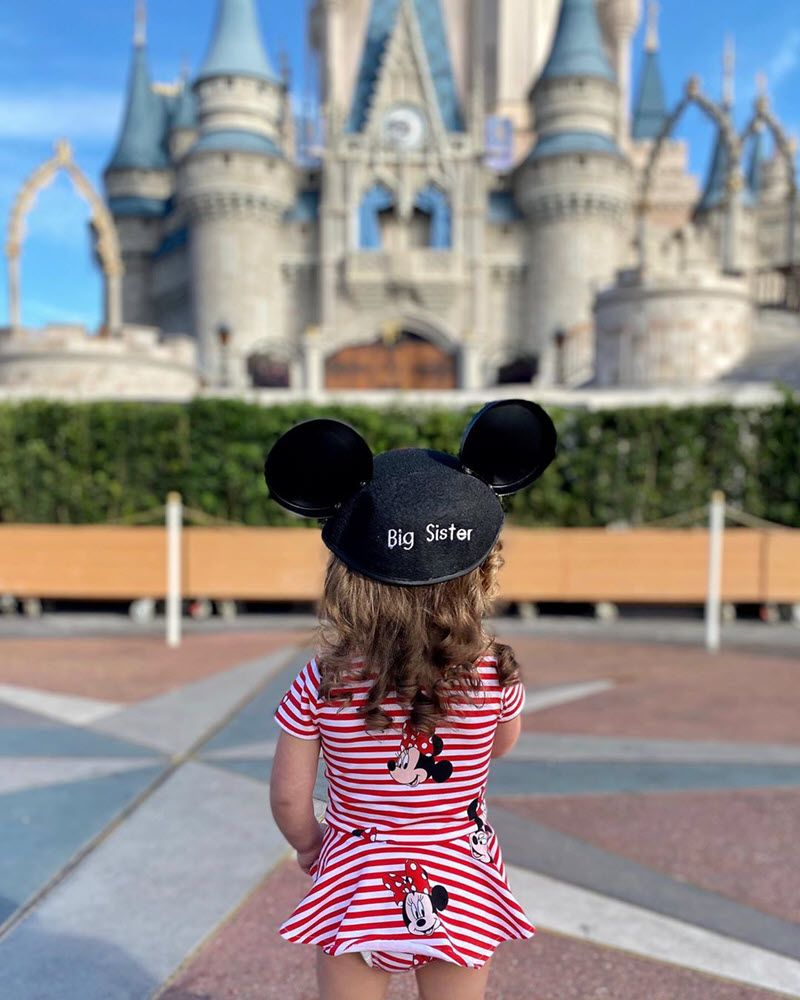 Big Sister got to make this Disney pregnancy announcement in the Magic Kingdom with her adorable dress and hat from Shana Cunningham!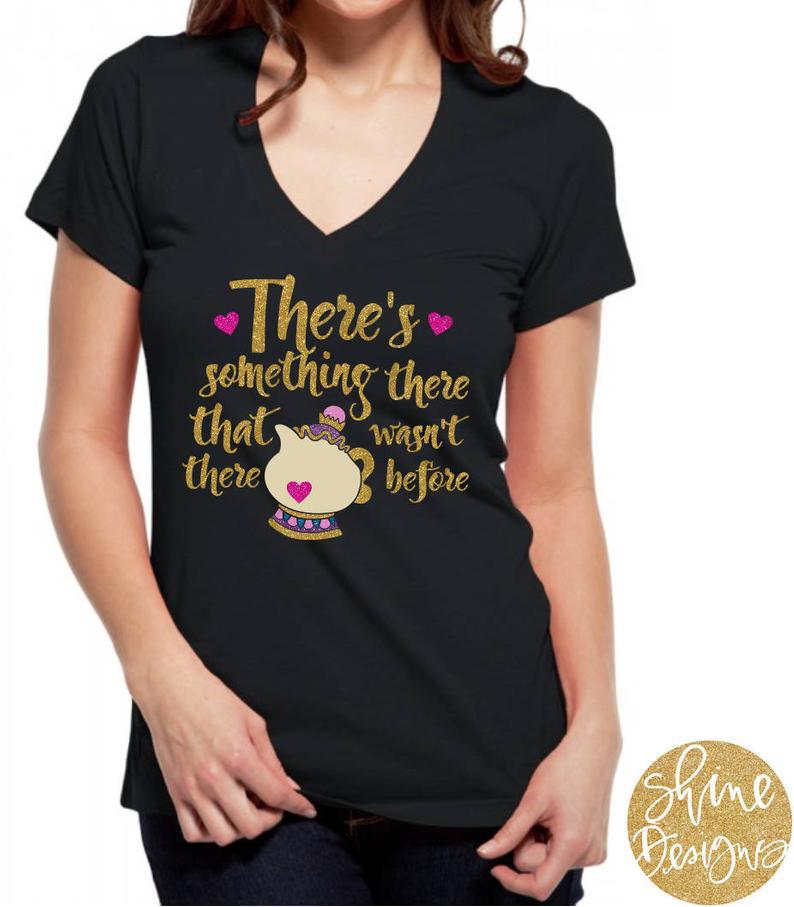 There must be something there that wasn't there before! Grab your beast and this Beauty shirt to announce your Disney pregnancy with Beauty and the Beast as the inspiration!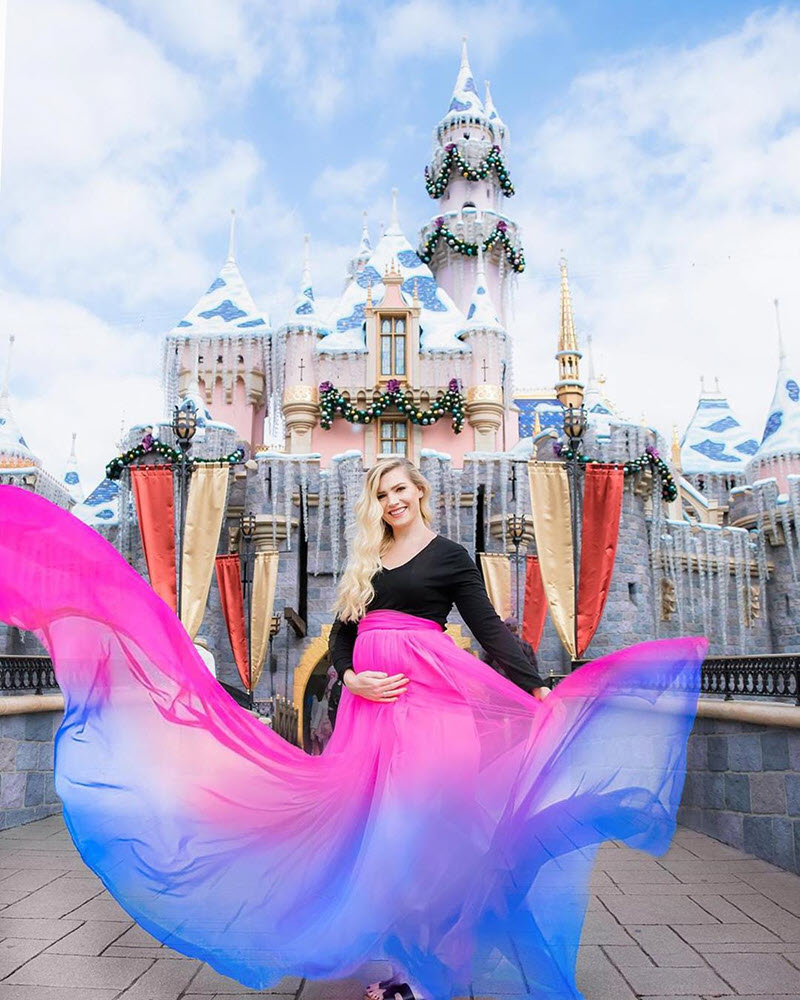 Go glam with a Sleeping Beauty pregnancy announcement from Chasing Disney Daily. Her dress is fabulous to announce a new little prince or princess.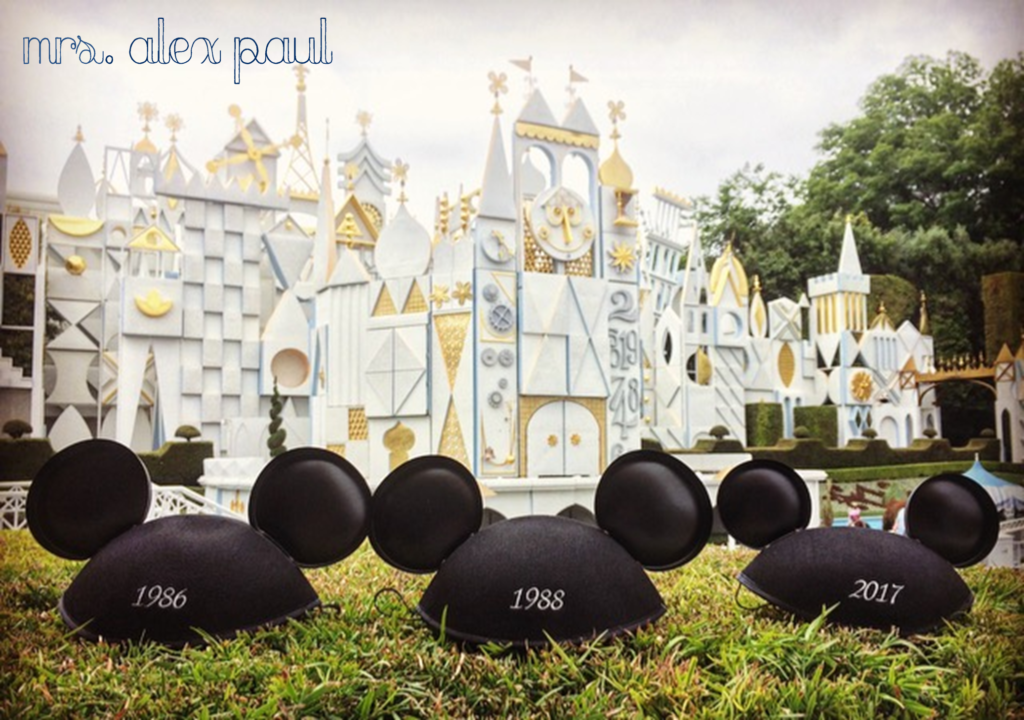 Something small is arriving! Announce the news with Mickey ears in front of everyone's favorite ride with this photo idea from Mrs. Alex Paul with mom, dad, and baby's birth years on the hats!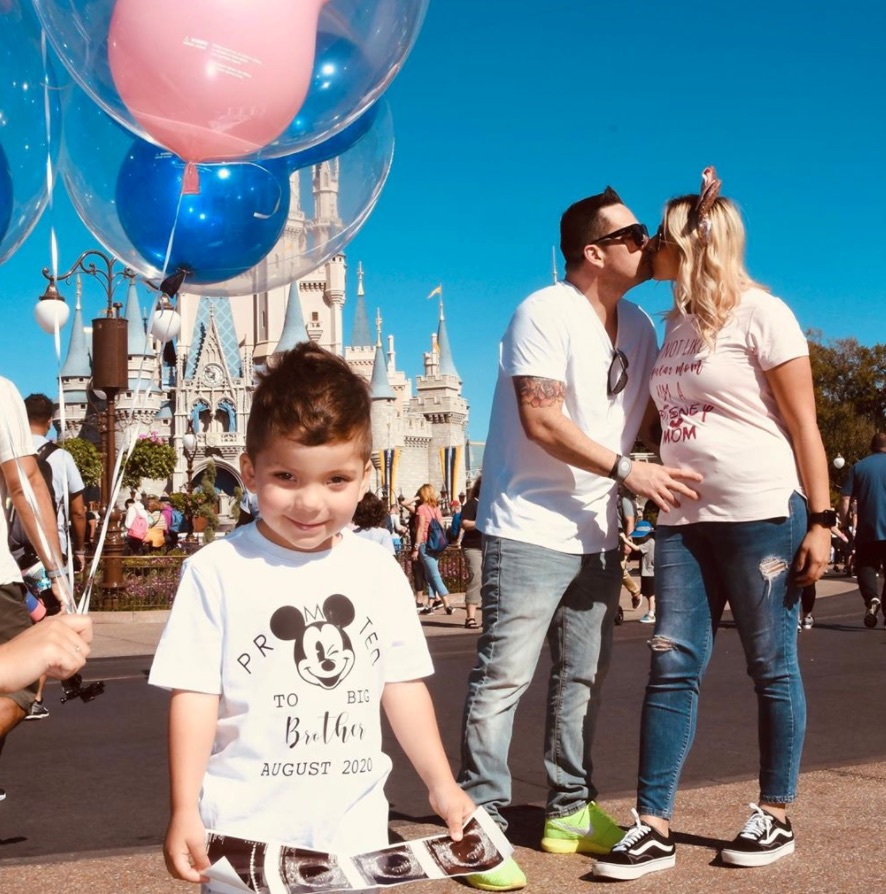 Someone's getting promoted to big brother! What a cute announcement that includes the whole family at the Happiest Place on Earth!
You've made the magic happen! Now it's time to tell all your friends and family! Announce your pregnancy with this tee to show off your magical babe!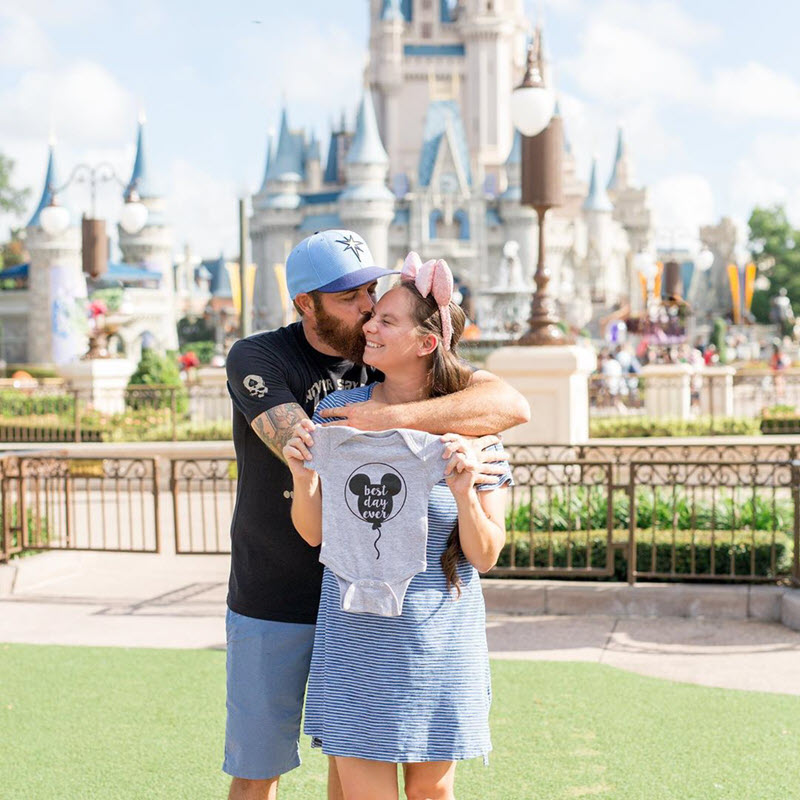 Grab a Mickey Mouse onesie and snap a photo in front of the classic castle to recreate this photo from Sydney Morman Photography. Frame this when you get home to share your pregnancy announcement with your parents for a sweet keepsake!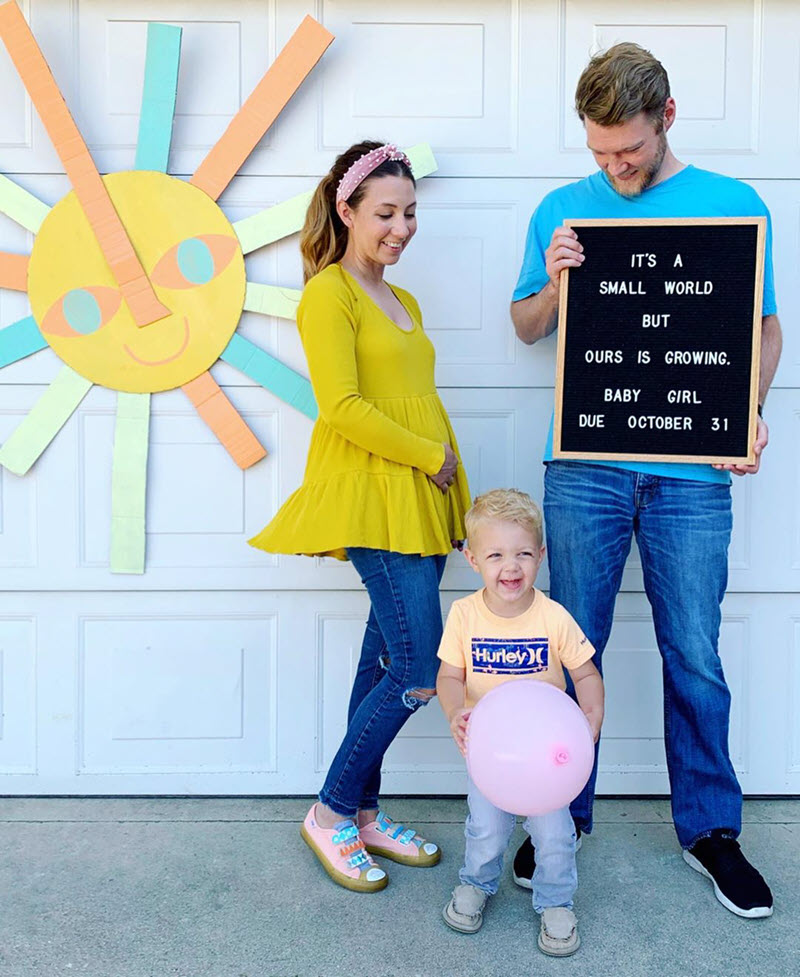 You don't have to make it to a Disney theme park to announce a small world Disney pregnancy! Use a letterboard to take a special photo like this one from Mallory Erin Makes.
Grab a Beauty and the Beast shirt for you and dad to make a Disney pregnancy announcement! Perfect for the Beauty and the Bump and the Beast behind the bump!
Mom, dad, and baby hats right in front of Walt and Mickey are a perfect way to tell everyone that you're expecting! See the family Mickey announcement from Danielle Taufer. She has tons of other Disney pregnancy announcement ideas in her post as well!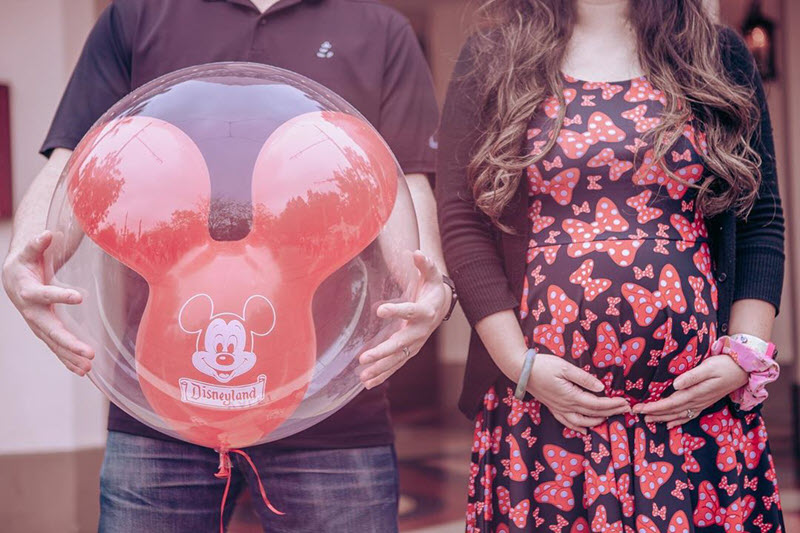 Hold your baby belly while daddy to be holds a Mickey balloon for a Disney pregnancy announcement like Meet Me at Disneyland. I'm in love with this mama-to-be's maternity dress as well!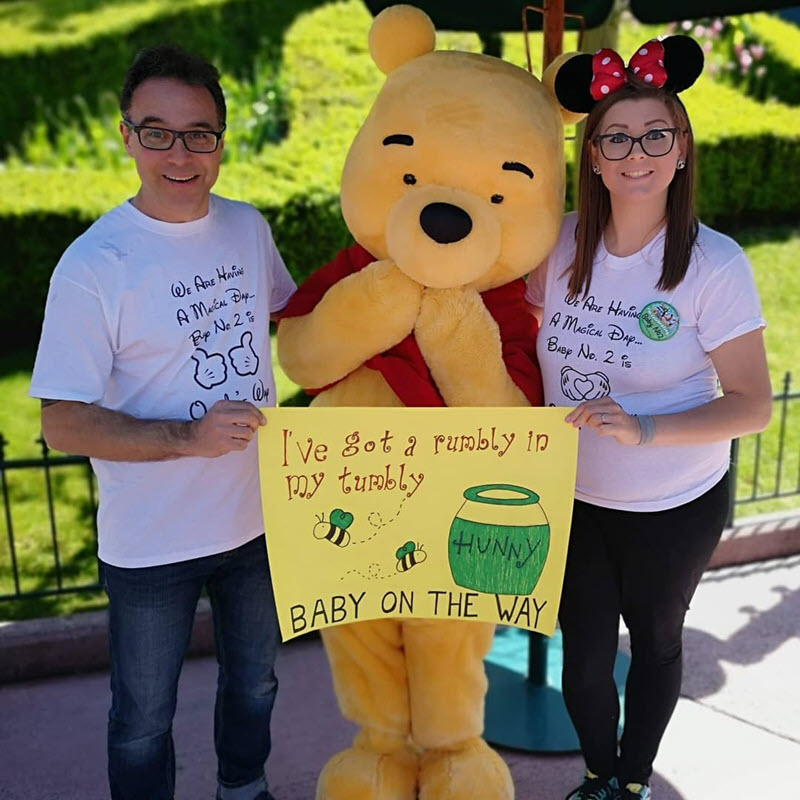 There's a rumbly in your tummy! Announce your bun in the oven with this Pooh Bear photo Disney announcement from Shawn Question Marklev. I bet you can't wait to meet your lil' honey!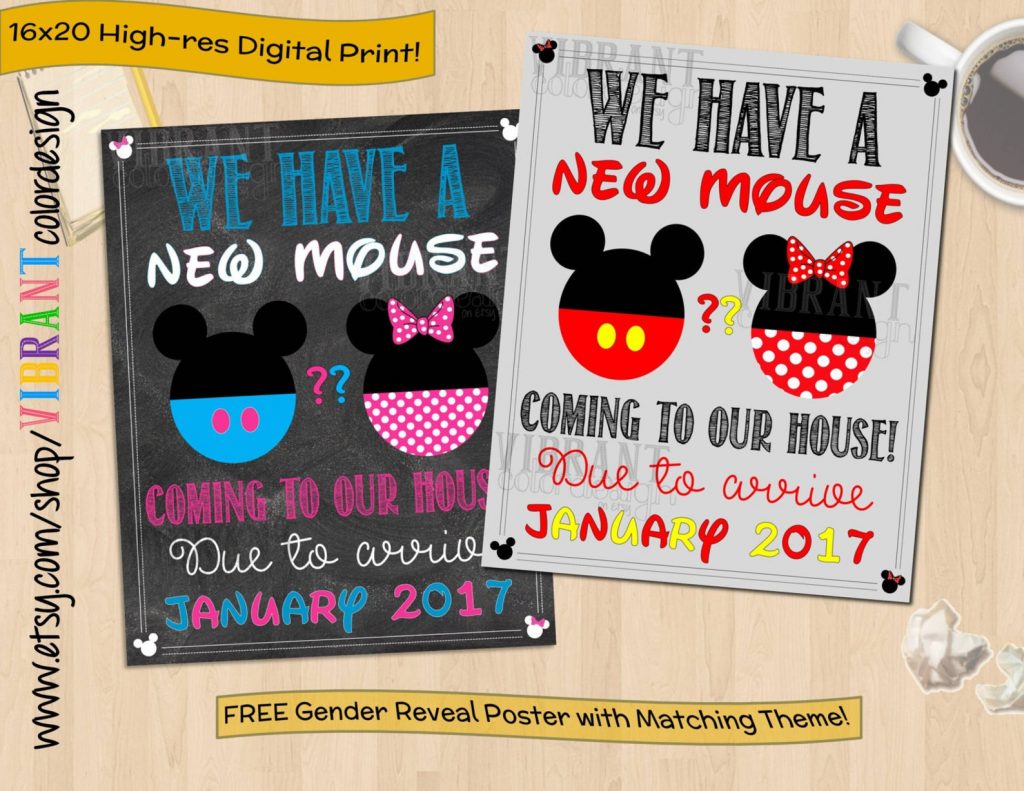 Announce a new mouse coming to the house with these Mickey themed printable signs from Vibrant Color Design.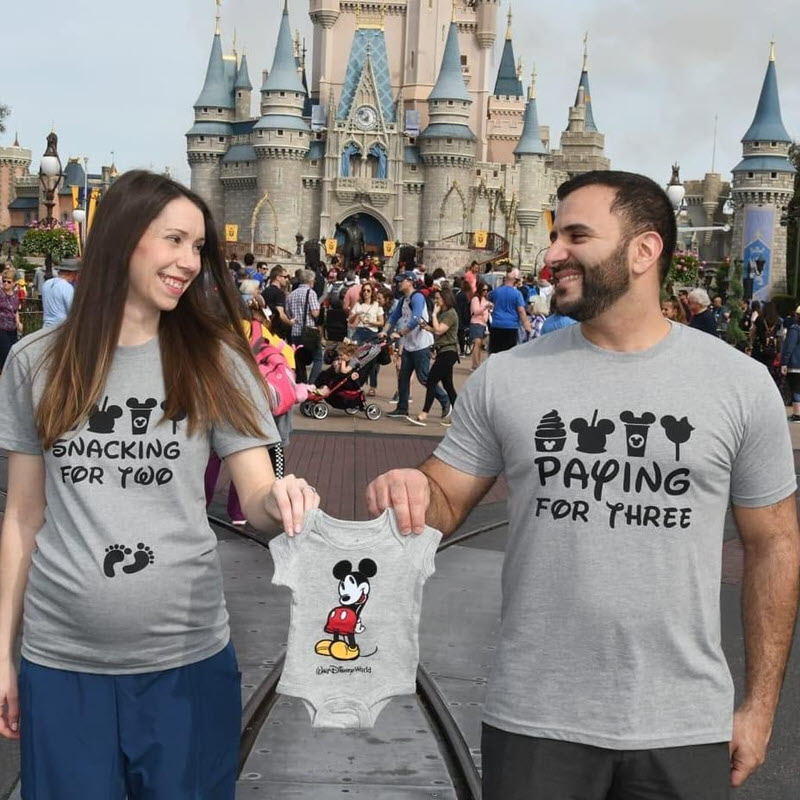 Mama is snacking for two while dad is paying for three in this Disney pregnancy reveal from Lorifoot20. Grab the adorable shirts to do this Disney pregnancy announcement with your partner.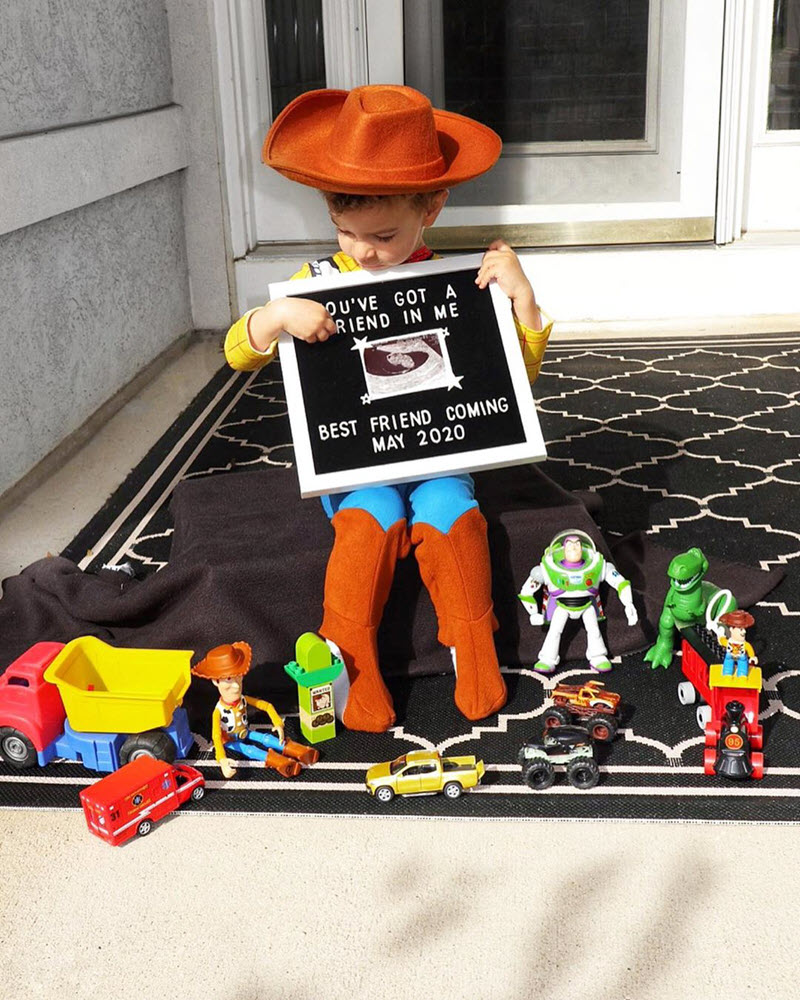 Big brother has a new best friend! We love this Toy Story themed pregnancy announcement from @sanzeria. Set this photoshoot up at home to announce your Disney baby!
Grab Cinderella and snap a photo wearing your Bibbidi Bobbidi Bump shirt to let everyone know about your bun in the oven!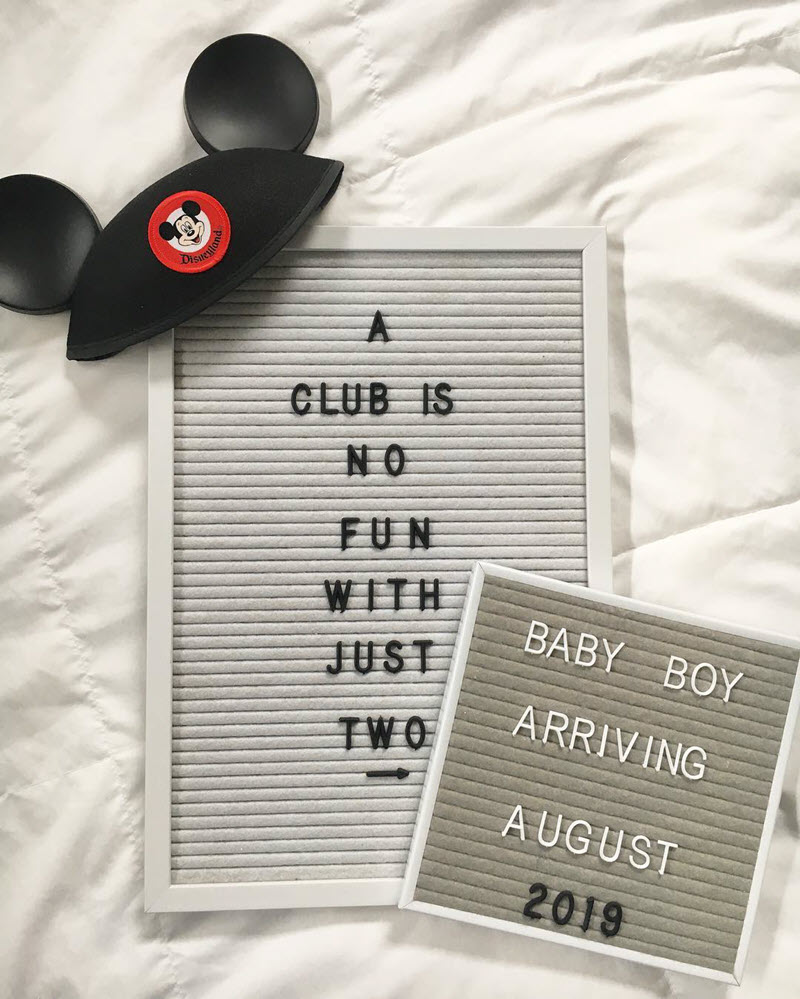 Adding one more to your Mickey Mouse club? Announce it with a letterboard message with this idea from @sarahannecyr.
Let big sister announce the news with this Disney-themed princess sign! Full of our favorite Disney characters!
Enjoy making your Disney-themed pregnancy announcement! It's the happiest news on earth!
And check out even more creative pregnancy announcement ideas! There's more than 100 ways to announce your pregnancy for any occasion!
Pin it for Later: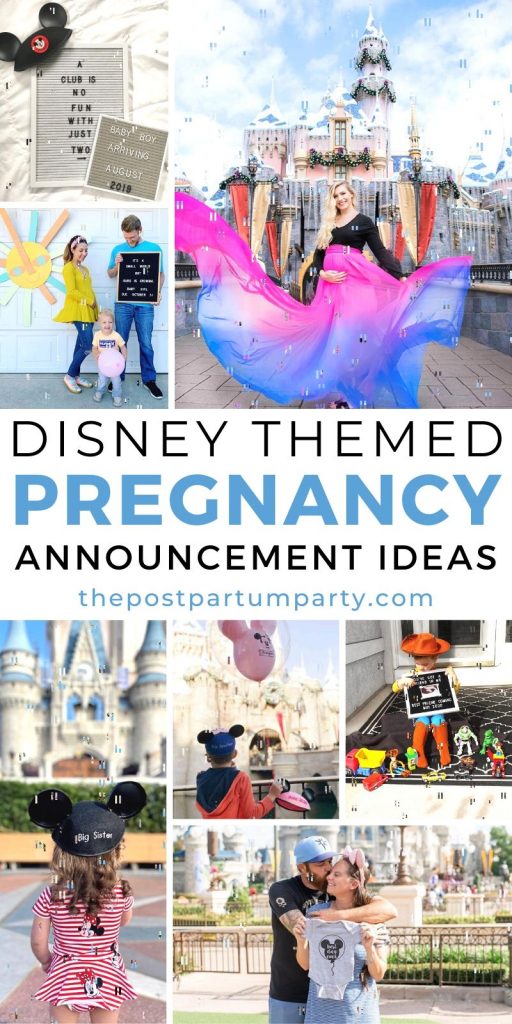 Latest posts by Amy Motroni
(see all)