Let your parents know they're becoming grandparents with these fun pregnancy announcement ideas for parents.
I'll never forget making the rounds to our different sets of parents to share our pregnancy announcement with them! We wanted to tell each set one-on-one as opposed to a big group setting and it was so fun to see all their different reactions.
My mom squawked like a chicken repeatedly saying "what" over and over again excitedly and it made for a very memorable day! We loved going from house-to-house with the different ways to announce our pregnancy to family.
Telling your parents that they get to be grandparents is a great joy! Here are 25 ways to share your pregnancy announcement to your parents and your in-laws to let them know they're having a grand baby!
We always got scratcher tickets in our stockings as kids, so this way to tell parents that you're pregnant is super nostalgic for me! Give them these scratcher tickets as a fun gift. When they reveal the winning number, they're in for a huge surprise!
This hello grandma and grandpa baby onesie is a perfect gift to let your parents know you're expecting! Wrap this up and be ready to record their reactions as they open it!
3. There's nothing sweeter than seeing your first gimpse of your baby on the first ultrasound. Ask for an extra print and grab this sonogram photo frame to share the news!
This wine label has such a sweet sentiment and is a fun way to make your pregnancy announcement to your parents. Bring their favorite bottle of wine over for dinner and watch as they read the label! I also have some fun pregnancy announcement wine labels you can download. for free!
If your dad is a fisherman, he'll love this special fishing hook letting him know he's going to be a grandpa! I bet he can't wait for his newest fishing buddy to join him!
Get these promoted to grandma and promoted to grandpa coffee mugs for a way to announce your pregnancy and gift your parents or in-laws a keepsake they'll have forever! They'll love drinking out of their new mugs for the next nine months and beyond!
Have your mom and dad crack this quail egg to reveal a major surprise! This quail egg is full of glitter and a special message to truly create a memorable and creative pregnancy announcement.
Get your dad jokes ready with these punny cards and a funny pregnancy announcement. This would be a great way to announce your pregnancy to parents who live far away. Send them the card and have them video chat you when they get it in the mail so you can capture their reactions!
Raise a glass and cheers to the best news ever with these pregnancy announcement drink glasses. A beer stein for grandpa and a wine glass for grandma so they can toast to the announcement!
Only the best moms get promoted to grandma. Let your parents know you're expecting with this sweet set of keychains. They can add it to their keyring and celebrate every time they see it!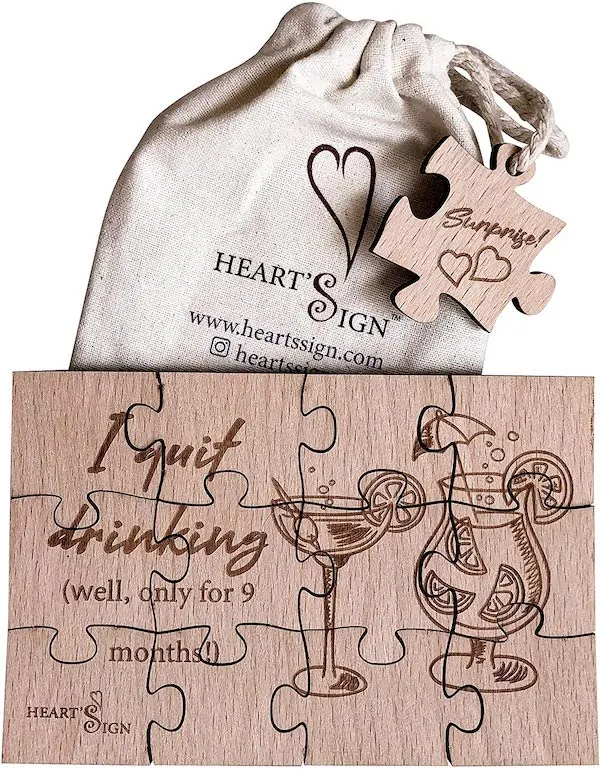 Sit down with your parents for a fun afternoon of completing a puzzle. They'll love seeing the finished product and learning the big news!
This keepsake necklace is one the grandma-to-be will cherish forever. It comes with a little poem to announce your pregnancy.
Grab a six pack and these beer labels to share your big news. This makes for a very hoppy pregnancy announcement to your parents and is a great way to tell your husband you're pregnant as well!
If you're making a Christmas pregnancy announcement, then grab this pretty Christmas ornament to let your parents know they're going to be grandparents. It will be the most anticipated gift under the tree!
Pour a cup of coffee for your dad and eagerly wait as he finishes it to read a special message at the bottom with this surprise message coffee mug.
Add a little home decor with this pillow pregnancy announcement. It will be a great conversation piece for any visitors of the grandparents-to-be!
If your dad or father-in-law enjoys a good glass of whiskey, then he'll love to hear the news that he's going to be a grandpa with this special keepsake whiskey glass.
No such thing as too many candles for the grandma to be. This grandma pregnancy announcement candle is one she'll probably never want to light!
If you're making a fall pregnancy announcement to your parents, then this little pumpkin gift box is the cutest thing! It doubles as adorable decor too!
If your dad or father-in-law loves to golf, get ready to tee off with these personalized golf balls for the grandpa to be. This pregnancy announcement to parents is a hole-in-one!
Grab this little munchkin sign and bring over a box of donuts to share the news of your pregnancy with your parents. This is a simple and sweet way to celebrate!
Welcome to grandma and grandpa's house! Let your parents know you're expecting by gifting them this wooden sign! It's something they can keep and use forever, even long after you share the news.
This gift box has such a special surprise inside! You can customize this grandparent's gift with your due date and everything for a special pregnancy announcement to parents card.
Looking for a fun way to let your parents know you're pregnant in Spanish? This adorable hola abuelitos bodysuit is the perfect gift for the Spanish-speaking family.
Let the countdown begin. These grandparent countdown blocks are a fun way to announce your pregnancy to your parents and something that will build up anticipation until their newest grandchild is here.
Enjoy announcing your pregnancy to your parents and letting them know they're becoming grandparents!
Latest posts by Amy Motroni
(see all)