Plan the perfect fall baby shower with these ideas. Whether the mom to be wants a fall floral theme or wants to celebrate her little pumpkin coming, here are some of the cutest fall baby shower ideas!
One of my really good friends is having a baby in December so we wanted to throw her a little baby shower. It's her third baby so she already has a ton of baby stuff. Still, it's always fun to shower the mom to be with love and some diapers.
Since we're throwing the party mid-October I went on the hunt for some of the best fall baby shower ideas!
Fall is the perfect season of year to get outdoors with guests and plan an outdoor baby shower with one of these fun themes.
Not to mention all the different colored foliage that comes in the fall. It really is a wonderful time of year!
Whether the mom-to-be wants a pumpkin-themed shower or you're hosting a co-ed shower for all the football fans, here are some of the cutest fall baby shower ideas that I found.
Click through to the original post to see all the adorable details and get ready to hit up the pumpkin patches and start planning for this fall season!
30 Festive Fall Theme Baby Shower Ideas
Woodland creatures make for an adorable baby shower theme any time of year, but are an especially cute idea if you're looking for fall baby shower ideas. I love how the The DIY Lighthouse has woodland-inspired food like "forest foliage" and "sticks n twigs" as part of their woodland shower.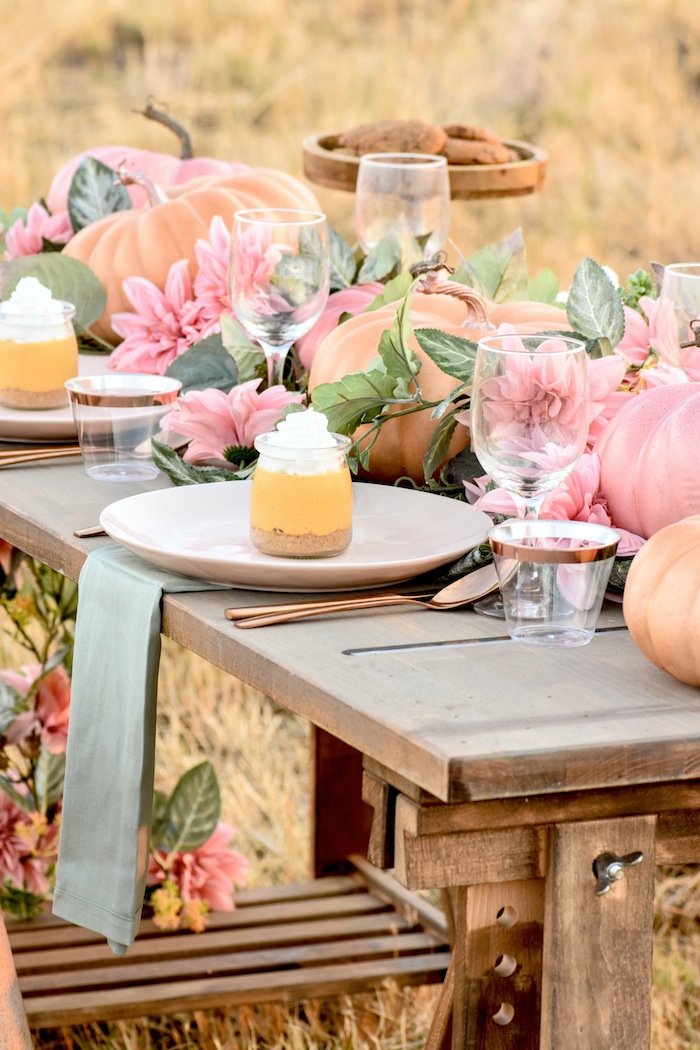 Take a twist on traditional pumpkin decor with these pink and orange pumpkin baby shower from Kara's Party Ideas.
Perfect for a baby shower theme for girls and the mom expecting a little pumpkin in the fall. Kara's pumpkin and floral table decor is gorgeous! Send each guest home with a faux pumpkin as a party favor too.
Who knew pumpkins could be so elegant? This little pumpkin theme baby shower from Vintage Pretty Pearl is full of classic, vintage decor that is gorgeous.
Her baby shower is complete with plenty of white pumpkins, a pretty table setting, and yummy fall desserts.
Holy Cow, they're having a baby! We love visiting all the petting zoos in the fall and barnyard animals is a fun and unique twist for a fall baby shower theme! Newly Woodwards shows how she created an adorable baby shower with our favorite farm animals.
Expecting a rainbow baby? The boho rainbow trend is perfect for fall with muted colors! Pair these rainbow baby shower decorations with some fall florals to welcome the celebrate the newest little miracle to be!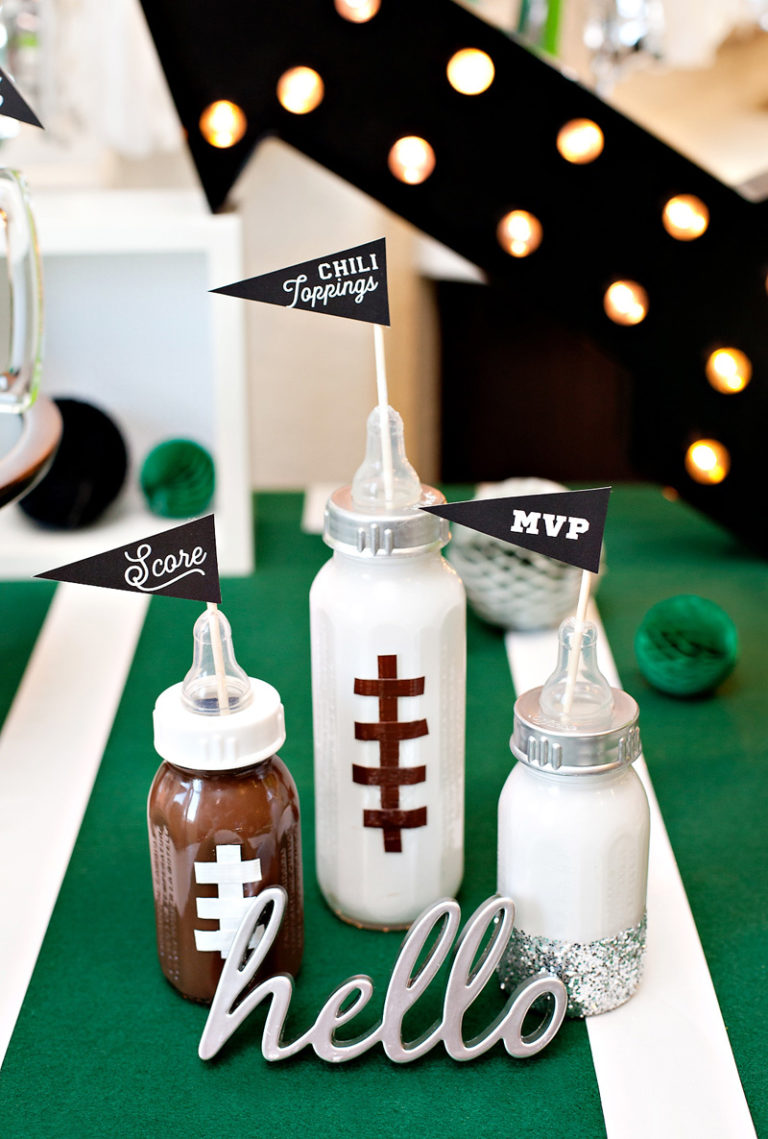 Planning a co-ed baby shower or a shower for a football fan? Then this football theme sip and see is the one of the best fall baby shower themes! I always know it's fall when it's the start of football season and start to lose my husband. The Hostess with the Mostess planned the cutest football party for the new parents featuring their favorite team.
I pretty much want to eat apple everything around this time of year. (Hello caramel apples and apple cider!) Pretty My Party's apple of my eye baby shower is a great place to serve all those apple treats. Plus, her apple decor is stunning!
Traditional fall colors are abundant at this fall floral baby shower from Fuel Mama. The different shades of orange, green, and cream flowers give a warm and ethereal vibe. My favorite is the gorgeous floral crown worn by the mama-to-be!
Our sunflowers are finally starting to bloom in our garden and they would make a great baby shower centerpiece in the fall.. Bring lots of fall colors in with a sunflower theme shower.
The House of Hood co-hosted a rustic shower that includes lots of pinecones, gorgeous greenery, mini snow globes, and woodland bears. The rustic details in her party are beautiful and make for a lovely fall baby shower theme for boys.
Give me all the fall florals when the colorful leaves start changing colors! Add some fun baby shower games to your floral-themed baby shower with these fun printables from We Do Honey. You can also switch up the florals for a spring baby shower!
A baseball baby shower theme is a fun way to celebrate the upcoming arrival of a little slugger. Incorporating elements like baseballs, bats, and mitts can add a touch of sporty charm to the event. MKR Creations put together an amazing shower that will be sure to bring back all the nostalgia of cracking peanuts in the stands and enjoying some cracker jacks with friends by the concession stand.
Inspired By This shows how a campfire favorite adds s'more fun to a baby shower! The decor is rustic, the food is comforting (hello grilled cheese bar!), and the s'mores cart is a showstopper.
Tractors just scream fall to me! Maybe it's because of all the tractors at the pumpkin patch. This tractor themed shower from Catch My Party is complete with tractor tires made from mini donuts and pitchforks made from serving forks. This is a really creative twist on a fall baby shower idea!
Planning a Halloween baby shower? This little boo baby shower is spook-tacular and great if you want something gender-neutral! Sugar and Crush Co. includes fun baby shower games, cake toppers, and more to complete this adora-boo shower!
Is your little man on his way? A lumberjack baby shower is a great way to celebrate! Start your decor with these little lumberjack bodysuit shower invitations. Add a little flannel to your decor and you're good to go!
I'm sure you've been to a shower where the theme is ready to pop, but what about I love you a latte? If you're gaga for a pumpkin spice latte the second it hits the shelves, this I love you a latte pumpkin spice baby shower theme is perfect for showering the mom-to-be in the fall! Load up on pumpkin treats and plenty of coffee for this festive party!
A fall in love baby shower theme is a cozy and romantic way to celebrate the upcoming arrival of a new bundle of joy. With a warm color scheme and charming details like autumn leaves and pumpkins, this theme from Eclectic Mom Sense creates a comfortable and welcoming atmosphere for guests to gather and share in the joy of the occasion.
For a spin on the traditional baby shower, host an Oktoberfest baby shower, complete with mini sausages, mini pretzels, and mini beer steins. Perfect for the new mini you! This would be a fun theme for a co-ed shower. Get all the details from Oh Happy Day!
How cute is this foxy mama themed baby shower from Fun365? With rustic wood and acorn decor, including little foxes incorporated in the tablescape, games, and party favors, this would make an adorable baby shower!
There's a baby brewing inside! This baby brewing theme from Toast from the Host is a perfect way to celebrate the beer lover or if you're holding a shower at a brewery. Just no drinks for mom!
Tutus and Toads took full advantage of the beautiful New England fall landscape with the multicolored fall leaves as inspiration and decor. Be sure to check out the cutest, miniature tiki torch bonfires that adorned the tables!
Fall is a great time to head outdoors and enjoy some camping with family and friends. If you want to celebrate with a coed baby shower, this camping-themed shower is the perfect laid-back get together. With outdoorsy fall decor, earthy tones, snacks, and games, this theme creates an intimate and natural atmosphere for guests to enjoy.
Oh deer, your baby is almost here! This woodsy theme from Beau Coop is full of touches of nature, woodland friends, and fall accents. We love the beautiful naked baby shower cake and happy pushing topper.
The bright and bold colors of fall are a great start for your fall baby shower theme. Bright burgundy, gold, and navy are perfect complements for a fall shower. Get inspiration from this fall invitation and add from there!
Right when the weather starts to cool is when all the yummy citrus starts to produce on our trees—perfect to use up for a citrus themed shower. I love how The Proper Blog incorporates pops of bright colors that are non-traditional fall colors into this baby shower!
This is the most adorable baby bear theme out there! AJ over at Aspen Jay put together the perfect boy themed baby shower if you love the great outdoors and adventures; it almost makes me want to go hiking! Check out this theme if you are looking to create an adventure filled shower.
Bring the outdoors inside with pops of gold and greenery in this pretty fall baby shower from Inspired By This. There are so many fun details! If you need me, I'll just be over at the Momosa bar, which I think is always the best thing about a celebration.
Sugar and spice and everything nice! Nothing says Fall more than apples, orange mini pumpkins, and hot cider. This theme is sure to encapsulate plenty of autumn decor with all the things we love about fall and more! Browse through this apple of my eye shower to get an idea of how to throw this fall themed baby shower.
Fall and pies go hand in hand. Kara over at Kara's Party Ideas shared a sweet as pie birthday party that can easily be transformed into a baby shower. Add in a few pumpkins and pumpkin pie along with some fall flowers and you'll have such a sweet way to welcome the new baby.
A little turkey is on the way! There is nothing more to be thankful for than the arrival of your baby, so why not celebrate with the ones you love the most? Incorporating your baby shower with Thanksgiving is a great way to get everyone involved. Grab this adorable turkey banner to start decorating for this fall baby shower.
Foxes are one of the best woodland animals to focus on in the fall. They fit right in with the colors that come to mind when you think of fall, which are shades of oranges, browns, and creams. Catch My Party shares photos from a baby shower that can help get you planning your fox themed party!
Giddy Up for a western themed baby shower that is bound to be so much fun. With rustic decor, hay bales, and cowboy boots, this theme creates a fun and lively atmosphere for guests to enjoy. Incorporating elements like bandanas, horseshoes, and cowboy hats can add a touch of western charm to the event. Check out more details, like this awesome balloon arch from Coco Confetti Party Co.
This Halloween-themed baby shower from Ida Rose Events is to die for! Similar to the Little Boo theme above, Baby Boo No. 2 is a spooky and cute way to celebrate the birth of your second child with elements like ghosts, ghouls, and other Halloween-themed decorations to create a fun and festive party. Her decor is stunning!
Champaign & Confetti hosted a bountiful harvest farmstand theme baby shower featuring a rustic farm look and farm-to-table fall foods including french-toast shooters, apple cider, mini sandwiches, and cinnamon buns. This would be a great theme for a foodie mama-to-be!
Who Pays for the Baby Shower?
One common question when it comes to planning a baby shower is who pays for it?
Traditionally, the host or hosts of the baby shower would foot the bill for the event. This is typically the mother or mother-in-law of the expecting mom.
However, these days, it's becoming more common for friends and family members to chip in to throw the baby shower, or help with the expenses.
Ultimately, it's up to the host and the mom-to-be to decide what works best for them. The important thing is to communicate openly and honestly about any financial concerns to ensure everyone is on the same page.
What Do You Wear to A Fall Baby Shower?
Fall baby showers are a great opportunity to put on some comfy yet stylish clothes that celebrate the season.
You can wear layers like sweaters, cardigans, and leggings, and add some accessories like scarves, boots, and other autumn-inspired pieces.
Warm hues like burnt orange, mustard, and deep red can help give your outfit a seasonal touch.
Just remember to choose clothes that make you feel confident and at ease while you celebrate the arrival of the new little one.
Have fun planning your fall baby shower for the mom to be! What are some of the fun fall baby shower ideas you've come across?

Latest posts by Amy Motroni
(see all)