Are you struggling to pick out a high-tech bassinet? Let's compare the SNOO vs Halo to see which smart sleeper will work for you!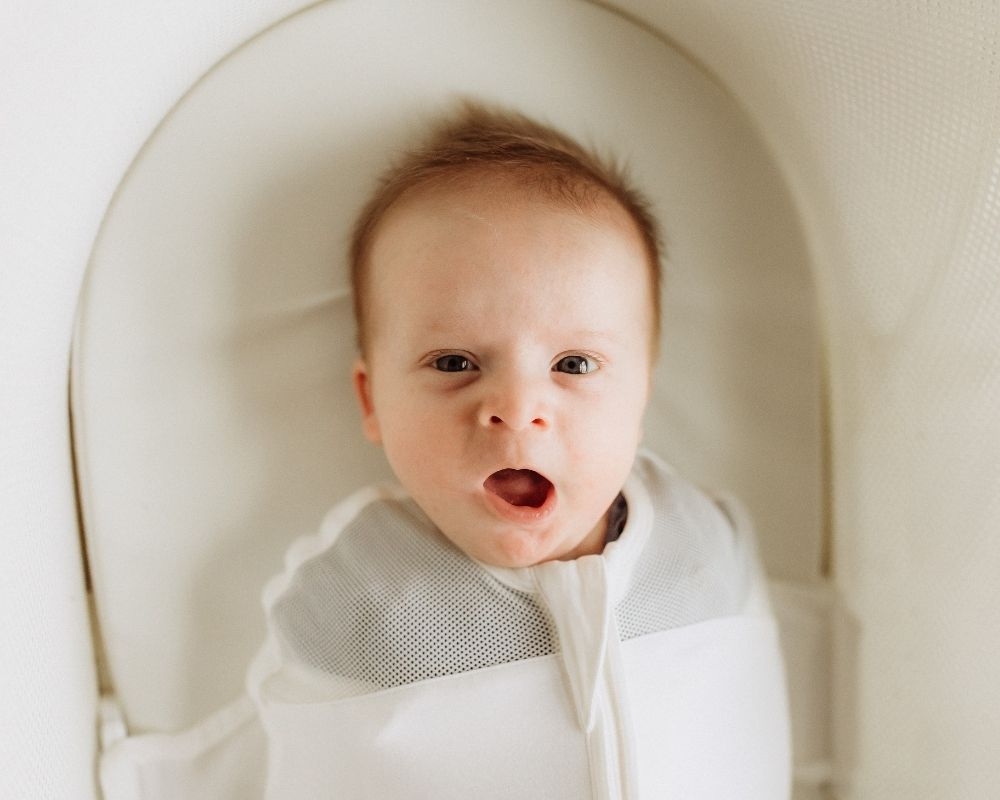 When I was first building my baby registry must haves, I remember my mom kept saying, "There are so many more options than I had when I was pregnant!"
She was so right. The amount of newborn baby products out there these days seems infinite!
Having access to so many options is both a blessing and a curse. While you can tailor things more specifically to your family's needs, it can also be really overwhelming.
As a new mom, I definitely felt the most pressure when I was trying to choose the best bassinet for our daughter.
If you're in the market for a bassinet, you've likely heard praises for the SNOO Smart Sleeper. Many families regard the SNOO as the gold standard for newborn bassinets to help everyone get a better night's sleep.
But "gold standard" means the SNOO is an expensive bassinet! That's why I've done the research for you to find SNOO alternatives that won't break the bank.
At the top of that list is a smart sleeper by Halo. Let's talk about the SNOO vs Halo, and discuss which option might be best for you!
Want a realistic newborn sleep schedule? Download my free newborn sleep schedule to see what a day with your newborn might look like. Click here to grab it, it'll be super helpful.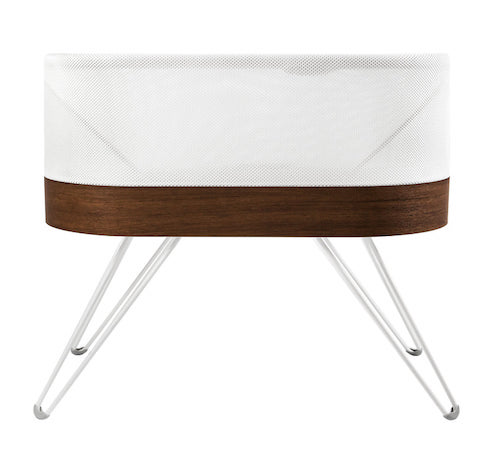 I'll be completely honest, The SNOO Smart Sleeper Bassinet left me speechless the first time I saw it!
The modern look and innovative technology make this bassinet one of a kind!
The SNOO was created by Dr. Harvey Karp, pediatrician and author of The Happiest Baby on the Block.
The SNOO's reputation as a top pick and one of the best bassinets out there is well-earned. It was the first smart bassinet of its caliber to hit the market, and it has consistently positive reviews from lots of parents who swear by its unique features.
There are many impressive features to the SNOO, but its stand-out function is its ability to sense your baby's movement or crying and automatically start swaying to soothe them.
Dr. Karp is the founder of The 5 S's, a set of soothing techniques to help soothe newborn babies and colicky babies. The SNOO bassinet essentially does some of the soothing features of the 5 S's, so parents can get a little rest themselves.
The SNOO comes with a swaddle attachment that secures your baby firmly and safely to the mattress. It also includes a built-in noise machine with multiple sound settings.
There are integrated motion sensors to help the SNOO detect when your baby is starting to wake up. When they stir, the SNOO goes to work, moving in a swaying motion to lull your baby back to dreamland in hopes of preventing sleep deprivation for everyone.
The SNOO's mobile app tracks your baby's sleep patterns throughout the night, recording when they are sleeping more lightly or waking up. If you like data, this smart bassinet is a dream!
The mesh walls are a great safety feature and this smart bassinet follows safe sleep guidelines as recommended by the American Academy of Pediatrics.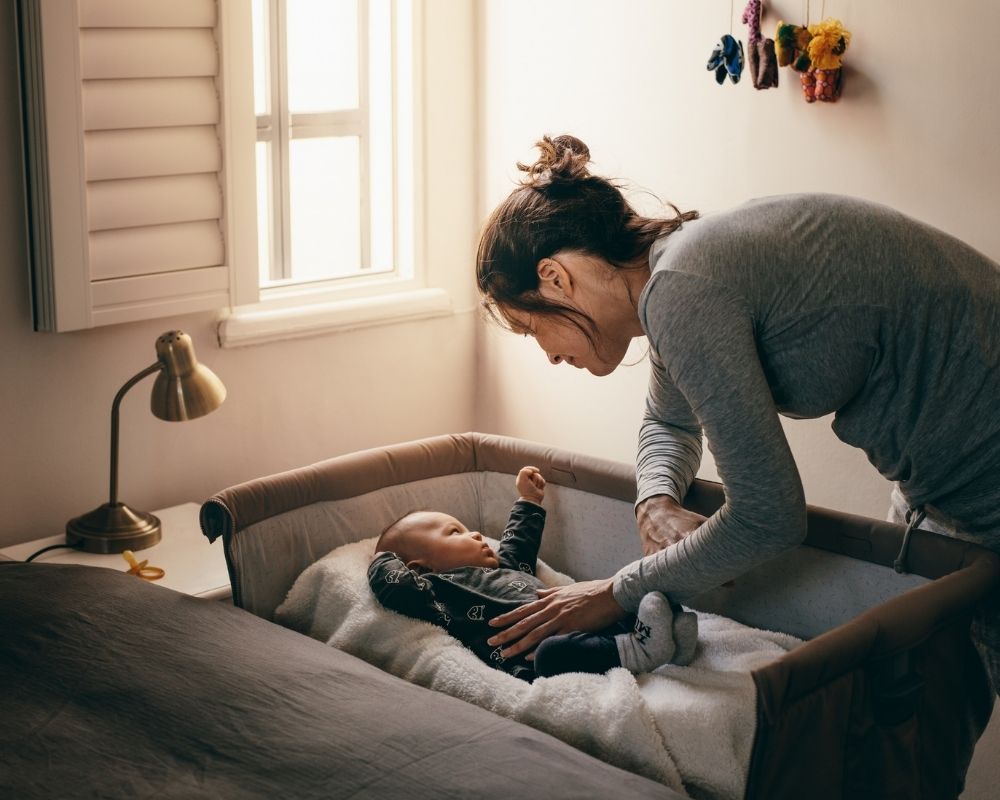 Is There Anything Comparable to The SNOO?
The SNOO first launched in 2016, and in the years since there have been plenty of alternatives to hit the market. The best news is that many of them are much more affordable!
These days, you can find other smart bassinets on the market that boast cry-detection technology, movement or vibration, and apps that connect to your phone.
I've written a roundup post of 10 great SNOO alternatives. The bassinets on that list range in price from $150 to $1800, and cover a wide variety of features.  
One of my favorites from the list, and in my opinion an excellent option and stand-in for the SNOO, is the Halo BassiNest Swivel Sleeper.
The Halo Swivel Sleeper has mesh sides and can be adjusted to match your bed height, allowing for easy access and visibility from your bedside.
Moms who have had C-sections might especially love the Halo. You can swing it over to your bed to feed or comfort your baby, making your movement minimal in the middle of the night.
It's also a great bassinet for small spaces. The base of the bassinet is designed to easily tuck under your bed, which means it takes up less floor space.
The Halo has a gentle vibration function and some soothing sounds for your newborn's comfort.
The Halo Luxe series has even more functions, including an amber-tone floor light for nighttime visibility, a removable storage caddy, and the ability to detach the basket portion of the bassinet.
The portability of the Halo bassinet basket makes it easy to move around the house for a safe place to "dock" your babe. This is a much safer alternative to using something like the Dock-A-Tot, which is not safety-approved for sleeping.
When it comes to the SNOO vs Halo, they have many of the same functions, including the mesh side wall and built-in movement and sounds, but the Halo is arguably more portable. And at under $300, it's much more affordable!
SNOO vs Halo: Which is Better?
Many people go for the Halo smart sleeper because it's a much cheaper alternative to the SNOO. But does it function as well as the SNOO?
The Halo does have many of the same general functions as the SNOO. However, the Halo is not a complete feature-for-feature match with the SNOO.
When it comes down to it, only you know the best fit for your family's needs. However, I've outlined some of the major differences between the SNOO vs Halo below, and which one excels in each category.
Both bassinets have a flat surface and offer a safe sleep space for baby.
How Are The SNOO and Halo Different?
As you compare the SNOO vs Halo, consider the following:
Cost
As I mentioned, the SNOO is a big investment at $1595. The Halo is a fraction of that cost, ranging between $199-$350 for the various models. Winner: Halo
Weight Limit
The weight limit on the SNOO is 25 pounds. The recommended age is birth up until about 6 months. The weight limit for the Halo is 20 pounds and it's recommended for babies up to 5 months old. When comparing how long baby can sleep in a bassinet, the SNOO has a little longer shelf life. Winner: SNOO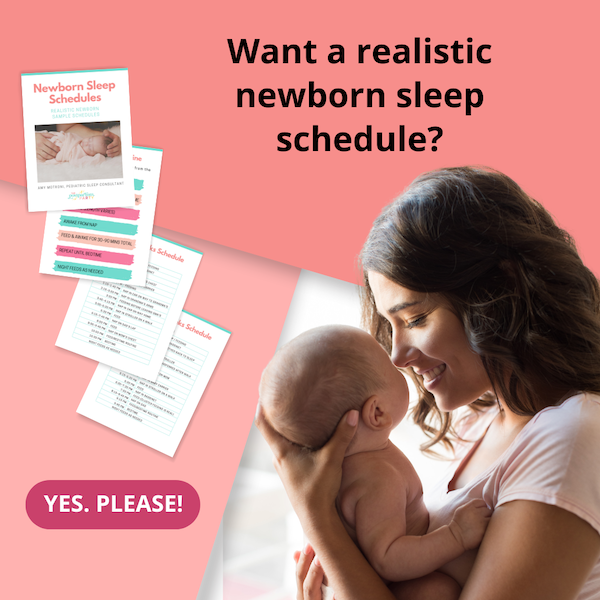 Cry Detection
The Halo relies on you to detect and program the soothing functions for your baby. The SNOO excels in this area by having built-in sensors that detect your baby's cries and do all of that work for you, so you can potentially avoid some nighttime wake-ups. This is probably the biggest difference between the two bedside sleepers. Winner: SNOO
Movement Quality
Most smart bassinets use a vibration movement to soothe, including the Halo, which has two different vibration levels. The SNOO, on the other hand, uses a swaying movement that more closely mimics movements in the womb. Winner: SNOO
Adjustability
With the SNOO, what you see is what you get–there's no changing or adjusting the height. What's great about the Halo is you can extend or lower its height to align with your bedside and take up less space. Winner: Halo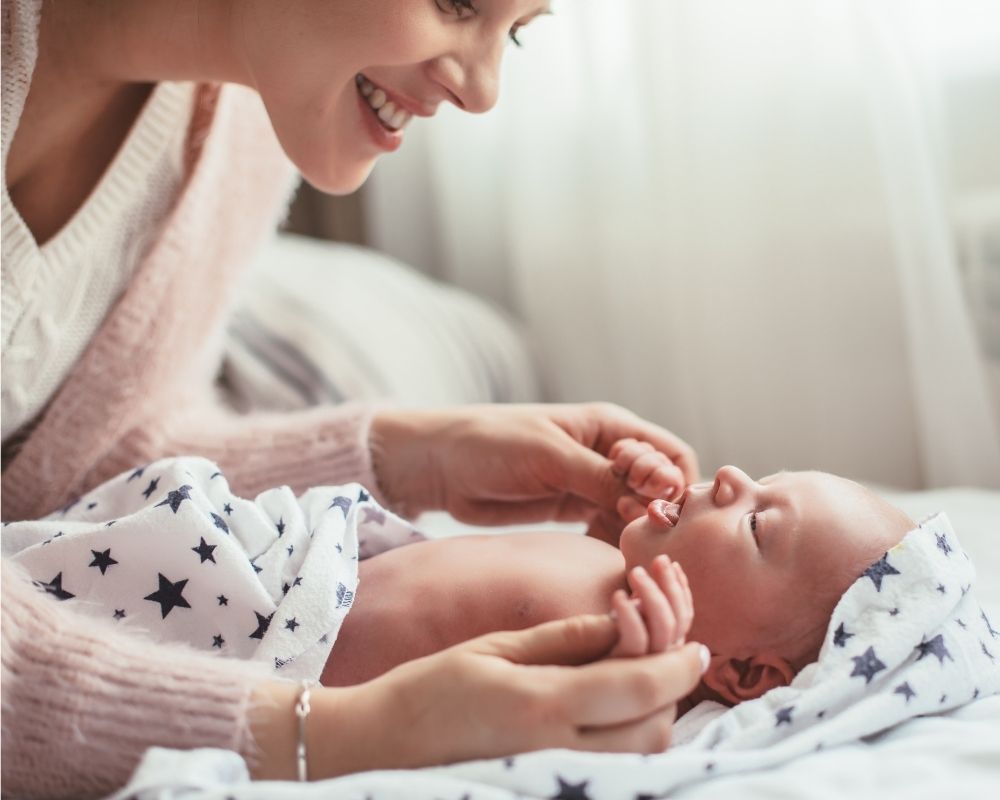 Portability
While you could potentially pick up the SNOO and move it to another room, it's not really designed with portability in mind. The Halo Luxe, however, allows you to easily detach the basket of the bassinet and move it around to different locations. That means your baby can sleep safely in any room! Winner: Halo
Bedside reach
The Halo beats the SNOO when it comes to reachability, too. With the Halo, you're able to adjust the height and swivel the bassinet to rest on top of your mattress. There's no need to lean or bend over to reach your baby, making it ideal for those early days of postpartum recovery. Winner: Halo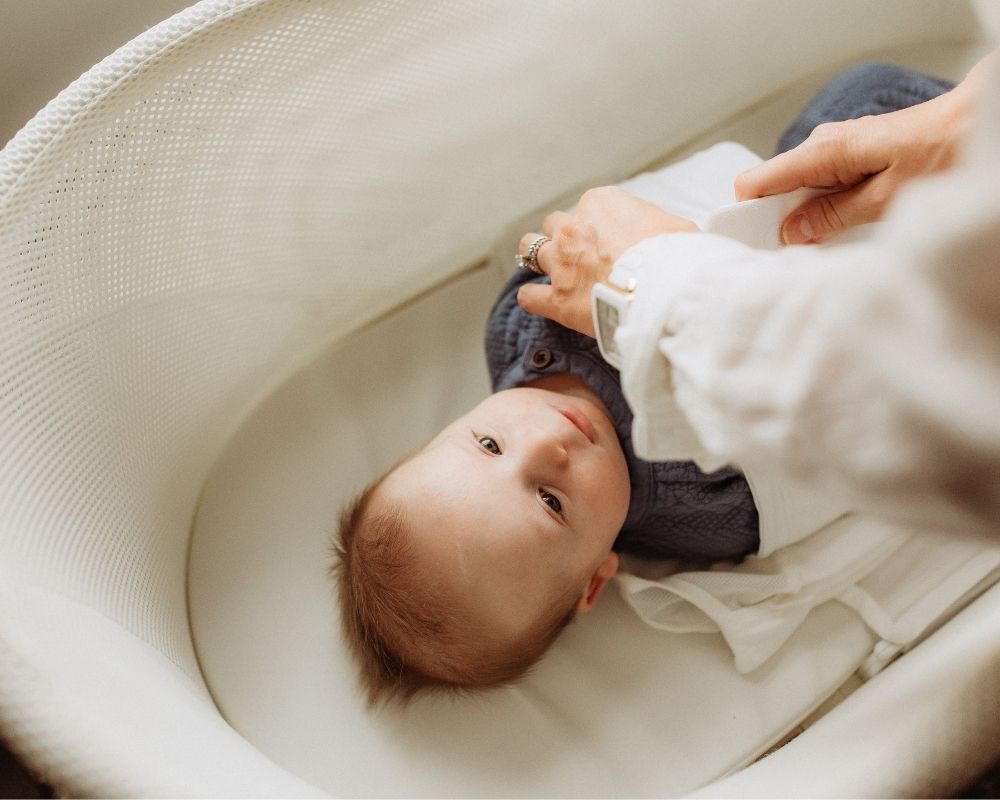 Smartphone Integration
If you love technology and metrics, you might be disappointed to find out that the Halo BassiNest doesn't have a corresponding smartphone app.
This is an area where the SNOO really shines, with an app that has graphs and measurements carefully detailing your baby's movements while they sleep. Winner: SNOO
Swaddle
The SNOO comes equipped with three swaddles that tightly and safely secure them to the bassinet for secure swaddling. The Halo doesn't come with any swaddles, but you're able to be a little more flexible with which swaddle–or sleep sack!–you use.
Winner: In my opinion, the Halo. I think it's better to stop swaddling around 12 weeks anyway!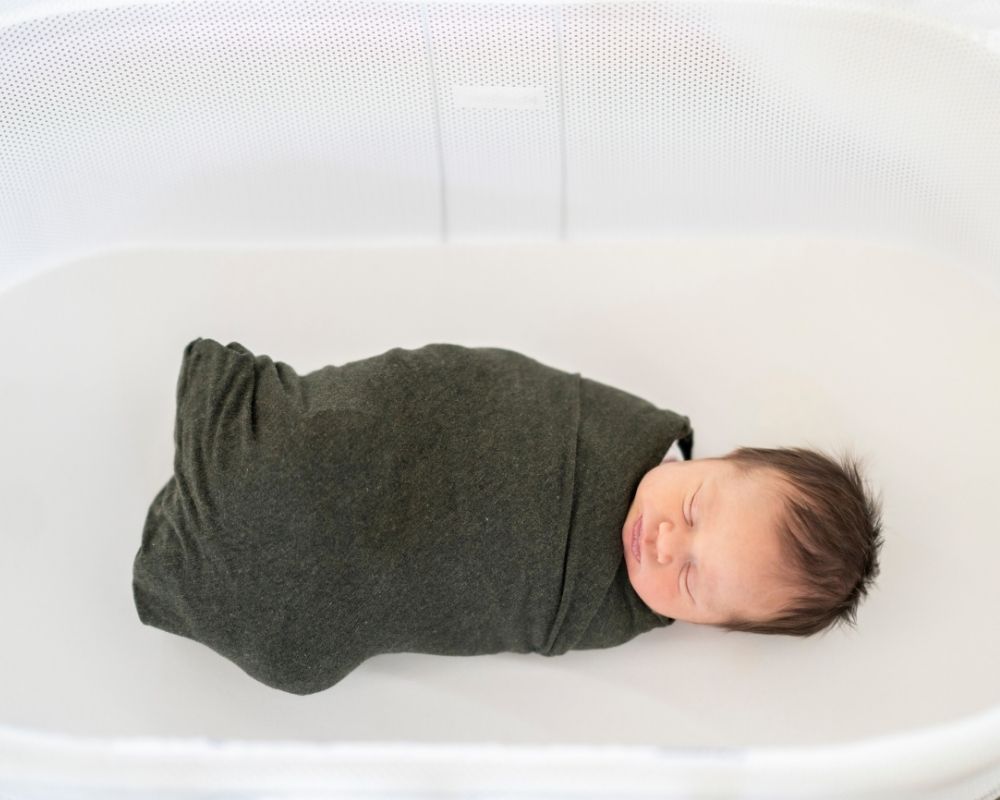 Is The SNOO Really Worth It?
There's no doubt that The SNOO has a lot going for it. Newborn sleep can be extremely challenging and lots of families swear by it!
Then there are others who say it simply didn't work for their baby or caused a major four month sleep regression because their baby became accustomed to the swaying motions of the SNOO.
If the price tag on the SNOO is your main concern, there are options to make it more affordable. You can buy one second-hand, or even rent a SNOO at a discount.
On the other hand, I believe you can establish good sleep habits early on without having to rely on any specific baby item or technology. In fact, I teach my clients how to do this all the time!
Learn more about how I can help you establish good sleep habits from the start in my Newborn Sleep Program!
If you want a stationary bassinet, get the Halo. You will have to transition out of the SNOO movement at some point anyway!
If you've made your decision on the SNOO vs Halo, let me know in the comments below! I'd love to hear what works best for you.
Latest posts by Amy Motroni
(see all)