The DockATot is one of the hottest baby products, but is it safe for your baby to sleep in? Learn about DockATot safety best practices and why you shouldn't let your baby sleep in a DockATot.
New parents will do anything to get a goodnight sleep, including spending hundreds if not thousands of dollars on expensive baby products that promise a goodnight's rest.
There are plenty of baby registry must haves including baby nursery must haves and feeding essentials. And some new moms will tell you that the DockATot is one item you need on your baby registry.
The DockATot is an infant through toddler lounger that is designed for babies to have a safe and comfortable place to lounge while parents are nearby.
But is the DockaTot really necessary for sleep? And more importantly: is the DockATot safe?
The DockATot is fine for an infant who is awake and being supervised. The problem comes when parents use their DockATots for bed sharing or put the DockATot inside a baby's crib or bassinet to create a cozy sleep environment.
Want a realistic newborn sleep schedule? Download my free newborn sleep schedule to see what a day with your newborn might look like. Click here to grab it, it'll be super helpful.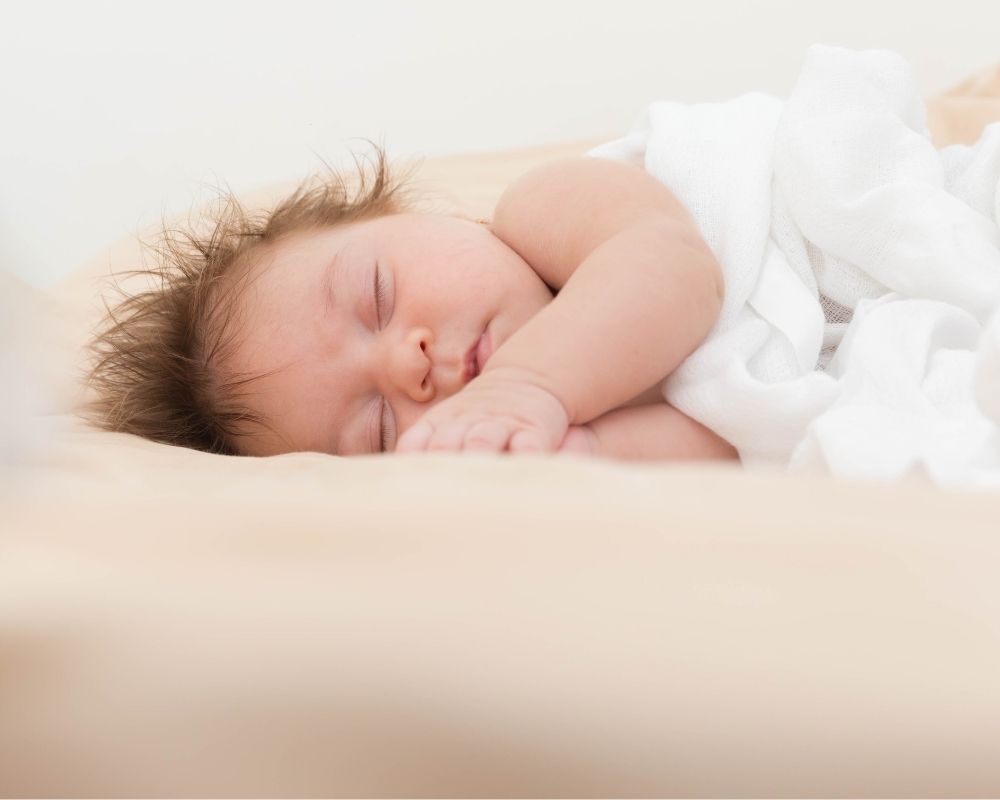 Is the DockATot Safe for Sleeping?
If you're unfamiliar with the DockATot, it's marketed as a comfortable surface to "dock" your baby. It is a cushion with elevated sides designed to hug around your child's body. It also has stylish zip covers that you can remove for washing.
The DockATot comes in two sizes: the Deluxe+ is for infants up to 9 months, and the larger Grand size is for 9+ months.
Most of the pictures you'll see of it on social media portray young babies nestled in the DockATot, fully asleep. You might even see pictures of babies asleep in their DockATots in their cribs, or pictures of the dock being used in co-sleeping.
These are confusing and misleading portrayals of the product's intended use.
And if your baby won't sleep in the bassinet, it can be super tempting to use the DockATot to help.
When it comes to DockATot safety for infants, you shouldn't use this product for sleep of any kind, particularly not in a crib or for co-sleeping.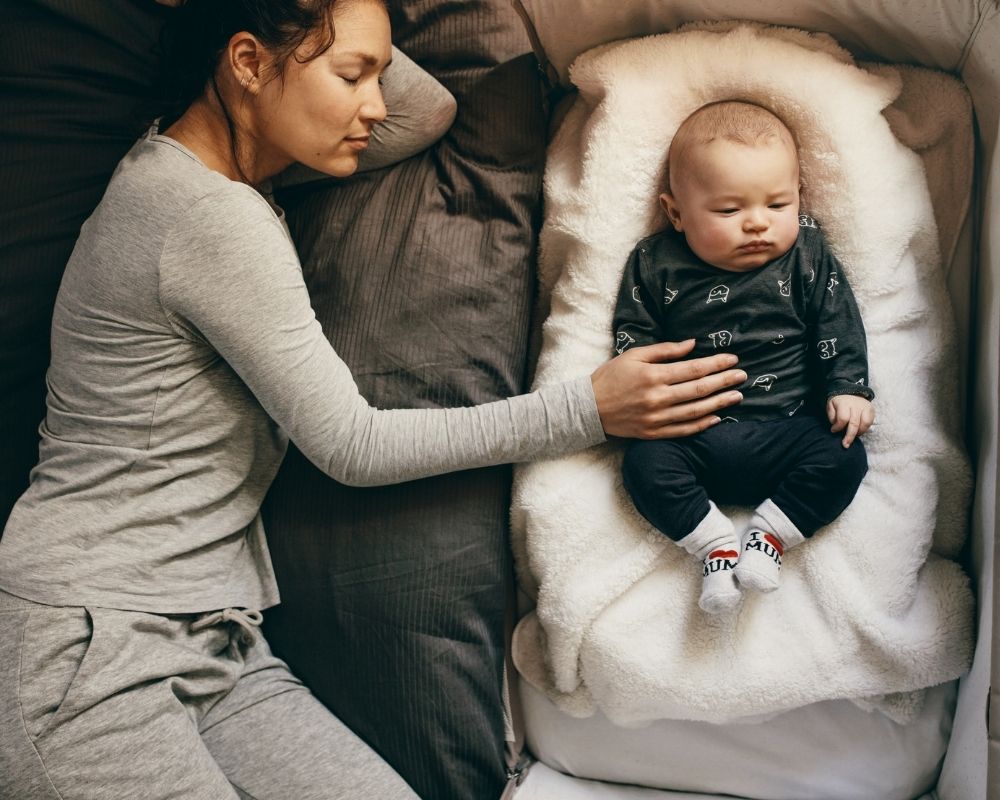 Can Baby Sleep in a DockATot?
No, the DockATot is not safe for baby sleep.
The warning label on the DockATot now says to not use it in a crib, bassinet, or other contained area. They also changed their guidelines in the fall of 2020 to no longer promote their Docks for bed sharing.
The Deluxe+ docks are specifically "not intended for overnight sleep," according to the DockATot website FAQ's. In order to follow the abcs of safe sleep, a baby should always be placed in a firm, flat surface for sleep.
If your baby seems tired or they are nearing the end of their wake window, avoid using the DockATot. That way you won't find yourself having to transition your baby into their crib after they've drifted off.
Your infant is more likely to develop sustainable sleep habits if you set them down for sleep awake, not asleep. If they fall asleep in one place and then wake up in another, it can be disorienting. It also makes it harder for them to learn how to self-soothe.
Why is the DockATot Unsafe?
The DockATot has elevated sides that could easily cause a breathing obstruction if your baby rolls in their sleep or turns their head towards the side. The sides of the DockATot are pillow-like, and are therefore a suffocation risk.
The American Academy of Pediatrics (AAP) recommends avoiding pillows, bumpers, or any other soft elevated edges in a baby's sleep space due to increased danger of suffocation. According to the AAP's sleeping surface guidelines, the DockATot is unsafe for sleep.
Babies can't even sleep with a blanket until after their first birthday.
Although marketing says the DockATot is made from breathable material, it has not been tested against the risk of Sudden Infant Death Syndrome.
When it comes to safe sleep practices for your baby, it is better to be cautious than face avoidable tragedy.
How to Use the DockATot Safely
The DockATot is not a safe sleep surface, but it can be helpful in other ways. The key to using the DockATot is supervising your baby in it at all times.
Supervised DockATot time can be fun for both you and baby. Using the DockATot with an alert, wakeful baby during your baby's wake time can be a comfy change of pace from a play mat on the ground.
Additionally, there are plenty of times as a new parent when you'll face tasks that are impossible to do one-handed or with a baby strapped to your body.
When you need to set your newborn down for a few minutes, the DockATot can come in handy. To ensure DockATot safety, set up the dock on a solid, non-elevated surface that is free from hazards.
You should never set your baby down in the DockATot and walk away. Keep an eye on them at all times, making sure they don't roll or turn their head into the side.
If you set up your baby in the DockATot and notice they're yawning or showing sleep cues, it's time to pick them up and transition them to their crib.
How Long Can My Baby Sleep in a DockATot?
If you are using the DockATot in a safe way for its intended purpose, then your infant won't be spending any time sleeping in it. If they drift off, they should be fully supervised and you shouldn't let them sleep for longer than a couple minutes.
DockATot Grand and Toddler Sleep
Once your child reaches 18 months, the AAP allows use of pillows and other soft items in your child's bed. As a toddler, your little one should be fully mobile and capable of moving themselves in bed to avoid suffocation risks.
Items like pillows, blankets, and loveys may provide added comfort to your toddler during bedtime.
At 18+ months, you could choose to use the DockATot Grand to help transition to a toddler bed. The raised sides of the dock can help your toddler avoid rolling out of bed. The pillow-like edges can also be comforting.
If you plan to use the DockATot Grand with your toddler, make sure they can independently climb safely in and out of the dock on their bed. Test and practice this before using the dock overnight for the first time.
Safe Alternatives to DockATot
When following safe sleep practices, the best and safest alternative to the DockATot for your infant is their crib.
Maybe the appeal of the DockATot is that it's mobile and you can move it from room to room. If you like that flexibility, consider using a pack and play or Rock N Play alternative instead. Many of these mobile cribs are lightweight and you can easily compact them with the pull of one strap.
If you were eyeing the DockATot because you were hoping to co-sleep, remember that bed sharing can be dangerous and the AAP doesn't recommend it. Instead, you might try setting up a bassinet for your infant in your room.
You can learn more about how long a baby can sleep in a bassinet, using a bassinet vs a crib as well as see some good options if you need a bassinet for a small space.
I know it's easy to get caught up in baby product recommendations, especially when they're as ubiquitous and attractive as the DockATots. But keep in mind that our number one priority in getting your baby to sleep is their safety.
You might be surprised to hear that the secret to reliable sleep for your baby has nothing to do with things you can buy. It has everything to do with your knowledge, the methods you use to set your baby's schedule, and consistency.
I'm here to help you learn those things and guide you through the bumps in the road!
Have a new baby or expecting one soon? Grab the Newborn Sleep Program. The course walks you through how to enjoy all those newborn snuggles, without being completely sleep-deprived. Get it here.
Latest posts by Amy Motroni
(see all)