Looking for an ideal 9-month-old sleep schedule? Here's a sample sleep and feeding schedule as well as tips to help your little one get the sleep they need.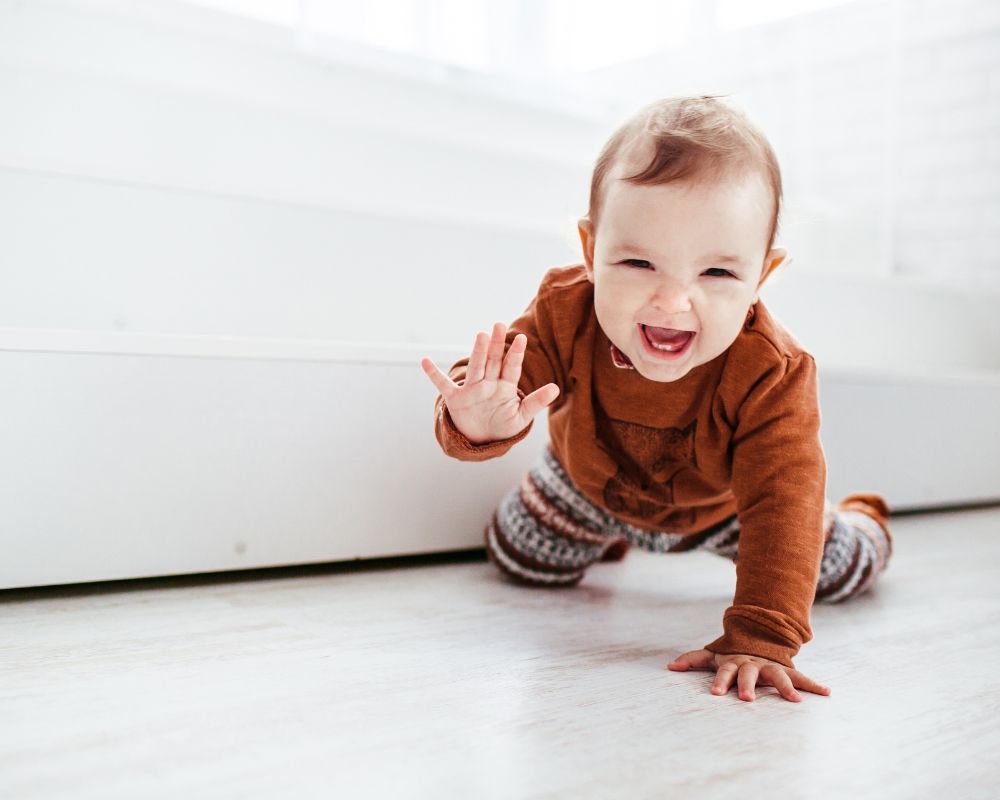 I know you're probably tired of overhauling your baby's sleep schedule every month or two, but the good news is: this month there aren't any major changes on the horizon.
By now, you're hitting that sweet spot where your baby's daily routine is going to stay pretty consistent through their first birthday. So start celebrating!
That means you can focus less on the changes in your baby's sleep, and more on the changes in their growing brains. Believe me, there's a lot going on in there.
This is such a fun age because your 9-month-old is really starting to show off their personality and their growing set of skills.
But all this rapid growth and development means it's extra important for your baby to get the rest that they need. Let's check in on the 9-month-old sleep schedule and make sure your baby's sleep is dialed-in.
I recommend you keep your 9 month old wake windows between 3 to 3.5 hours.
That means it'll be anywhere from 3 to 3.5 hours between when you get your baby out of their crib and when they're ready to fall asleep again.
Many 9-month-olds will do well with the following wake windows, in order from the first of the day to the last:
3–3.25 / 3.5 / 3–3.5
Your 9-month-old should have about 13 to 14 hours of sleep each day, which includes 2 to 3 hours per day spent napping.
Keep in mind that wake windows are flexible. They don't all have to be the same length throughout the day.
How Many Naps Should My 9-Month-Old Take?
By this age, your baby is probably already on a 2-nap schedule.
At 9 months old, most babies are developmentally ready to drop the third nap, and in fact, many babies have already made the 3-to-2 nap transition by this point.
If your baby hasn't made that transition yet, it's likely time.
A 9-month-old sleep schedule will include two naps between 1.25-1.5 hours long, and three wake windows that last between 3 to 3.5 hours.
For many babies, the first wake window of the day will be slightly shorter than the others. Believe it or not, they are ready for that first snooze sooner than you think.
If your baby is taking a really lengthy nap during the second nap of the day, it might be worth it to wake them up early. Long, late naps can impact your baby's bedtime and cut into their nighttime sleep hours.
At this age, try not to let you baby's last nap of the day go over 2 hours. Consider this your permission to wake a sleeping baby.
If your baby is consistently sleeping for longer than 2 hours during their naps, it's typically a sign of an underlying issue: they aren't getting enough sleep at night.
What Time Should My 9-Month-Old Go to Bed?
At 9 months old, your baby should ideally get between 11 to 12 hours of sleep at night, which means it'll be 12 to 13 hours between waking up in the morning and going to sleep at night.
Keeping that in mind, your baby's bedtime will be determined by the time that they usually wake up in the morning.
If your baby is waking up consistently around 7:00 am each day, aim to make bedtime between 7:00 and 7:30 pm. This will set them up to get an ideal amount of sleep at night, and help them take consistent naps each day.
If your 9-month-old is taking a super long first nap (more than 2 hours), they might be waking up too early in the day. And if your baby is waking up too early in the day, it could be a sign that their bedtime needs to be adjusted.
If you make adjustments to bedtime and early wake-ups are still a problem, take a look at your baby's room to see if you can make some changes.
A dark space free from noisy distractions is the ideal sleep environment for your baby. Consider using blackout curtains and a noise machine if you don't already.
There are plenty of sleep regressions during the first year of your baby's life, and unfortunately the 9-month mark can be one of them.
At this age, developmental changes in your baby might cause a 9 month sleep regression. Your baby is learning so many cool new skills with language and mobility, and they would much rather stay awake and practice those things than sleep.
But don't fret—sleep regressions are always temporary. They key is to avoid developing bad habits in an effort to deal with the regression.
In fact, sometimes the best thing you can do for sleep regressions is try to mitigate them by establishing really great independent sleep habits with your little one ahead of time.
But even if the 9-month sleep regression hits you hard, there are things you can do to make this temporary situation less disruptive for everyone.
The best way to get through the 9-month sleep regression is to allow for plenty of active time during the day for your baby to get their wiggles out and practice their new skills. And above all, try not to revert to hard-to-break habits in the name of survival.
Remember, this is temporary and you guys will survive!
9-Month-Old Sleep Schedule Sample
Here's an example of a 9-month-old sleep schedule using wake windows that are 3 / 3.5 / 3 and naps that are 1.25 hours long. Your baby will likely keep this for a 10-month old sleep schedule as well:
7:00 am — Wake up + nurse or bottle
8:00 am — Solids/Breakfast
10:00 to 11:15 am — Nap
11:15 am — Nurse or bottle
12:15 pm — Lunch
2:15 pm — Small nurse or bottle (if needed)
2:45 to 4:00 pm — Nap
4:00 pm — Nurse or bottle
5:30 pm — Solids/Dinner
6:30 pm — Start bedtime routine + nurse or bottle
7:00/7:30 pm — Bedtime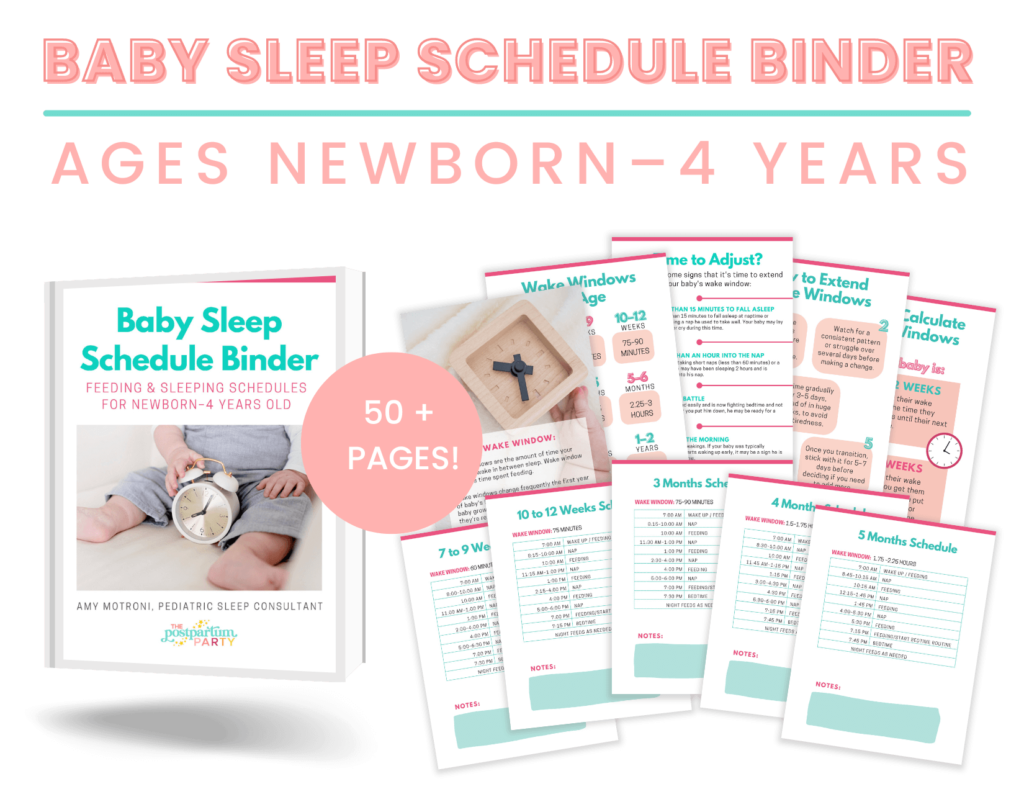 Optimize the 9-Month-Old Sleep Schedule & Beyond!
Are you hoping to learn more about wake windows and sleep schedules?
Get printable schedules for newborns through 4 years old with my Baby Sleep Schedule Binder. It's a favorite resource of the families I work with.
Not only will you get more sample sleep schedules, it includes a roadmap for your baby's wake windows and nap transitions through their first 4 years. Check it out here!
Latest posts by Amy Motroni
(see all)