Grab these printable baby shower games for the next baby shower you host! These games are perfect for getting guests to interact or as a fun downtime activity while the mama-to-be opens her gifts!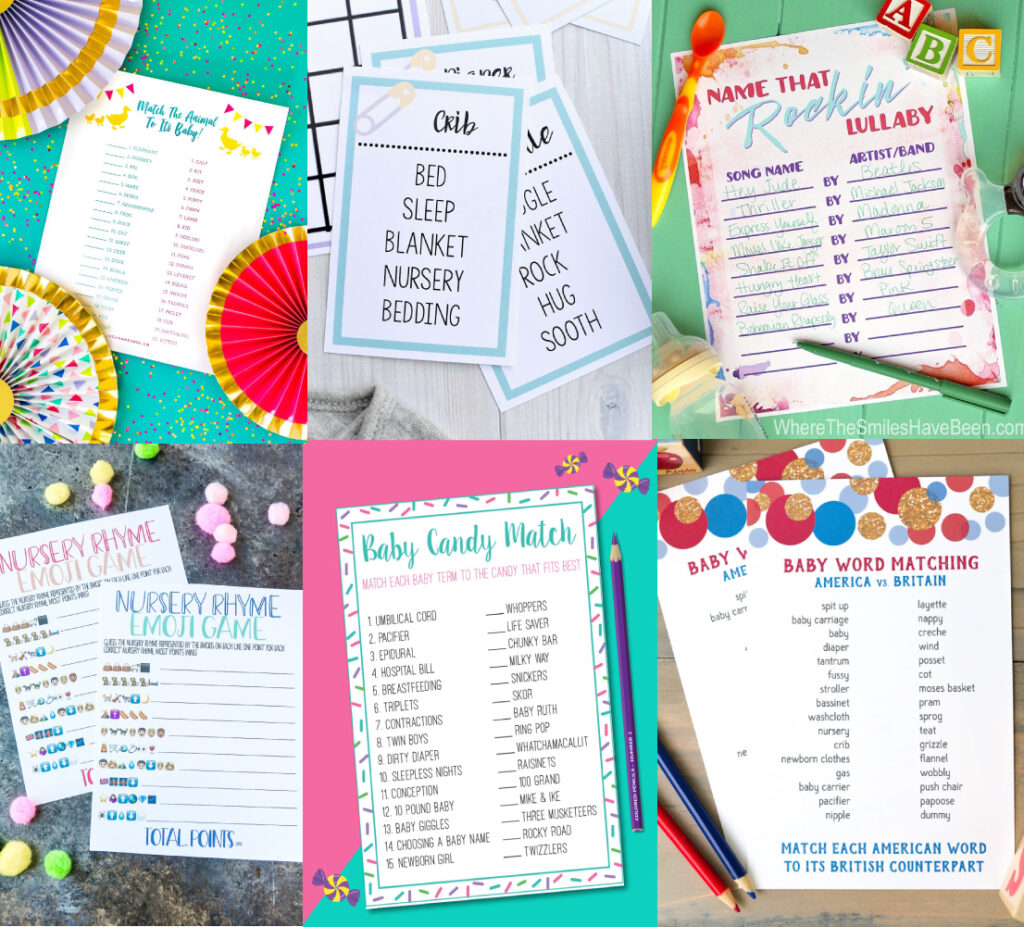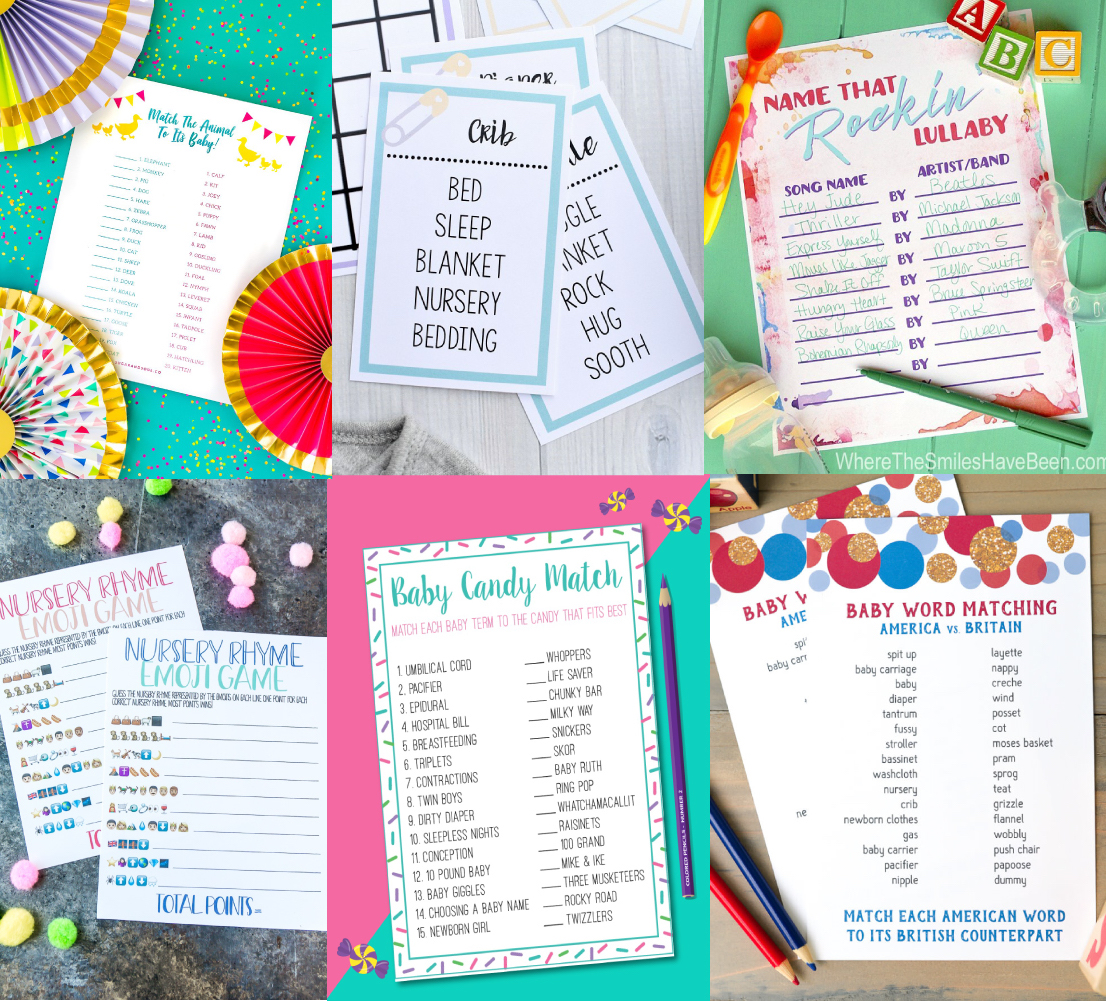 This post and the photos within it may contain Amazon or other affiliate links. If you purchase something through the link, I may receive a small commission at no extra charge to you.
No matter how many baby showers I've attended, I still enjoy playing games at them! I love it when the host brings out a unique baby shower game or one that I've never played before.
And when I host a baby shower, I love throwing a printable game or two as part of the mix so guests have something fun and easy to do as the new mom opens her gifts or everyone enjoys a little brunch.
These free printable baby shower games could not be more simple or more fun! Just head to each link, grab the game, and print it out and play! There's plenty of ideas for a baby boy shower or girl themed baby shower.
Most of them are free when you enter your email address. There are a few you can purchase, but I felt those ones were especially worth it for a few bucks and a lot of laughs! I'm definitely grabbing the labor or lovin' one next time I'm in charge of games!
Click through to grab the printable baby shower games and enjoy playing as you shower the mom to be! These are some of the best baby shower games in printable form!
Socially distancing? Check out these super fun virtual baby shower games that you can play via Zoom or Skype and still have a good time for your virtual party!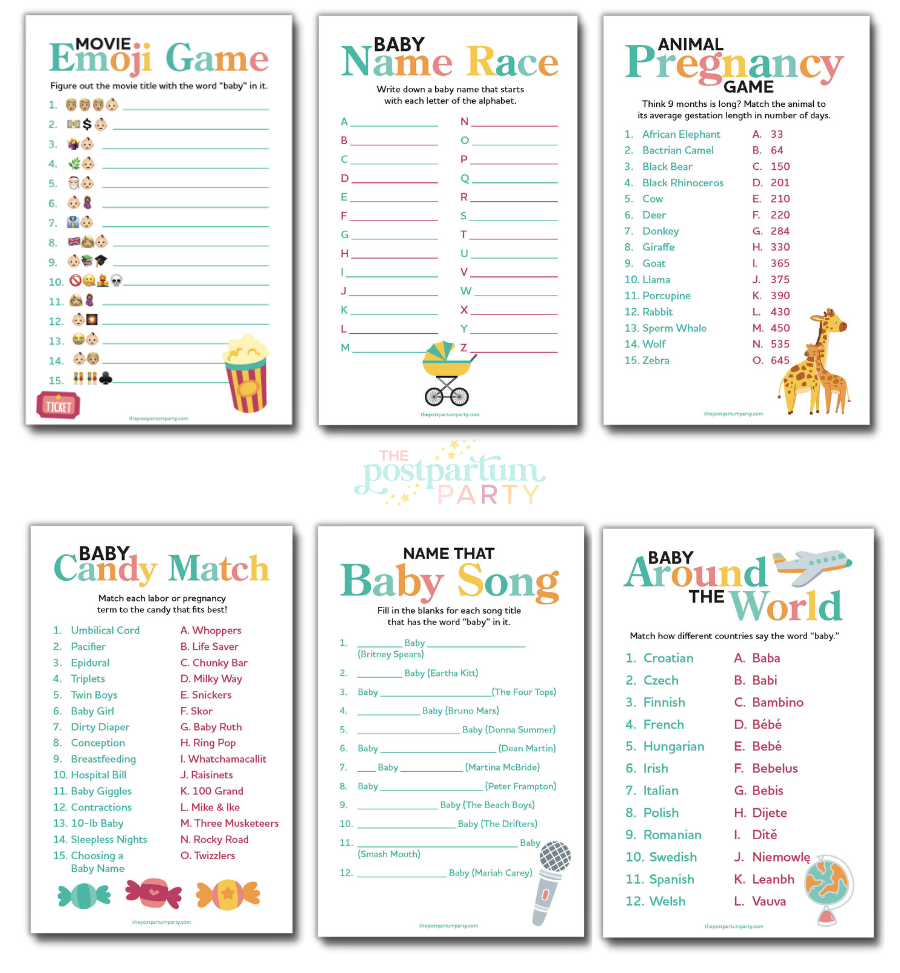 Get 6 printable easy baby shower games to play at your next baby shower. These games are a lot of fun and an easy way to entertain guests and celebrate the new mom! Click here to get the baby shower games bundle.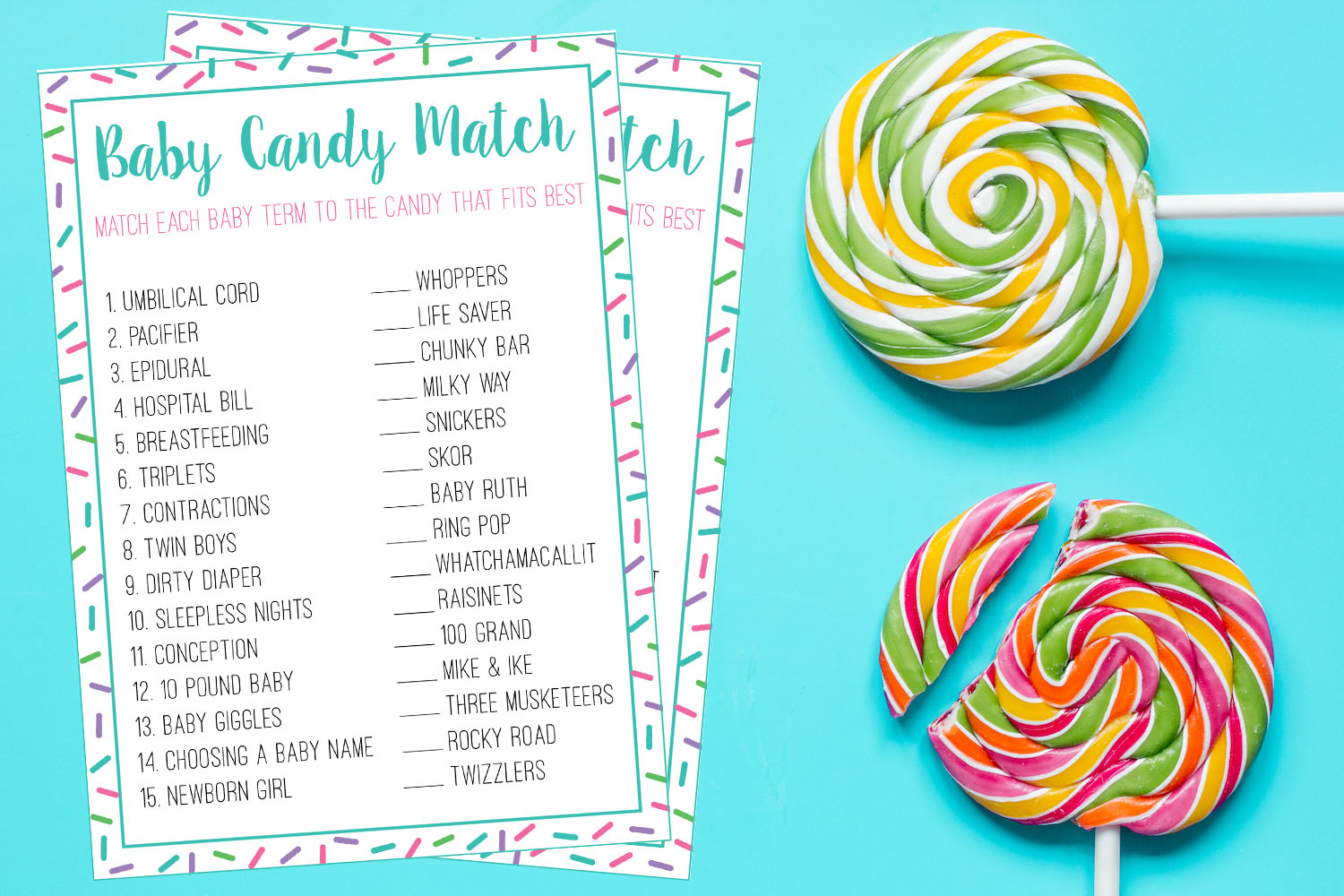 Isn't pregnancy and delivery sweet? This candy match baby shower game is a free printable on my site. You'll match each candy to a pregnancy or labor term for a sweet dose of fun!
Planning a Harry Potter baby shower? Grab this Harry Potter baby shower game and see how well everyone remembers the Patronus of Harry and friends with this Patronus Character Matching game from Hey, Let's Make Stuff.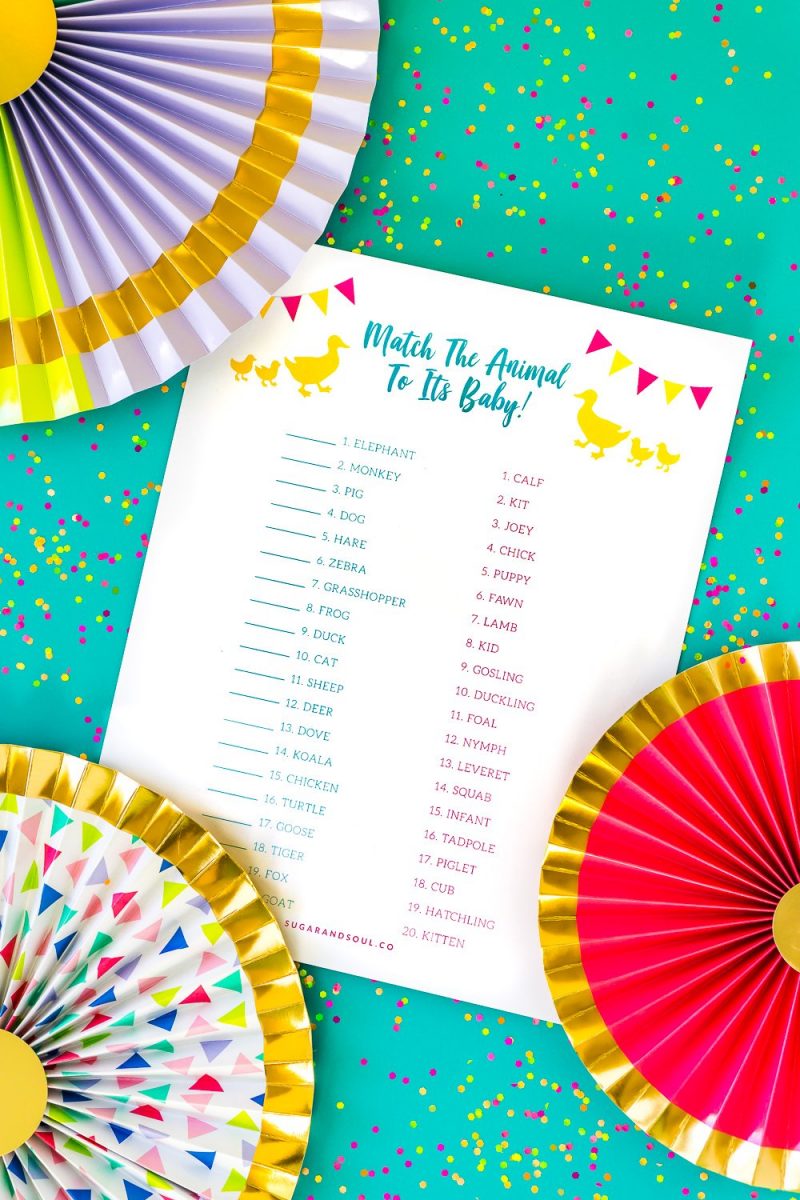 Inspired by the Are you My Mother children's book, this animal matching printable game from Sugar and Soul is harder than it looks! Match the mama animal to the baby animal and see how many you can get right. Perfect for an animal baby shower theme.
See who knows the mommy to be best with this who knows mommy best printable game from Paper Trail Design. You can ask mommy the questions in advance to keep her from being biased. This simple game is easy to prep and play.
How well do you know your celebrity baby pictures? This guess the celebrity baby fun game puts your pop culture to the test. See if you know who these famous kids turned out to be!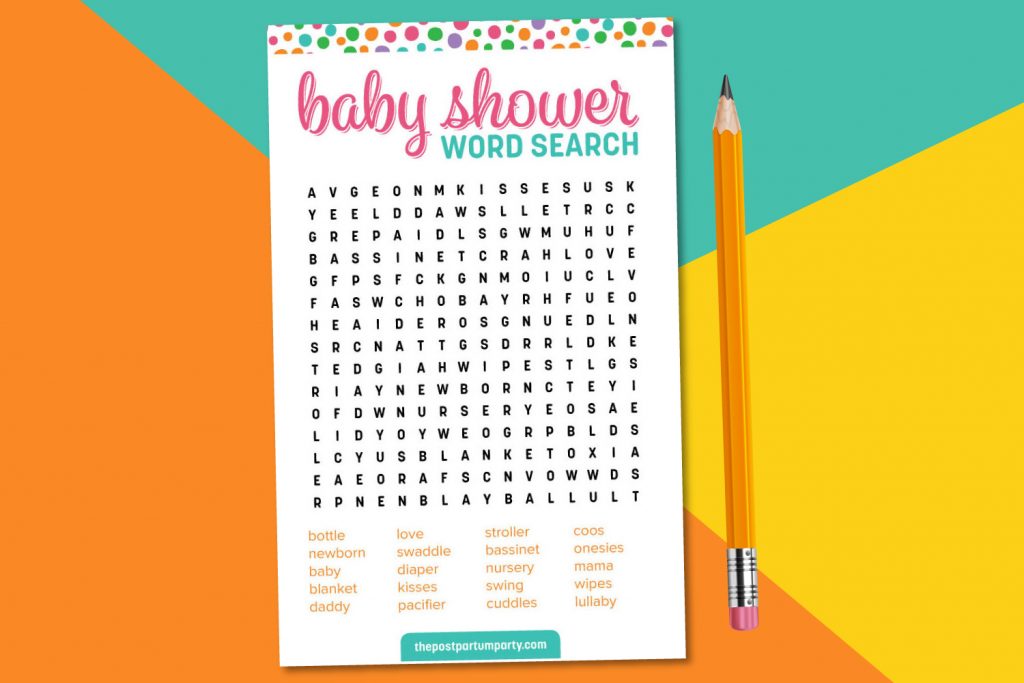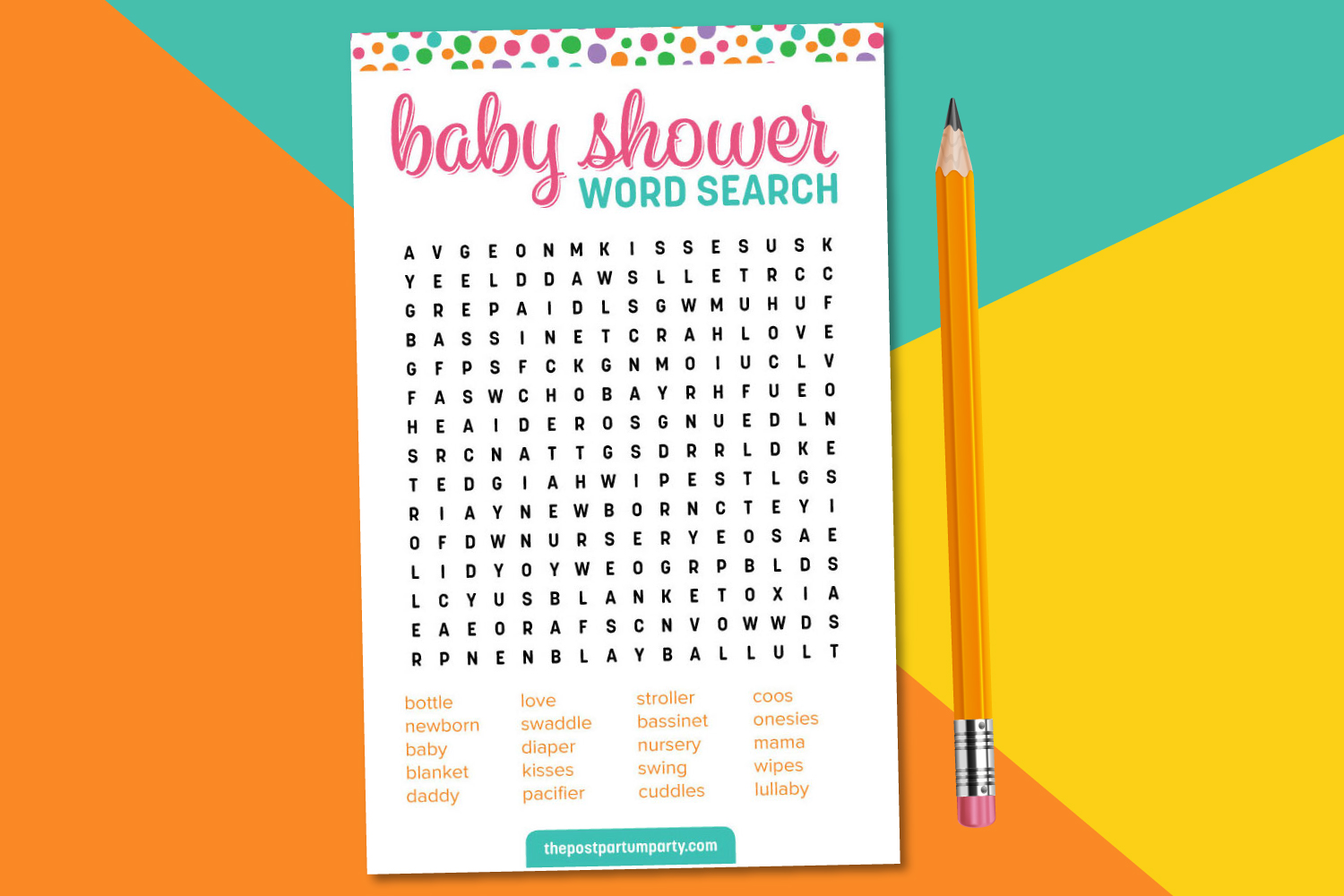 Word games are so simple and easy! My baby shower word search is a great activity for guests to do as mom opens up all her baby gifts! See who can find the most baby-related words in the shortest amount of time!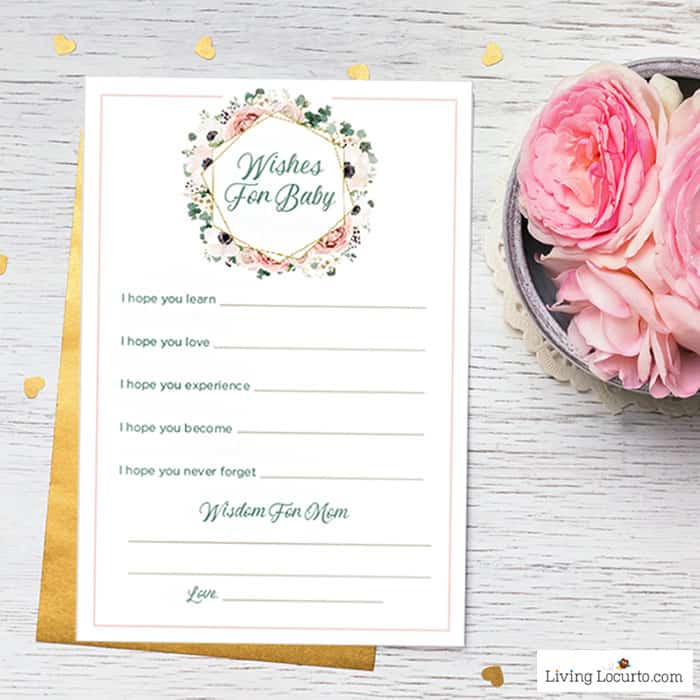 Let guests leave their well wishes for baby with this free printable from Amy Locurto. These would make such a sweet keepsake for the new parents. Perfect for large groups to do as they mingle!
This fun scratcher game has guests scratch their ticket to see who gets daddy on their card! Loser cards include celebrity studs like Leonardo DiCaprio and Daniel Radcliffe. (So really, are there any losers in this great game?). This is also a great coed baby shower game!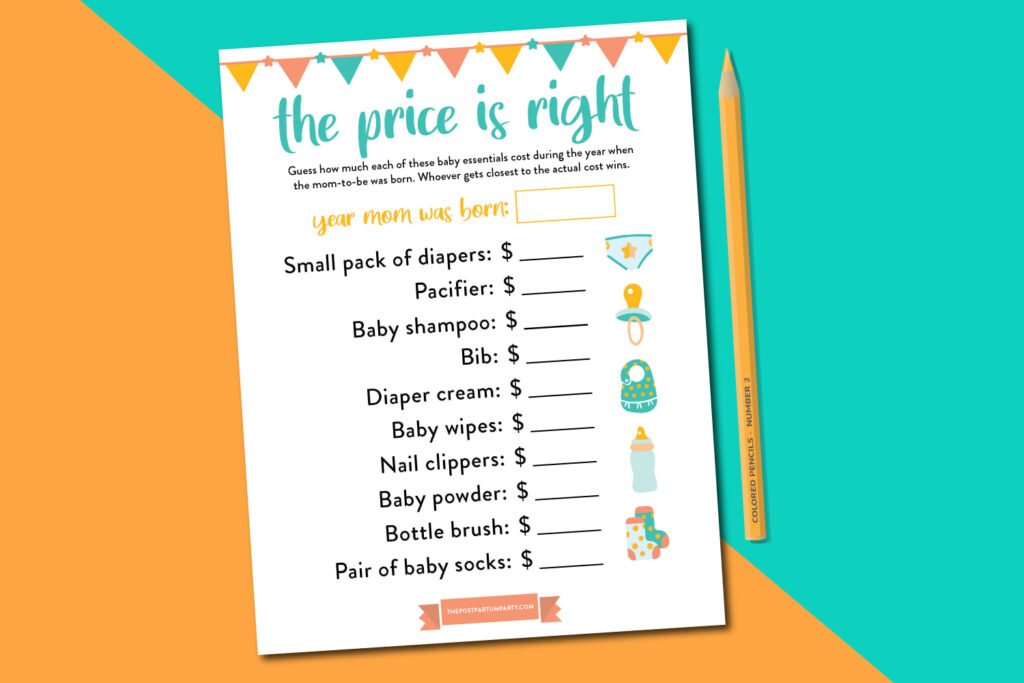 Channel your best Bob Barker by playing this Price is Right game. Have guests price baby items from the year mom-to-be was born. You can grab my free printable to be the next contestant on The Price is Right. Whoever gets the most correct answers wins!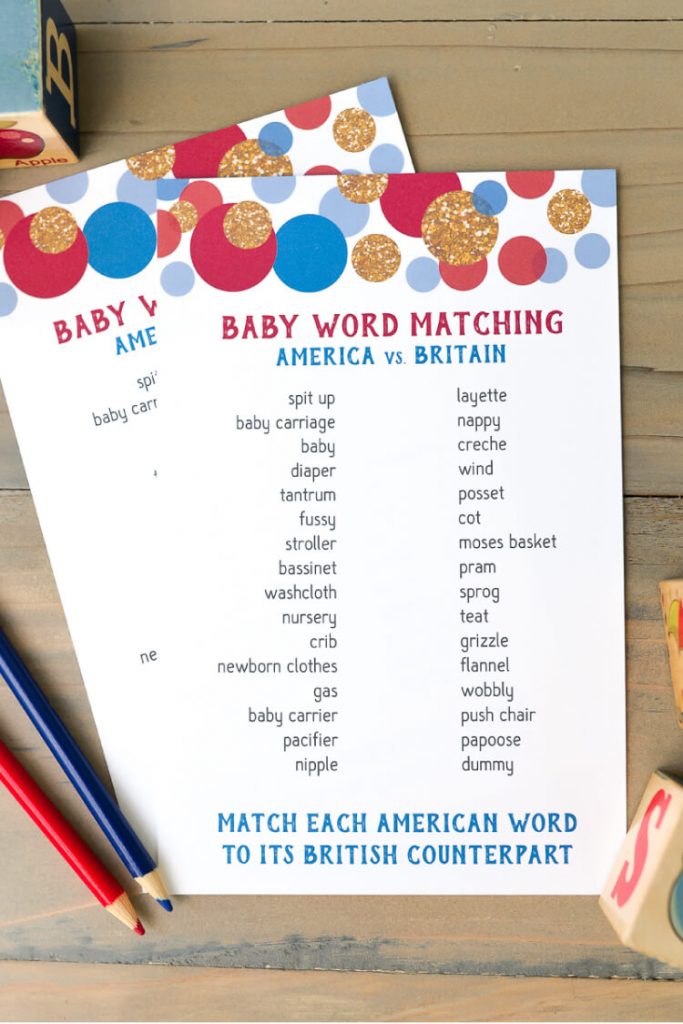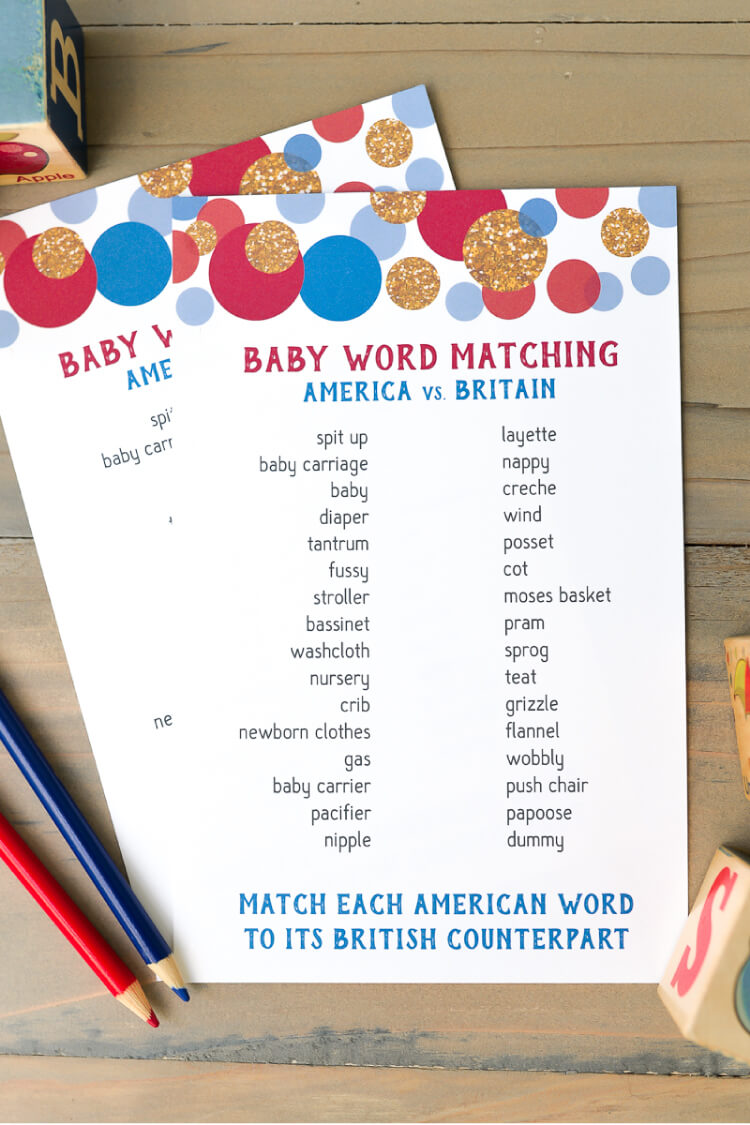 How well do you know your British baby words? This American British word match from Hey, Let's Make Stuff is a fun way to start conversations! Grab a biro (that's British for ballpoint pen) and start playing! The first person to finish, wins!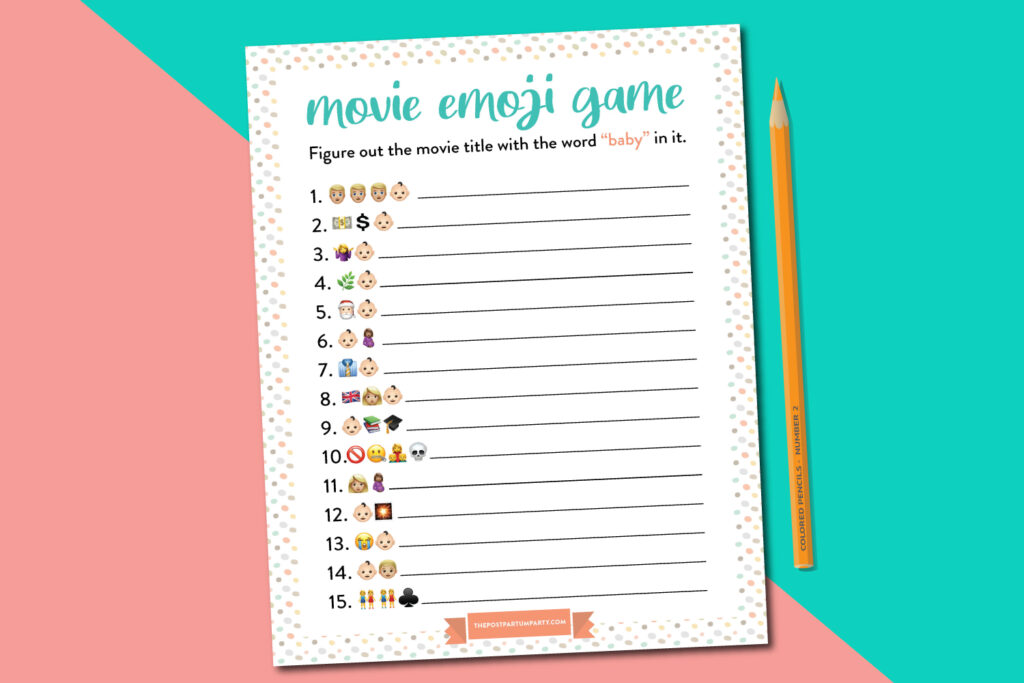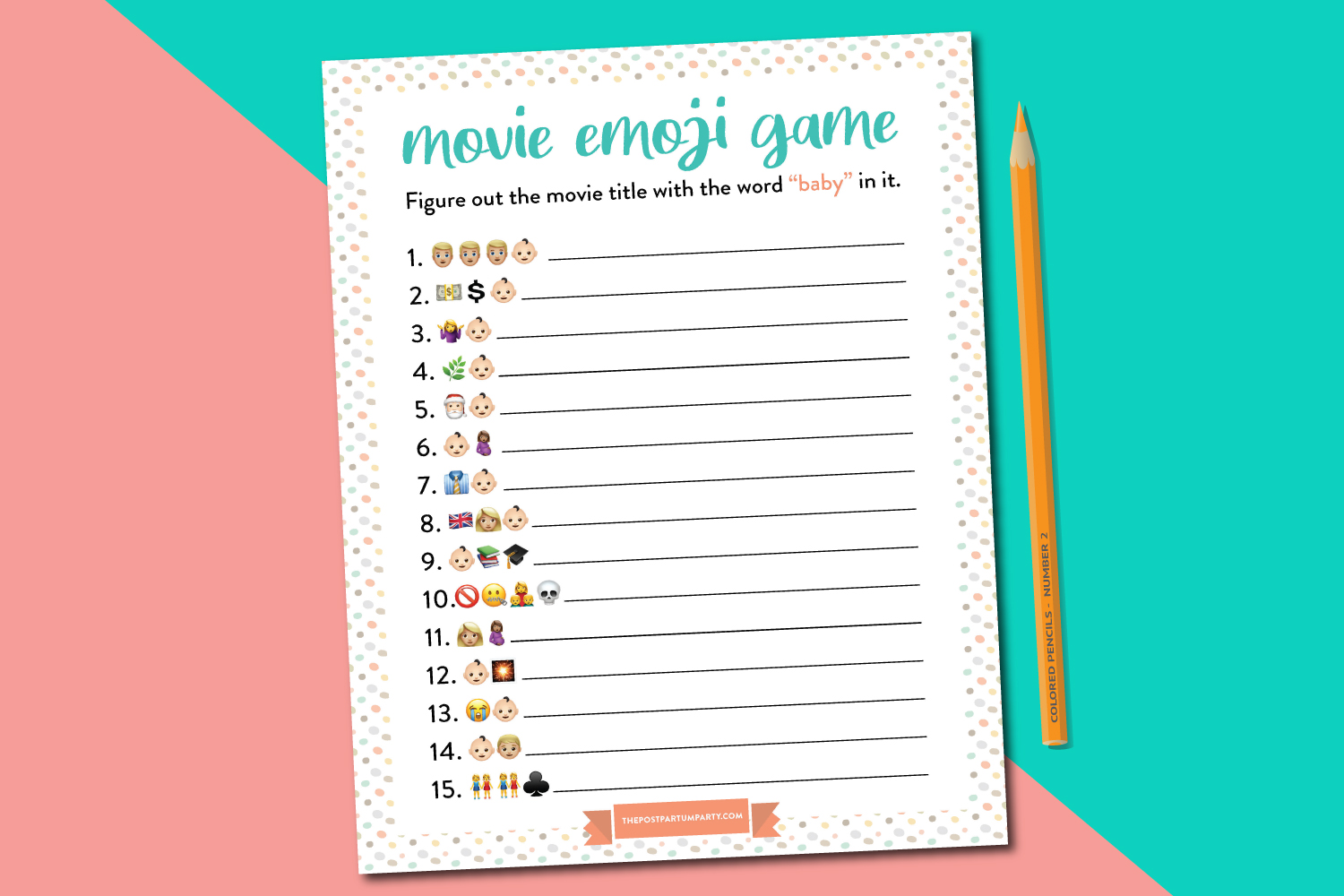 I've seen different variations of this including a nursery rhyme game. See if you can guess the various movies that have the word baby in the title with this baby shower emoji game. This one will have guests cracking up as they try to figure out all the different movies.
Put your baby knowledge to the test with true or false baby shower printable from Babyx Library. An answer key is included so you can see how much you truly know. This classic game is fun for large or small groups.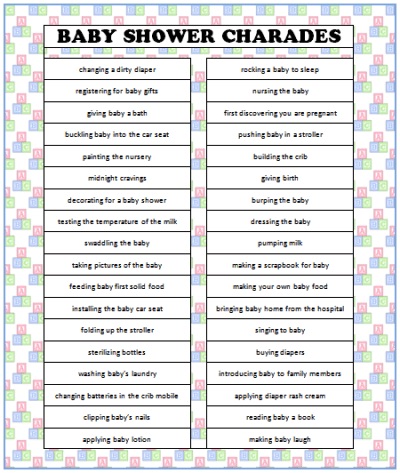 Moms and Munchkins has a printable game that becomes interactive! Grab her baby shower charades printable and have baby shower party guests act out different baby-related activities. The pink and blue colors make it gender neutral.
I have a ton of free printable games and this Enneagram one is so much fun! The Enneagram comes up in most of my conversations these days so I made an Enneagram baby traits game! See if you can guess which Enneagram type won't walk until it's perfect and more with this free printable!
There's nothing sweeter than a new baby! See if you can guess which parent said each item in this mommy or daddy printable baby shower game from I Spy Fabulous.
This baby shower game for men especially is too funny not to share, but definitely click at your own risk! You'll have to determine if each photo shown is one of a woman in labor or in lovin'. Baby shower guests will crack up as they try and guess what each picture is playing this inappropriate baby shower game!
Taboo is one of my favorite board games and this baby shower taboo game from Fun Squared looks like a blast! Print the game cards and guests have to guess baby words like "baby bottle" without saying any of the related words! Just print and play for a day of fun with this one!
This raffle tickets game might be the only time you have guests wishing they got a poppy baby! Use this unique game as a great way to break the ice as guests walk in for a simple and hilarious game!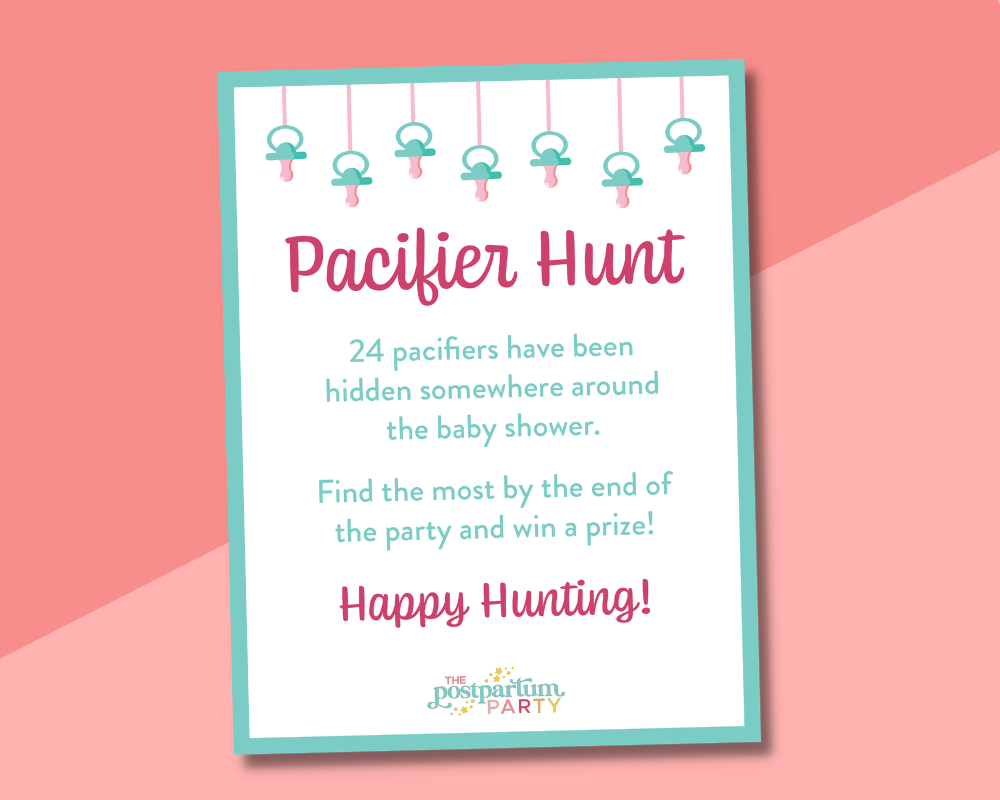 This pacifier hunt baby shower game is so easy to setup and even easier for guests to play! Hide 24 pacifiers around your baby shower venue and have guests look for them. Whoever finds the most, wins! This is a fun baby shower game for kids or even for large groups!
40 weeks might seem like an eternity, but do you know which animal has a 660-day gestation period? Grab this free printable animal pregnancies game to guess the different animals different gestation lengths.
Get Where The Smiles Have Been rockin' lullaby game and turn on some baby tunes for a fun baby shower game that will get everyone singing! Set a time limit and see who can get the most correct songs!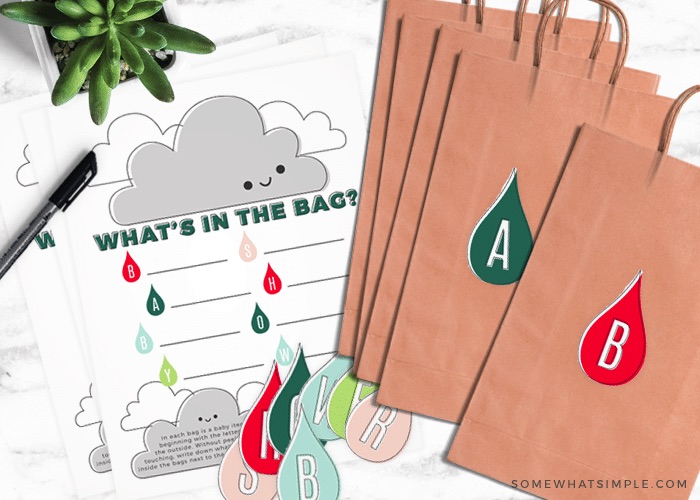 This whats in the bag game from Somewhat Simple is a fun interactive game that includes a free printable! The mom-to-be will love taking all the bags home at the end of the shower!
Enjoy playing these popular baby shower games next time you throw a party for the mom to be! And don't forget to pick up a few awesome prizes for your baby shower games!
Latest posts by Amy Motroni
(see all)