Grab this pacifier hunt baby shower game free download for a super easy baby shower game for your next party!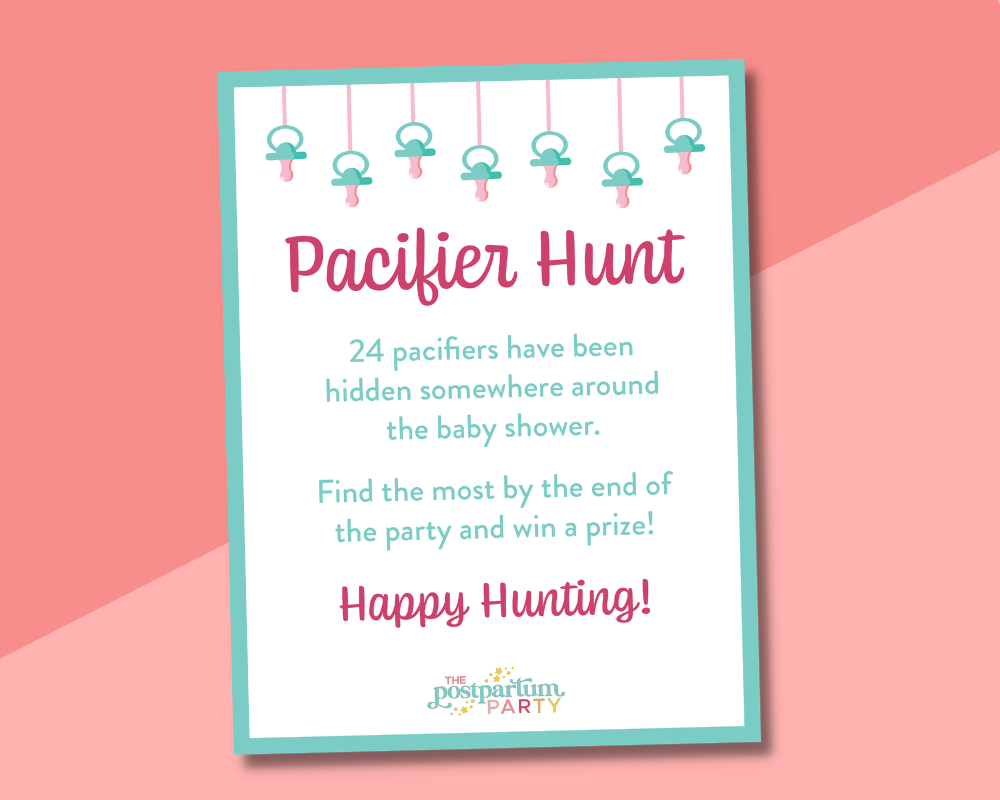 If you're looking for an easy baby shower game, then look no further than this Pacifier Hunt baby shower game!
I'm a big fan of baby shower games! In fact I have tons of baby shower game ideas on my blog including:
This Pacifier Hunt game that I'm sharing with you today is an easy game and one that is also a great baby shower game for kids!
Keep scrolling to grab the Pacifier Hunt free printable as well as the pacifier hunt game rules.
How Do You Play Pacifier Hunt?
The Pacifier Hunt is one of the easiest baby shower games there is! It's so simple for the host to set up and just as simple for guests to participate!
Here's how to play:
Download the free pacifier hunt baby shower game below.
Print the sign on card stock and frame it in a photo frame.
Grab a pack of mini pacifiers and hide them throughout the venue of your baby shower. You can also use real pacifiers and give them all to the new parents at the end!
Put your pacifier hunt sign out and instruct guests that 24 pacifiers are hidden throughout the baby shower. They can search for them and whoever finds the most pacifiers wins.
Don't forget to have a few baby shower game prizes for the winner. I always grab a couple extra prizes just in case there is a tie!
I've also found several other adorable signs that you can snag for just a few bucks!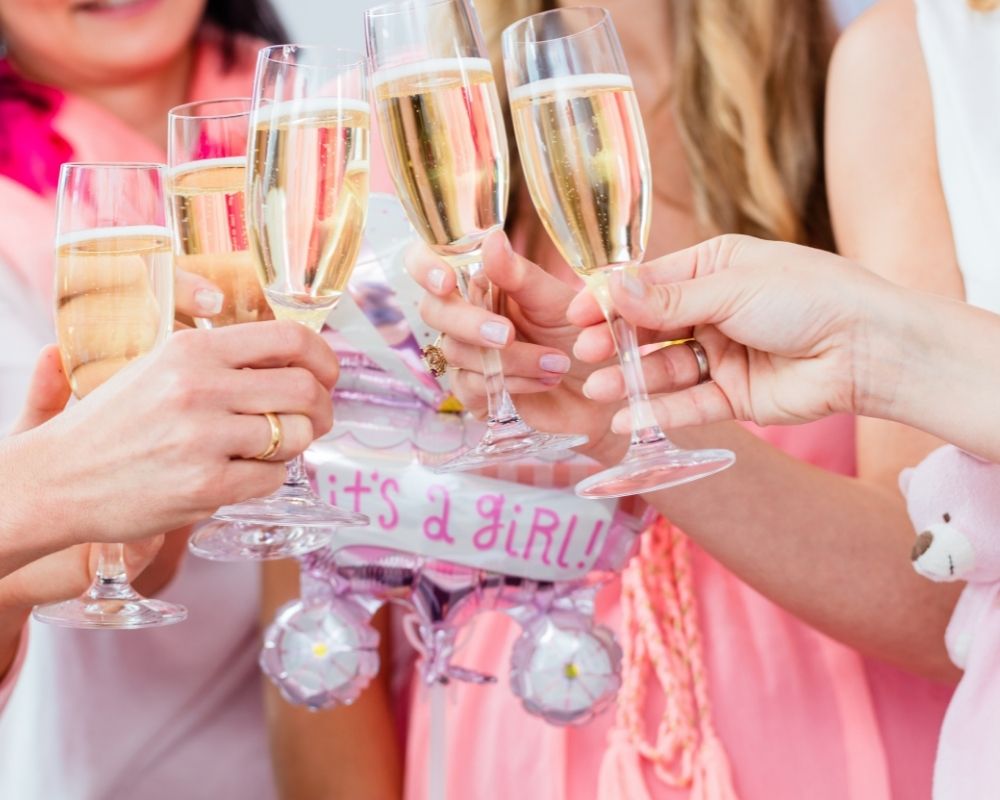 How Many Games is Good for A Baby Shower?
A lot of people ask me how many games should be played at a baby shower and the answer is it totally depends on the crowd!
Some crowds love baby shower games. And honestly, others loathe them!
I'm in the first camp and think a mix of three games is usually sufficient for a baby shower. You don't want too many games scheduled where people feel like they can't mingle, but having a few can really help break the ice and get the party started.
I like to have a mix of games. This Pacifier Hunt is a good passive game that guests can do on their own. They can get as into it as they want or totally avoid looking for the pacifiers if they wish.
Then I like to add a fun group game that gets everyone moving. The blindfolded diaper station is a good one and makes everyone laugh! Finally, a simple printable like this Candy Match baby shower game helps brings everyone together right before the new parents open their gifts.
There are no hard and fast rules though when it comes to how many games to play at a baby shower or what the right combo of games is. Change this up to cater to your party theme and your crowd!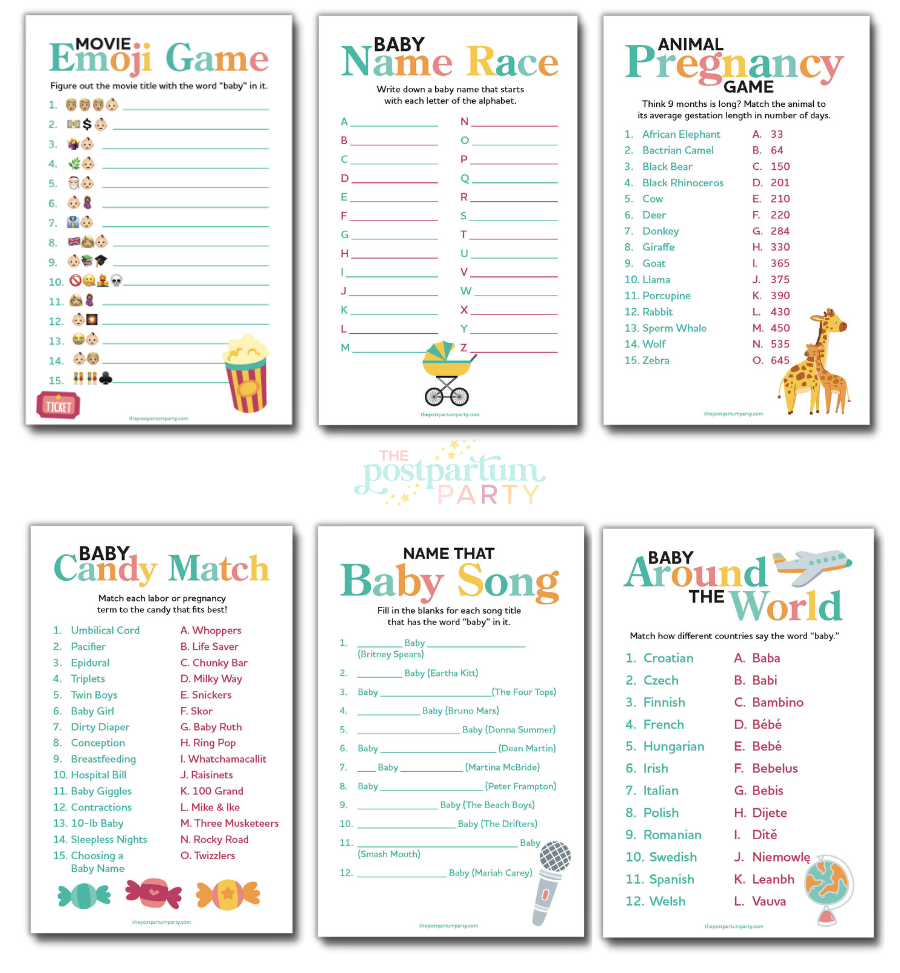 Get 6 printable easy baby shower games to play at your next baby shower. These games are a lot of fun and an easy way to entertain guests and celebrate the new mom! Click here to get the baby shower games bundle.
Download the Pacifier Hunt Sign
You can download the free printable sign by filling out the form below.
Latest posts by Amy Motroni
(see all)