Thinking of throwing a co-ed baby shower? Party on! Here are some baby shower games for men to include everyone in the fun!
Unpopular opinion: I think all baby showers should be co-ed! Keep reading and hear me out, I promise you won't regret it.
I'm sure you've been to plenty of baby showers that were ladies-only and simply lovely. And if your sig-o has a Y chromosome, looking back on those ladies-only baby showers, you're probably thinking that there's no way he would have had a good time if he'd gone!
But did you ever stop to think that maybe if you included some guy-friendly activities in the baby shower, it might be a "the more, the merrier!" type of situation?
In fact, I bet there are plenty of men in mom-to-be's life who could really add some fun to the baby shower! We had a co-ed baby shower and it's still one of our favorite days to reminisce about.
I think the guys deserve to do a little celebrating, too. Just think about how fun it'll be for dad to have some of his buddies there to toast the growing family!
If you're interested in making the baby shower a party for everyone, check out these baby shower games for men to get them in on the fun!
I've been to a baby shower where they played Bottle Chug, and it was a fantastic way to get the party started! Not only is it hilarious (and super tricky to drink beer out of a bottle nipple), it's a great way to break the ice and get the drinks flowing for more fun to come.
Grab the printable and instructions on how to play this bottle chug game from The Cutest Baby Showers blog.
Of course every soon-to-be dad has heard of a "Dad Bod" and is hoping to avoid getting one.
But why not poke fun at the stereotype by playing a game where you spot the difference between bellies full of beer and bellies full of baby?
Grab these hilarious Baby Bump or Beer Belly cards from Inkbelle, and prepare to laugh as you struggle to tell the difference when playing this coed baby shower game!
Check out this adorable Diaper Pong board that a reader at Hip2Save created using materials from the Dollar Store! This is such a cute idea, especially if you're throwing a baby shower on a budget.
Whether or not you turn this into a drinking game is completely up to you, but it has the potential to be one of the wildest baby shower games for men out there!
Who doesn't love a randomized door-prize? You can buy these Who Has the Mom scratch-off cards and hide them under chairs or around the party. Whoever scratches off their card to reveal the baby shower's real baby momma will win a fun baby shower prize!
I've hosted my fair share of baby showers, and I love to add a simple printable baby shower game into the mix! That's why I created this sweet Candy Match Baby Shower Game.
To play, just match the pregnancy or baby-related term to the correct candy bar. Whoever gets the most correct answers gets to chow down on the candy!
The men in your life may really appreciate what expecting mamas go through after playing this one!
If you're looking for a hilarious, edgy, and irreverent game to play with the whole group, look no further than Humans Against Baby Showers!
This printable card game from PrintOutBabyShower is a funny pregnancy-themed twist on the card game Cards Against Humanity. Gals and guys alike are sure to get a kick out of it!
With a name like that, what guy wouldn't want to play?
This cheeky and perhaps even inappropriate baby shower game from Inkbelle is sure to get the dudes' undivided attention. If you're ready to laugh and blush, this is the baby shower game for you! Grab the Boobs or Butt game here!
For the shower guests who like to bet in sports pools, the Shower Squares game from Castle Hall Creative will feel familiar and give them something to root for!
Follow the directions to turn present-opening at the shower into a competition, where the game winner and the new baby both benefit from a cash prize at the end.
We've all heard of pin the tail on the donkey, right? Switch out the donkey and tail for a uterus and sperm, and you've got yourself a hilarious baby-themed game to play with everyone! I'm guessing men will crack up especially at this game!
This one is the same as Who Has the Mom game above, but you're looking to scratch off a picture of dad instead! The other cards are filled with male celebrities!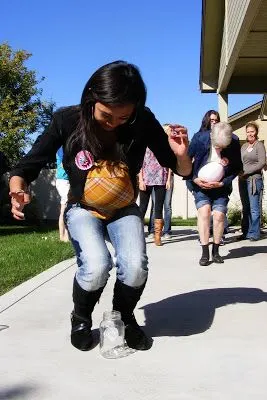 I love any game that will give the guys a little glimpse into what it's like to be pregnant. And thanks to the Kitty Groups Online blog, I have a new one to try out: it's the Tinkle in the Pot game!
Players stuff a big balloon under their shirts and walk (or more like waddle!) several feet with a ping pong ball held between their knees. The team that drops the most balls into their jar wins!
This would also be a fun baby shower game for kids!
If you're looking for a great printable baby shower game for the men and beer-lovers at the shower, check out the Beer Word Scramble.
Players can unscramble the names of 25 breweries to win a prize–maybe a beer! I know my husband would love playing this one!
Another great printable option is the Famous Fathers game from WebBabyShower. Have the guys test their knowledge of famous dads and their kids!
Do you ever feel like your friends know you a little too well? Put that theory to the test for dad-to-be and his buddies with this clever printable party game from HappyBabyPrintables.
Dad will complete a series of baby-related phrases, and everyone else tries to guess what he said. The results are hilarious!
He Said She Said
We played the shoe game, which is very similar to this He Said She Said Game and it was so much fun! You can adapt this bridal version for a baby shower very simply! If hosting a co-ed shower, have mom and dad sit back to back and hold up the other's shoe as they answer the questions!
Dad might be used to cracking jokes, but it's time to brush up on some dad joke material now! This Dad Joke printable from Happy Times Digital is a punny introduction to daddy humor.
Think of all the groans and eye-rolls he has in his future!
If you're looking for another risqué game to keep the guys entertained, check out the Love or Labor game.
These pre-printed game cards feature women in various stages of ecstasy or agony, and the goal is to guess whether she's engaged in labor or…well, baby-making! The perfect baby shower game for men!
Another fun printable from Happy Baby Printables that can help everyone get to know dad better is the Would He Rather game. Guys love a little competition, so have dad's friends compete to see who knows him the best!
For a cute adaptation of the Newlywed Game, ask dad to answer the questions on the What Did Dad Say? printable, then have all of the guests guess how many of dad's answers mom-to-be will get right.
Get everyone at the shower involved, and enjoy putting mom on the spot!
Similar to the Love or Labor game, the Labor or Horror game challenges everyone to guess whether the women pictured on the game cards are having a baby or are starring in classic horror movies. It's a scream!
This might be one to avoid if mom-to-be is nervous about labor, but you can always send the guys away to play!
If you're looking for more tame and G-rated baby shower games for men, the Who Knows Daddy Best? game is a wholesome competition where guests compete for best friend bragging rights.
Snag the game from Dainty Darling Co. and prepare for some warm-fuzzies as the guys display their intimate knowledge of dad!
Latest posts by Amy Motroni
(see all)