Grab this free printable Price is Right baby shower game for a fun and easy game to play at the next baby shower you host. Channel your inner Bob Barker as everyone guesses the answers to this fun Price is Right game.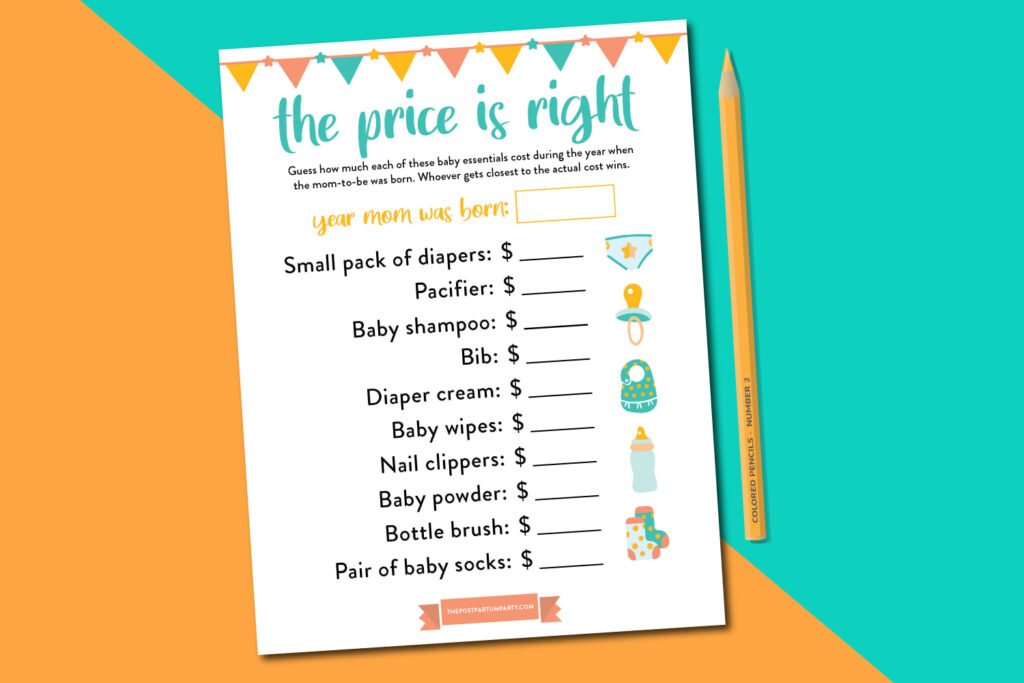 The Price is Right has always been one of my favorite game shows. I used to watch Bob Barker on the tv as a kid and plan how one day I would get on the show and win the entire Showcase Showdown.
I used to wonder how heavy the big wheel actually was and how I'd really have to flex my muscles to make it go all the way around at least once.
I loved playing along at home and guessing the various prices of items in each of the different games. I think I watched that show every day when I was home from school in the Summer.
Now you can bring The Price is Right to a baby shower with this easy and fun printable baby shower game. It's free to grab and print (sans your paper and ink cost) and is easy to play!
You can make it even more interactive by purchasing each of the baby items and displaying them for guests. At the end of the baby shower, the expecting mom can take home all the baby essentials as a gift!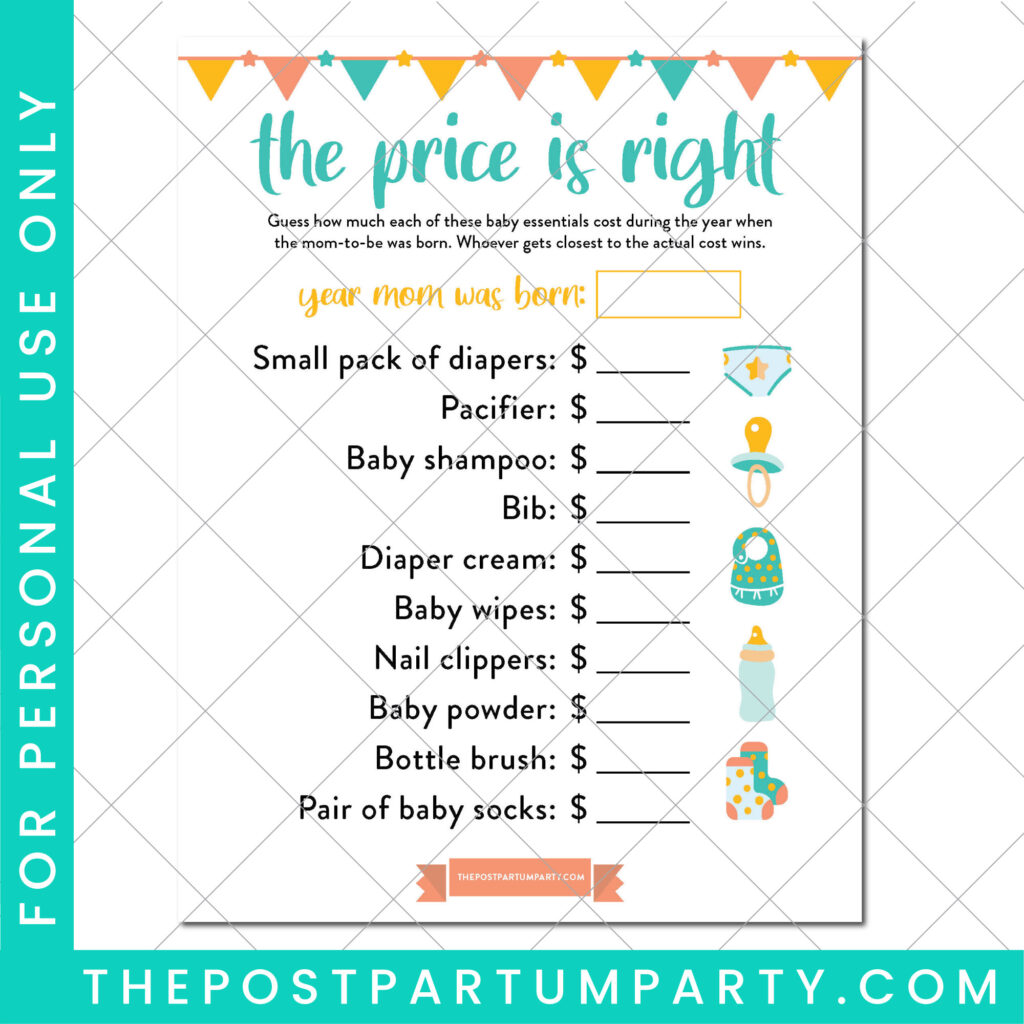 How do You Play the Price is Right Baby Shower Game?
The rules for this game are pretty simple:
Scroll down to enter your name and email to get the printable Price is Right baby shower game. You'll get an email with the PDF in it so you can print it.
Print as many copies of the game as you need on a heavier cardstock. This will help it look and feel more professional and make it easier for guests to write on.
Pass out a game to each person at the shower. Set a timer for a designated time.
Guests will have to guess how much each baby item cost in the year that the mother-to-be was born. You'll need to do a bit of research on your end to have the answers ready.
You can either have guests go off the printable game, or you can purchase all the baby items and have them on display at your baby shower. If you choose the latter, guests can get up , look at the different items and then fill out their answers on their paper discretely.
The person who gets closest to the most correct prices is the winner of the game!
How Many Games Should be Played at a Baby Shower?
I personally love playing baby shower games, but not everyone does. I think having about three baby shower games is a good amount. This gives guests something to do before opening gifts and also acts as an icebreaker for groups who aren't as familiar with one another.
More than three games might be hard to fit in your baby shower time frame and doesn't give guests much time to mingle with each other or the mom-to-be.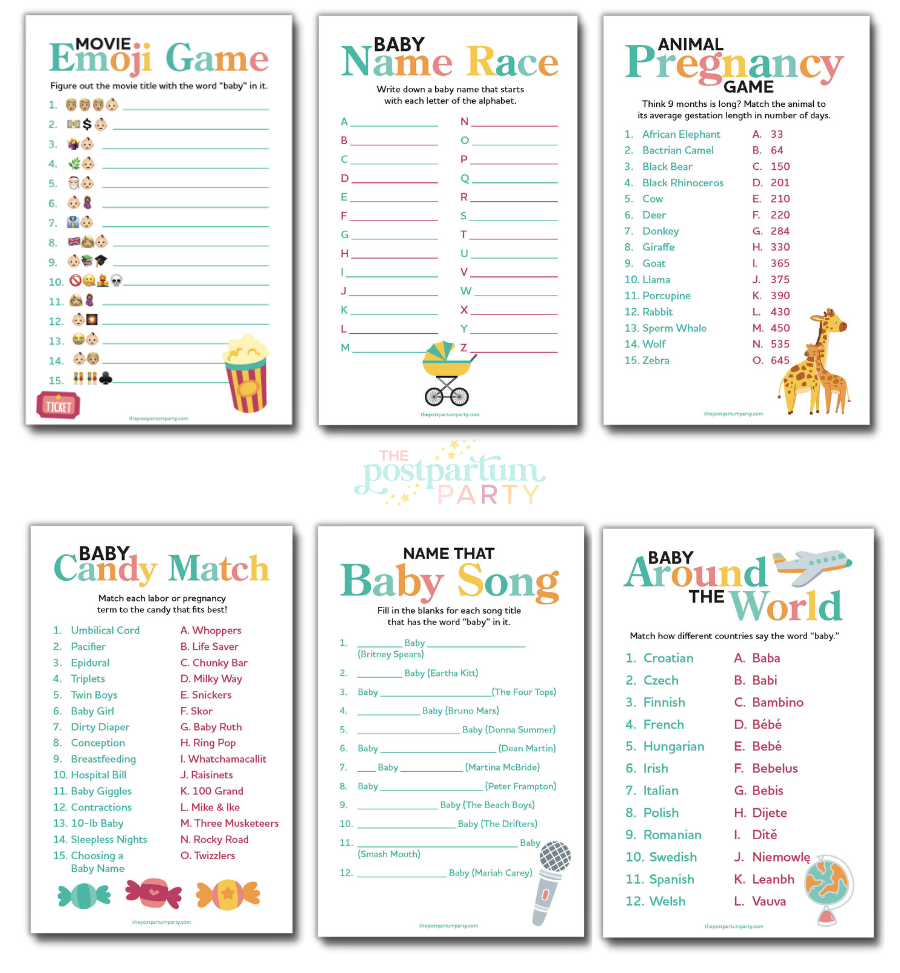 Get 6 printable easy baby shower games to play at your next baby shower. These games are a lot of fun and an easy way to entertain guests and celebrate the new mom! Click here to get the baby shower games bundle.
What are Some Prizes for Baby Shower Games?
Get everyone's competitive spirit up with some awesome prizes! From pampering items to cute decor, I've compiled a list of 30 fun baby shower game prizes to include for the winners of your baby shower games.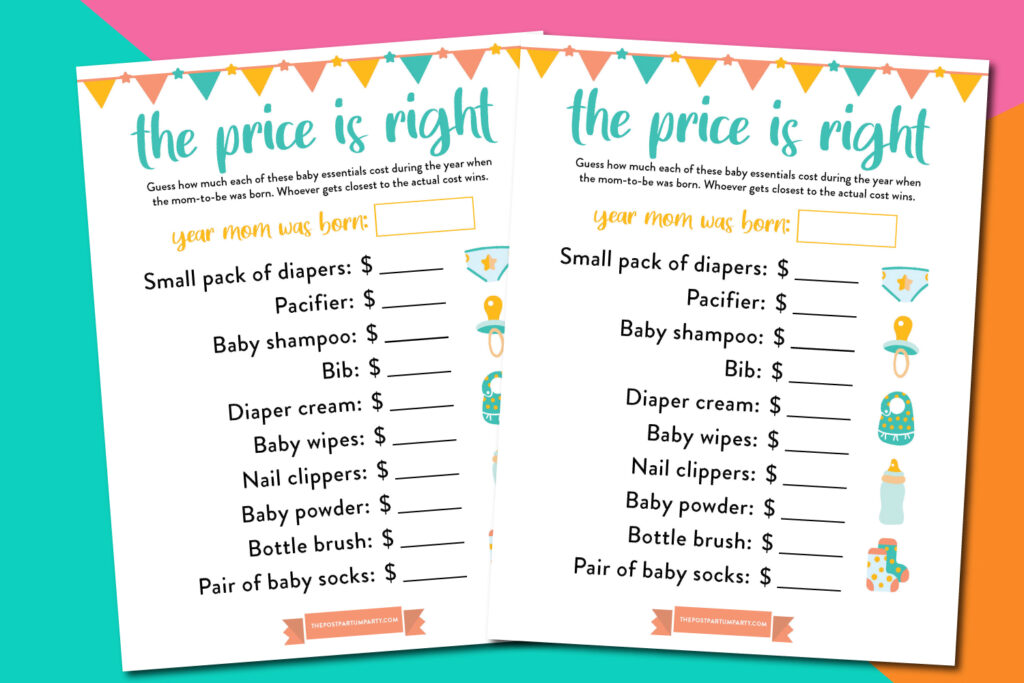 Price is Right Virtual Baby Shower Game
If you need a virtual baby shower game version of the Price is Right, you have two options. You can send baby shower guests the PDF in advance and have everyone write down their answers virtually during the alloted time.
Or, you could purchase this 4-in-1 virtual pricing game. This has a few favorite Price is Right classics on it and looks like it could be a lot of fun!
Either way, come on down and enjoy being the next contestant on the Price is Right with this fun baby shower game!
Get the Printable Baby Shower Price is Right Game Here
Enter your name and email to get the printable game delivered to your inbox!
Latest posts by Amy Motroni
(see all)