Grab this free printable to play this baby traits Enneagram Game at your baby shower! Match the different baby qualities to the correct Enneagram Type and win!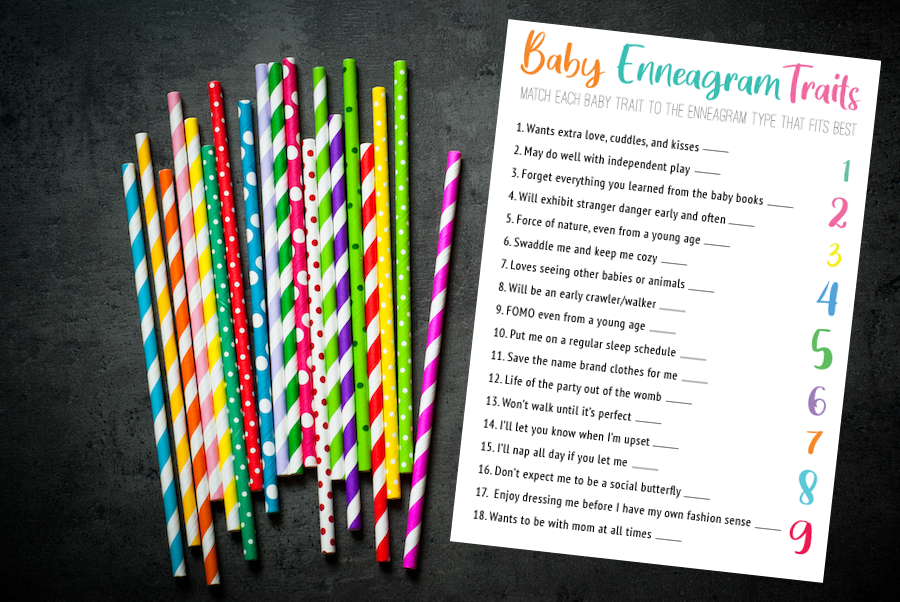 Are you familiar with the Enneagram personality types? I've learned about it recently and am totally fascinated by it. I love personality quizzes and learning about what makes people tick, so of course, I am really into learning about the different Enneagram types.
I'm totally a Type 9. I hate conflict, I can't make a decision to save my life, and naps. I love naps.
It seems like every time I'm with a group of friends, we end up talking about the Enneagram. People are just fascinated with it! So I thought it would be fun to come up with an Enneagram game that could be played at a baby shower or mom's night out.
Other Baby Shower Printables
How to Play the Enneagram Baby Shower Game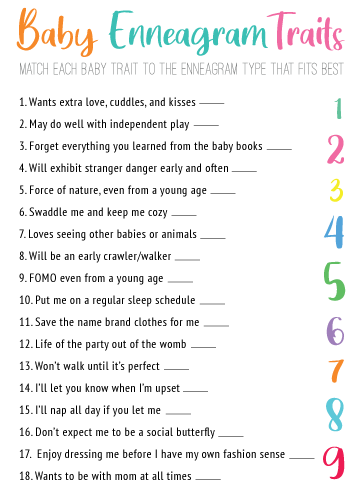 Download the free printable game using the form below. Print it out on cardstock or a thicker paper.
Each guest will get one game sheet. They'll need to match each of the baby traits to an Enneagram Type. Each type has two traits total, so there are duplicates in all of the types.
Set a timer and see who can match the most right traits in that time.
The guest who gets the most answers right wins! They are the official Enneagram exepert!
Please note that you really can't tell a person's Enneagram Type until much later in life. This is just a fun game to help see how well you know your Enneagram Types. Babies are still babies and have unique needs and they will change a lot those first several years!
This game is purely for fun and a new baby shower game that you haven't played before!
Download the Enneagram Game for Baby Showers
Fill out the form to get your free printable baby traits Enneagram game. You'll also receive an answer key as part of the download.
Which Enneagram Type are you? Do you love personality tests as much as me?
Latest posts by Amy Motroni
(see all)