Dreaming of a family vacation but worried that your baby won't sleep? Check out some of the best portable blackout curtains to take with you to help everyone sleep better.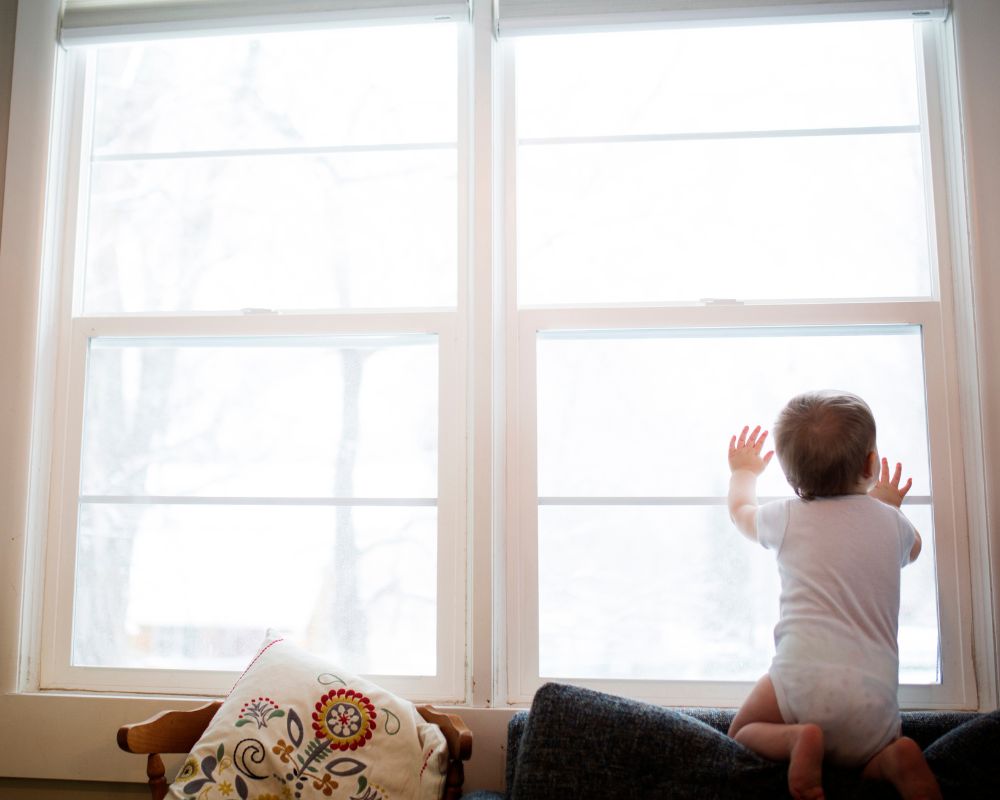 Ready to hit the road with your little one?
I know traveling with your baby can be a ton of extra work and bring on a lot of anxiety.
You may be worried that your baby's sleep schedule will get messed up or that you'll have an overtired baby on your hands if you can't keep a consistent nap time.
And while all of that may be true, there is one thing that you can control while you're traveling and that is the environment your baby will be sleeping in.
Packing a few baby travel essentials will go a long way in helping everyone get better sleep while traveling.
One thing I highly recommend to help your baby sleep while traveling is a way to darken your baby's sleep space.
You can do this through portable blackout curtains or a blackout privacy pod.
These are the top 6 portable blackout curtains and sleep pods to darken your baby's space to ensure everyone gets better sleep while traveling.
Why Does My Baby Need Blackout Curtains?
There are multiple benefits of blackout curtains and your baby's sleep.
A darker room is a great sleep association for your baby, and can signal to them that it's time to start winding down.
Blackout curtains not only make the space look cozy, they serve a biological purpose as well. Darkness helps our bodies stimulate the production of a sleep hormone called melatonin, which helps us fall asleep more easily.
That means a dark room is not only a visual reminder to your baby that it's time to sleep, it also helps their bodies naturally relax.
Blackout curtains also help block sunlight in the early morning.
Those early morning hours are some of your baby or toddler's lightest sleep, so even a little bit of light could be the culprit for your baby waking up too early.
What is the Downside of Blackout Curtains?
It can get tricky when your baby grows accustomed to a dark room and then all of a sudden they don't have one when you're traveling.
Many parents worry about using a dark space for sleep, knowing that their child will get used to it.
To me, blackout curtains (and white noise for that matter) create positive sleep associations that your baby will come to rely on. Your baby may need darkness and white noise in order to sleep better. But it's the same way you need a pillow in order to sleep better.
As long as you plan ahead, you'll be able to create a dark environment, even when you're baby isn't sleeping at home.
How Do You Blackout Windows When Traveling?
The first time we traveled with our daughter, we were woefully underprepared.
As we set her down in her Pack n' Play and switched off the lights, the bright yellow glow of a street lamp streamed through the window curtain cracks and we thought, Uh oh.
Let's just say we got very creative with some strategically-placed blankets and pillows around the window. It didn't quite do the trick, and the night was a struggle!
Traveling can already be a little rough on baby's sleep, street lamps notwithstanding. But with a little packing preparation, there are things you can do to make sleeping on the road a similar experience to their nursery at home.
There are a few ways to make a nursery dark. The best way to block light in your baby's room while traveling is to use portable blackout curtains or a privacy pod.
Let's talk about the best travel blackout curtains for baby that I've found, so you can be prepared to hit the road with confidence!
Best Portable Blackout Curtains
If you're looking for a simple solution these portable blackout curtains fold up easily, are washable, and stick to windows so you can darken a room on the go.
The Sleepout Portable Curtain is one of the best portable blackout curtain options on the market. Within seconds, you can create a dark room with absolutely no tools or holes in the walls.
True to the "blackout" label, these curtains are made from 100% blackout fabric. Not only will the Sleepout Curtain block out light, it is also thermal and sound insulating. That means they can block out heat and cold, and dampen noise from outside.
The Sleepout Curtain uses locking suction cups to hold it in place. This design makes it easy to install on any glass window, leaving no damage behind.
You can install these portable curtains vertically or horizontally, fitting most standard-sized windows. It's also possible to combine two panels to fit larger windows.
The best part about the Sleepout Curtains is they are so easily portable. You can install and remove them in seconds, and they even come with a handy carrying pouch for easy and compact transport.
Shop the Sleepout portable curtains here and get an extra 10% off with the code POSTPARTUM10.
These Amazon Basics portable curtain are a fan favorite.
Similar to the Sleepout curtains, this Amazon Basics travel blackout curtains with suction cups attach directly to the window. They also have velcro edges to adjust if needed. That means it's easy to take on and off, and no tools required.
Note that some light may slip through the top and sides of these panels.
With it's 50" by 78" dimensions, it is slightly longer and more narrow than the Sleepout curtains, which could make it helpful if you know your baby's room will have a long window.
Sold in packs of 1 panel or 2, you can also combine panels together to cover a larger window space.
I appreciate that these portable curtains come in a variety of prints and colorful designs. That makes it less likely that you'll forget to take them down as you pack up at the end of your adventure.
The Tommee Tippee Sleeptime Portable Baby Travel Blackout Blind is another one of the best portable blackout curtains you can find on Amazon.
Like the others, it uses a suction cup design to stick directly to the windows without leaving any marks or holes behind. It's almost exactly the same size as the Amazon Basics curtain (just an inch wider), but you can adjust it to fit smaller spaces.
What I like about the Tommee Tippee curtain is it has velcro along the edge to allow you to fold the curtain onto itself. This allows you to resize it, making it smaller when needed.
The Tommee Tippee curtain comes with a handy travel bag to fit easily into your suitcase, and it's also machine washable! It's perfect for long road trips to multiple destinations.
Best Blackout Privacy Pods
You can hit two birds with one stone with a blackout privacy pod.
These privacy pods are a great way to create darkness and provide privacy if you need to room share with baby while you're traveling.
If you know you'll be sharing a room with your little one during your travels, consider using a portable privacy pod instead of portable blackout curtains.
A privacy pod like the SlumberPod has the same benefit as blackout curtains when it comes to keeping the light out of your baby's travel crib. And as an added bonus, it keeps you out of sight after you put them down to sleep.
Having something that blocks you from baby's view is so helpful, particularly when you're sharing a room in a hotel or at a family member's house. They're less likely to fuss when you're out of sight and out of mind.
The SlumberPod is easy to set up and fits around most standard sized Pack N Plays. It blocks nearly all light from reaching your baby as they rest in their travel crib.
Shop the SlumberPod here and save 5% with the code THEPOSTPARTUMPARTY.
The SnoozeShade is similar to the SlumberPod while having a slightly different design. It is smaller in height and has a lower profile than the SlumberPod and fits snugly around the pack and play.
This is a great pick for anyone who finds the SlumberPod too large, too warm, or too expensive. At nearly half the price of the SlumberPod, the SnoozeShade is a great deal.
It can also be used outside and is a great option for nap time and nights if you plan on camping. It boasts a UV protection of UPF 50 and blocks 99% of UV rays.
I have a post comparing the differences between the SlumberPod vs SnoozeShade here.
Best Blackout Stroller Shades
It's unrealistic to expect every nap to be in a Pack N Play or crib while you're traveling.
Naps on-the-go are more than okay!
You can create darkness even when you're out exploring with a blackout stroller shade. Here are a few favorites to ensure your baby still gets the sleep they need, even while you're out and about.
Get naps in on-the-go with the SnoozeShade stroller cover. They have a version for laying-flat bassinets as well as incline bassinets.
The breathable mesh fabric lets air flow freely and it has a UPF 50+ to block UVA and UVB rays.
Do you have a favorite portable blackout curtain that isn't on this list? Let me know in the comments below, I'd love to hear about your experience!
Latest posts by Amy Motroni
(see all)