Sleeps sacks can be a lifesaver in the winter or when your baby outgrows swaddling. These are the best sleep sacks for your baby on the market!
You've probably heard about the benefits of swaddling a newborn. But you might be wondering about other ways to keep your baby warm while they sleep, especially if they fight the swaddle or you've stopped swaddling altogether.
That's where sleep sacks come in. Here are the top sleep sacks. Keep reading to learn more about each of these beloved sleep sacks and why they each have their own cult following!
The Best Sleep Sacks for Babies:
What Is a Sleep Sack and Does My Baby Need It?
When it comes to a swaddle vs sleep sack, a sleep sack is a wearable blanket that covers your baby's body and legs, while keeping their arms and legs free to move around. Sleep sacks are the best way to keep your baby warm at night after transitioning out of the swaddle.
Sleep sacks are a great way to keep your sleeping baby covered when they're still too young to have loose blankets or loose bedding in their crib.
Keeping your baby's crib bare helps reduce the risk of Sudden Infant Death Syndrome (SIDS).
As soon as your baby starts rolling over in sleep, or even shows signs or rolling, it's time to transition them out of the swaddle and into something like a sleep sack. Sleep sacks keep your baby's arms free, so they can roll safely in their sleep.
Putting your baby down to sleep in a sleep sack isn't absolutely necessary, but it's a big help if you're trying to keep them cozy and warm enough while they sleep. It can also be a great cue as part of your baby's bedtime routine or nap routine.
I get asked for my recommendations on baby sleep sacks all the time. So I've finally put together this list of the tried and true sleep sack brands that new parents love!
Here are my 14 favorite sleep sacks!
Kyte Baby is another brand of sleep sack that has a cult following! I know so many parents who swear by their Kyte sleep sack.
These sleep sacks are made from a soft bamboo rayon material, making them buttery-smooth to the touch and super cozy.
The Kyte has a double zipper, unzipping from the bottom, which makes middle of the night diaper changes a breeze.
The Kyte Baby Sleeping Bags comes in different warmth options, from 0.5 TOG to 2.5 TOG.
As your little one grows and begins to walk, Kyte Baby also has a sleep bag with leg holes for easy movement.
Want one sleep sack that you can use for all four seasons and even as your baby grows?
The Woolino Sleep Sack has a larger price tag than most other sleep sack options on this list, but its longevity and high-quality manufacturing means it's durable and favored by many!
The Woolino is made from merino wool. It's not too light and not too heavy, making it easy to dress your baby warmer or cooler, depending on the season.
You don't have to worry if baby is too warm or too cold with Woolino's breathable material.
One unique feature of the Woolino is the closable seat-belt slots. You can put baby in the sleep sack and still safely buckle them up! If you ever have a late night with your baby, you can make an easy transfer from car to crib!
The baby sleep sack comes in a universal size for 2 months through 2 years, so you don't have to constantly replace sleep sacks as your baby grows. They also make toddler sleep sacks for older babies!
This sleep sack has shoulder snaps buttons and a two-way zipper, so it's easy to slip on and off a sleepy baby during those midnight diaper changes.
Parents LOVE this sleep sack due to its versatility and longevity!
The Gunamuna Sleep Bag has down alternative fill and looks so incredibly cozy! The ultra-soft bamboo viscose helps keep baby warm and at 2.6 TOG Rating, this is one of the warmer sleep sacks out there.
Their Wonderzip zipper makes diaper changes easy for those middle of the night changes.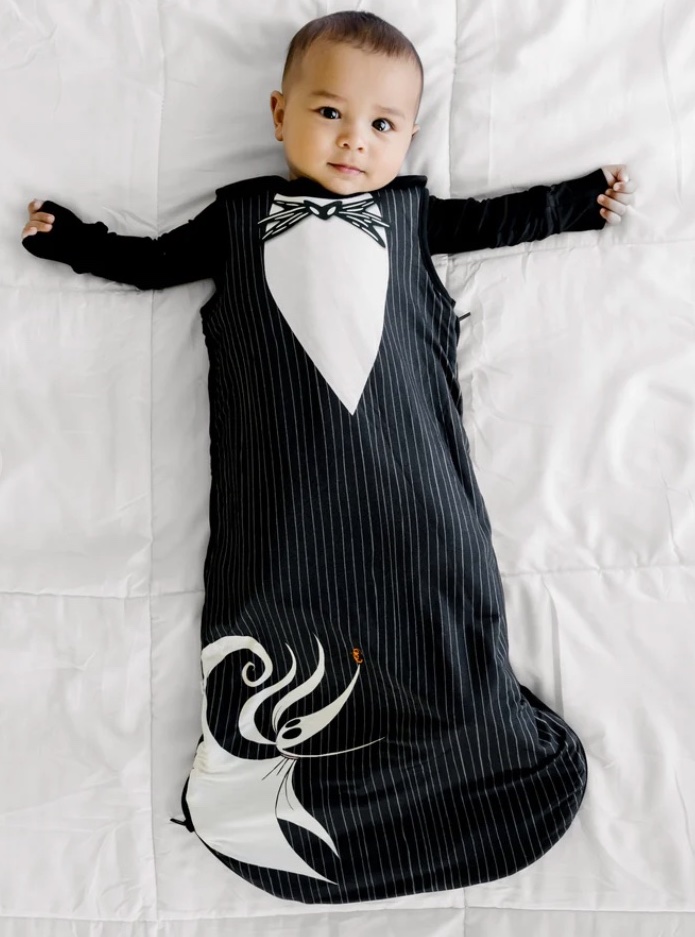 The Little Sleepies sleepy bags are made from the same buttery soft and breathable material as their well-loved pajamas.
The double zipper make diaper changes easy and they're internally quilted to keep your baby warm and cozy. The Little Sleepies are designed extra long with adjustable shoulder straps, so your baby can wear them for many months!
Not to mention, they have some adorable prints. From The Nightmare Before Christmas to Mermaid theme, these sleep sacks are one-of-a-kind!
I was recently introduced to MiliMili sleep sacks at a conference for sleep consultants and I fell in love with their product. Not only are the fabrics incredibly soft (made from jersey fabric), breathable, and gentle on sensitive baby skin, but they have the cutest prints to choose from!
Move over stars and moons, these colorful and bold prints are going to make putting baby to bed so much more fun! And, they have fun sleep robes and loungers so you can match your mini too! Shop them all here.
The Halo brand wearable blankets are a favorite of mine and the sleep sack I used with my daughter for years. (I didn't know about Woolino sleep sacks back then, but I wish I had!).
The Halo Sleepsack comes in a variety of colors, prints, and fabrics. The lightweight muslin sleep sacks are perfect for dressing your baby in the summer and the warmer fleece ones are great for chilly winter months.
They're also surprisingly affordable given the high quality of their products!
Halo makes sleep sacks for newborns and toddlers, using materials that rank all the way up to 3.0 TOG for cool climates.
All Halo sleep sacks come with an inverted zipper for easy diaper changes!
The Zipadee-Zip is a great sleep sack when you're transitioning your baby out of the swaddle.
This sleep sack has a unique starfish design that keeps your baby enclosed and cozy, but doesn't limit your little one's movements while they sleep. It gives your baby a cozier feeling than traditional sleep sacks and is a great transitional piece!
In the Zipadee-Zip, your baby's arms are covered but still free to move, keeping them safe in case they roll in their sleep. This can be helpful if your baby is rolling but still has their startle reflex waking them up at night.
Their hands are also covered, which is a good option if you worry about keeping your baby's hands warm at night.
They have multiple fabrics and patterns so there's something for everyone!
Burt's Bees is a beloved brand of so many parents, and for good reason. Their products are high quality, climate-conscious, and their textiles are made from soft, 100% organic cotton, making them a perfect choice for babies with sensitive skin.
The wearable blanket is made of breathable fabric and comes in a variety of adorable prints, and can unzip from the bottom, making diaper changes so much easier.
Many of their cotton sleep sacks come with a 0.5 TOG rating, making them a great choice for warmer climates. They can also be easily layered on top of footed pajamas without overheating your little one in the winter.
This is the best organic sleep sack because it's affordable and comes in plenty of cute prints and different colors!
The Hudson Baby sleep sack comes in larger sizes, making it one of the best sleep sacks for toddlers.
Although the sizing tops out at 24 months, many families have written in their reviews that the length of this sleep sack has lasted them well beyond the two-year mark.
This sleep sack has options for both short sleeve and long sleeves, so you can stock up on a sleep sack for all seasons. It's also available in fleece or minky textures, depending on the feel you're looking for.
These sleep sacks are very reasonably priced and have a similar look and feel to the Halo sleep sacks.
This baby sleeping bag is a 2.5 TOG sleep sack with thousands of positive reviews.
Thanks to its soft polyester filing, this sleep sack is designed for maximum warmth. It's meant for babies who are sleeping in cooler environments, even at temperatures as low as 58 degrees.
If you live in a very cold climate, and want to keep your baby warm on those cold nights, this may be one of the best baby sleep sacks!
I also really like the idea of bringing this sleep sack on family camping trips with little ones!
The Baby in a Bag sleeping bag comes in different sizes ranging from 3 months to 3T.
The Mama Cheetah sleep sacks are a great alternative for the Burt's Bees sleep sacks I mentioned earlier. At less than half the cost of the Burt's Bees sleep sacks, they're a great deal!
Mama Cheetah sells these sleeveless sleep sacks in a 2-pack in sizes ranging from newborn to 2 years old.
These sleep sacks are made from soft and thick jersey cotton, providing warmth while remaining breathable.
They also have a 2-way zipper that allows you to open from the top or bottom for easy access and no-fuss diaper changes.
The snug fit of the Love to Dream Swaddle Up makes it another one of the best sleep sacks for younger babies and newborns.
By keeping your baby's limbs tighter and closer to their body, it can help prevent your newborn's startle reflex.
This is also a great option for when your baby starts approaching the age when they need to transition out of the swaddle.
The Swaddle Up transition bag has removable shoulder panels. Once you see the first signs of rolling, you can keep your baby safe by opening the swaddle's arm holes to free your baby's arms while they sleep.
This winter sleep sack is made from a breathable material that has a similar feel as a quilted duvet, making it extra warm and cozy for those chilly nights!
The outer shell is 100 percent cotton to keep your baby cozy and warm and and is machine washable.
The shoulder straps make it easy to get baby in and out compared to traditional sleep sacks.
They also have a Sleep Nest Lite, which can be a good choice for a summer sleep sack and weather.
This sleep sack from Gunamuna looks incredibly soft and may be the closest thing to a plush blanket!
The three-way zipper can open at the bottom for quick and easy diaper changes, from the top for a traditional way of getting dressed, or even from the sides if need be.
The sizing also has a nice range, fitting babies from three to nine months.
Your baby will be so snug in this sleep sack!
How to Pick the Best Sleep Sacks
When you're shopping for the right sleep sack for your baby, there are a few things to consider.
Safety
The most important thing to me as a Certified Pediatric Sleep Consultant is your baby's safety when they sleep. I ask all of the families I work with to follow safe sleep guidelines and the ABCs of safe sleep.
When it comes to sleep sacks, we need to make sure that it fits correctly and won't slip off of your sleeping baby. You'll also need to make sure that all zippers, buttons, and fasteners are secured.
Make sure that you only buy sleep sacks from trusted retailers who have your baby's safety in mind.
Size
Not all sleep sack sizes are created equal. In fact, sizing can be all over the place depending on which brand you choose.
Most companies will give an age range for their sleep sacks (like 3-6 months, 6-12 months, etc.), and some—but not all—make sleep sacks that will fit toddlers.
My advice is to read reviews from customers to see if sizing is consistent. It's also important to pay attention to the length measurements of the sleep sack, since every baby grows at a different pace!
Material
You'll be able to find sleep sacks made from all sorts of different textiles and fabrics.
There are thin muslin sleep sacks for summer months, and thick fleece sleep sacks for dressing your baby in the winter months.
There are buttery or plush fabrics, made from cottons, bamboo, and even wool.
You'll want to pick a sleep sack that is soft and cozy on your baby's skin, and also consider how warm or cool the fabric is going to keep your baby.
TOG Rating
When you're picking out a sleep sack, make sure to pay attention to the sleep sack's TOG rating.
TOG stands for Thermal Overall Grade and is a way to measure the warmth of a particular fabric. The higher the TOG rating the warmer the fabric will feel to your baby.
Your little one will never really age-out of wearing sleep sacks. In fact, they can continue to use them for as long as you're able to find sleep sacks with enough length to fit your growing babe's legs.
However, you might eventually choose to replace the sleep sack with bedding. Let's be honest: it's fun to finally get to decorate their room with new bedding!
The American Academy of Pediatrics (AAP) and most experts agree that by the time a baby turns 12 months old, it is safe to start including a blanket in their crib at night.
But the down side to bedding and traditional blankets is that they can be kicked off in the middle of the night. The great thing about sleep sacks is they stay put and keep your little one covered all night!
I recommend using a sleep sack until your baby is ready to transition to a toddler bed. Sometimes using a sleep sack well into the toddler years for older kids can also help keep your baby from climbing out of the crib!
What's your favorite brand of sleep sack? I love finding those cult favorites and will add to this list if I come across a new brand that parents love!
Latest posts by Amy Motroni
(see all)