Wondering how to organize all your baby clothes? Overwhelmed by piles and piles of baby clothes? Here's a method for keeping everything sorted and organized and knowing when to get rid of things.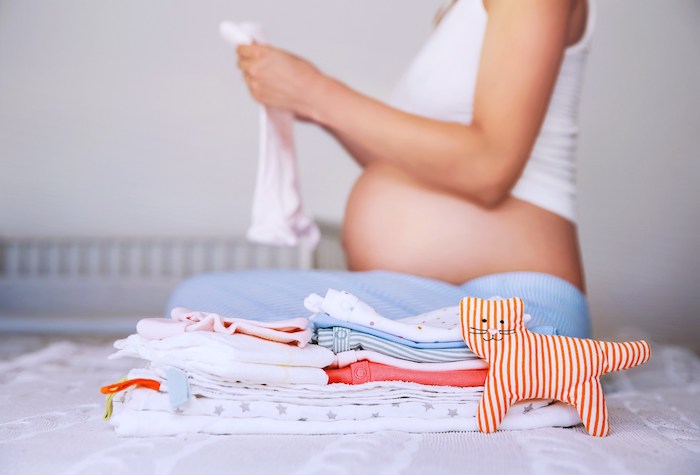 Parents struggle with the absolute mess of baby clothes that invade your life when you bring a new baby home.
Baby clothes that actually fit, clothes that are too small, clothes that are too big, clothes that are the wrong season, new clothes, hand-me-down clothes, clothes with stains, clothes that say they are one size when they are clearly another size—it's easy to throw all those baby clothes into into the dresser drawers and pretend the chaos doesn't exist.
But that's just not my personality. And if you've stumbled upon this page, I'm guessing it's not yours either! I wanted an organized home before we brought home our baby and that included organizing all the baby clothes!
Having organized drawers and closet space for all your baby clothes makes it easier to pick out cute outfits for your little one and maintain a system that works for you!
When I did Evelyn's nursery organization, I was determined to keep her clothes organized and, to my surprise, I was able to for the first year. It does require some vigilance—I had a day every few months where I went through all her clothes as outlined below.
But having a long day here and there to organize her clothes means that her nursery (and our life) stays organized, I'm not frustrated because clothes don't fit, and I can find what I'm looking for, the first time.
Here is the method I used and some tips for organizing baby clothes and keeping them organized, even through all those growth spurts!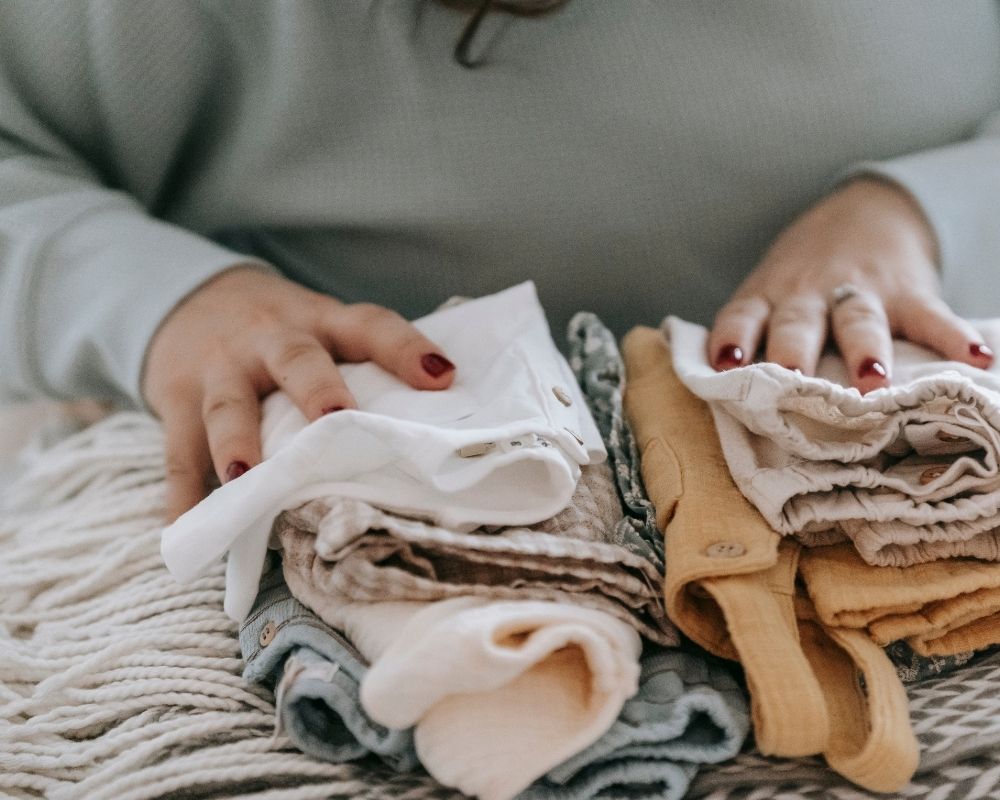 Organizing Baby Clothes Initially
Before you even bring your baby (or babies!) home, you'll likely already have a lot of clothes. We had baby clothes from newborn sizes through 2T, both gifts to us from our baby registry and generous hand-me-downs from friends, plus one or two outfits I bought myself because I couldn't resist.
The initial organizing was a fun nesting activity for me while pregnant. (Baby girl clothes are especially cute so I enjoyed sifting through them all!)
My sister in law offered to come over and help me sort through all the clothes in the beginning. She brought some great mom experience to the sorting and actual sizing of baby clothes. I highly recommend enlisting a mom friend to help with this if you can!
Make Piles of Baby Clothes By Size
Start organizing all of your baby clothes by making piles. You'll want one pile for each size you have.
Because baby clothes sizing varies so much, I put each item in the pile of the age it started (so, an item labeled "6m–12m" would go in the 6m pile, while "9m–12m" would go in the 9m pile). This way I didn't have clothes put away that Evelyn had already grown out of.
If an item of clothing looked substantially bigger or smaller than the other clothes in the pile, (or the label) I'd move it up or down a size. This is where another mom friend can come in handy. As a first-time mom I had no idea what looked true to size!
You'll also want a donation clothes pile. See the section "Tips for Deciding What to Keep and Donate" at the end of this post for what to put in this pile.
Store Clothes You Won't Use Immediately
Once you have your various clothes piles, use plastic bins or vacuum seal bags for each size, except for the size you expect your baby to wear when he or she is born. Label each bin or bag with the size and store it for later.
Organizing the Clothes Baby Will Wear
Next, decide how to store the clothes your baby will wear after birth. We used a large dresser with several drawer organizers to compartmentalize baby clothes. Since baby clothes are so tiny, keeping things in the divider boxes helped keep it tidy and organized.
Baby Dresser Ideas for Organization
We have an eight-drawer IKEA dresser that holds quite a bit of stuff. (You can see these IKEA nursery hacks if you want to glam up the dresser a bit!) The drawers are deep, which is why we wanted it in the first place. I used the divider boxes in every drawer, except the odds and ends drawer.
This is how we organized baby's dresser:
Top right small drawer: Held extra diapers so they were tucked away and easily accessible.
Top middle right drawer: Held socks and hats in two separate smaller drawer dividers.
Top middle left drawer: Held smaller miscellaneous baby items such as the NoseFrida, pacifiers, nail clippers, etc. I liked having them in a drawer so I always knew where they were.
Top left drawer: Held all the burp rags. We had many on hand because babies spit up a lot in those newborn days. P.S. these burp rags are the most absorbent ones out there! I also stashed a few swimsuits we got in this drawer so we would have them if we needed them.
Top left large middle drawer: This is where I kept all her short sleeve and long sleeve onesies. I separated short sleeve and long sleeve by the drawer containers, which made it so easy to find just what I wanted.
Top right large middle drawer: I put all baby pants, shorts, and diaper covers in this drawer, again separated by the smaller boxes.
Bottom left large drawer: This is where I kept all our pajamas, swaddles, and sleep sacks.
Bottom left large drawer: All our bedding went in this drawer—extra crib sheets, mattress protectors, and changing pad covers. I wanted to be able to quickly find these at 3 a.m. if need be!
You can use the konmari folding method if you want. I just fold everything in neat-ish piles and stack them so I can see them better in the dresser drawers.
Baby Closet Ideas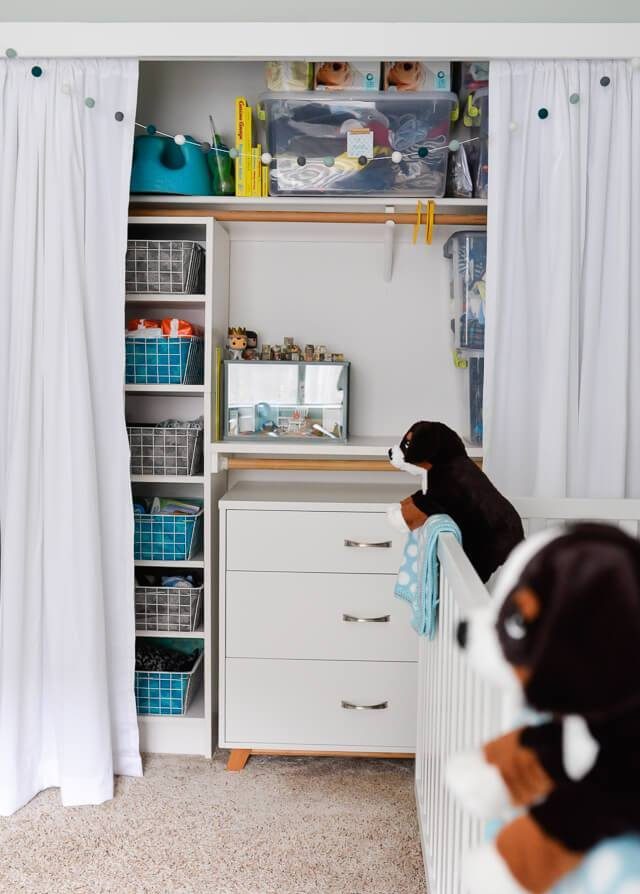 I also used the closet for hanging up larger items like dresses as well as seasonal clothes like jackets and winter baby gear. Our closet has built in storage shelves on top so that's where I stashed the clothes Evelyn didn't fit in yet. Use labels on your bins so it's easy to find the next size up and swap it out.
Here are additional tips for organizing baby's clothes and items in the closet:
Organizing Baby Clothes through Growth Spurts
Babies grow frequently their first year so once you feel like you have clothes organized it will be time to move up a size! Don't worry, this system will make it way easier!
Once I realize that we're moving up a size (most things are getting snug), I have a purge day for the baby clothes. Here's what that looks like:
I take all the clothes out of the dresser and pull out everything in that size. There may be a few things that still fit, but it's just easier at that point to move up a size completely so I can keep like sizes together, instead of adding a onesie here and there later.

I have forgotten to add things in, and I'm not kidding when I tell you that I have a 3m pajama set that is still circulating through my laundry because those 3m clothes are long gone in a storage bin up high. And my daughter is now in 2T!


Once you have all of your too-small baby clothes together, move them to a storage bin or bag and label them for baby number two. Or, if you're done having babies, pass them down to a mom friend or donate them to a local charity.


Then grab your next-up size bin/bag and start fresh with a new bunch of baby clothes. I always enjoyed seeing the new outfits I had for dressing my little peanut.
Tips for Deciding What baby clothes to Keep & Donate
Here are a few other things to keep in mind as you organize baby clothes.
Donate baby clothes you know you won't use
While the number of hand-me-downs I received was amazing, there were a few things that I just knew I'd never put Evelyn in.
Baby jeans are so cute but I think they are more of a hassle than leggings. I'm not a fan of clothes that look itchy or have certain fabric.
Some clothes brands were made wide and short while my girl was long and lean. And some things just aren't my style. All of these went directly into the donate pile.
Donate baby clothes that are the wrong season
We had some of the cutest snuggly 3-month jammies given to us. Fleece-lined with little flowers all over them. I loved them. Yet when my daughter was wearing 3-month clothing, it was 100+ degrees outside. I don't think she ever got to wear them—by the time it was cool enough, she was on to the next size.
Clothes like these are awesome to donate to a friend whose baby is six months younger than yours!
Donate or toss stained baby clothes
If you're fine with stained clothes, by all means keep them. But I knew that I'd always reach for the non-stained ones and the stained clothes would just sit in the drawer.
You can try and remove the stains if you'd like, but, again, I knew that I'd never give it a shot when I had so many other clothes to choose from. Ones with smaller stains went in the donate pile, ones with big stains went into the trash bin.
Keep one (at most two) outfits from each size if you want
I'm not a monster. I know baby clothes can be very sentimental. I've kept an outfit from each size that I especially loved. You will look back on these tiny clothes and wonder how they ever fit and where your baby went. But don't go crazy. Just hold onto a few things and let the rest go.
Have you been able to keep your baby's clothes organized? If so, what was your method? I'd love to hear more in the comments.
IF YOU LIKE THIS IDEA, DON'T FORGET TO PIN IT!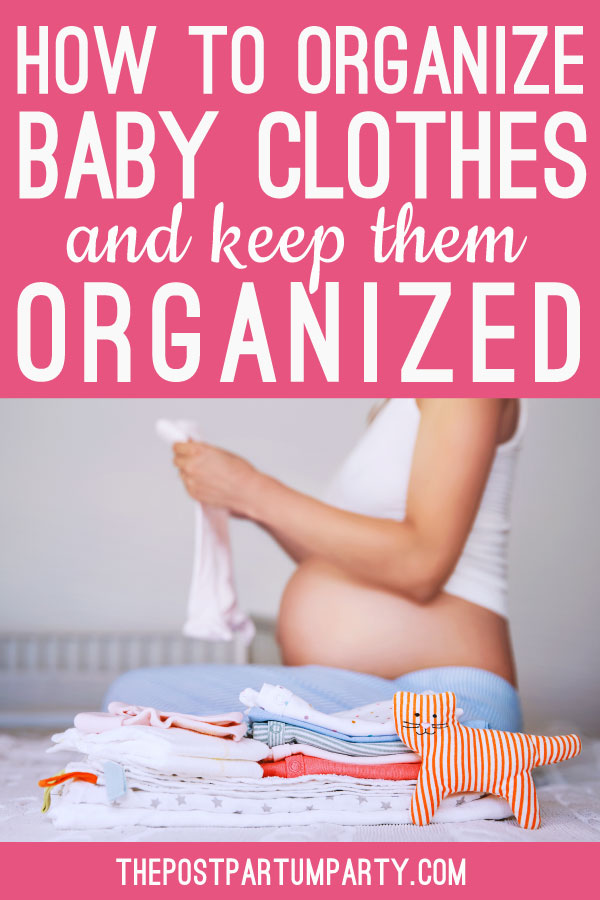 Latest posts by Amy Motroni
(see all)