Come see our little adventurer twin nursery! We wanted a fun theme for our twin boys, so we went with an adventure themed nursery! Full of teals and grays, mountains and coziness, and big, big adventure for two tiny guys!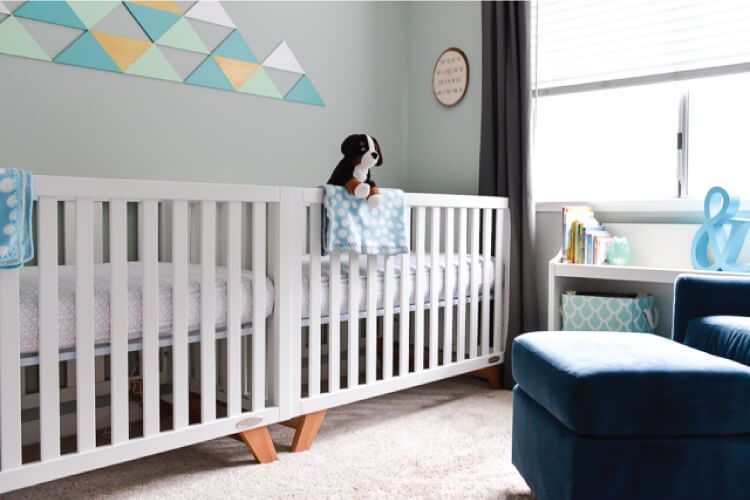 This post is written by Cori George from Hey Let's Make Stuff
Adventure awaits! Come see our nursery decor for our little adventurers. We designed an adventure themed nursery to instill a love of adventure and travel in our twin boys!
I've been promising the final reveal of our twin nursery for a while now, but I'm just now getting to write about it. When my water broke at 32 weeks, the nursery wasn't quite finished. Too bad, the babies were coming anyway! But we also had three weeks after I gave birth before the boys actually came home, since they had to spend some time in the NICU growing enough to be with us. I used that time to finish up the nursery and take pictures before we had our hands full.
My goal for the twin nursery was to have adventure themed decor without being too travel themed. I thought about doing a robot nursery (I freaking love robots), but I didn't want to get a bunch of robot gifts — I needed the things on my baby registry!
So I took a cue from our trip to Norway, along with my desire for the boys to be little adventurers. Even if we'd had little girls, I'm pretty sure this room would have looked nearly the same, except maybe with a bit more glitter. I love the teals and grays. The colors are neutral enough for a boy or girl nursery, without being too plain.
Adventure Themed Nursery Details
The wall color is a lovely neutral color green-blue-gray called Manzanita Leaf by Kelly Moore. I love this color, and it changes slightly depending on the time of day. It's also the color in our master bedroom — it's so versatile. I do, however, already regret using flat paint. It's gorgeous, but I can already tell it's going to be difficult to keep clean. I keep a small container of it for touch-ups, so that'll have to work for now.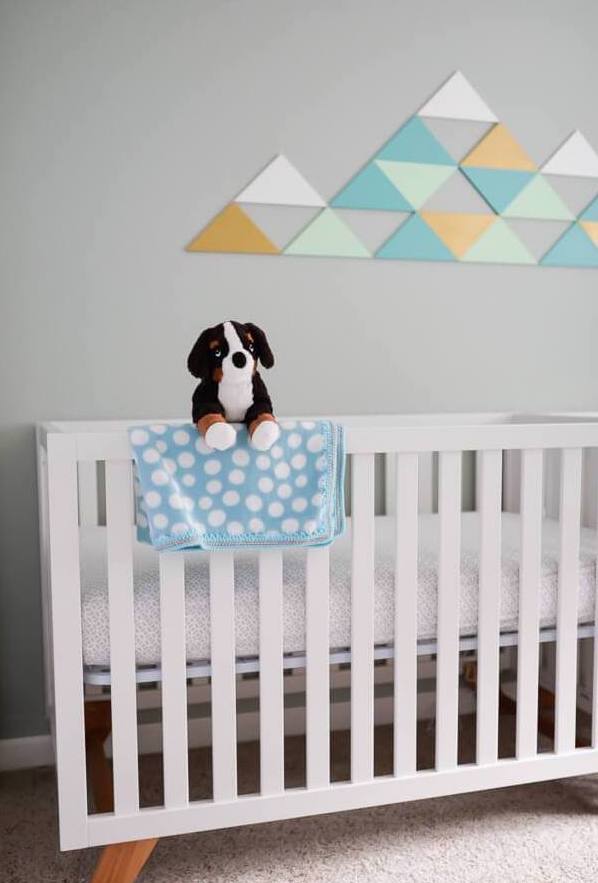 The nursery is quite small, just 10′ x 10′. Fitting everything for two boys in this small nursery was a challenge. I knew I wanted the boys to have their own cribs, and I had two requirements.
First, they needed to transition into toddler and then into twin beds, and I wanted them to be as free from embellishment as possible — I needed all four sides to be the same height. That way, I could rearrange the cribs in any configuration without any awkward lines. I found these cute mod cribs and they were perfect end to end.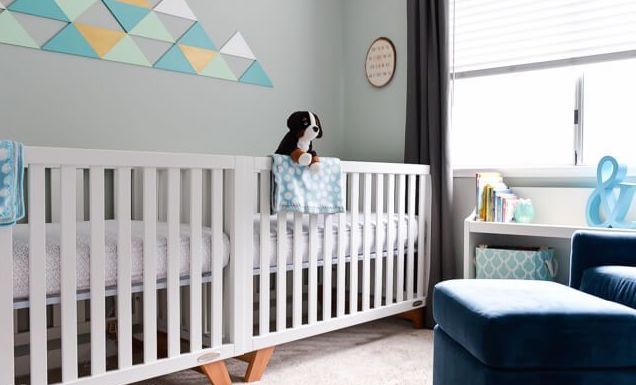 Two stuffed Bernese Mountain dogs live on the edge of the cribs — they are wee versions of our actual dog, Gunnar. The fleece and crocheted blankets were made by a friend from church.
We also got two matching small dressers and a changing table frame to sit on top of one of the dressers. No room for a dedicated changing table in this adventurous room!
Instead, I have a teal cart from IKEA which holds all of our cloth diapering supplies (yes, we are cloth diapering our twins — we love it!). This cart is the best IKEA nursery hack and has been perfect since we don't have the shelves of a changing table.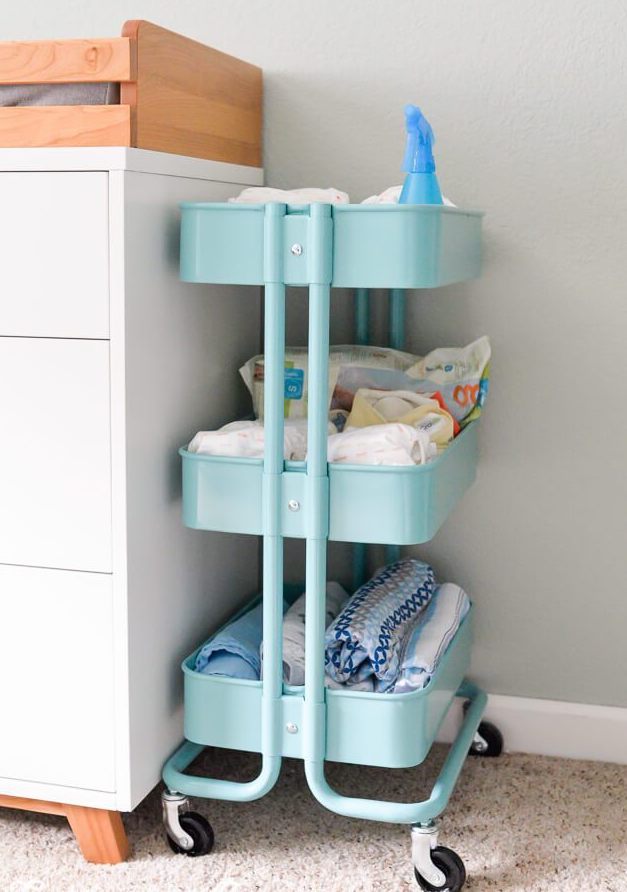 My favorite piece of furniture in the adventure themed nursery is this gorgeous deep teal velvet West Elm glider and ottoman. I wanted to get a glider that would work beyond the nursery, and this will be beautiful in our living room someday. It's super comfortable and perfect for midnight feedings. I love the wingbacks — I often rest my head against the soft fabric when I'm super tired.
We installed some new lighting in the nursery as well — a swing arm lamp and a flush-mount light. I wanted soft lighting in the nursery that wasn't too bright!
Once we got the room put together, I realized there was not a lick of space for the boys' toys and books. I found this small bookshelf at Target that fit well under the window. I know they'll need more space in the future, so we'll cross that bridge when we come to it (maybe they'll each get a drawer in the dresser for their treasures?). For now it works.
They have started accumulating more books — they have about three times as many as they did when I took these photos! I tend toward being a minimalist mom, but I definitely want my boys to develop a love of reading early, so I love having books around.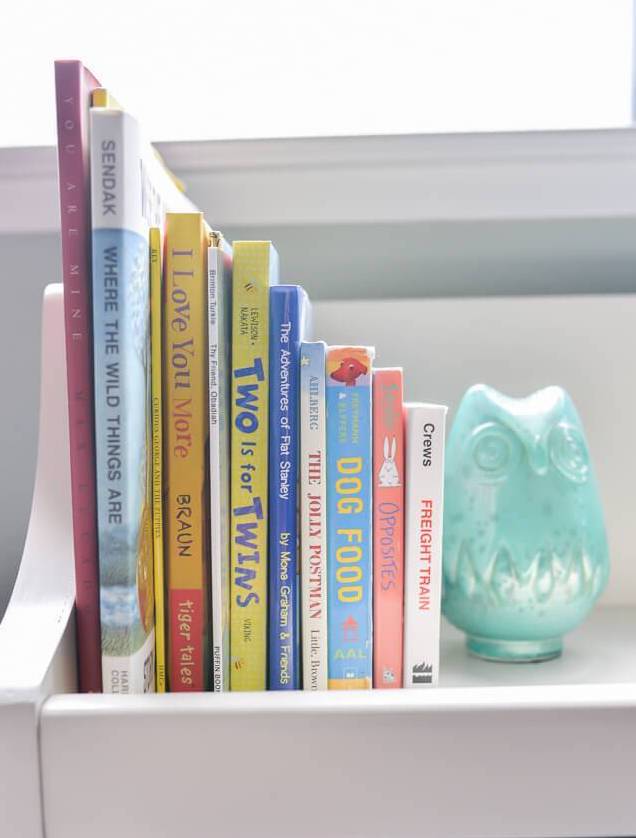 The wall art is almost all made by me, including these geometric mountains, which I freaking LOVE. They are at the center of the adventure theme and promote a love of the outdoors!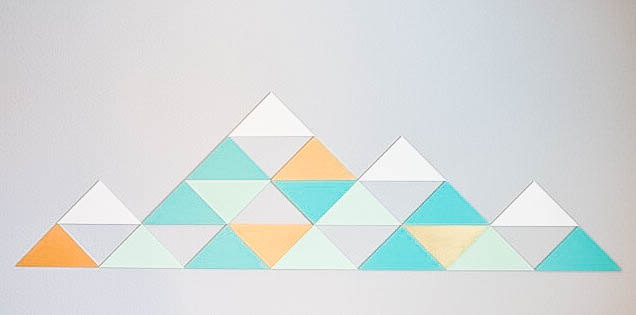 I wrote about some of the pieces of the gallery wall over our changing table dresser earlier on my blog, and you can get instructions for making the ombre wreath and found object initial. The Wild and Precious Life print is from a shop on Etsy.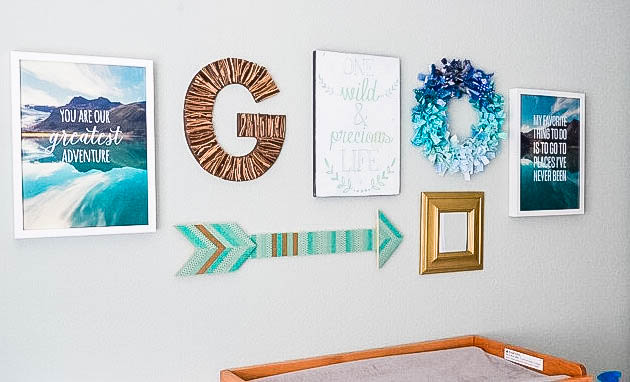 I love the two mountain themed nursery prints I made as well. Being a mom really is the greatest adventure! Click here to get the free adventure prints for your own little adventure themed nursery!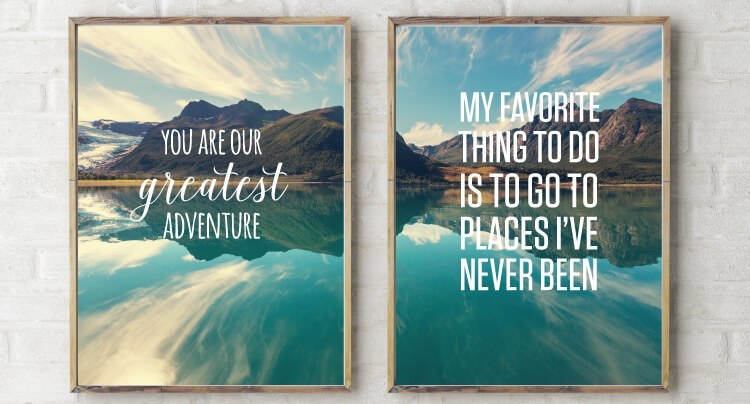 I also made a faux wood-burned plaque with a quote from Dr. Seuss, reminding me that my boys are individuals, even though they are twins.
I also picked up a clock with a Society 6 gift card from a good friend of mine. I liked the two bears — of course they remind me of the boys!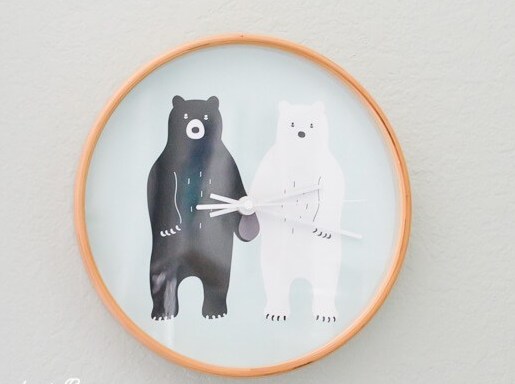 My mom made the boys a couple of adorable monsters — they crack me up! So dapper in the bow tie there, monster. Now that the boys are a little older, they play with them all the time.
For storage, we took the doors off the closet. One of the dressers had to go in the closet because there was no room for it in the room itself. We wouldn't have been able to open the drawers if we'd kept the closet doors on. So I hung some simple white curtains, so we can shut the closet to hide the mess if we want. A sweet felt garland adds a bit of whimsy.
In addition to the other set of drawers (which holds clothes that are the next size up, as well as extra sheets and mattress pads), the closet has built-in shelves. I found some perfectly sized wire baskets, and my mom made custom fabric inserts. We keep burp cloths, bibs, disposable diapers (for when we go out), shoes, and other small things in these baskets.
Plastic bins hold all of the clothes that friends and family have given us — these boys have more hand-me-downs than I know what to do with! Here's my system for organizing all the baby clothes!
And there you have it! So far, this setup has worked well for us. Every time I'm in the nursery, I fall in love with it all over again. It's exactly what I imagined and I hope the boys find it fun and inspirational as they get older.
Latest posts by Amy Motroni
(see all)