Last Updated on
Do you think your little babe will be a Hufflepuff or a Gryffindor? Encourage their love for magic early on with a magical Harry Potter nursery.
Looking for a fun and unique nursery theme for your baby's room? Then look no further than everyone's favorite, magical wizard from the popular Harry Potter series! A Harry Potter nursery can be full of unique and whimsical decor. Plus, this is a theme that can grow with your child!
Harry Potter Nursery Decor
There are plenty of DIY Harry Potter nursery decor ideas that you can drum up before your baby is born. You don't need a magical wand to craft up some of these DIY projects!
If you know how to sew, you can make your own embroidery hoop. Flamingo Toes even provides a free pattern.
Light up your little one's room with some DIY floating candles from A Few Shortcuts. A simple craft that will make you feel like you're in the great hall.
Create your own macrame wall hanging with a little Harry Potter flair in the middle. Or you can buy one if you're not sure how to make this. It's seriously adorable!
Show your Hogwarts school spirit with these five-minute pom poms from Today's Creative Life. Insanely easy and insanely cute!
Hang plants to help clean the air in your little one's nursery with this Harry Potter plant holder. Such a pretty wall decor with a purpose!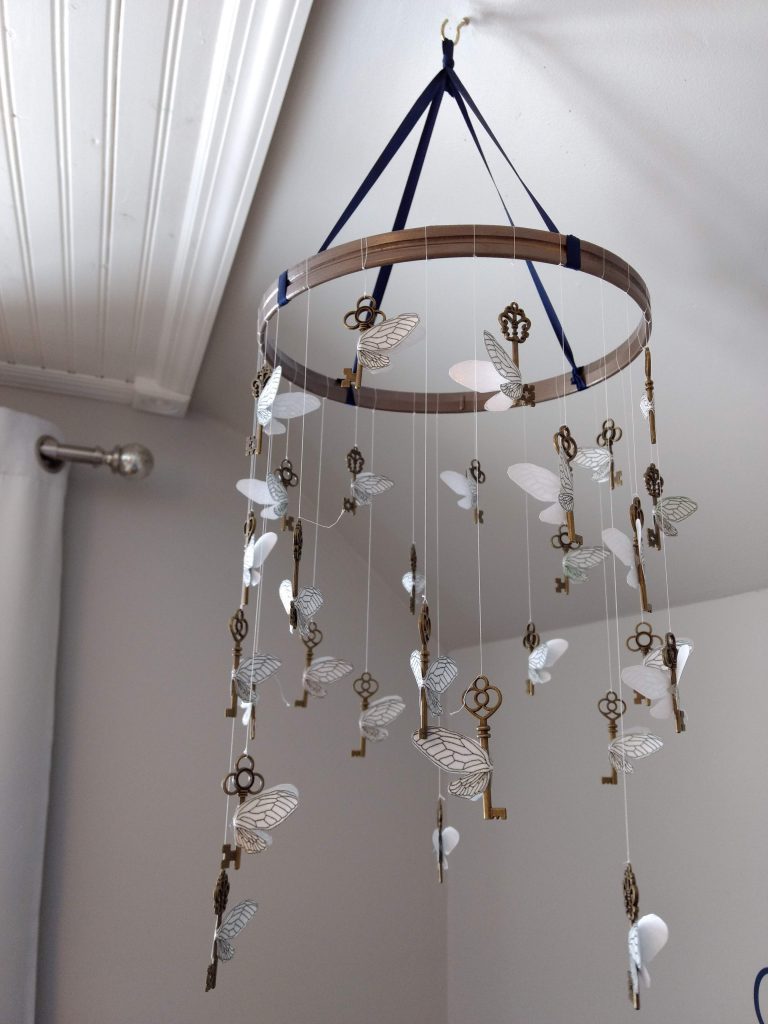 Create a flying key mobile that you can hang above your baby's crib. Your little one will love looking up at this adorable DIY from Little Family on the Big Lake.
Hang a golden mirror to add depth to the nursery with this engraved decorative mirror. It shows your heart's true desire!
Channel your inner Professor Trelawney as you make your own magical crystal ball, a DIY from Sugar, Spice and Glitter. This would be a gorgeous and mesmerizing addition to any room!
Sort all your baby's blankets and bibs in this DIY school trunk from Chica and Jo. They'll be ready for Hogwarts in no time.
Hang this sweet sign on the wall or hang it against the wall to teach our little ones about making good choices from the start.
Hang the Hogwarts pennants to show your house pride. Hang one or all to represent the different houses!
Printable Harry Potter Nursery Ideas
There are plenty of Harry Potter fans all over who have created Harry Potter printables that you can use! Click through the links to get these free printables and use them to decorate your Harry Potter nursery.
Frame these free Albus Dumbledore quotes above your little wizard's crib for the sweetest of dreams. There are two free Harry Potter printables included in the download!
Make a girlie Harry Potter inspired nursery with these feminine wall prints. Create a wall gallery with the set of six from our favorite film!
This simple printable banner includes all the classic Harry Potter icons. Hang this on the wall for your little wizard's room.
These pretty watercolor quotes from How to Nest for Less are anything but bland. Perfect if you want a more girly or colorful Harry Potter nursery.
Will your little one be chivalrous, daring, and valiant? Or cunning, ambitious and resourceful? Display these Hogwarts house pride traits from Allons-y Kimberly.
These floral quotes from Raegun Ramblings are some of the prettiest printables I came across. Floral and Harry Potter is totally my style!
Other Harry Potter Nursery Ideas
Add a few pieces of decor to make your Harry Potter nursery a truly magical place. From bed sheets to golden snitch clocks, there are so many fun Harry Potter nursery items that you can buy!
Light up the room with these cute character jar lights. Grab your favorite character or grab them all!
Try not to sob when you look at this always pillow cover and remember Snape's loyalty.
Pretty gold feathers decorate this Harry Potter inspired changing pad. Looking at this makes diaper changes feel a little more glamourous.
Wizard or muggle, having a baby means laundry. Pick up these storage baskets and use them from everything to hampers to toy storage.
You'll want to turn back time on your little one's early months and maybe you can with this time turner clock.
Snuggle up with the cutest Harry Potter ever with this pillow buddy.
Keep things safe and displayed on these magical creature hooks. Perfect for all your little one's gems.
Don't forget to dress your little muggle in one of these adorable Hogwarts inspired onesies!
Have fun making your little muggle a Harry Potter nursery that will be a magical place for years to come!