Learn the most common sleep mistakes new parents make with their baby. Avoid making these same mistakes when helping your newborn learn healthy sleep habits.
I had heard so many horror stories about newborn sleep habits, or lack thereof. I knew being a new parent meant missing quality sleep for a while, but I was determined to do everything we could to make sleep a little easier to come by in those early baby days.
I read my fair share of baby sleep books, and while they all had slightly different philosophies, all of them recommended the same basic tactics when it came to getting a baby to sleep and staying asleep.
Here are some of the most common sleep mistakes that new parents make. Most of these are fairly easy to correct and can make a big difference in the quality of your baby's—and your—sleep.
#1 – Making Baby's Room Too Bright At Night/Early Morning
Darkness cues sleep and can help with developing your baby's circadian rhythm. Bright lights or even a little bit of sunlight peeking through can wake your baby up in the wee hours of the morning. Use blackout curtains to blockout the morning sun and create a dark room.
If your baby is waking for night feeds, use a soft breastfeeding light or dim nightlight to light your path in the middle of the night. Avoid turning on overhead lights or lamps if you can.
#2 – Not using white noise
White noise has many benefits for a baby's sleep, including helping her sleep longer and deeper. White noise blocks out noises from outside or in the house and creates a familiar environment for your baby.
When your baby was in your womb, she got used to the loud whirring noises inside. Recreate that environment with a white noise sound machine during naps and nighttime. Don't worry about it being too loud. The womb was noisy, about as loud as a lawnmower, in fact!
#3 – Ignoring baby's wake times
Your baby has a small wake window, where she can be awake for a certain amount of time before she needs to go to sleep again.
An overtired baby will have a hard time falling asleep and staying asleep. An under tired baby might take 20 playful minutes to fall asleep and will wake up earlier than normal.
Pay attention to your baby's wake times, so you can get her down within her appropriate wake window to avoid over tiredness and under tiredness.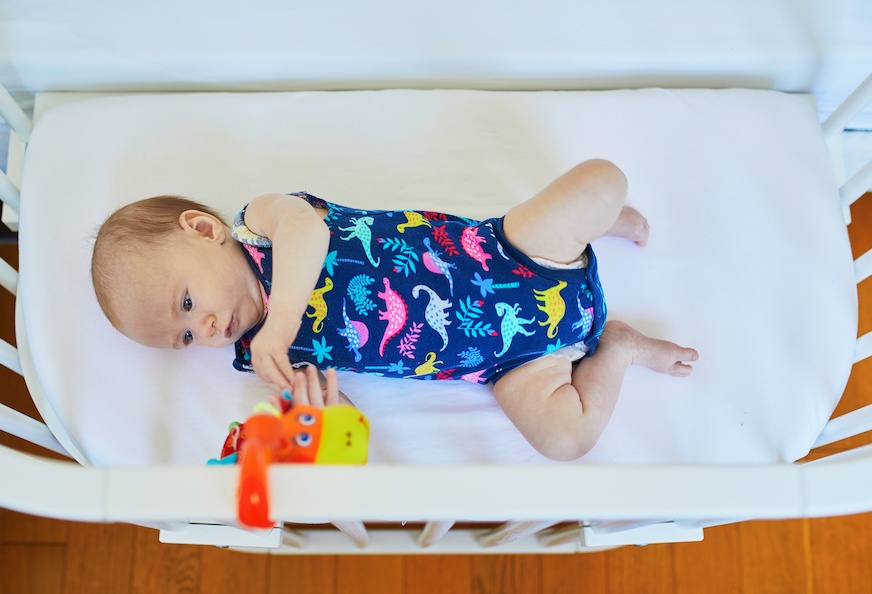 #4 – Rushing in the second you hear baby crY
Babies cry in their sleep. Often a baby will let out a little yelp and then fall back asleep. When you hear your baby wake up, give her a second to see if she resettles.
Moms with more than one child often say their baby falls back asleep because she was preoccupied with her other child, and wasn't able to rush in immediately.
I'm not saying to just leave your baby to cry! Just take a pause, asses if baby is awake and needs you, and then proceed.
#5 – Not Swaddling Baby
Babies often wake themselves up in their sleep from their startle reflex. Swaddling your baby helps prevent this. Swaddling also helps recreate the cozy environment of the womb that your baby is used to.
Many parents don't swaddle their baby, either because they don't know the benefits of it, or they say their baby doesn't like to be swaddled. If your baby doesn't like traditional swaddles, you can try the Love to Dream swaddle or Zipadee-Zip swaddle transition, both of which allow more movement for baby while keeping a cozy environment.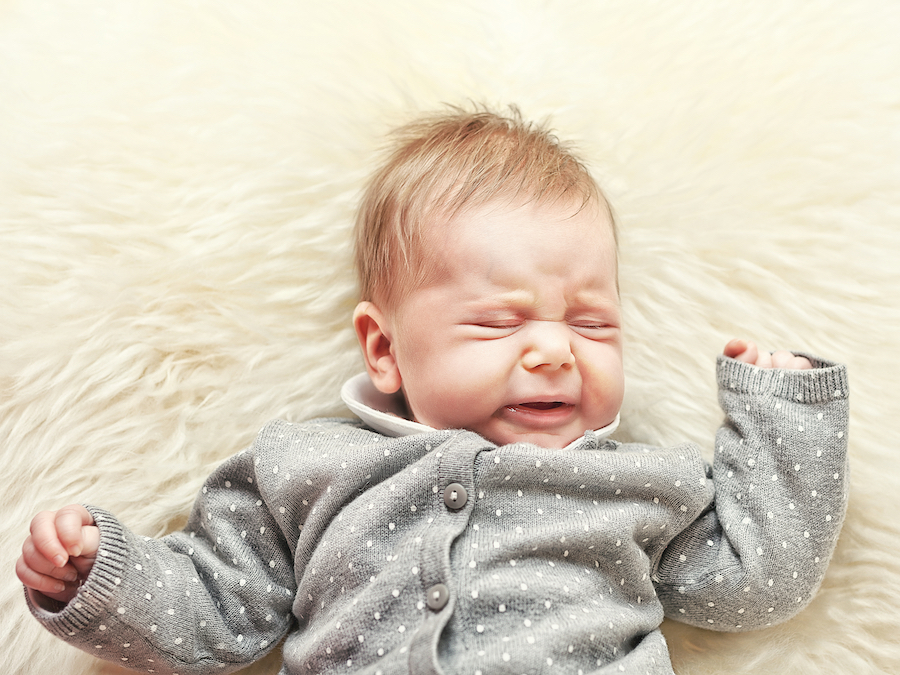 #6 – Not being on the same page as your partner
This one can be so hard! I was a control freak when I had my daughter and nothing my husband did was right. Poor guy. I think it's super helpful if the two of you decide on a consistent sleep strategy together.
Read the same baby books. Discuss how you will handle middle of the night feeds and naps. If one of you is committed to following a specific sleeping approach, it will be more beneficial for everyone if you both follow the same approach.
#7 – INCONSISTENCY
Our babies need to know what to expect from us. Babies thrive on routines. So if you're planning to co-sleep or have your baby fall asleep independently, try to keep it consistent until it's time to make a transition.
Be consistent with baby wake times and nap times so your baby can get on a good routine. It may sound counterintuitive, but having a good routine actually helps your baby be more flexible with her sleep habits.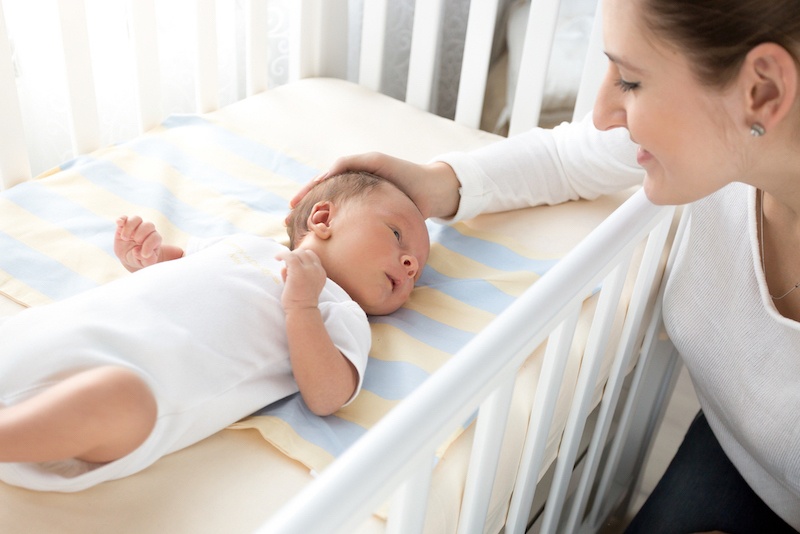 #8 – Relying on Sleep Props
I was also a nut about sleep props. I was so worried about creating bad habits that would affect my baby's sleep for the rest of her life. (I was crazy guys.)
When a baby is fed or rocked to sleep, she will wake up and need the feed or rocking to fall back asleep. Babies wake up a lot in the middle of the night. In fact, we all do. As adults we are able to link these sleep cycles and babies learn to do this in time as well.
If a baby is used to falling asleep with a bottle or breast, though, they will come to need that same thing to fall back asleep.
Now you might be thinking, aren't swaddles, sound machines and blackout curtains sleep props? At least that's what I thought as a new mom. The difference is these things don't change throughout the night and will still be there when your baby wakes in the middle of the night. Your baby's sound machine will still be going, and her room will still be dark. Mom's boobs will not be there though, and she may come to rely on them.
It can be helpful to do an eat play sleep routine from the beginning, so that prop is never established.
#9 – Failing to establish a bedtime routine
Establishing a bedtime routine helps your baby know that sleep is coming. You can do the same bedtime activities each night to establish a routine, so baby knows what's coming next.
Your bedtime routine doesn't have to be much in those early newborn days. Just one last feed, pajamas, snuggles and bedtime.
But as your baby grows, you can introduce story time, lotion, bath time, and anything else that might help your baby wind down.
#10 – Thinking all babies are the same
All of these things should help your baby sleep better, but the most important thing to remember is that all babies are different.
I re-read sleep books over and over, wondering what I was missing when my 12-week old wasn't sleeping 12 hours (I know, I was crazy!). Around 14 weeks, she did start sleeping 12 hours at night and I realized that books (and blogs) are a guide, but all babies are different. My baby needed a little more time to get there than the book said. And looking back now, I know how lucky I was to get that amount of sleep early on!
Follow your plan, stick with your partner, and stay consistent. But remember that every baby is different. Some might need a little more help falling asleep or getting longer stretches of sleep at night, and that's okay! With consistency and good sleep habits, your babe will get there too!
If you need a little more help getting your baby to sleep (and don't we all), Baby Sleep Made Simple has a free Exhausted Mom's Survival Kit where she walks new parents through tips to get their baby sleeping better. Sign up for her free kit here!
PIN FOR LATER