Wondering the difference between a bassinet and crib and which is better for your baby's sleep space? Learn about the bassinet vs crib and if you need both for your newborn.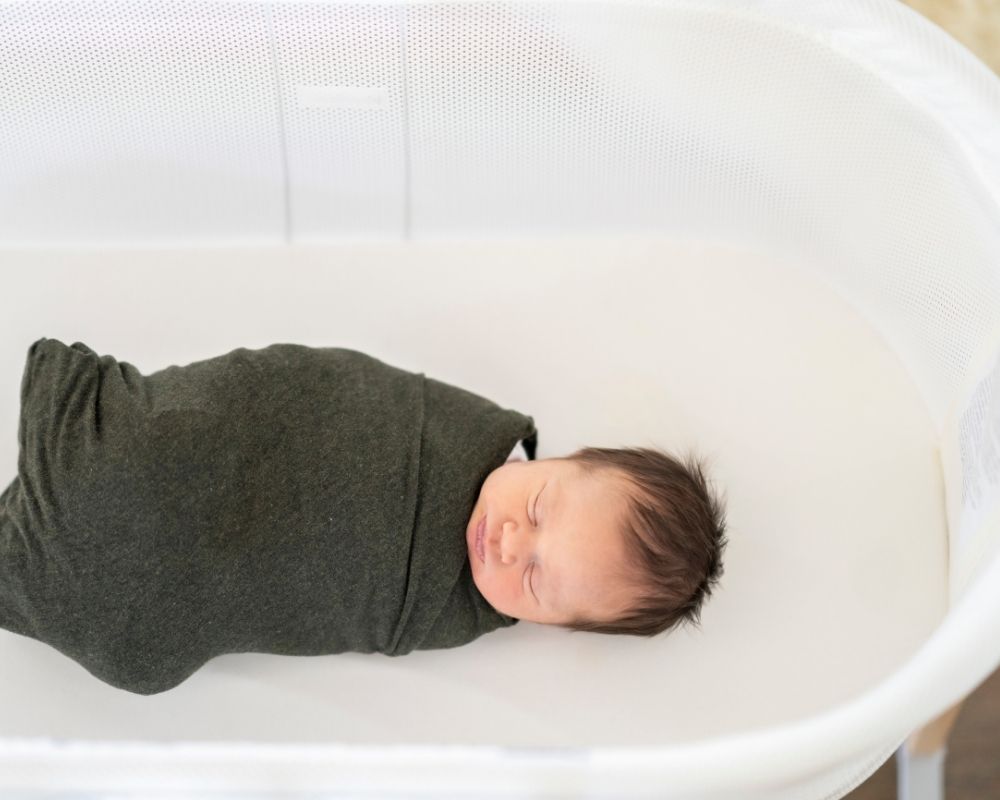 It's probably no surprise that I'm a stickler for safe sleep!
As a Certified Pediatric Sleep Consultant, it's my job to help your baby sleep better. I'm also here to help you make sure that your baby is in a safe sleep space and environment.
One of the earliest sleep decisions you'll make is whether to put your newborn to sleep in a bassinet vs crib.
Let's talk about sleeping your baby in a bassinet vs crib and help you make the best decision for your family.
Want a realistic newborn sleep schedule? Download my free newborn sleep schedule to see what a day with your newborn might look like. Click here to grab it, it'll be super helpful.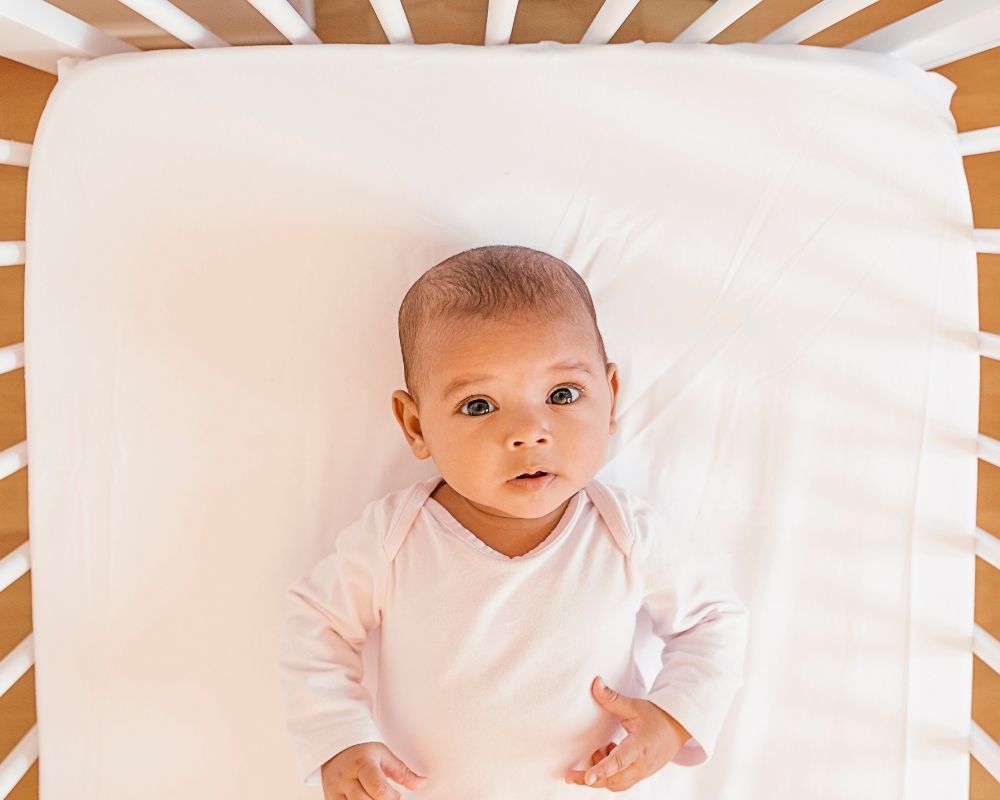 Is it Better to Get a Crib or Bassinet?
Choosing your baby's sleep surface is a big decision.
As you prepare your baby's sleeping space, the most important thing is to keep the American Academy of Pediatrics (AAP) safety guidelines in mind.
The AAP says that a crib, bassinet, portable crib, or play yard is recommended for infant sleep, as long as it meets the safety standards of the Consumer Product Safety Commission (CPSC).
It's not essential that you have a bassinet and a crib for your newborn, but many families prefer having both, due to a few key differences.
The AAP also recommends sharing a room with your baby for the first six months.
If your baby is in your room with you, you'll likely want something more compact and portable than a crib, which is why many families opt for a bassinet initially and a crib for later use once parents are ready to make the bassinet to crib transition.
I've included bassinets on my list of baby nursery must-haves because they are easy to move around the house or pack to take on trips. My favorite thing about bassinets is their portability.
Bassinets can also save some space compared to a full-sized sized crib. In those early days, things will be a little more crowded in your bedroom than you're probably used to.
A smaller bassinet can help things feel a little less crowded in your room during those early months.
Thankfully, there are plenty of options out there for baby bassinets.
Do I Need A Both A Bassinet and A Crib?
You don't need both a baby bassinet and a crib, but it will be more convenient.
Many new parents want to keep their baby in their room in those early newborn days.
Cribs can take up more space than a bassinet. There may not be enough room for a full size or even mini crib in your master bedroom. Additionally, it may be difficult to bring a crib across your home when you're ready to transition your baby to their own room.
We personally used a pack and play with a bassinet insert. That was a better choice for our family at the time.
But I know many new moms love their bedside sleeper, because it provides easy access to baby in the middle of the night. Taller moms especially love adjustable bassinets that make it easy to get baby out of the bassinet.
Many bassinets state that the age and weight limit is 5 months old or 20 pounds.
You can keep your baby in their bassinet for as long as it's safe to do so. There isn't an exact age limit that determines how long your baby should stay in their bassinet.
However, there are some safety considerations that will determine when your baby is too big for the bassinet and has outgrown it.
First, make sure to pay attention to weight limits on your bassinet. The weight limit typically ranges from 10-20 pounds maximum.
Second, you'll need to mitigate risks of falling from the bassinet. Since most bassinets are much more shallow than standard cribs, it is important that you transition to a crib as soon as your baby is about to roll or sit up.
You can't adjust a bassinet for older babies like you can lower your baby's crib, so they do have a shorter shelf life than the crib.
Lastly, make sure to pay attention to how your baby looks in the bassinet. If they appear cramped (with head or feet frequently touching the top/bottom) it's time to transition your baby to a crib.
Bassinet vs. Pack 'N Play
We ended up with both a bassinet for our daughter to sleep in and a Pack 'N Play for travel. But it's not necessary to have both.
It you're trying to decide between a bassinet or a Pack 'N Play, I'd probably recommend the Pack 'N Play. From a usefulness standpoint, it's just more versatile!
Both are safe places for your new baby to sleep in the newborn stage.
The nice thing about the Pack 'n Play is its adaptability: the bassinet-crib combo models can grow with your baby.
You can find Pack 'N Play options that have a removable bassinet attachment. That means the Pack 'N Play pulls double-duty, acting as both a bassinet in the early months and then later as a crib for baby travel sleep.
The versatility and portability of the Pack 'N Play allows you to use it for years.
Not only did we have a Pack 'N Play, but both sets of grandparents had one for when we visited.
Portable Bassinets
As you're shopping for bassinets, there are a lot of things to consider. Pay attention to the bassinet's size, portability, technology features, and safety compatibility with AAP guidelines.
The best thing about a bassinet vs. crib is you can easily move a bassinet around the house. This makes for a convenient and safe place to put your baby down in the living room or kitchen when you need to free up your hands.
Many portable bassinets also fold down easily to make for easy packing when you travel. Some portable bassinets can even go along with your baby to other caretakers' homes!
The familiarity of their own sleep space can help keep your baby's sleep schedule consistent, even when you're on the go.
Here are some of my favorite picks for portable bassinet options:
This bassinet is a great alternative to the SNOO and has a mesh-wall that can be adjusted in height to allow for easy visibility and access from your bedside. It also has a gentle vibration function and some soothing sound options for your newborn's comfort.
You can see my full breakdown of the SNOO vs Halo in this post.
This lightweight bassinet is simple, safe, and can be folded easily for portability. You also have the option to manually rock your babe if they need a little soothing movement.
This is a great option for parents who want an inexpensive portable bassinet.
If you're looking for a smaller size bassinet option that you can take outside, I highly recommend this one. The Safety 1st Nap and Go has a retractable sunshade and a bug net!
Bassinets With Extra Features
The beauty of a bassinet is often in its simplicity. However, in recent years we have seen major technological advancements that have totally elevated the bassinet industry.
In fact, some of the best bassinets that I've seen in action incorporate simple designs with some seriously cool technology.
These bells and whistles can help to soothe a fussy baby. They can even lull your baby back to sleep if they start to stir.
The SNOO Smart Sleeper is one of the best bassinets on the market. It's like the Cadillac of baby bassinets, with a price tag to match. However, I have met so many families that swear by this bassinet!
The SNOO is equipped with all sorts of technology to help your baby get to sleep and stay asleep. It comes with a special attachable swaddle, built-in white noise machine, and motion sensors that can detect movement.
As your baby starts to stir in their sleep, the SNOO senses their movements or crying. In response, the bassinet will begin soothing motions to lull your baby back to sleep.
With a coordinating phone app to track your baby's sleep patterns, the SNOO is a tech-lover's dream.
If the price tag seems too steep, there are also options to rent a SNOO until your baby is ready to transition from the SNOO to their crib.
An alternative to the high price-point of the SNOO is the Graco Sense2Snooze Bassinet, which has a similar design but at a much more affordable price.
The Sense2Snooze bassinet has a cry-sensing technology that will adjust noise and motion in response to your baby's fussing. It also has a couple built-in wheels that make it move easily around the house.
Unsafe Bassinet Alternatives
Another way to keep your baby sleeping safely is to keep up with recalls and items deemed unsafe by the AAP.
You might have some well-meaning friends and family who swear by certain baby items from a handful of years ago. While product recommendations can be helpful, it's also important to keep up with industry safety standards.
I remember when I had my daughter, I had a couple of friends who swore by the Rock 'N Play (especially to help our reflux baby sleep).
However, in April of 2019, the Rock 'N Play was recalled due to multiple infant deaths caused by rolling and suffocation.
If you still have a Rock 'N Play in your home or someone is offering to give you one secondhand, don't use it! It is not safe for infant sleeping, and there are plenty of alternatives to the Rock 'n Play.
Another super popular baby item that's been labeled unsafe for sleep is the DockATot. While it hasn't been recalled, it's no longer marketed as a sleep surface.
The DockATot is now marketed as a place to set down your alert and awake baby under watchful supervision. The DockATot cannot be used safely as a sleep surface.
Can a Newborn Go Straight Into a Crib?
With all of the baby products piling up on your baby registry, you may be wondering if there's anything you can leave off the registry list. Is it really necessary to buy both a bassinet and a crib for your baby?
Or perhaps you're in a small space nursery and your bedroom doesn't leave much room for a bassinet.
If you're hoping to minimize purchases and feel comfortable with your baby sleeping in a traditional crib in baby's nursery from the get go, it's typically okay to do so.
While the AAP recommends room sharing for the first six months, there is no causation link between the risk of SIDS and not room sharing.
We personally moved our baby into her own room and baby crib around one month, simply because I couldn't sleep while hearing her every noise at night. Newborns are loud sleepers and having her so close made me more anxious.
If you're going to have your newborn go straight into a crib, you should also make sure you have familiarized yourself with all of the abcs of safe sleep.
I hope all of this information has been helpful as you consider a bassinet vs crib and which one is the best choice for your newborn baby. Happy shopping!
Latest posts by Amy Motroni
(see all)